How long does it take to put weight on? (Pic overload)
---
When I first got my horse 4 months ago, he was really underweight. I've been feeding him lots of high fat high fiber food, as recommended by the vet and even added some oil that the vet had suggested to it. He also gets a lot of hay.. He doesn't seem to be gaining much weight! He has his winter coat yet I can still see his ribs. Is 4 months not long enough?
The day I went to see him, August 20th.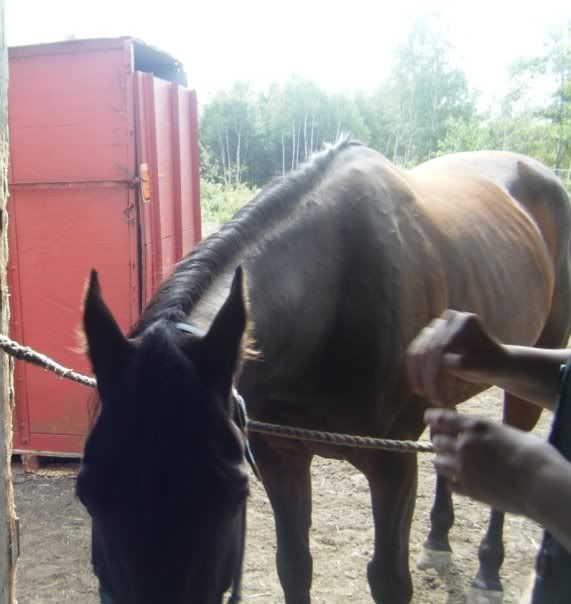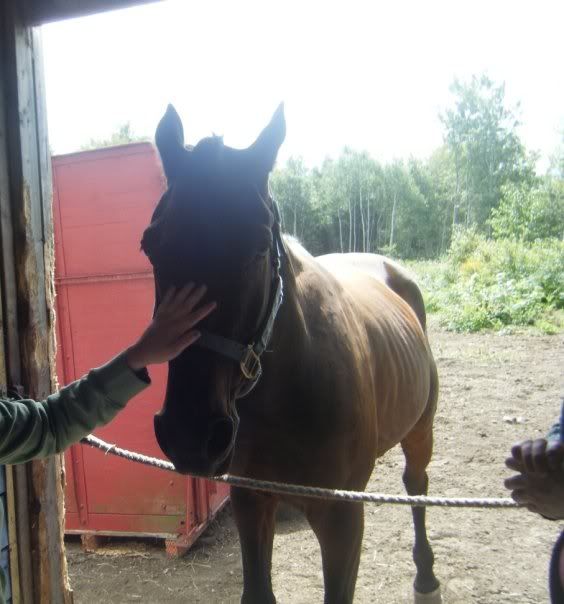 Almost a month after I got him, Sept. 24th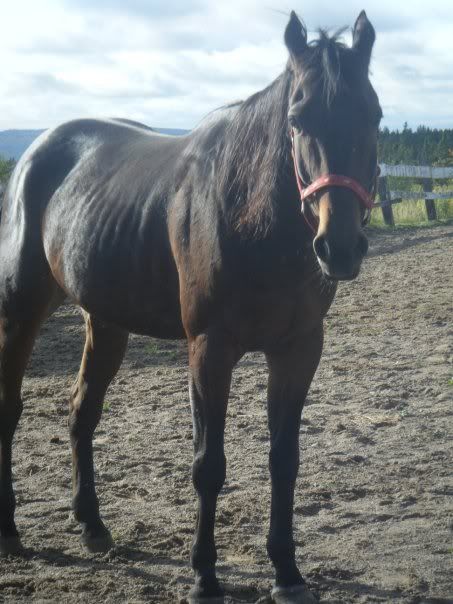 Oct. 16th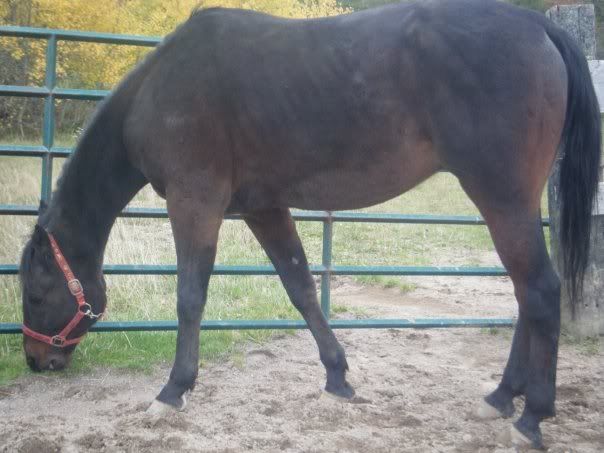 Nov. 20th
I don't know, he still seems a little on the thin side to me.. I would show you some of the pictures I took of him today but his coat is a bit too dark to see
He looks amazing compared to when you got him. and has so much more life! :) Maybe ha needs to be wormed if he hasn't changed much recently?
He looks a lot better! Weight gain takes time be patient. It takes them just a few weeks to loose weight, but can take years to gain it back.

He actually looks a little "potty" or "hay belly-like".
Has he been dewormed? if not, Id give him a round of dewormer.

Also you may try adding some Beet pulp into his diet, I always have great luck w weight gain when using Beet pulp.

That being said, some horses wear their weight different and can look a little ribby but have adequate weight else where. I tend to focus more my attention on their hips, spine as an indication of weight....
As in your first photos for example...his hips , spine, and tail bone area are protruding much more than your last photo...so he has definitely gained weight. He may benifit from a few more pounds, but if he doesnt gain anymore I wouldnt worry he looks pretty good.
---
Horses are like chips...you can never just have one
4 months - in a horse with NO other issues at all - it enough to get a horse in that body condition back to optimal weight, in my experience; however,
sometimes there is something else going on. Might be something minor, and it probably is because he does look a LOT better overall, no doubt!
Worming with something like Quest Plus and having his teeth done are things you've probably already addressed, but it not - those could be the problem.
Try a ricebran, beet pulp and alfalfa feeding mix - you can buy Triple Crown Complete because it already has those in the pellet or you can mix your own. It does wonders for hard keepers. Rice Bran can be an oil or a dry mix, which I used. The beet pulp is something many people swear by. I didn't have luck with it; however, it might be a fluke - but the rice bran and alfalfa pellets do wonders!
Here is a rescue I did:
This doesn't show his condtion as good as it could - he looked worse than this photo even shows.
after about 3 weeks to one month on the above feeding
getting his winter coat, about 2 1/2 months, and getting adopted!
I have to back Maverick up with the Beet Pulp, I think it does more than about anything else out there. I've had my mare for 5 months, she was in worse shape than your gelding when she got here, with sunken in flanks and a caved in chest and a ridgeback. Now she was also nursing an enormous colt at the time but I weaned him off of her early. The first things to tackle are getting his teeth floated, so he can get the best of what he is eating, and getting him wormed, so the food he's eating actually GOES to him. I went with a program of Beet Pulp, Weightbuilder and just a tiny bit of sweet feed, and finished it if with all the hay she could eat and 5 months later you can't see her ribs at all. Free choice hay - as much as he can eat, is very important.
I have scheduled an appointment with my vet to get his teeth floated. :) I'm also going to get her to deworm him while she's at it because I don't really know much about deworming horses. I think I might also suggest beet pulp and see what the vet says. Thanks everyone!
Its honestly hard, I've had my guy for 7 months now, and I'm still working on putting weight on him.
It can take awhile to get weight on a horse, especially if you're working him a decent amount. I would just keep doing what your doing, maybe add a some beet pulp.
he dosent look bad. remember horses arent ment to be fat butterballs, its just something people have been breeding them to look like lol. tbs, and slender breeds arent ment to be fat. they are ment to be a little ribby, otherwise those little thin legs would be under alot of stress. He may loose some weight over winter so just keep an eye out.
I'm not to sure about putting weight on horses but I think he looks a lot better in his neck, shoulders and hips. I think he could stand to have a bit more belly fat, though. Nice job! :)
---
Amber.
Opportunity is missed by most people because it is dressed in overalls and looks like work. ~Thomas Edison