How Much Swelling Is Normal?
---
Every horse owner, to a certain extent, tries to take care of and mend their horse's ailments and ask for help when needed. I'm hoping HF can help via suggestions!
Justus is my 6 year old Welsh Pony cross mare - she injured her leg on a fence 2 years ago and after wrapping and stalling her for a week it started clearing up, healed with a hard bump halfway down her canon on the outside on her hind right leg.
ANYWAY, now every spring she "stocks up" in that leg. It's swollen, sometimes firm which makes her sensative to touch it, sometimes warm, but she's never favoring or limping at all, with or without a rider. Rides are once a week walk/trot in a big field, nice and easy. I've started soaking her with warm epsom salts, cold hosing, and massaging soothing ointment today - will see if it had any effect tomorrow.
Wondering what you guys would do/try? The vet will be out next week to give vaccinations and stuff so I'll have him look at her if it hasn't cleared up or improved by then or if it worsens, but curious what else could help her? As far as I know, there has been no trauma to her leg, although she's only been with the new herd a couple weeks and she's apparently already leading the gang so I wouldn't put it past her if she was kicked. There are no marks, cuts, or abnormalities other than the swelling.
Here are some pictures from today: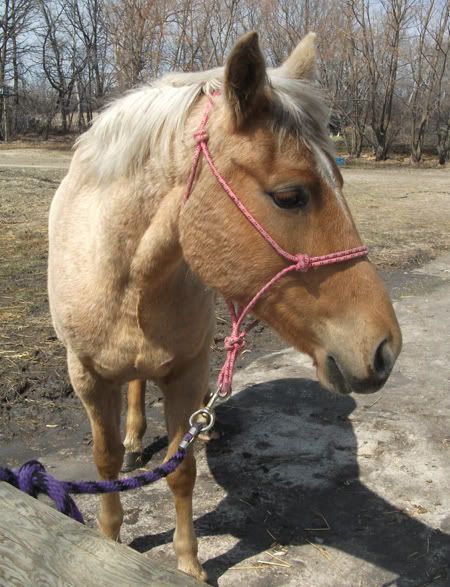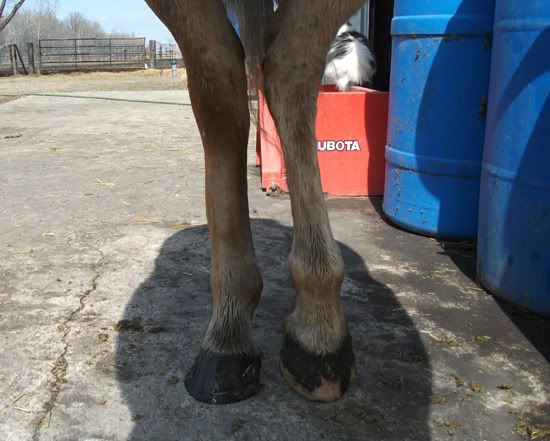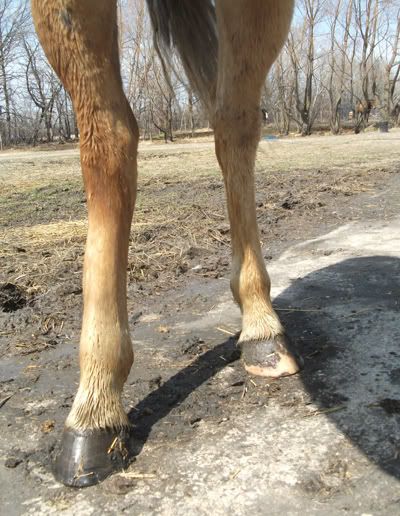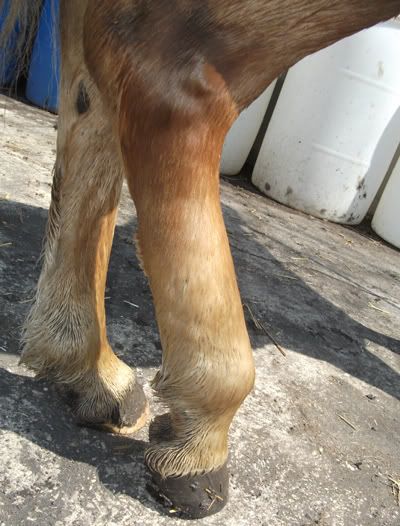 ---
Never ride faster than your guardian angel can fly
Work! If it really is just stalking up she needs to start moving a lot more. It is swelling due to a lack of circulation. Lots of trotting and the more work the swelling should go down, if it is indeed stocking up.

When my gelding went from pasture board to stall he started stocking up in both his back legs, one was more noticeable than the other. So I made sure he got very slow and long warm ups. (Lots of relaxing trots) and within 6-10 minutes he wouldn't be stiff and within 15-20 minutes the swelling would be gone. It would stock up again by the next day, and I would work it out again. He was never off, just a little stiff if anything. He stopped stocking up about 7 months later and now does fine.

But if you think it might not be stocking up for any reason, then I would get it checked by a vet first. Wouldn't want her straining any injury.
I thought work was the answer as well, she WAS stocking up in both back legs, now it's just the one she injured before, which is why I'm skeptical to work her. Not against working her tomorrow to see if there's any change, but also willing to give her the week off til the vet's out. Just leery!
---
Never ride faster than your guardian angel can fly
That doesn't look like stocking up, and because it is painful, I doubt that is the case. I would guess that she shows signs every spring because she probably pulls/over-exerts or twists in in the mud or slick pastures.

She may have injured her tendon in the previous accident and might need to have some fluid drained from her tendon sheath to prevent additional swelling. It could also be a number of other issues, so it is a really good idea to discuss it with the vet. I doubt he can do much unless he travels with a portable ultrasound though :(

In the meantime, I would continue cold hosing 1-2x a day for 15minutes. I would also put a standing wrap on it to help move some of the fluid out. You can try to poultice it under the wrap depending on what you have and how sensitive her skin is. It would probably be wise to keep her in a dry, flat, smaller area with quiet companions until it goes away to. I wouldn't ride her, but you could pony or hand walk a little bit.

Good luck & I hope she gets better.
Quote:
I wouldn't ride her, but you could pony or hand walk a little bit.

Good luck & I hope she gets better.
That was actually what my plan was for tomorrow after soaking and cold hosing! Might stick to ponying until the vet is out. I wish a drier place was available, but short of a stall, it's spring in Manitoba Canada and unfortunately that means mud.
It's really started drying up in the last week, we spread straw in the alleyway from paddock to pasture, and it's supposed to be sunny and mid teens all week so if it is just from the mud, should clear up quick!
As for it being painful, only to touch is she sensative - she's fine moving out and frolicing in the pasture! It's only when it's swollen tight that she doesn't want it touched, today massaging it she stood perfectly.
Thank you for the suggestions so far!
---
Never ride faster than your guardian angel can fly