Hunters Bump or poor muscle condition?
---
So I recently started training a big forgotten TB who has been in a stall for years with infrequent and minimal turnout in an arena...did I mention years? So of course he had zero muscle tone and topline...what topline?
I have been working him slowly to try and bring him back into some sort of condition without stressing anything and after a few months I am seeing definite improvement in his shoulder and the hollow at his withers is filling in....but his topline is just so angular. Not just in the loin region but all along his spine it's still very prominent. I know topline takes time to develop and that they have to develop other muscles in order to be able to properly lift and carry themselves....and this isn't a question of "how long until..??"
I am really wanting to know what everyone on here thinks of his bump? It doesn't bother him and he isn't off at all, goes into all gaits willingly on both sides and doesn't feel unbalanced. Does it appear to be something that will go away with more muscle development?
If its a hunters bump or if it's something that will diminish with time doesn't really matter.... BUT I feel as though some people think I am starving this guy as he still does have prominent hip bones as well.
Attached are some photos: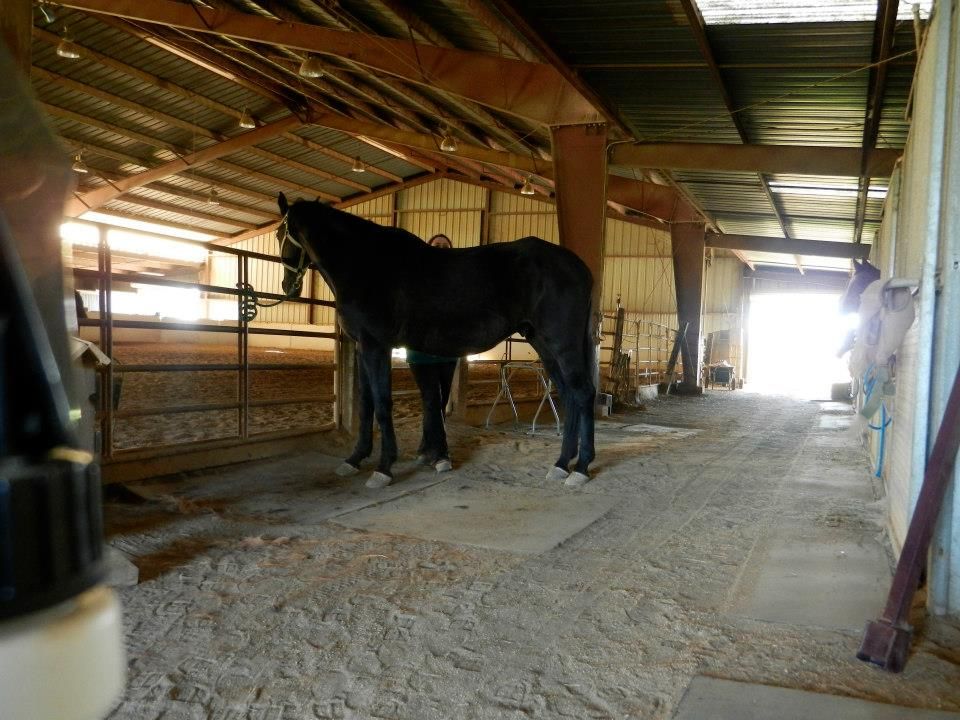 And these are after working for a few months in light work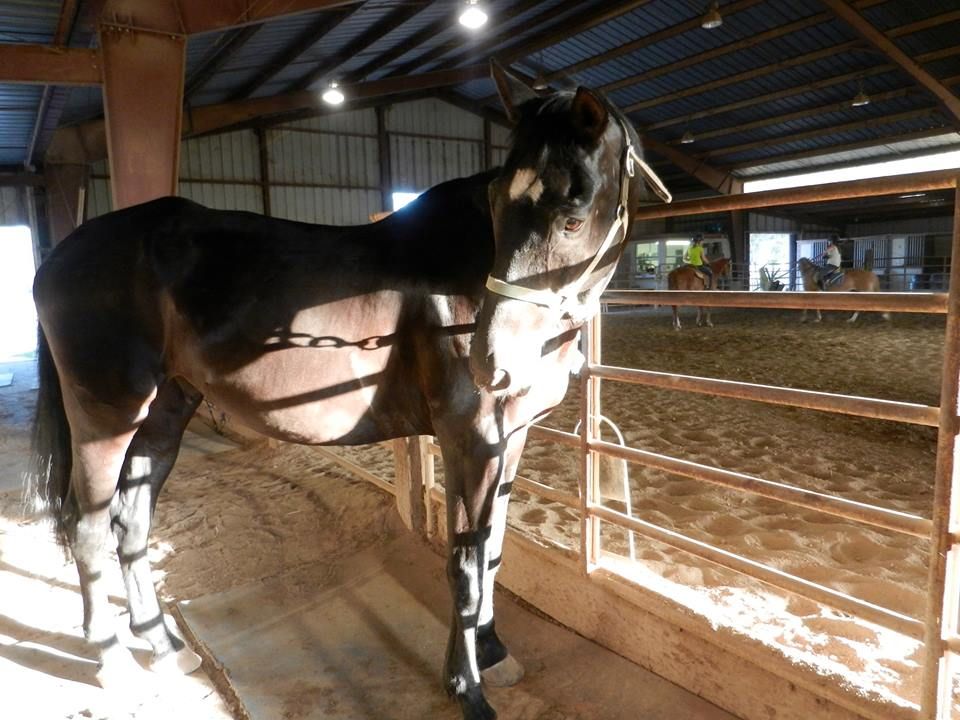 ---
Last edited by mnl764; 07-03-2013 at

02:12 AM

. Reason: photos didn't work
This looks like a horse i would deworm with a proper dose of Quest plus after an actual weigh in on a scale (assuming he is on a regular deworming protocol already), treat for sand no matter where I lived just as a precaution, and then get on at lkeast 5 to 10 lbs of good alfalfa hay a day and/or great grass pasture. Id be certain he is drinking very well and eating free choice forage as well as probably top dress his hay/feed with salt. he looks gaunted up and that is usually from a lack of water and/or forage in the gut. he also has a pot belly in all the pictures which make me suspicious of sand, worms or low quality hay. If he has been in work a couple months, Id expect to start seeing a bit better underline. JMO based on what i see.

whats he eating?

I think the bump is not really of consequence. i think he can improve still. How old is he?

also, his toes are all long in the upper pictures. It will affect how he moves and hinder muscle development. cant see feet in the new pictures but they look better maybe? Just something to be aware of if not already addressed.
---
Married to my One! 10-11-13 Steampunk style:)
---
Last edited by Trinity3205; 07-03-2013 at

07:00 PM

.
I would start off with really changing your horse's feeding regiment. He is probably 80lbs or so underweight. It's really hard to say what it is for sure. Looking at the pictures your posted, I think it might be a hunter's bump but the photos are difficult to say.
Well, vets best guess as to his age was somewhere between 15-20...I think he's 17 but thats just because I like the number 7 lol. In anycase he is definitely a little bit older but IMO....and this is just me....I know the age thing shouldn't be a reason or excuse for this kind of body condition...not that anyone suggested that lol.

Anyways, I completely forgot to ask about the bump when the vet was out, where did my brain go???! But he didn't seem to notice it...so I thought I would toss it on the web and see what kind of response I got. He has been wormed recently and vaccinated....and we had the farrier out...I feel more than okay with his feet at this time, we have shoes on the front and the back are just trimmed. But yes, that first photo makes him look like he is wearing some kind of slipper :(

Currently he gets between 10-15lbs. orchard grass, 7lbs. stable mix and a scoop of triple crown senior (Newest addition to his diet in the hopes of putting on weight, just started this maybe a week ago?) twice a day. Unfortunately, in california EVERYTHING dies and crisps up in the heat....not much forage out in the pasture.

Question about the sand? Do they need to have access to pasture/dirt to have an issue with that? He has been out in pasture...uhh, maybe 30 minutes in the last 3 years! I took him out and he was scared of everything so that is something we are working on....getting used to life outside of a stall. So for the time being he gets turnout in an indoor arena during which time he stares longingly at his stall and/or rolls. In his stall he has shavings, there is no dirt or attached paddock. Just wondering...I never even considered sand as a potential culprit.

Is the salt on food to encourage drinking? He has a salt block in the stall and an automatic waterer, plus a large bucket of water that he seems to enjoy playing in...I honestly haven't paid much attention to whether or not he actually uses the salt block...oops!

Thanks for the input, it's a lot to think on. :)
If hay is baled on sand, It will have sand in the hay itself. Id try to find some alfalfa to add to your routine, skip the Stable Mix ( im assuming this is cheaper sweet feed from the sound) and feed only the TC Senior at 6 to 8 lbs. I also had luck with Cool calories with my Hard keeper. I fed 3 of the little enclosed scoops twice a day along with 5 to 10 lbs of alfalfa and TC Senior on top of free choice slow feed netted grass hay. Dont let him go without food. Make him eat slowly and all day long. Invest in a slow feeder net. They are not expensive.

Yes the salt is to encourage drinking. You want to make him drink a bit more and see if some of the problem is dehydration for the gaunted up look he has going on. I bet its part sand issue tho.
---
Married to my One! 10-11-13 Steampunk style:)
---
Last edited by Trinity3205; 07-04-2013 at

08:52 PM

.
Trinity, well thank you for all of the info!

The hay is actually baled on the neighbors property, yay for local....I will go poke around a little and take a look before I treat for sand.

I am planning on increasing the ration of the senior feed but don't want to upset his digestion with a quick change, its a work in progress lol.
Oh, and no its not a sweet feed stable mix, forgot to add that in :)
It wont hurt him to treat for sand even if he doesnt have it. You can buy Sand clear Over the counter. You wont be able to "see" the sand in the hay. It grows in the stalks. Also, even if its minimal, he may have years of settled sand in there. Its always good to be sure they have a clean gut of sand and worms when they look like this. Then up their protein/nutrition (older horses sometimes do not process protein as efficiently and need more of it) and calories and ride them.


Also, just a small note I have found over the years. All the new pelleted feeds that do not have grain in them? All made of the same stuff. Beet pulp rice bran etc etc. You can usually switch them over pretty quick if the ingredients from one pellet to the next are similar. IOve switched back and forth from TC senior to Purina Senior to Nutrena Sr as well as Prime and Mare and Foal. Its all darn near the same things and all forage based. I have ran out of feed and switched cold turkey many many times (due to location, work hours and what was open and the feed store being out of things) with no issues on old and young alike. Its the ingredients that matter. Just food for thought. I used to worry, but no longer.

Also a probiotic may help him.
---
Married to my One! 10-11-13 Steampunk style:)
Do the pinch test on his neck to see if he is hydrated. If he is the hollows and gauntness are lack of muscle. Being underweight/starved can cause muscle wasting where the body consumes the muscle for protein. It takes time to come back from that. The body has to relearn how to utilize food. Our rescue paint has the same topline as well as on of our other horses that is recovering from illness. The vet said very mild roach that disappears with work and muscling. If he is out in an arena he may be eating sand so it may not be a bad idea to use Sand Clear. If the hay is grown in sand from baling or even lodged between stem and leaf is possible.
Update!
---
In the time since I posted the original photos he has (in my opinion) improved a lot although he does still have a bit of a spiny topline..... but things are definitely filling in. It could be that he just needed more time to show improvement or it could be the new feed, the trace mineral block or possibly the high fiber mash he's been getting. Decided not to worm again as it has only been a month since the vet came out and wormed him.
THIS:
TO THIS: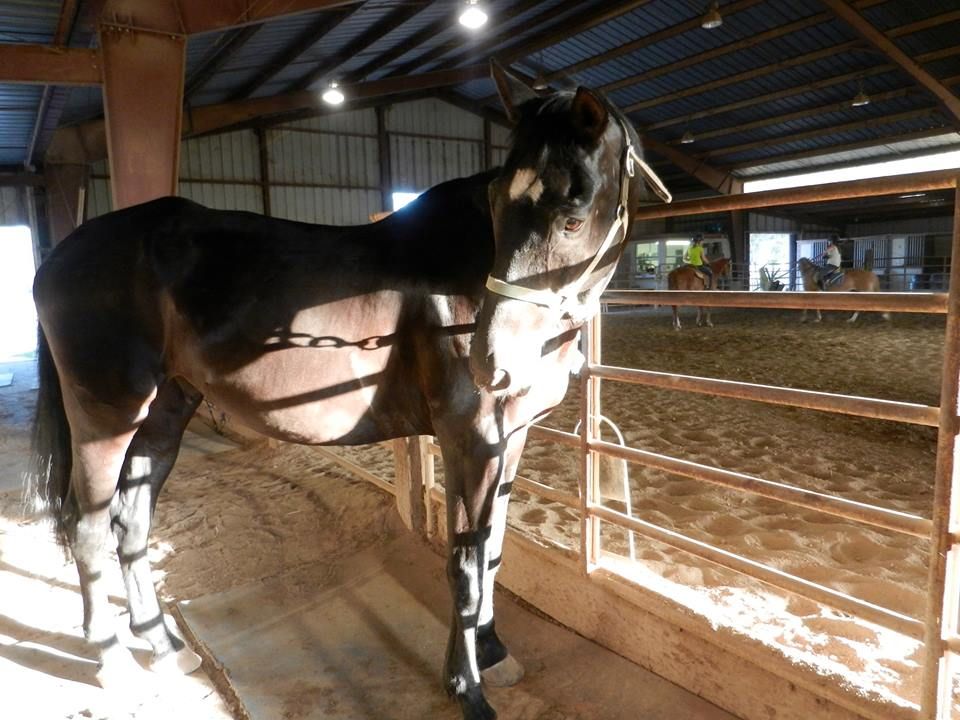 AND MOST RECENTLY:
I have also decided, after talking with the farrier, that having shoes on him isn't helping his foot/sole conformation....honestly I understood the gist of that conversation but couldn't explain it to anyone on here adequately. He said something about putting the hoof back onto the bulb of the heel...or supporting itself....well, it sounded impressive lol. Hopefully his feet will improve even more but I am incredibly impatient.....how long do hoof makeovers typically take? His feet have improved since I have been caring for him but he tended to look flat and overgrown (if to a lesser extent) no matter what, so hopefully going barefoot with careful maintenance by the farrier will help him. His first week without shoes he was definitely a little foot sore but in the last week he seems back to his usual self :)
Thanks for all of the input from everyone
Similar Threads
Thread
Thread Starter
Forum
Replies
Last Post
Help with hunters bump??

harleyboiirun

Horse Health

12

03-21-2013

05:05 PM

Hunters bump?

Sonnyx12

Horse Health

0

09-15-2010

02:20 PM

Hunters bump

justsambam08

Horse Health

11

07-06-2010

11:43 AM

Hunters Bump?

UnrealJumper

Horse Riding Critique

6

12-15-2009

10:20 PM

Hunters bump?

twogeldings

Horse Health

1

06-19-2009

11:18 PM