Improving Condition
---
I took in a mare as of last December as a bit of a rescue case. She was under weight, under muscled, her feet were long, and her coat and skin was pretty dry/dull. The weight was fairly easy to put back on her... the muscling has definitely been slow in coming but I think it's developing, and she'll be getting more work gradually. She's also scheduled to get a visit from the vet this month, including a full dental, shots, a general health exam, a fecal test, and possibly a blood test to make sure everything looks okay there.
I'm mainly unhappy with her coat. It hasn't slicked up like I wanted it to, and like I had thought it certainly would as she shed out her winter coat. Right now she gets about half and half grass/alfalfa hay, approximately 24 lbs daily. She also gets a ration balancer (Dynamite) and about 2 pounds of the Empower Boost rice bran supplement.
Should I increase the rice bran? I'm also thinking of adding some flax seed, though I'm not sure how much to feed to get the most benefit?
Here's a couple of photos from when we first got her, then yesterday. They aren't really the greatest shots, but they are the best that I could get at the time. I welcome and appreciate any advice and input about continuing to improve her overall condition.
Shortly after we first got her: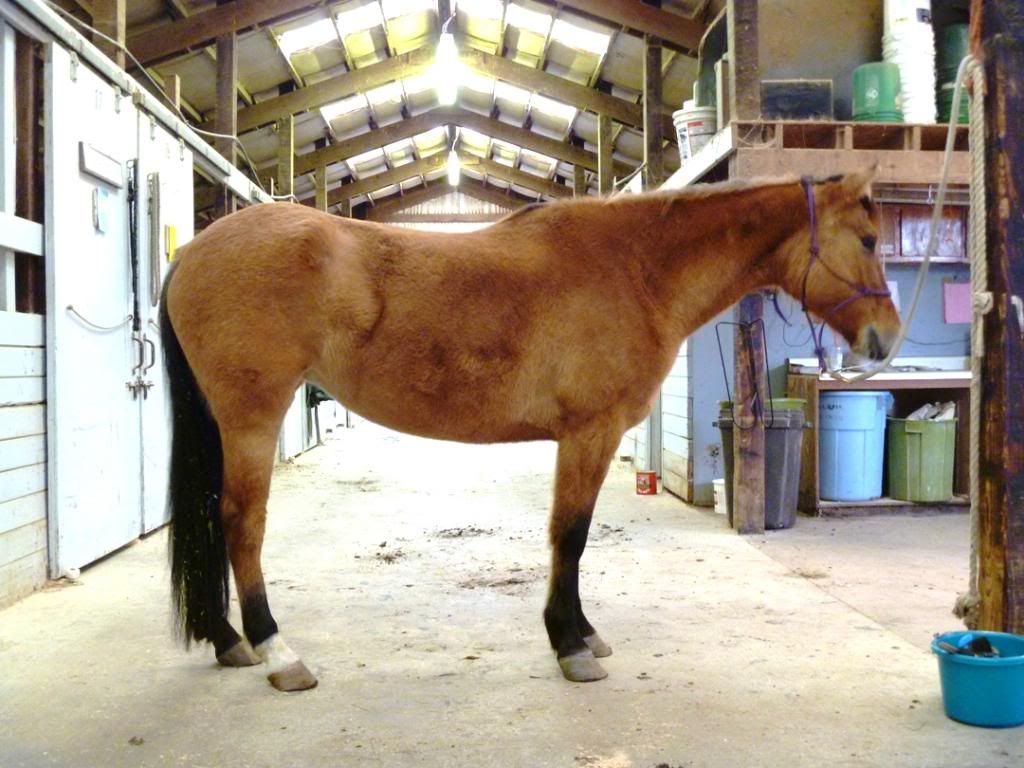 Yesterday:
---
Last edited by Eolith; 03-21-2013 at

11:48 AM

.
I gave my horse Dynamite when I first got him (technically it's a multi-vitamin, not a ration balancer, btw) and wasn't happy with the results. I got a subscription to FeedXL.com and plugged it in along with the rest of what I was feeding him (hay & rice bran) and there were TONS of nutritional holes.

I switched over to Triple Crown 30% Supplement and noticed a difference within a few weeks (particularly in the rate of his hoof growth, which was very slow on Dynamite). I highly recommend it, but there are several other good options out there (SmartPak's SmartVites also look good based on their analysis if you want to stick to a multi-vitamin, but I haven't tried those)

Flax seed is great for skin/coat health as well. I now feed 2 oz. to my horse twice a day for the omega-3's, since my horse doesn't get enough fresh grass to count for anything.
Thanks for the input. I also have a FeedXL account that I've been playing around with, and what I'm thinking of doing is using very precise ratios of both Dynamite and TC 30% because they actually seem to balance each other out in certain ways and it ends up being a bit cheaper than just feeding TC 30%, which is an important consideration for me.

I think I will try feeding her some flax to try to get her coat/skin to where I want it.
You can feed up to 1 cup of flax a day before it starts upsetting the omega balance, I give my gelding 1/2cup a day of ground flax along with Dynamite, Dynamites Excel, and Dyna-Pro along with his joint supplements. I believe the Dynamite program is meant to be accompanied with their free choice loose minerals and salt as well, with the assumption that they will nibble each according to what their body needs at that time.

I was thinking of trying the FeedXL program but I heard it is useless if you don't get your hay tested. Do you think it is worth the subscription?