Ya I asked my vet about other options but he seemed to prefer iodine, so guess were sticking with it this time. If I ever have another foal I'm going to find a better option to use right after birth.
I got her a halter today so med administration might go a little smoother. Idk if it will help or not but we will find out soon!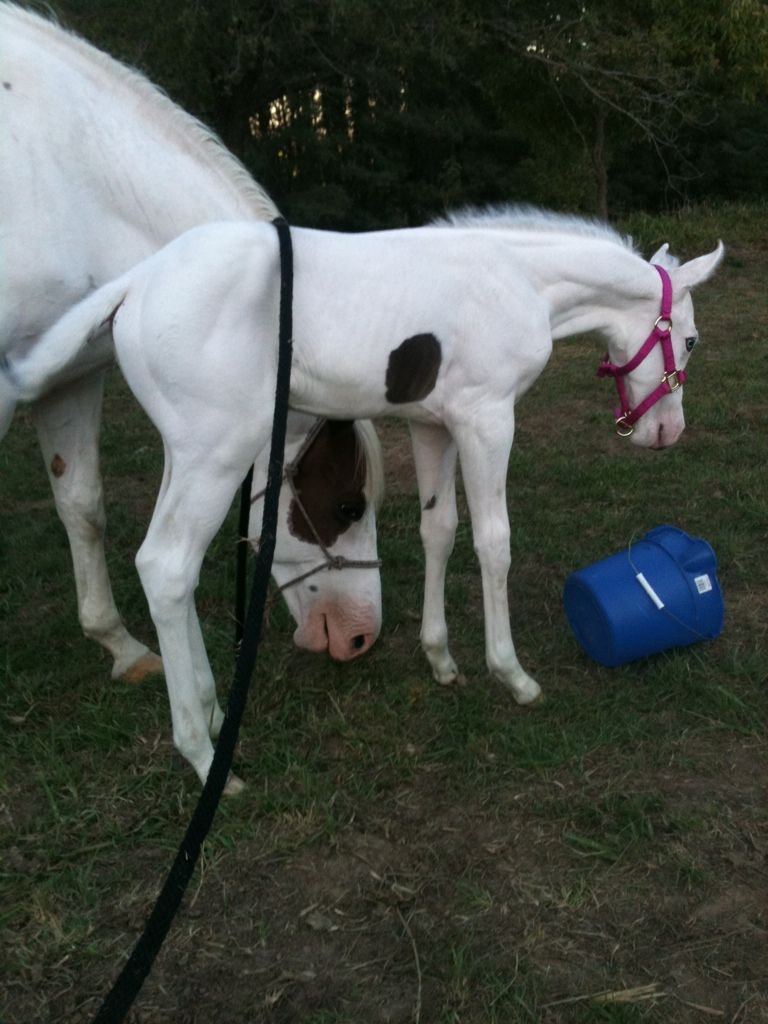 Posted via Mobile Device
OMG
SO CUTE IN PINK
!
Take her temp 2 or 3 times a day -- at least. Babies are sick one day and dead the next if you are not real careful with them. They go south much more quickly when it is very hot or very cold. Watch for scours. That seems to follow right on the heels of a temp and/or a naval problem.

Our vet has us put them on Gentocin 2 - 3 times a day if their temp is up at all.
Take this foals temp 3 or 4 times a day. Go strictly by temperature --- It does not lie. They can be 102 one day and 106 and nearly dead the next. Infections can kill one very quickly, especially when it is very hot or very cold out.

Our Vet has us inject 100mg Gentocon 2 - 3 times a day at the first sign of fever, scours, listlesness or a cough. They go south very quickly.
Thanks cherie I will start to take her temperature regularly.
Just gave her the first dose of antibiotics alone since my husbands at work. It went okay. I tried crushing the pills and putting them into a syringe with a little water and molasses. She kept getting away from the syringe. Just couldn't do it myself. She started licking the spilled molasses off my hand! So just poured it into my hand and let her finish it off. Guess next time I will just mix the pill with molasses and let her eat it that way.
Posted via Mobile Device
wow, Ive never heard of waiting to dip the navel. I dipped all mine as soon as the baby was detached from momma and then again as soon as it was standing and nursing.
---
Married to my One! 10-11-13 Steampunk style:)
I just thought I would share my experience with my first and only foal. You CAN dip the navel correctly and still get an infected navel. I dipped my foal's navel right away after birth and a couple times later and he still got an infected navel.
What happened with my colt is that he had a patent urachus. Apparently the urachus is this little tube that urine travels through in utero and it is supposed to close off at birth. It had a very slow leak which wasn't apparent at first because the iodine dried the navel stump. So the urine collected in his navel stump for a couple of days (a drop at a time) until it was swollen and broke open. It looked similar to this foal's navel until it started leaking pus. After it drained I could tell it would drip urine whenever he peed, revealing the cause of the infection.
I called the vet out and got him on antibiotics right away and the infection cleared up but it took a lot time to get the urachus closed. I ended up treating it with iodine because I couldn't find the other stuff the vet recommended and finally it sealed off. The foal HATED me treating the navel and would kick at me/his belly. I was afraid he would have to have surgery to close the urachus but finally it closed.
Anyway, my baby is a bouncing 2 yr old right now as healthy as can be, so even if things go wrong if you are vigilant they can overcome it.
You have a gorgeous foal by the way! Just stunning!
CHANGE VETS!!!

If your Vet say wait to Dr naval and then puts a sick foal on SMZ pills (Sulfa - Trimethoprin pills) I assume, instead of Gentocin or Amakacin, you need a different Vet.

JMHO, Cherie
Cherie- I should change vets? What's the difference between those pills?
Posted via Mobile Device
Just looked they are SMZ I'm supposed to give one twice a day...
I have no problem calling another vet out but want to know why I shouldn't be giving these and need a new vet?
Thanks
Posted via Mobile Device