itchy horse... allergies?
---
my 10 year old belgian has been scratching his skin like crazy lately. from his head to his hind legs he is itchy everywhere but doesnt have a single mark on his skin! he doesnt lean into me (he knows he way too big) but any time i pet him lately he just wants me to scratch him. hes a very, very big horse (even for his breed), and has broken several wooden boards out of the fence while rubbing against them just this week. he even cut his hock pretty badly while rubbing against something. i just dewormed him a few weeks ago, and he has never had worms or anything like that. im thinking it might allergies. are there any herbal remedies i could maybe try before seeing about a medication (if he needs it)? or could it be something else? hes my baby so needless to say im pretty worried, even if it is only allergies.

thanks! --baylee
Is it hot wear you are and is he sweaty. Do you have lots of nates?
---
live for the moment.
yes actually. its pretty hot, he has been sweaty and there have been lots of bugs and gnats lately. more than usual.
If nothing else, sounds like a good bath with some medicated shampoo would be in order. That Microtek stuff is great.
---
You just have to see your distance...you don't have to like it.
That can trigger sweet itch. Hosing off daily after you give him one good medicated bath. I would not give him more than one of those cause it will take his natural oils out and only cause the same problem.
---
live for the moment.
ok ill try that! thank you both very much!
Interesting. I say that because a student of mine in Canada has this fabulous new forest pony that she bred. Two years ago he started rubbing his tail and being extremely itchy.
here he was as a yearling
As a two year old at his testing
He started rubbing and he rubbed every hair off of his tail...as in naked dock. He has had vets all over him. In May, they hosted a clinic for me. His tail was still that way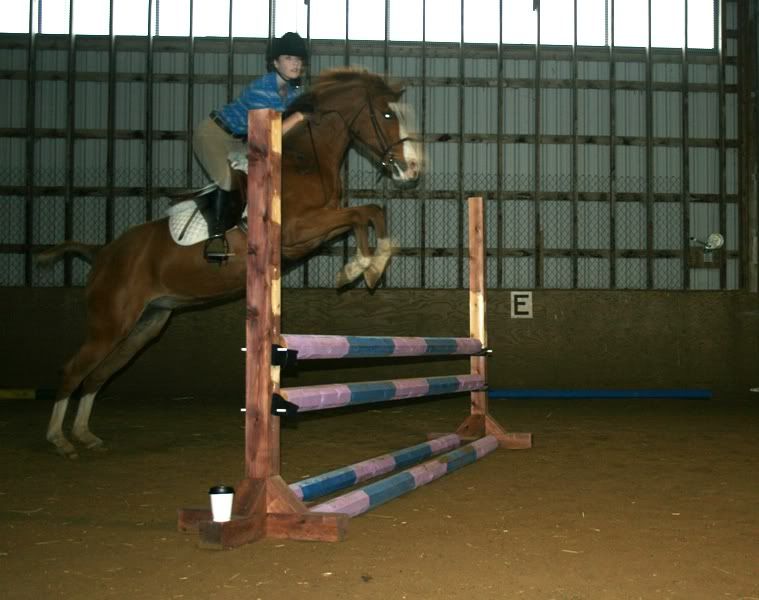 I explained that this was a true emergency and she needed to find out what was causing it. I told her to try straw bedding just in case he was having a reaction to her bedding.
Well, she just called me last week and told me that they had run allergy tests on him and found he was allergic to approx 30 substances. Things like;
Three different kinds of trees commonly found in shavings in her area
corn products
a couple of types of grasses (hay)
dust
fly bites
and more.
She is keeping him in fly sheets/mask/boots, Working on slowly transitioning him to a different diet, and looking for different bedding. She will try straw. I told her to look for very fine sand. I have bedded horses in clean white sand with good results on a couple of horses.
So, try allergy testing with your vet.
wow i dont think ive ever seen a horse rub their tail completely bald. yes im pretty sure im going to have him allergy tested, but hes doing much better already with the baths.
Quote:
wow i dont think ive ever seen a horse rub their tail completely bald. yes im pretty sure im going to have him allergy tested, but hes doing much better already with the baths.
Yes have him allergy tested. I have one horse that not only has dust/mold/pollen allergies, but is oat/corn/soy intolerant.
Not only would his tail be nekkid, but so would the rest of him if I didn't have him on something to control the itching.
His chronic thrush issues cleared up considerably after I got him off oats/corn/soy. Putting 4" of new crush and adding grid mats (with holes) in his stall, cleared it up the rest of the way. He goes out during the day, but he is so sensitive that even standing in clean shavings on a dirt floor was not healthy for him.
He is currently on an herbal allergy blend that does more for him than Tri-Hist ever did. While the Tri-Hist helped his itchy skin, it also amped him up and turned him into a snotface.
The herbs have completely stopped his runny eyes and nose. He coughs on rare occasion and he's not rubbing the fence down although he still itches. That being said we live in the Tennessee Valley, where all sorts of allergies prevail. It has been in the 90's to 100's in my particular area since mid-May. Today (Sunday) our heat index is "ONLY" going to be 102. It hit 112 yesterday.
So with this never-ending heat/humidity, the fact the Herbal blend is working to 95% efficiency on this horse, is a miracle IMO.
He is on a double dose but will come completely off the herbs as soon as the daytime temps get down to the 70's or less and stay there.
Equine Allergy Herbal Blend: stronger immune system for horses Herbal Remedies for Horses including Natural Equine Supplements for Laminitis and Founder in Horses- Herbs For Horses
I also added an extra 2,400 I.U. of Vitamin E. People gelcaps that I buy at WalMart. While he is not 100% allergy-free, he is a LOT happier these days - lol
I shampoo him once a month with MalAcetic, an all natural shampoo for dogs, cats, and all classes of livestock.
He is on daily turnout. I cold hose him down every night, and use a hard bristled plastic brush to scrub the sweat and yukkies off him, then put him in his stall for the night with hay and a fan stuck in his face.
Hope this helps
The best thing i have ever done for my itchy horse was to put him in a stall during the day with a strong fan on him:) i would also use nu-stock to help grow back any hair that he has rubbed off :)
---
"You'll never earn a nickel if you can't stop on a dime." -- Shawn Flarida