This is such a sad story and I'm sure it will have a happy ending. I'm new to this forum and I read most of Kenzie's story, but I didn't see where she is located now and how old she is. Please forgive me, I'm sure it's somewhere in these 72 pages but honestly I only read the last 20.
Posted via Mobile Device
I think she is about 14 months old, and she is in TX. A rescue has been involved and also the barn owner is now owner of record and has the last word on what happens to Kenzie. Is that right endiku?
approximately a brand new 19 months old, if my calculations are correct. They could be off, as I don't believe that we know her official birth date.

She came to us first in November 2011, at approximately (vets guess) 2-3 weeks old, meaning she was likely born in the middle of October. Mid October 2011 - Mid October 2012 would make her one year old. She has been with us since late December 2012, just before Christmas, making her approximately 14 months old. It is now mid- May making her, I think...a new 19 month old. Feel free to correct my math if its wrong guys xD time succession is something I have a hard time with. All of the rest of CaCowgirl's information is correct :) Good job!

Miss Kenzie unfortunately looks more like a 9 or 10 month old though, if even that. She looked like a weanling when we brought her here, from lack of food and sickness, but she's making slow and steady progress. She's endured a LOT of hardship, so its natural for her to be improving slowly. I just have to keep reminding myself that. As long as she isn't backtracking, I am happy.

Critter Sitter, Kayella was correct. SafeChoice is a perfectly reasonable grain choice for a moderately worked, healthy horse, and grass hay is actually prefered if your horse can stay at a good weight on it. Heck, with the exception of an older (18) TB mare that BO has who is just a bit ribby at times, all of her horses are very healthy and do well on their diet. Some horses, however, have special metabolic needs, such as Kenzie. The vet explained it to me as the fact that because she was starved and stunted for so long, she is now having to work double time to not only heal her organs that had literally begun to fail (anyone remember the black, hard stool at the beginning? That was a sign that her body was failing, supposively, and that she was very near death), but also to heal her shoulder injuries, deal with thrush in all four feet, AND make up the normal growth of a weanling AND a yearling at the same time, because she hadn't gotten to do that before. Remember, at her other home she was being fed all stock feed if anything, which is even worse than sweet feed, and she was wallowing in her own manure and mud. No clean water, no company.

Once Kenzie is done catching up, and is at a decent weight and is able to HOLD that weight, I might take out some of the alfalfa pellets or switch her to a more basic diet. For now though, she needs the extra vitamins, calories (she's getting almost double what Peppin, her older half brother eats) and protein to build her body :) The alfalfa and feeds she is getting are being closely monitored and I chose feeds with the lowest sugar I could find, including the beet pulp. So far I have not noticed her act 'hot' at all, much unlike my mini mare when SHE is on grain. She's wary and untrusting, yes, but has never tried to bolt while on the leadline with me, or push me around. And she really doesn't ever do much more than a single canter lap or so occasionally in the pasture. I think she's still too sore and too busy using all of her food for more important processes to waste it by goofing off.

Celeste- very good point! I'll look to see what we have available around her by way of an equine massage therapist, and I'm planning to have her hauled back up for another trim from the really good farrier in the next few weeks as well. Hopefully I can get her feeling good again, and wanting to run and play!
---
Everyone in your life is meant to
be in your journey, but not all of
them are meant to stay till the end.
Picture update for you all! :)
Sorry they're darkish.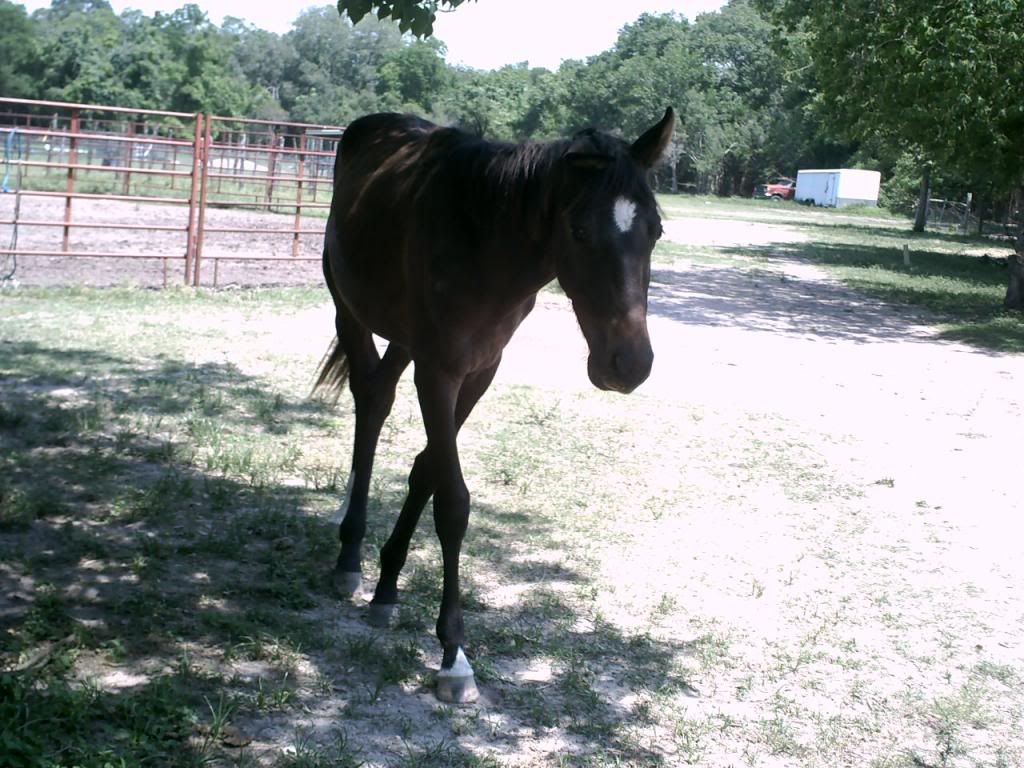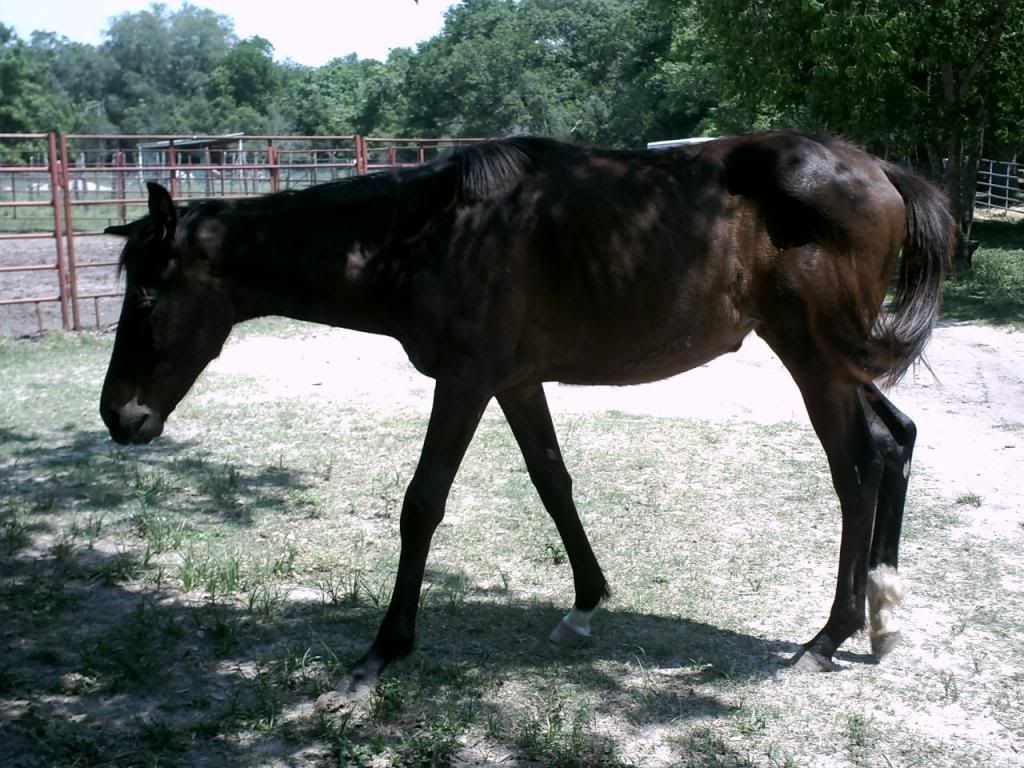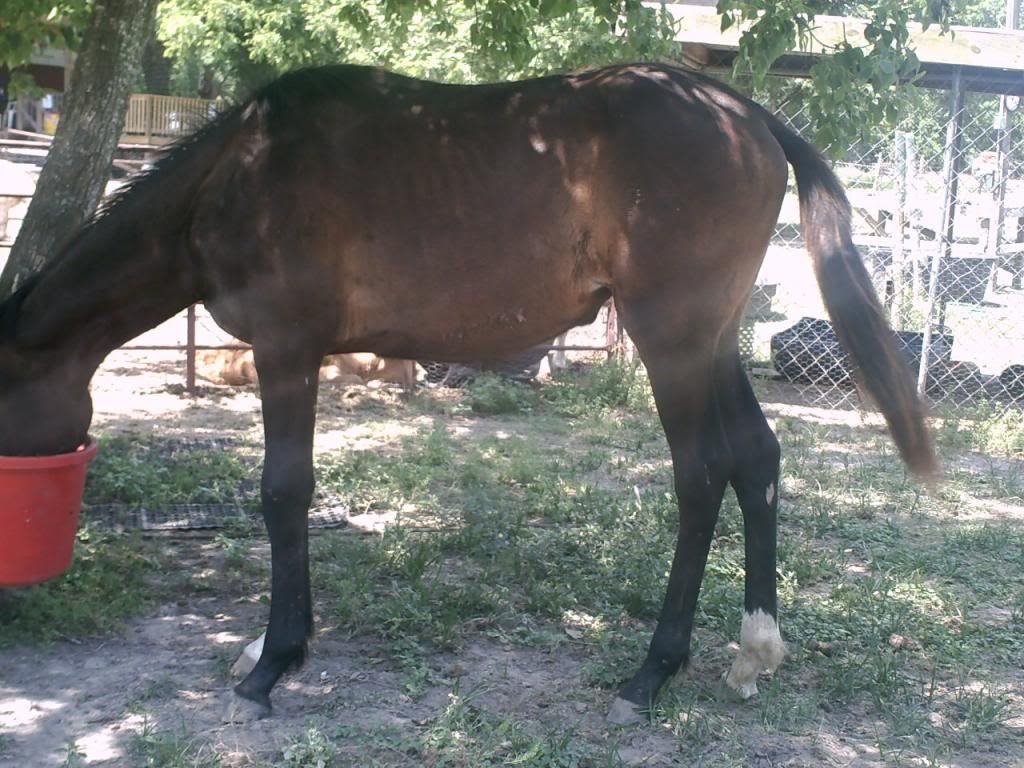 '...you contaminated my breakfast with that soggy stuff again, didn't you?'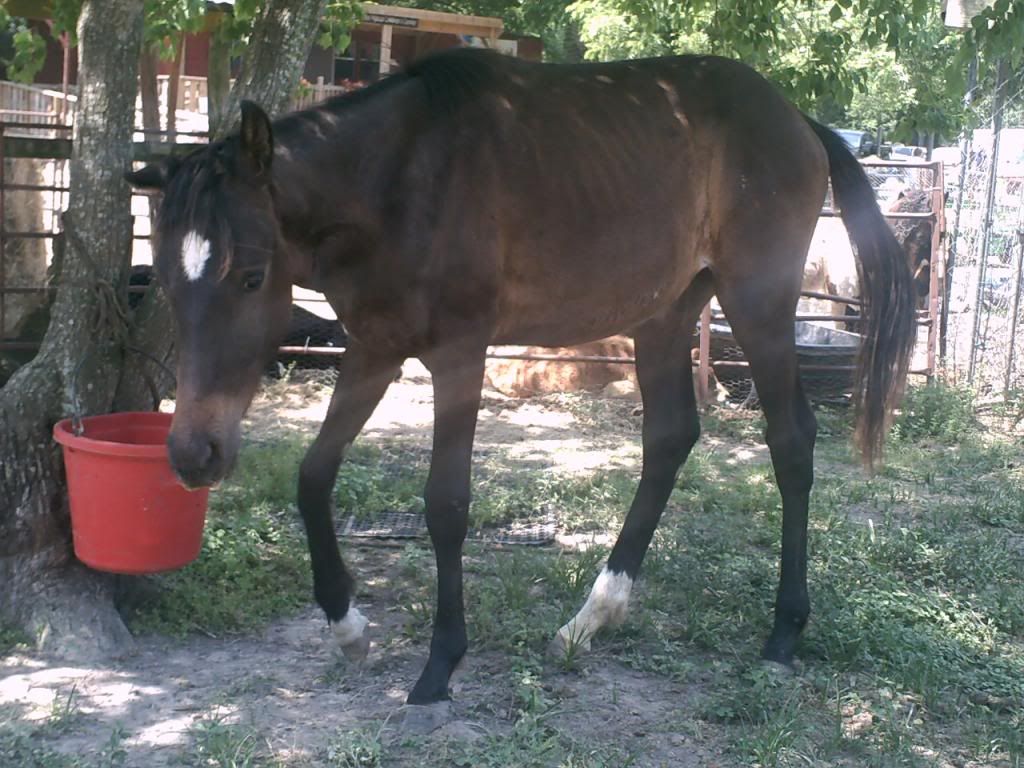 'dare I try this stuff?'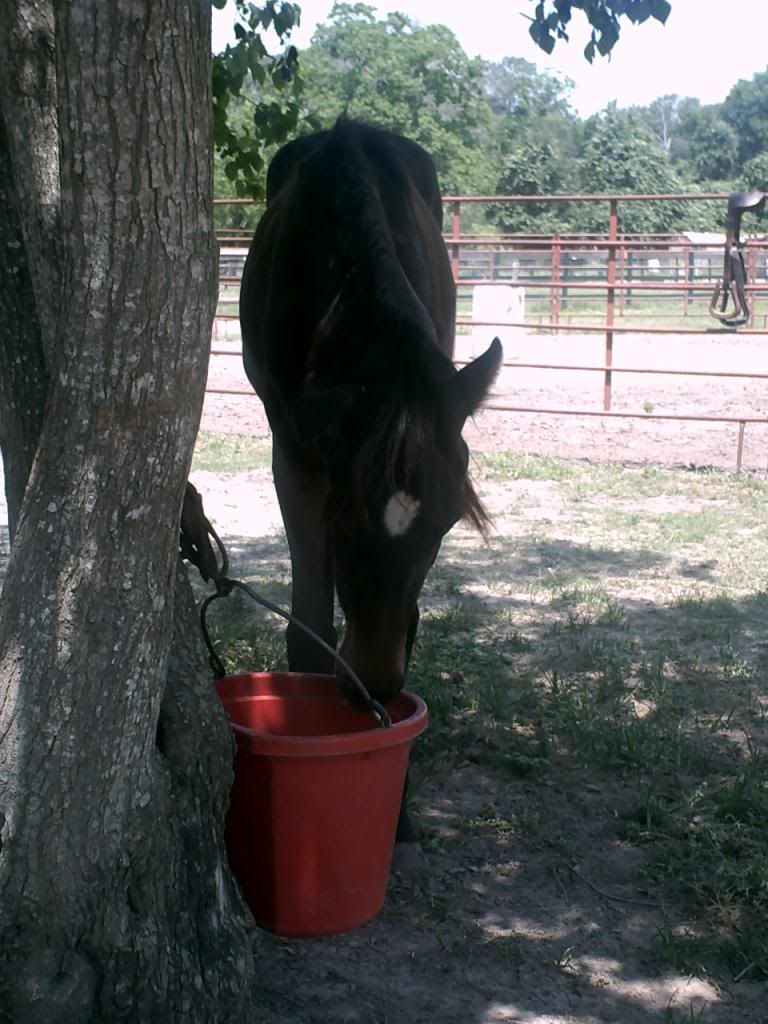 'You're lying. I do not have food on my lips!'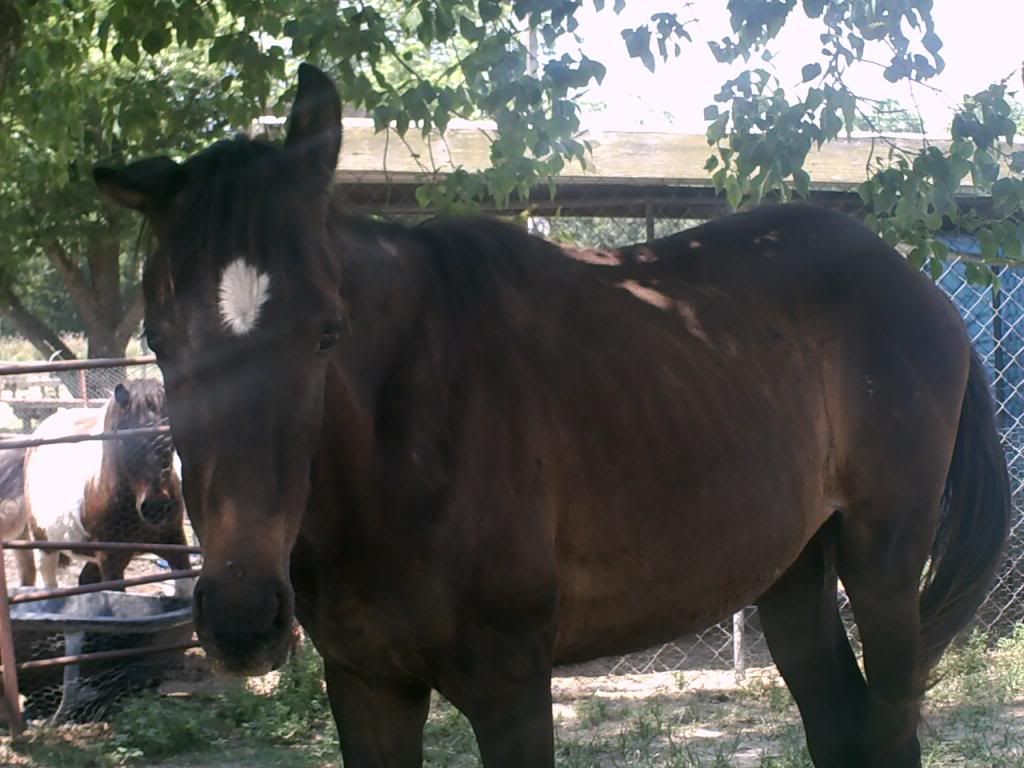 baby butt!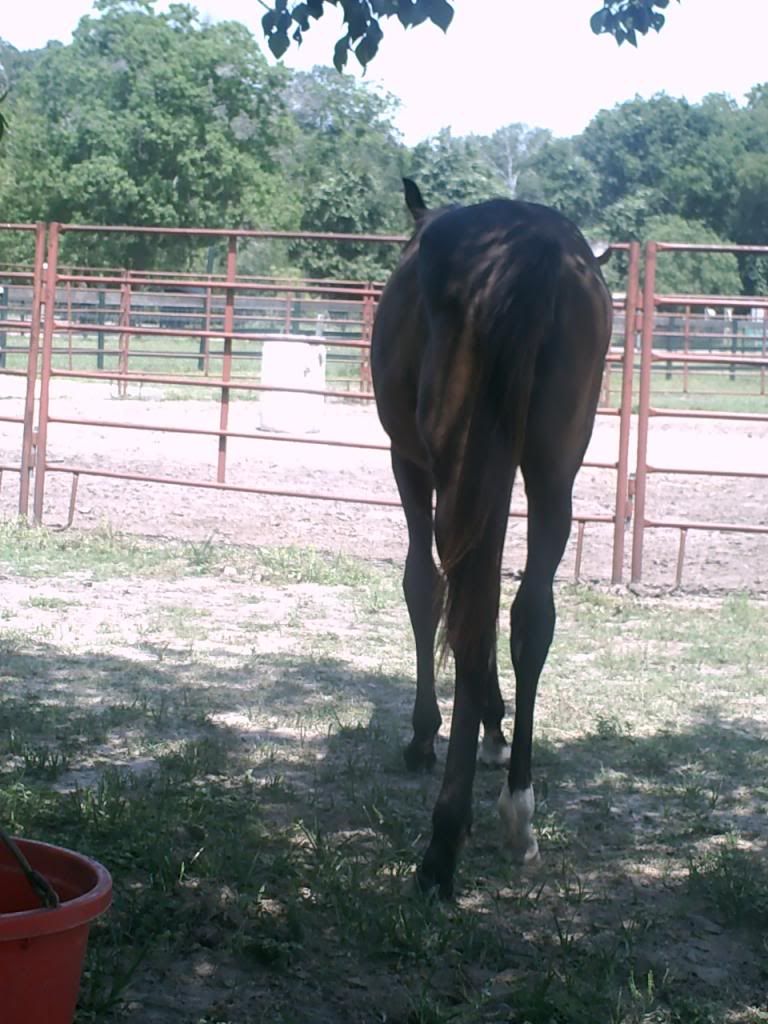 lately she's been leaving this much feed in her bucket. I feed her 2 lbs of grain, 2 1/2 lbs of alfalfa pellets, and 1/2 cup of DuMor Ultrashine, and now I'm upping her beet pulp. Does the fact that this much is left mean I'm giving her too much food? Since its summer I'm able to start giving her 3 meals a day instead of two, so I can give less each time. Do you guys think that would help?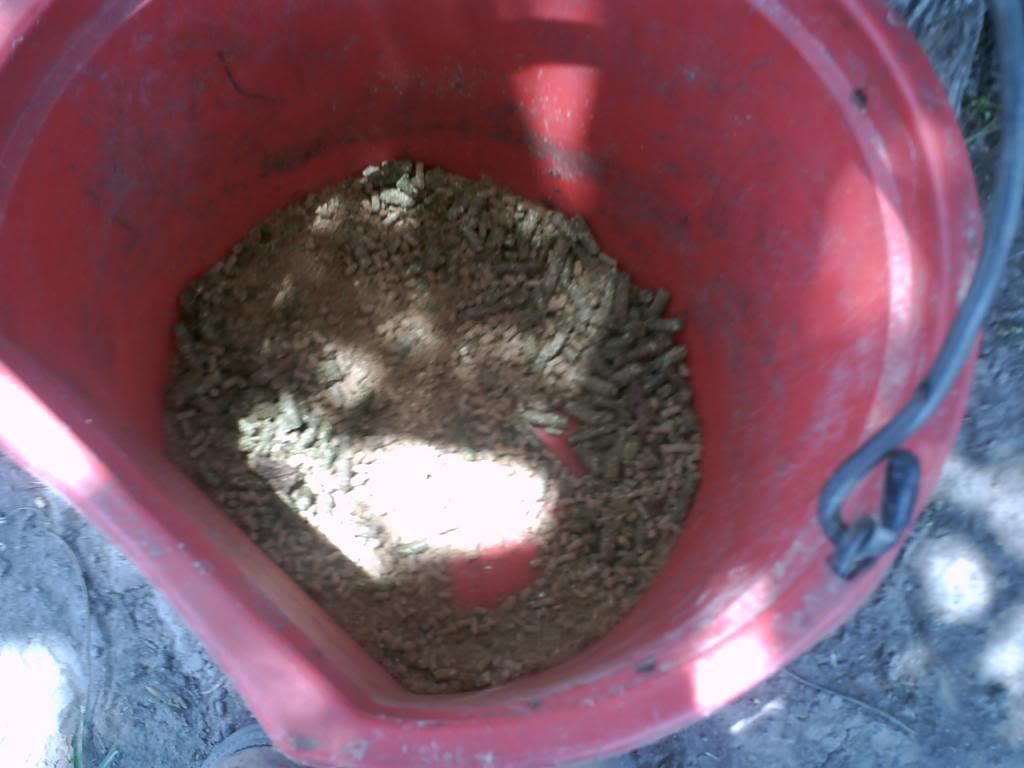 She also takes SO LONG to eat xD it took her 45 minutes to eat that amount, because she kept doing her circling thing and 'visiting' with me, which was sweet, but I was like 'GOSHDARNITGIRL. Finish your food!'
I'm excited though. I decided to try introducing (or more like re-introducing) Kenzie and one of the other mares we kept as a lesson horse from their original home, and they actually got along really well! They just grazed together like old pals, and Kenzie kept calling after Bree when I brought her back out of the pasture (I dont want to keep them together unsupervised yet) which I guess means she remembers or likes her? Its funny because they look a LOT like each other. I'm actually curious whether they're related at all or not. Same general conformation, same color, and both have a big white star on their forehead xD Since they came from the same lady, its possible!
---
Everyone in your life is meant to
be in your journey, but not all of
them are meant to stay till the end.
Oh my goodness, I forgot the best news I've ever heard.

We FINALLY have fuctioning security cameras!!!! Its such a relief to me, and makes me feel a little bit better about Kenzie still being here.
---
Everyone in your life is meant to
be in your journey, but not all of
them are meant to stay till the end.
I just saw this, what a sick and terrible thing to do to an innocent animal. How long has it been now since the attack?
hmm... a little more than 6 weeks I think? Her ear is 100% healed, no flesh showing anymore. We never had any infection miraculously, and while it did swell and look very nasty for a while, it really has done MUCH better than I expected. I was expecting to lose it. It healed a little 'tight' because of the way it was cut and because it wasn't stitched, so some of it's mobility is compromised, but she can still move it quite a bit and can obviously hear out of it, which is what matters most!
---
Everyone in your life is meant to
be in your journey, but not all of
them are meant to stay till the end.
Feeding three times a day will really help.
---
Learning never stops
oops, for clarification I feed the above amounts twice a day.

I'll do the three-times a day feeding this summer. 7 am when I get there, 1 pm when I get a break, and 7 pm when I leave :) if I'm not there on a day for whatever reason, there should be someone else that is who won't mind feeding her for me, so it should be consistent. Will it hurt her if there is the occasional day when we still have to do a 2 time feeding, or is that an absolute no no?

I won't be able to do that after summer ends since I have school (senior year!!!!) but hopefully it will help for a while. She's starting to get used to the soaked beet pulp too, and is doing better with me just soaking it for 45 minutes to an hour before I feed her. Less rubbery I guess, but saturated enough to be safe (or at least I hope so!)
---
Everyone in your life is meant to
be in your journey, but not all of
them are meant to stay till the end.
End: Id try to split that daily amount into 3 feeds. 5 lbs is too much for a small baby all at once. That is the max amount youd feed an adult horse in one sitting. Id feed her no more than 3ish lbs at a time
---
Married to my One! 10-11-13 Steampunk style:)