I believe that she will get totally over this psychological trauma.

My horse (see my avatar pic) was attacked by a dog when she was 6 months old. The dog ripped an 8 inch long gash in her shoulder. If you look closely at the picture, you can see that she still has a funny skin tag left over from it. I could remove it surgically, but it is just cosmetic and I haven't wanted to put her through it. Well back to the injury, I had to do a LOT of stitches and injections, and she got really wary of me. She is totally fine with me now. She is not terribly fond of dogs, but she will go by them without going psycho.
---
Celeste
Carpe Diem!
Young horses go through some weird stages, so I think she will do just fine. My 2 yo decided not to walk on the lead last week. I had to back her halfway to the barn before she would take a forward step, then do it again before she decided to go. It was breakfast, for goodness sake, not the gallows!!

Cannot wait to see some pictures!

Nancy
I sure hope so! She had such a winning personality, I'd hate to think its gone. Ofcourse, nothing about the current Kenzie is BAD, she's incredibly well behaved all things considered, and she's never been mouthy or pushy like our colts have sometimes been...I rarely have to reprimind her, and if I do its a short, quick 'NO MA'AM' and she doesn't try it again. Hopefully as she sees that her world doesn't have to be scary, she'll grow more confident. She's definitely a gigantic change for me though. Sour is TOTALLY opposite of her. She's alpha mare x2 and if you don't take charge, and take charge both immediately and boldly, she'll gladly step up to fill your shoes xD
Anyways, heres the pictures I promised. Again, sorry for the aweful quality, I was literally taking half of them on the go as I was grabbing my saddle to go round up those 'strays'. I'm kind of sad though. Looking at these photos maybe I'm just imagining the weight gain. She doesn't look all that much thicker when I compare pictures from two weeks ago to now. *sigh*
Insanely blurry 'ohai girl! Have dinner?' photo, with big, fat Bud's thigh in the way. BO's son tossed him in there when he went to catch the cows which I didn't think was a great idea, but thankfully Bud is pretty mellow and didn't mind sharing a pen for a few minutes. This just shows how tiny Kenzie really is though. Bud is a QH x ASB (I know, weird mix, but he's gorgeous) and stands at maybe 15.3-16hh.
Also, is it just me or does Kenzie look like she has NO right ear in this photo? xD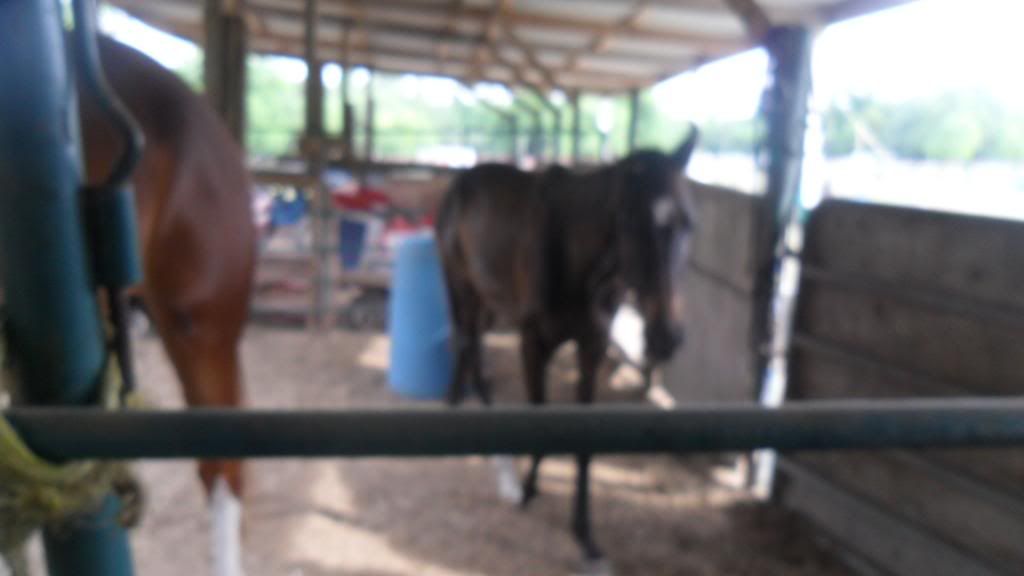 No really. I'm starving. Where are my noms?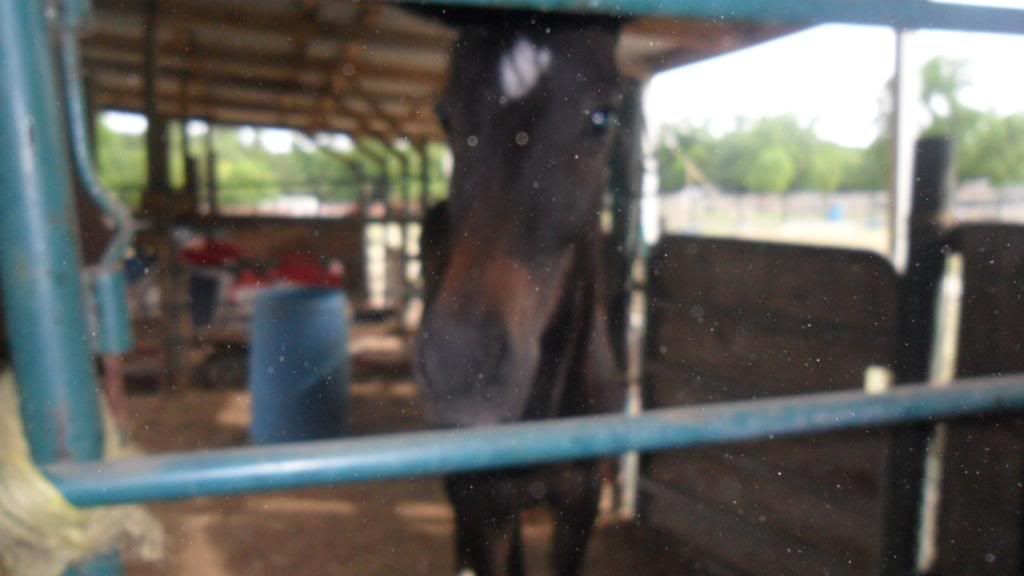 Her mane and tail are SO sun bleached. But hey, I'd rather her be happy out in the pastures than have a dark mane and tail from being in all of the time. I think she was posing for this picture! lol
awkward skinny girl pose.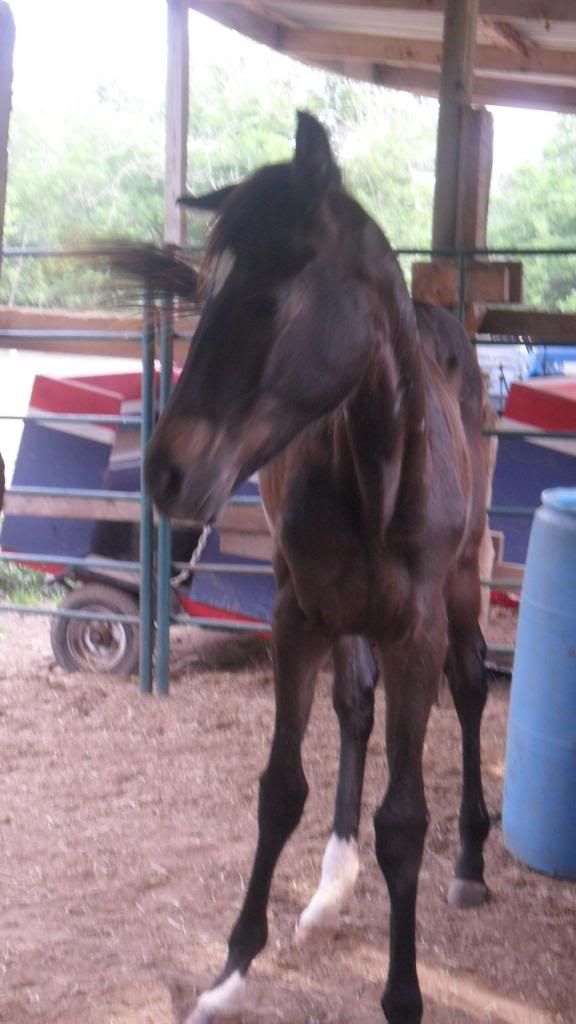 At this point Bud decided he MUST have a turn for attention too, and proceeded to try blocking my view of Kenzie xD Also... HOLY PIGEON BREASTED KENZIKINS! O_o Or I think thats what its called anyways...when they're really base narrow? Hopefully she'll widen out a little because thats insane!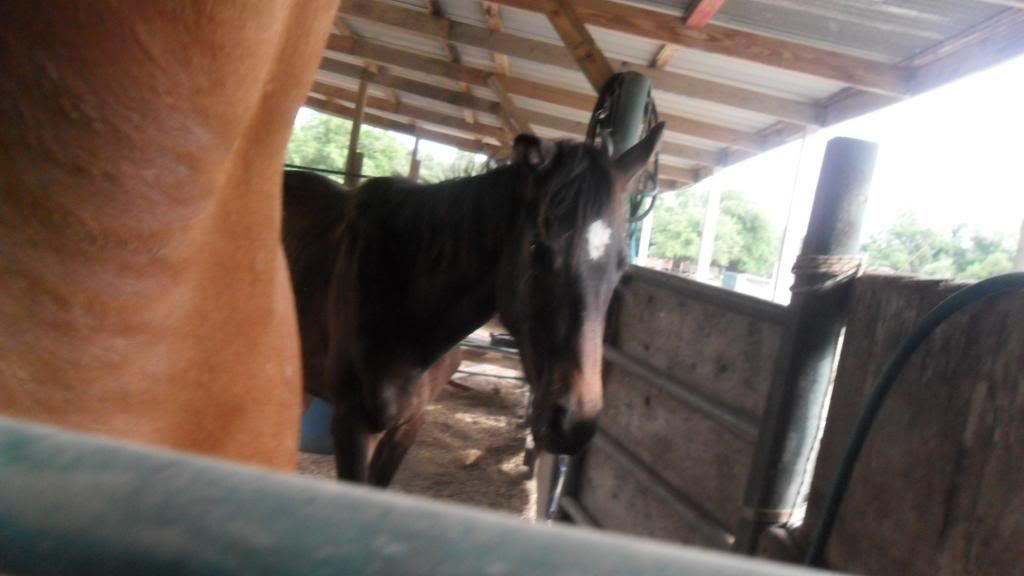 ofcourse, I say she isn't improving much but really thats not true. Looking at photos from 3 weeks ago or so such as this one...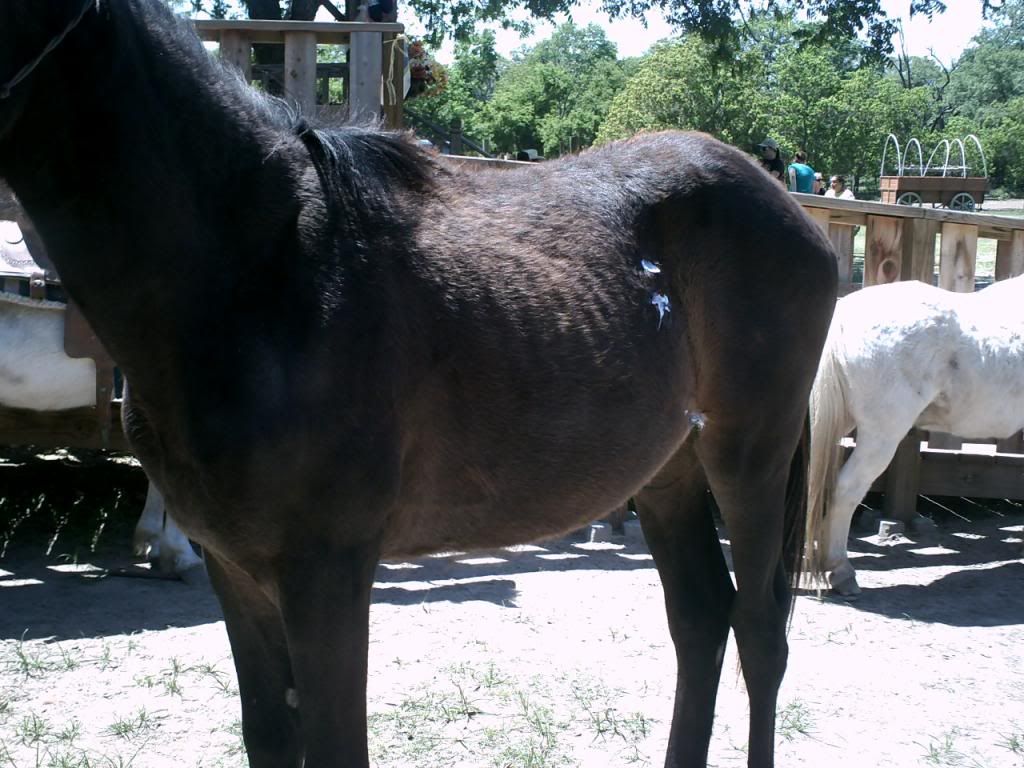 makes it obviouse that she's looking better. So I should stop complaining. Her coat is WAY better, if nothing else. And its so soft.
---
Everyone in your life is meant to
be in your journey, but not all of
them are meant to stay till the end.
It is difficult to keep in mind that her body is still GROWING, besides just recovering from poor condition. As you give her more building blocks, the body is going to prioritise how it uses them. Like the foundation of a house, sometimes you're just not going to see all the juicy bits being put in place. Have faith that as long as you're pouring it into her, she's using it!
Posted via Mobile Device
Green Broke
Join Date: Aug 2009
Location: Vancouver, British Columbia
Posts: 2,808
• Horses:
2
Awe Endiku I Love the one with her facing forward. She is such a cutie. She is still growing and trying to catch up, don't fret she will. Hunter was the same when I first got him. He also has a very nasty scar on his hip from something that happened in his first 6 months as it was all healed when My friend got him at 8 months. We don't know what happened but it hasn't affected his disposition... or maybe thats why he is such a brat. Nah thats just the pony in him.
Green Broke
Join Date: Aug 2009
Location: Vancouver, British Columbia
Posts: 2,808
• Horses:
2
Ouch, poor guy! He is such a cutie though...I love ponies even if they do seem like devil spawn sometimes. He's so lucky to have come to you!

I really wonder what it was that cut Kenzie's shoulder back when she first came to us. It was pretty nasty even mostly healed up, so my guess it that it was a pretty big cut, but thankfully it healed alright minus a little flap of skin at her point of shoulder (I guess that's a skin tag? Its tiny, maybe a centimeter long. I only notice it if I'm stroking her shoulder or wiping her with a rag) and some scar tissue. It doesn't seem to affect her movement though. She also has what looks like rope burns or wire cuts on her front legs, so who knows what other trauma she went through? Poor baby's body tells a story of her neglect and abuse, and I think it always will, even after she's fat and healthy again. I just hope that, as you guys said, her mind heals and she can push past all of the things that have hurt her.

I'll just keep feeding her and doing light ground work, and hope that her personality breaks through again soon. I need to measure her again, too, in order to see if she's grown any. I'm pretty sure she has, but I've almost been afraid to measure just in case I'm wrong xD she seems a lot taller to me (I used to be able to see over her back, now I can't really, unless I stand on my toes) but it may just be that she's a lot wider than she was.

Even if I did want to up her feed even more though, I don't think I can! I've reached the limit of her attention span for eating, I think. She typically finishes breakfast completely, including licking the bucket for left over UltraShine that didn't stick and slurping up the beet pulp/afalfa soup, but she gets too distracted around lunch after being able to snack on hay and grass all day. I had to cut back the alfalfa pellets a little because she wasn't even finishing it and I had to toss it out. She finishes dinner, but takes FOREVER, and you can tell that by the end she's feeling pretty full. And if she's getting full, I guess that means I'm feeding her enough and that she's just using her food for more important things than filling in her ribs.
---
Everyone in your life is meant to
be in your journey, but not all of
them are meant to stay till the end.
I went back and reread post, but I guess I missed some. Lets see if I have this right.. the BO is keeping the filly. I dont get why, as she probably wont ever sell for much or is she going to breed her (sigh) . ? As I stated I missed some post, and just skimmed a lot , so did I misread or ? and please no pissy comments.
Her coat looks way healthier! Doing good! I've been following along with this story. Nice to see her coming around , best wishes for the future. Forgive me for not reading every post - but is her ear healed off to the side now?
Sounds like that's the direction things are heading in right now, Stevenson. Don't worry, no crabby replies from me ;) I'm having a hard time understanding the line of thinking too, honestly. Not sure about breeding, although that's a good point...it could be that BO is thinking that she's of good enough lineage or something to be a baby popper...which I highly hope isn't the case. I hadn't thought of that being a reason for her wanting to keep Kenzie.

Although...as far as I know Kenzie still isn't even registered. She has the papers to BE registered, but no one has paid the fee and sent them in, so I don't see what the point in breeding her would be. Not to mention that we have no idea if she'll ever even be breeding sound, considering all of her problems. It could just be that I haven't been given that information though, and she has been registered. It wouldn't be the first time I was left out on information like that.

That's ALL speculation though. It could be that BO just likes her personality and doesn't want to part with her, or that she was wanting more money than she'd get for Kenzie right now...or even that she DOES want to use her for publicity once she's better. Who knows? If she did say something about breeding her later on though, you'd better believe I'd do anything in my power to buy her and keep her away from that fate. So much can go wrong with breeding horses. Hopefully that isn't the case though.

PrairieChic- no worries! Yes, her ear did mend itself lopsided, unfortunately. It isn't laying like it was at first, perpendicular to her head, but it definitely tilts to the right and forwards. As far as I can tell, the furthest back she can move that ear to 'pin' it (although I've never seen her give a true ears-pinned, snaky face to anyone or anything yet) is with the other ear back and the previously injured ear standing almost straight up and 'pricked.' Which, of course, really messes up her facial body language and seems to confuse some of the other horses...and me xD
---
Everyone in your life is meant to
be in your journey, but not all of
them are meant to stay till the end.