Neigh Lox is a good antacid & is pretty cheap. The best course would be to cure the ulcers with Ulcer Guard but it's very expensive & not something you should pay for.
The NeighLox would at least tell you if you are on the right track.
Thanks. I'll look for that. I was looking at Ulcer Guard yesterday and nearly fainted when I saw the prices for not even a months supply O_O I'm willing to do what it takes to get her better, but I'm not paying $68 a month for ulcer medicine if I'm not even sure ulcers are what are causing her cribbing in the first place!
I'm going picture happy over here, so have some more! Please pardon her halter...I'm borrowing it from a friend because the nylon halter is officially too small. Its a yearling halter though, so I'm sure hoping her new halter will fit better...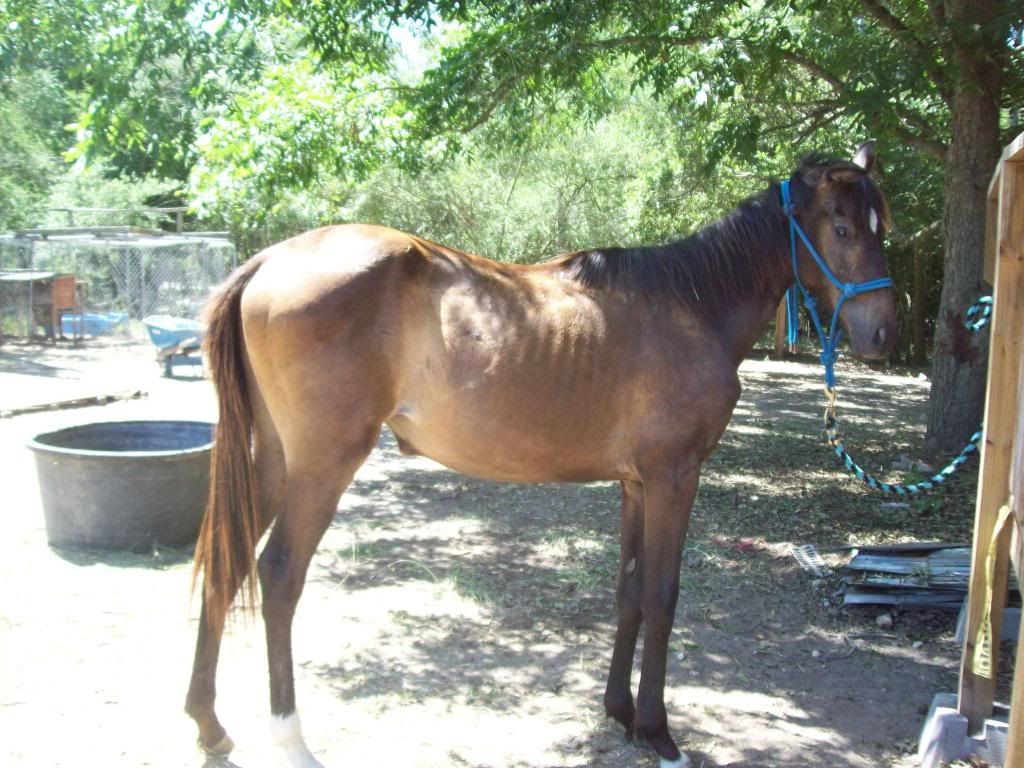 her floppy ear makes all of her expressions look disinterested and less than amused xD
her shark fin withers and ewe looking neck are not doing her any favors I'm afraid! LOL. Its ok, I love her anyways ;)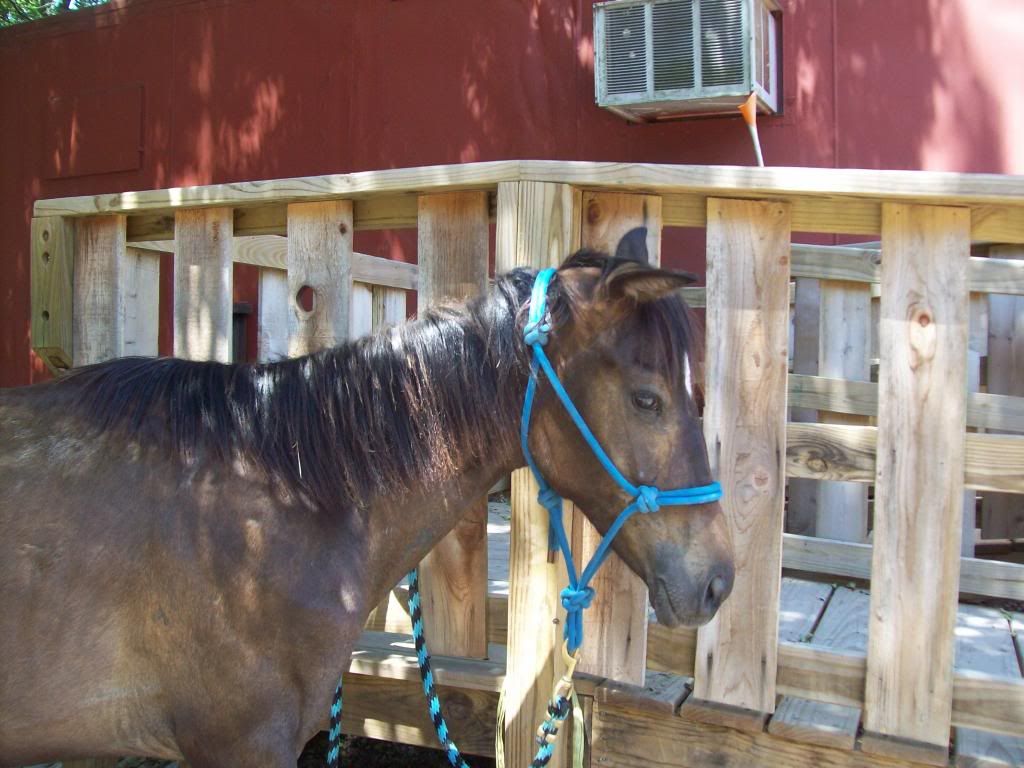 my attempt at a selfie + kenzie didn't work out so well. She ended up just glaring over at me like 'OH. I see. I can't be in your personal space but you can just cozy right up into mine. Makes total sense. Jerk.'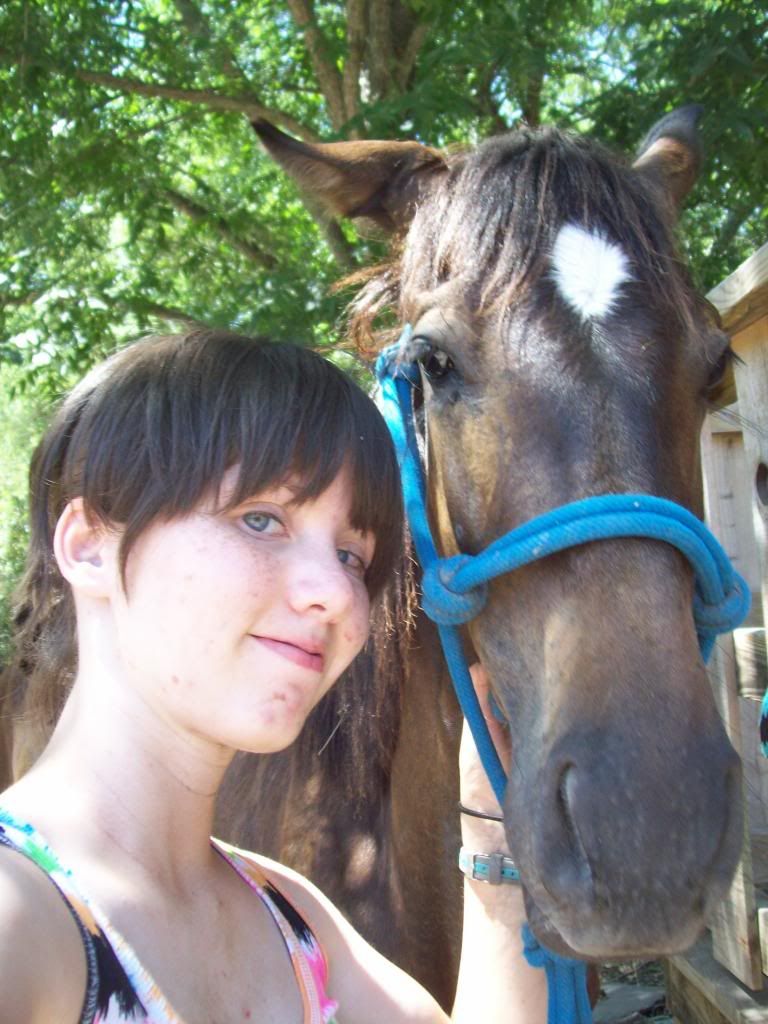 standing at the patience tree, looking as annoyed and pathetic as she possibly can. Miss too-awesome-for-Allyson decided that she did NOT want to be hosed down today to get all of the excess fly spray off her coat from this week, and threw a tantrum about being tied while I washed her. Therefore she was banished to the tree of never ending tying (read - POOR BABY had to stand there for a WHOLE 30 minutes while I stood on the deck to eat lunch.) She's definitely feeling better and acting very much like she yearling that she is xD the fussed and pouted for about 5 minutes, pawing and pacing at the tree to see if I'd notice her, but as soon as she realized I wasn't doing anything about it she settled down and took a nap. What a goof.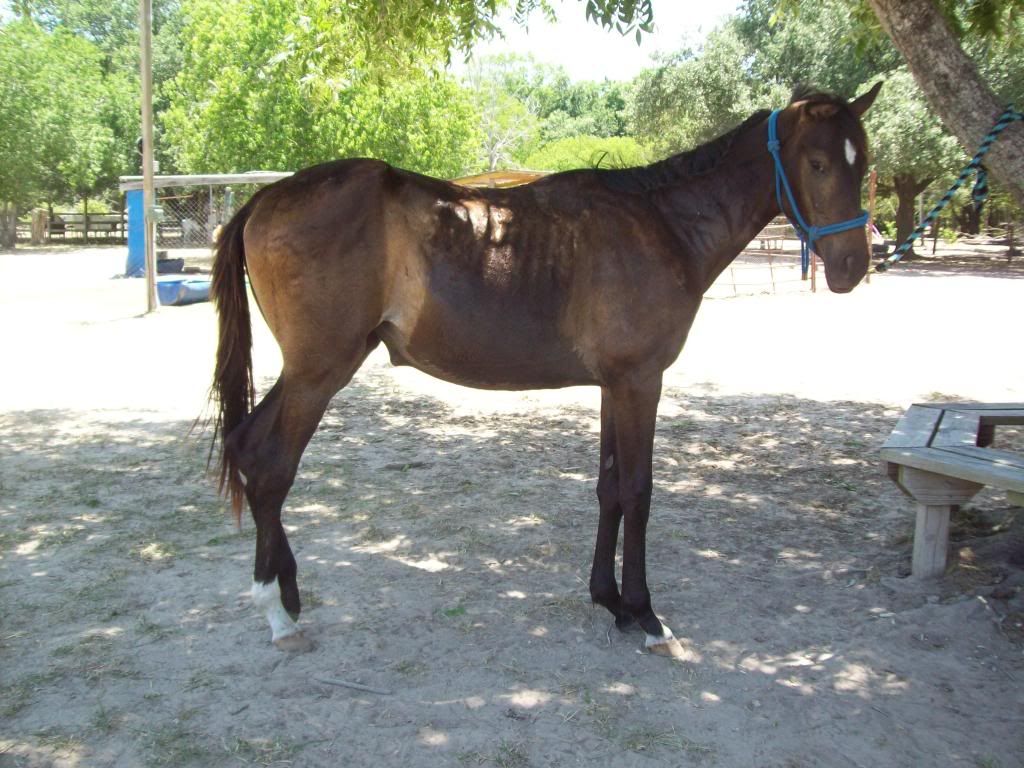 Pardon that aweful running braid...I was trying to be fast while she was being good for a few minutes xD
Also, Kenzie's new halter came in today!!! Unfortunately it came in literally 30 minutes after I had already left the house, but whatever. I'll try it on her tomorrow. It looks really big to me, but we'll see. The good news though, is that it looks like great quality, I LOVE how soft and pliable the rope is, and it IS royal purple!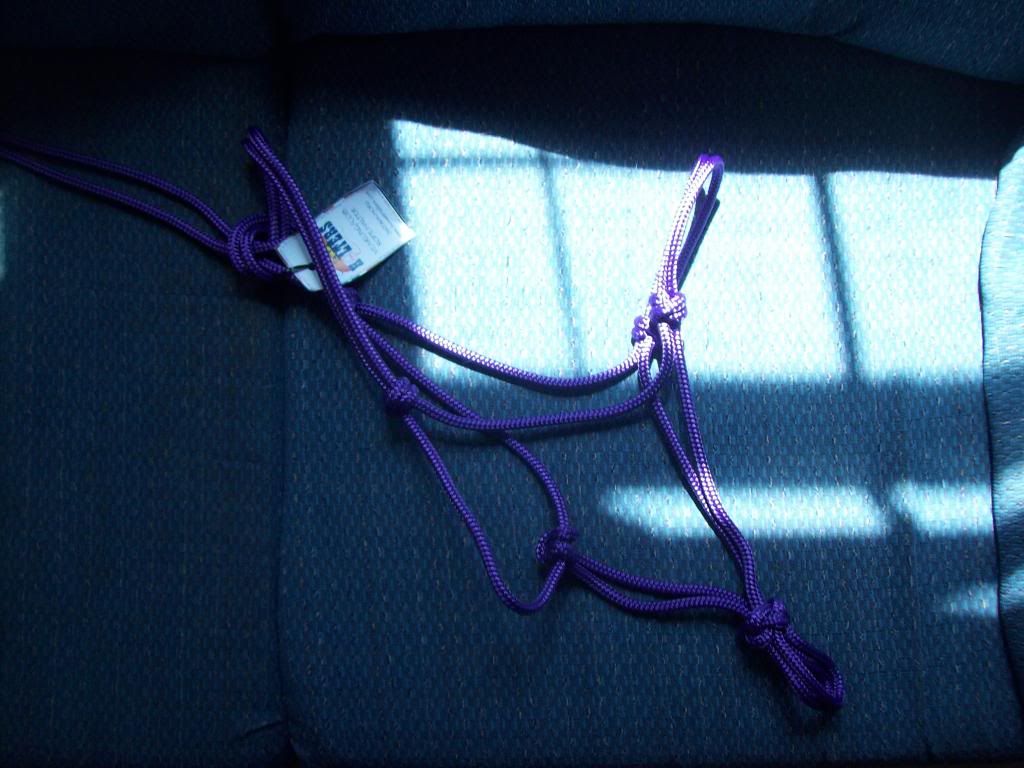 ---
Everyone in your life is meant to
be in your journey, but not all of
them are meant to stay till the end.
Alright, well I was in a hurry this morning because I was late for church and still covered in hay + grossed out after having to remove a very bloated, very
dead
squirrel from a boarder's water tub this morning (YUCKYUCKYUCK) and having to scrub said 100 gallon tub in case of disease, but I did snap a quick picture.
Presenting Miss Kenzie and her lovely new Sunset Halters rope halter! ;) I think she looks quite snazzy in it, and apparently she does too since she took her piggy face out of her grain long enough politely model it for me.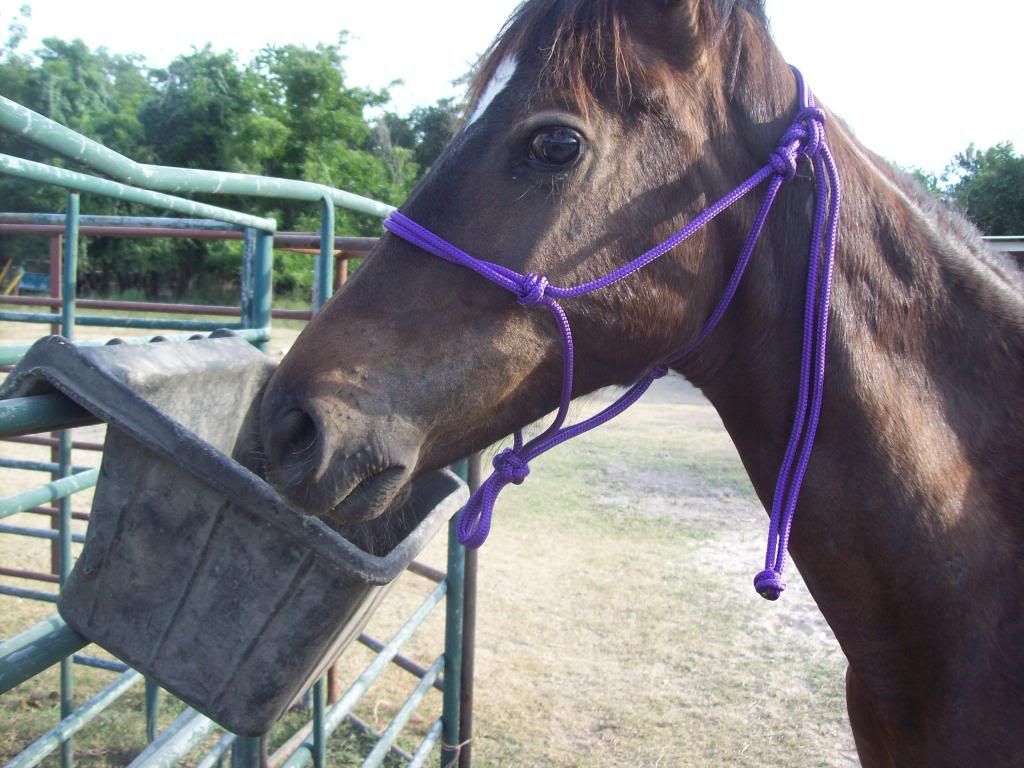 only for a moment though! Then it was back to her nom noms. Gotta love her sketchy mane trying to grow back...LOL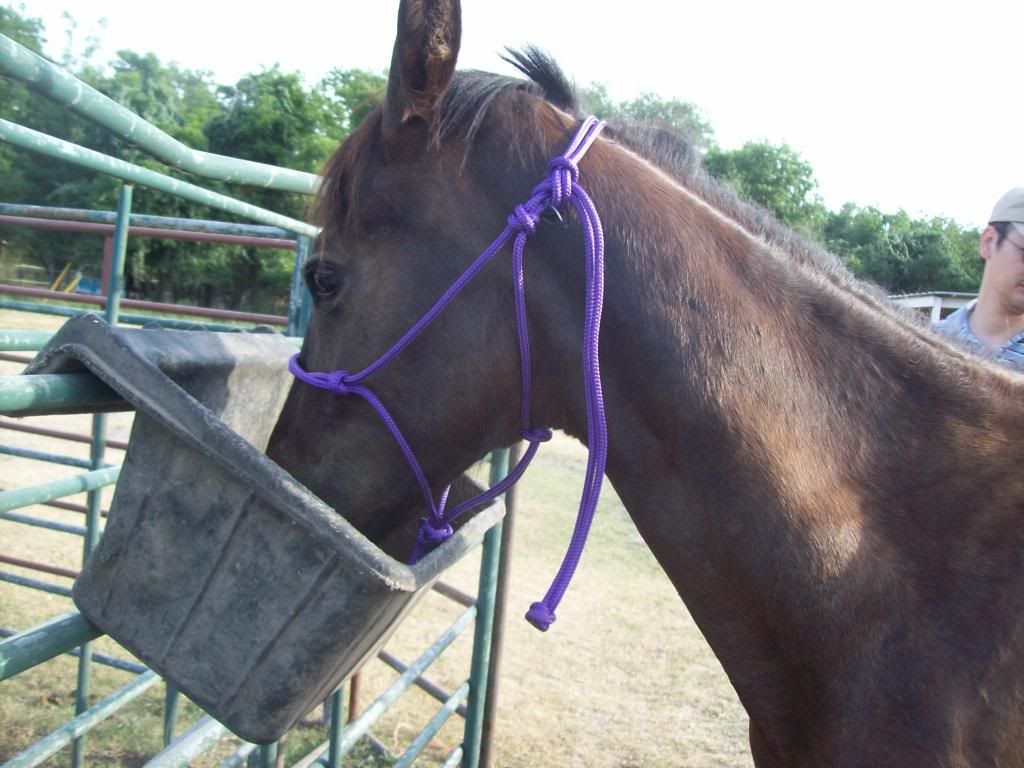 I have to admit that its been a while since I've used a rope halter though. Lately I've just been sticking to a nylon for Sour. Is the halter adjusted right, or is it too high up on her face? It looks a little high to me. She definitely has a lot of growing room in it, but I think its small enough to be functionable...what do you guys think? And I LOVE the color on her. Good choice guys!
---
Everyone in your life is meant to
be in your journey, but not all of
them are meant to stay till the end.
It's about 3 fingers too short on her nose but it's great that you have room to adjust it accordingly :)

Are you able to loosen the knots at all or are they on there pretty tight?
---
"Strength is the ability to use a muscle without tension"

Thanks. I'll make sure that I put it lower tomorrow. She only had it on while I was bringing her from the pasture to her panel pen and I didn't dare tie her (especially since smartie pants has decided setting back when she gets scared is a great idea. Glad we have sturdy trees!) while I wasn't sure if it was on correctly or not.

The knots are pretty tight but I think I could work them out to adjust them if I really needed to. I just realized the noseband was a bit twisted too. Whoops xD

I'm loving how soft the rope is though!
---
Everyone in your life is meant to
be in your journey, but not all of
them are meant to stay till the end.
Looks good! I agree it's a bit too high up on her nose. Henny has just as much growing room on his halter, too. I like to think it gives them MONTHS of use for one halter, which is good for a growing baby! They won't be growing out of them any time soon.
---
There on the tips of fair fresh flowers feedeth he; How joyous his neigh,
there in the midst of sacred pollen hidden, all hidden he; how joyous his neigh
You should be able to tighten the nose via the fiador knot by pushing the excess nose rope into the knot, then pulling it out the clip loop. If that makes any sense at all.
The clip loop will be huge for a while but that excess will disappear fast as she grows. :)
I would leave all the other knots as they are, tightening up the nose will probably be just the ticket (it'll sit lower at the correct "bigness" for her nose = take up a lot of the excess cheek/throat/etc stuff).
She looks haught AND hot in her new spiffin' halter!
---
Fabio - 13 year old Arabian/Lipizzan gelding

~
Rest peacefully, Lacey.

She is turning into a pretty good horse! Boy oh boy is she light boned though! I don't think I have seen such light rear cannons on a horse! She is nice through the body.. short coupled and short backed. She has a lovely shoulder ( so far).

Cribbing in Thoroughbreds.. TRUE cribbing with air swallowing.. is often genetic. Yes... really. It is part of an obsessive compulsive behavior on par with weaving.

I have often heard it said that cribbing in Thoroughbreds is caused by racing and being stalled. No. It is often found in lines and being stalled shows it off more. I have seen horses out in a herd, on pasture crib at a stump or a fence. Ton of grass and socialization.. and there the horse is cribbing. In the field. The ones that don't crib will weave. Is an increase in cribbing ulcer sourced? Maybe.

What is really going on is that cribbing releases endorphins and the horse actually become addicted to that release. Years ago I read a study.. where they gave horses some sort of medication.. and the cribbing stopped. I forget what that was.. but the horses stopped cribbing.. then the meds were removed and cribbing restarted.

Considering where this filly has come from she very well could have ulcers and yes.. that should be checked.
---
There is something about the outside of a horse that is good for the inside of a man.
~Winston Churchill
(or woman!!!!
) Dinosaur Horse Trainer
Haha, yeah she definitely has lots of 'wiggle room' in that halter, so I'm thinking she'll fit it for a loooong time xD fine with me though.
Thanks for that tip Wallaby, I think it makes sense! I'll fiddle around with it today and see if I can't get it a bit smaller through the nose, then take a picture so you guys can check it. Those knots are tight, tight, tight, but the fiador knot isn't as bad so I think with some work it will loosen.
Hopefully I at least have it tied right? xD I tied it wrong for FOREVER, and just a few months ago a friend of mine was like 'errrr....so yeah. Let me help you with that." Turns out
everyone
at my farm ties it wrong, and yet we're a 'western' facility.
-headdesk-
You're not kidding Elana! I'm used to our wide-as-tall Quarter Horses so having Kenzie around is...strange to say the least. I feel like she'll break if I touch her xD those cannons are just so darned long, and she is still pretty badly cow hocked in the back. The left hind has corrected itself some though, which I'm glad for.
I'm not sure where she got those toothpick legs...maybe her dam? Mama was light boned and had all sorts of lameness issues/stocked up super easily in the short time that we had her while trying to rehab her... but her legs weren't as light as Kenzie's are.
(Poor skinny mama. I really wish we could have helped her.)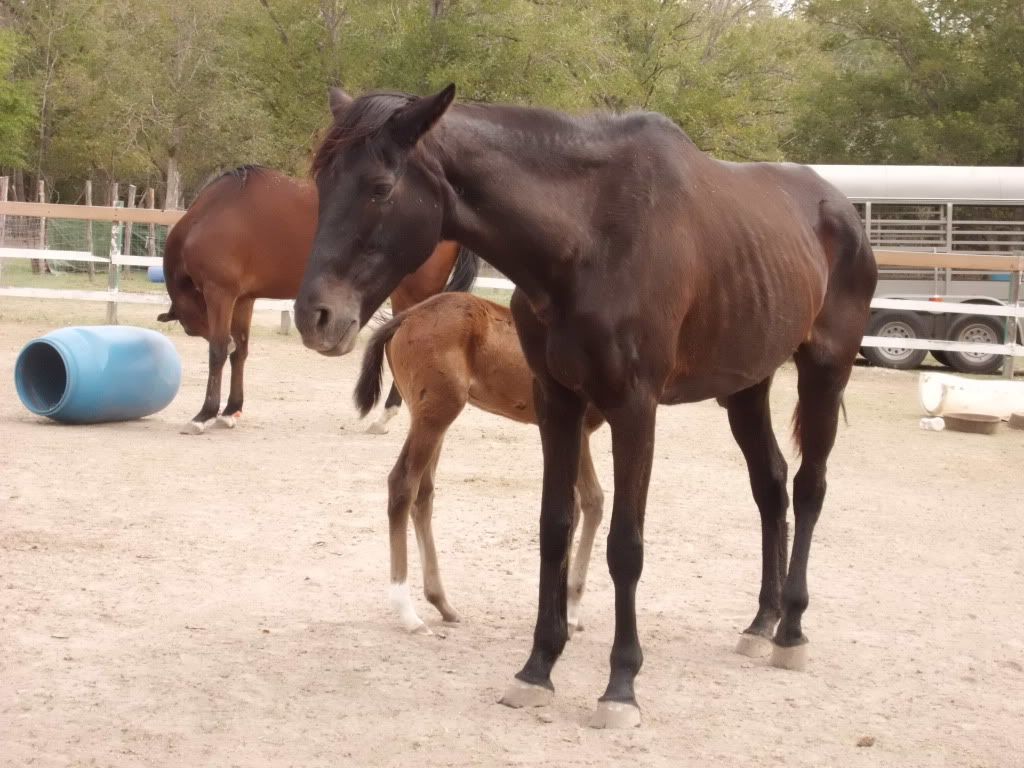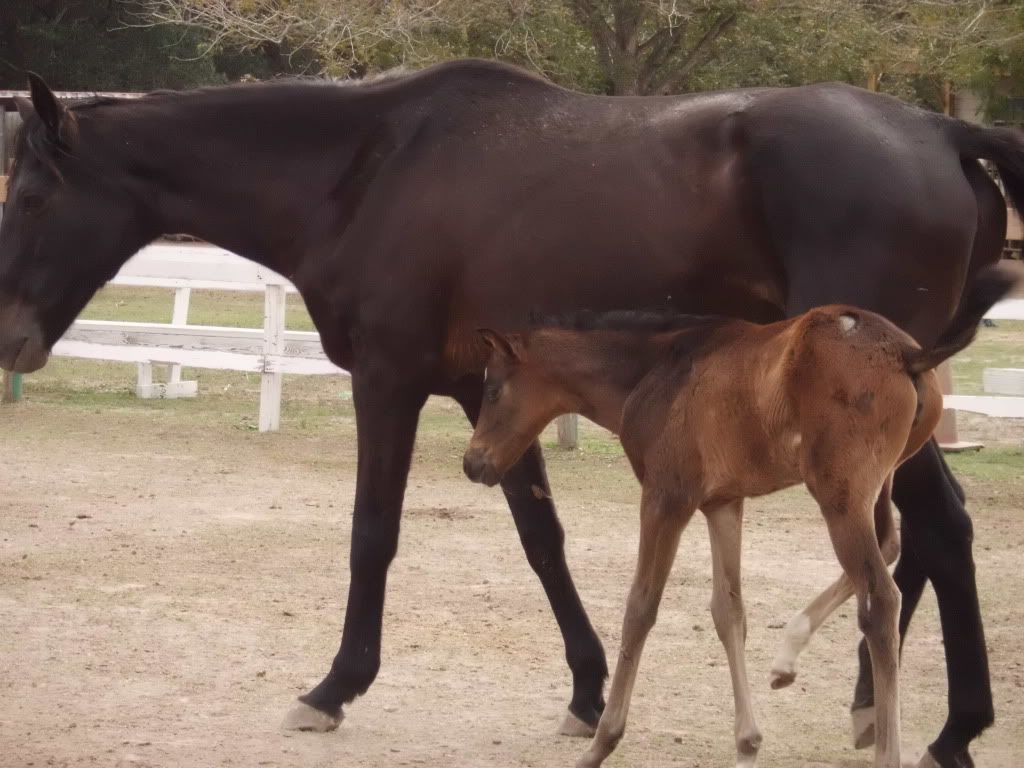 I'm not sure who her sire is though, so maybe he had funky legs. I think her sire might of been this crypto 3 year old that was apparently with them most of the time, but I think her breeder had another stallion too.
If the crypto (Jethro. We gelded him and he's quite the trail horse for someone now!) was her daddy, he had some pretty crazy legs and clubby feet, so that might explain it.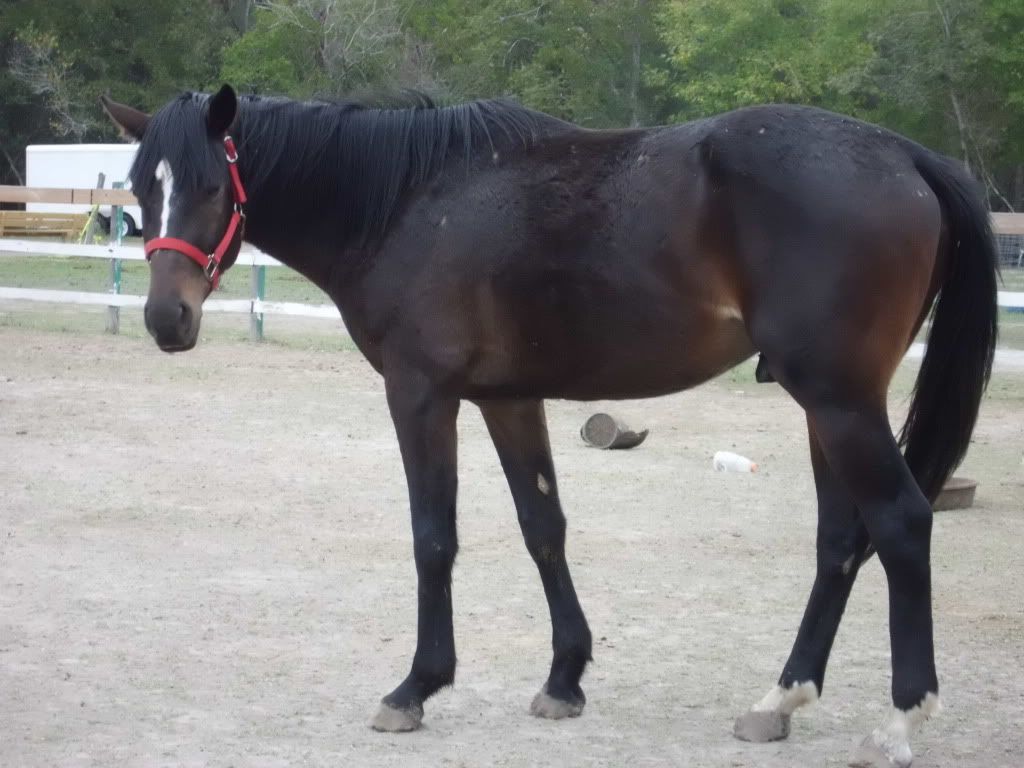 Either way, unless she somehow manages to grow into those cannons (unlikely) I don't see her doing anything too strenuous as an adult, but maybe she'll make a nice all rounder for someone. I doubt anyone would want a show horse with as many scars as she has anyways.
She's definitely a true cribber. I can hear her suck in and make that belching sound every time she cribs, and she doesn't chew. I don't think I'm going to try a collar after all though, as anyone I've asked said it just makes them pick up another habit and creates stress for them. I'll figure out another way to deal with it. I'll definitely have her checked for the ulcers and treat those if she has them, and if she still cribs after that...well, so be it. I guess she'll just require more dental care and as much turn out as possible to keep cribbing to a minimum.
---
Everyone in your life is meant to
be in your journey, but not all of
them are meant to stay till the end.
Those legs are.. just hers. Mother seems a nice enough looking horse and the crypto is a nice enough horse. Adequate bone in both.

Kenzie may be a different horse altogether in 6 months. Time will tell!
---
There is something about the outside of a horse that is good for the inside of a man.
~Winston Churchill
(or woman!!!!
) Dinosaur Horse Trainer