What a cute, shiny, fit boy!
Love that idea. I am definitely going to steal it if the situation ever occurs.
He looks like a gentleman - what a wonderful boy.
Green Broke
Join Date: Aug 2009
Location: Vancouver, British Columbia
Posts: 2,808
• Horses:
2
Wow he sure doesn't look 23. Oh dear our silly ponies the trouble they can get into. Thanks for sharing its good to see the progress and I am glad he is healing well.
Thanks for the post! Looks like it healed up nicely but what a yucky beginning!
Thank you for sharing & adding to our knowledge here. Great idea w/the tennis ball & you are very good at bandaging. Does the vet think he will recover enough to ride again & not be lame? He is a handsome fellow!
Thanks guys.

Cacow, Kody was already a pasture puff due to arthritis, but if he hadn't already been retired this probably would have done it. Vet's prognosis is for a pasture sound horse who is a bit gimpy at times.
---
Flirt-Hugo-Phoenix-Romance-Fanta-Nippa-Shiloh

Trojan 09.11.02 - 26.10.10 // Kody 01.09.89-25.06.12 // Rex 05.11.95-21.12.12

He's so handsome and yeah every time there's a wound I call the vet. And each time it's been terrible so I'm glad I did. Rather pay to get told it's no problem than blow it off to nothing lol.

Not saying you did, just that's what goes through my head when something is up with my horse :P

I'm glad you got it taken care of and that he heals nicely!
---
"Strength is the ability to use a muscle without tension"

Ugh, that's brutal...I'm glad you've gotten ahead of it! He's a really handsome guy.
Wow, he is just drop dead gorgeous. The best 23 year old I have ever seen.
---
"The greatest pleasure of a dog is that you may make a fool of yourself with
him and not only will he not scold you, but he will make a fool of himself too."
-Samuel Butler
Thanks for the compliments on the old guy! He's a character, very full of himself!
Here we are at day 46! Wound is looking fantastic. I have had to remove the tennis ball because despite the padding underneath it, it caused a pressure sore. However, he is still bandage solidly from hoof to hock and it has been almost 2 weeks since I have seen him knuckle over!! YAY! Still a long road ahead of us, but he is definitely on the mend.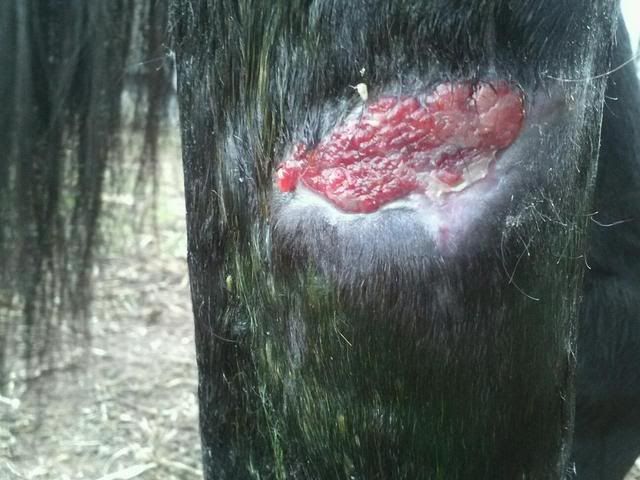 ---
Flirt-Hugo-Phoenix-Romance-Fanta-Nippa-Shiloh

Trojan 09.11.02 - 26.10.10 // Kody 01.09.89-25.06.12 // Rex 05.11.95-21.12.12