That's great news, HC! Glad to hear he is doing well.
---
Life is like a camera. Focus on what's important, Capture the good times, Develop from the negatives and if things don't work out, Take another shot.
Fantastic! Congratulations to you for all the obviously wonderful care you have given.
Wow. Very interesting. Thanks for posting.
Nice to see the photo progression of the injury. It looks so much better now. Wounds can take a long, long time to heal especially when they become infected. Good work at bringing him to where he is today. Kody sure is a handsome devil!
Thanks for posting this. Glad to see how well he is doing!

As a rule of thumb I've always figured if they bubble like in your first photo they are typically deeper than they "appear" and warrant a looking into.
I'm dealing with a cut on my Char's leg that while not as bad as this one started out has finally got a good red scab over it finally. <3 glad you old man is feeling better.
Thanks guys. He's such a wonderful, old goober. He actually went for a trot yesterday (my heart was in my throat when he took off!!) and while he has an obvious gimp he had far more control over the leg then he has had anytime in the last 7 weeks!
For cute factor, here's a photo of him in his new pyjamas giving me the stink eye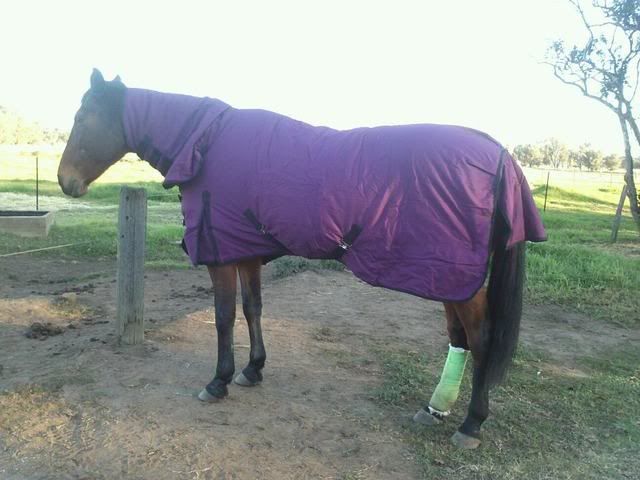 ---
Flirt-Hugo-Phoenix-Romance-Fanta-Nippa-Shiloh

Trojan 09.11.02 - 26.10.10 // Kody 01.09.89-25.06.12 // Rex 05.11.95-21.12.12

What a great thread! Thank you for educating us and I hope that beautiful Kody will heal soon.
Hows your boy doing? Im glad he is healing up well!
Wow, I'm sorry you have to go through this but I'm glad you made this post just to show fellow horse owners that a minor looking wound can be quite serious.

I wish Kody a speedy recovery. His wound is already looking much better.