Is it just me or.. *update*
---
I posted a thread about this little mare a few weeks ago and I wanted to post some update pics and get some advice. I got a good sway back pad for her and have been working on strengthening her topline a bit. Let me know what you think?
She was a rescue as a 2 year old. She came as an awkward baby, skin and bones. She filled out quite a bit over the last three years and I have just recently put her on a feeding program (just a vitamin/mineral balancer plus some roughage chunks as she really doesn't need weight gain). She is on 24/7 pasture with access to hay but is never with the other horses at the feeder, she prefers to be off by herself grazing on whatever grass is left.
BEFORE:
NOW: (This is not me, it is a friend in these pictures)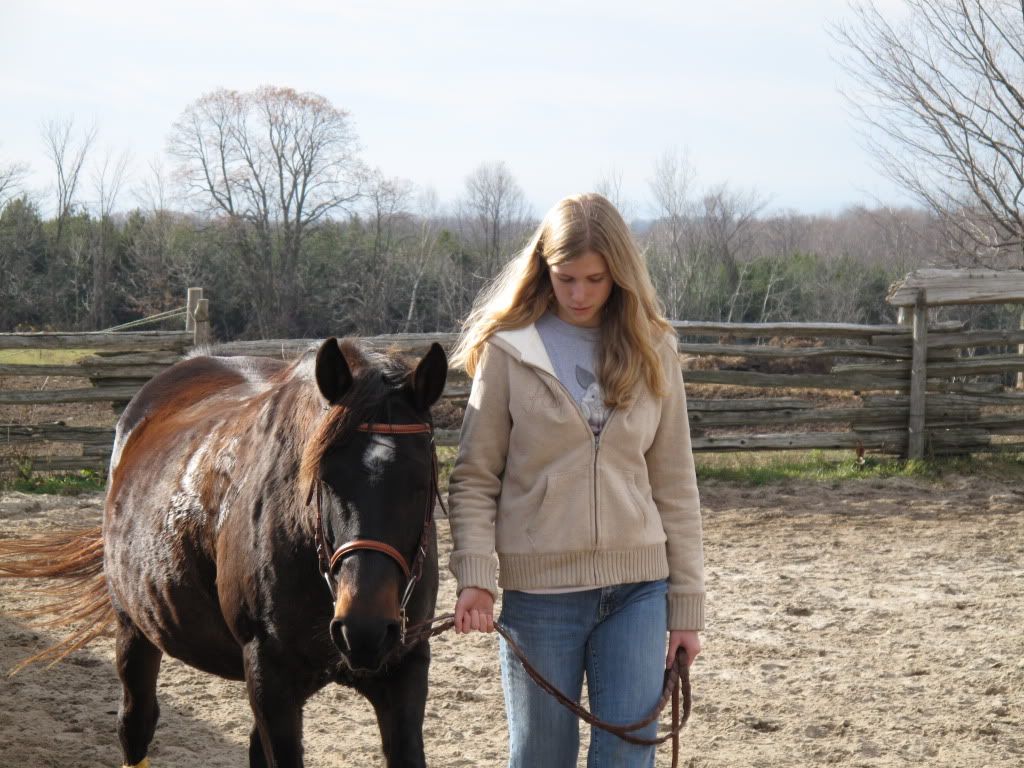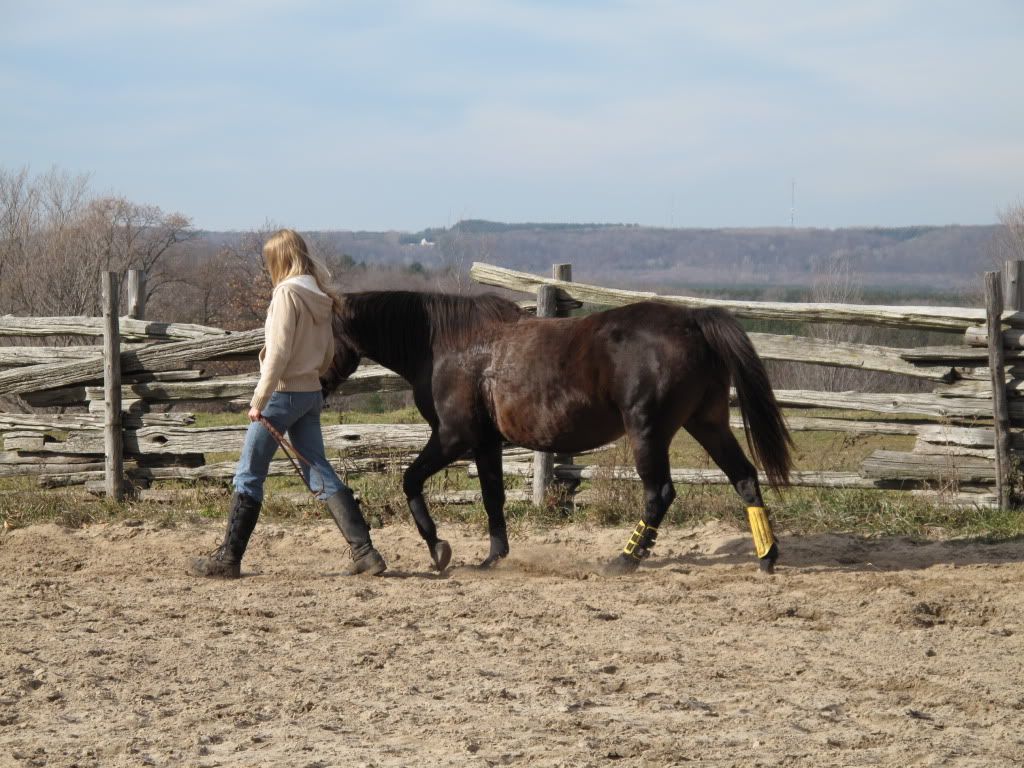 So I was really wondering if you see any difference. I realize she has quite the belly on her but she is not pregnant. I think it may have to do with digestion so I'm going to try her on a yeast product by Purina that supposedly helps get rid of the hind gut. I have been working her on the lunge line without a saddle and getting her to stretch out nicely. Undersaddle we've been working on basically the same thing; Stretching out and lots of long trotting. She's been doing really well so far and I plan to continue throughout the winter as much as I can. Hopefully I will be able to get her out on the trail again in the next few weeks to do some hill work before the snow hits...
---
wow, you have done an EXCELLENT job!!!!!
even know that i dont know you, im still very proud that you have basically saved a horse
and thats something to be proud of seriously.
you have done a wonderful thing
and good luck with her
---
2010 Champions For The Year Goes To
Rylee Winning & Buenna Vista First Edition (Fifi)
Thank you :) you have no idea how good that makes me feel.
She really is special, so I do feel quite blessed to have come across her.
She is just about the sweetest horse I have ever worked with. She has a big personality for such a little horse and she's just a doll. I take her just about everywhere with me, I swear this horse would follow me to the ends of the earth if I asked her to join me.
So thank you for your kind words
it makes a difference to me, hearing it from someone I don't even know!
---
She does look better already! Kudos!
---
Horses are like therapy ~ and almost as expensive
She looks ten times better! Great job.
---
100% Anti-Slaughter and PROUD of it!

Wow what a difference. She looks heaps better. ;)
---
No hour of life is wasted that is spent in the saddle.
I agree, definite improvement.

You might also want to test her manure for sand. If she's the type to graze on tiny grass, then she's probably picking up a lot of sand, which can cause a distended belly.
Cindereve, ShutupJoe, Blazeriversong- Thank you :) I'm soso happy !!

Luvs2ride1979- Thanks, I will definitely check. If she does turn out to be ingesting some sand, is there anything I can do to help pass it through?
---
The difference is HUGE.... she looked much older than her stated age in the first pic due to the sway in her back and what almost looked like some bloat in her belly. She looks wonderful in comparison in her other pics. :) Excellent work!
Thank you :) Also guys, any suggestions for exercises you like to do with your horses. Different warm ups or anything. I like to change it up with her as she gets bored pretty easily, AND catches on very quickly. Any ideas are appreciated! Thanks a ton
---
Similar Threads
Thread
Thread Starter
Forum
Replies
Last Post
Update.

Picture Perfect

Horse Talk

5

05-13-2010

08:52 PM

Epm help! Update

hrsecrzie

Horse Health

2

02-15-2010

08:22 PM

update on my mom

close2prfct

General Off Topic Discussion

23

08-19-2009

11:09 AM

Update!

NordicJuniper

Horse Talk

0

07-30-2009

03:50 PM

Old BO update ;-p

SonnyWimps

Horse Talk

7

08-02-2008

11:54 AM