Jynxy had a surprise for me.. [ WARNING - Graphic images]
---
*sighs* I guess Jynx was desperate enough to avoid Dressage training she decided to self harm herself. I have absolutely no idea how this happened, I went and checked the pasture and there appears to be a cable down with some white fur on it but it's beyond me how it caused such an injury - even if she'd gotten hung up in it, it's a smooth thick cable wire that she should have slid right off of.
I immediately phoned the vet who said because of location, he can't stitch it which makes sense. However, he told me to cold hose it daily, apply furisone and re-bandage daily. Doesn't furisone promote proud flesh? It doesn't appear to have hit any muscle, though she's cut herself right down to it. She can walk ok but doesn't want to put weight on the leg so holds it cocked and is limping pretty bad.
I am debating whether to call the vet back and request an appointment just so he can check it and be sure, or if I should call another vet? Am I being silly? Is this just extremely bad to look at but not that big of a deal? You can see the muscle underneath moving when she walks.
Any advice would be great, thanks guys, I am so miserable right now it's not even funny.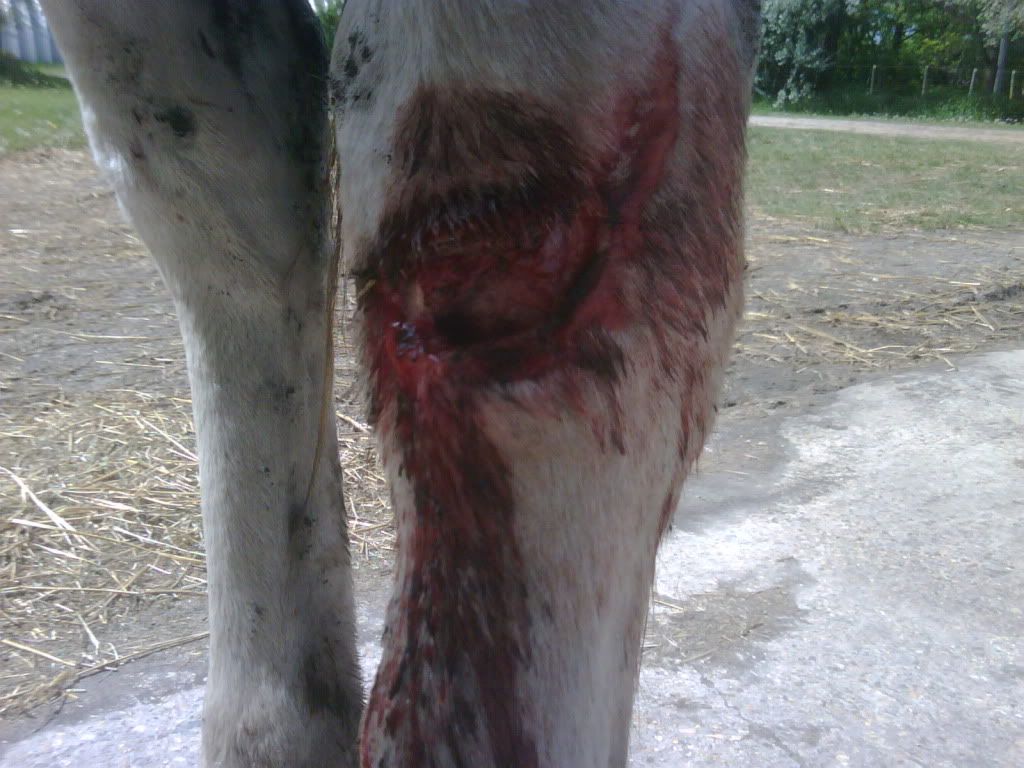 As I found it, still fresh with blood so it happened within the last few hours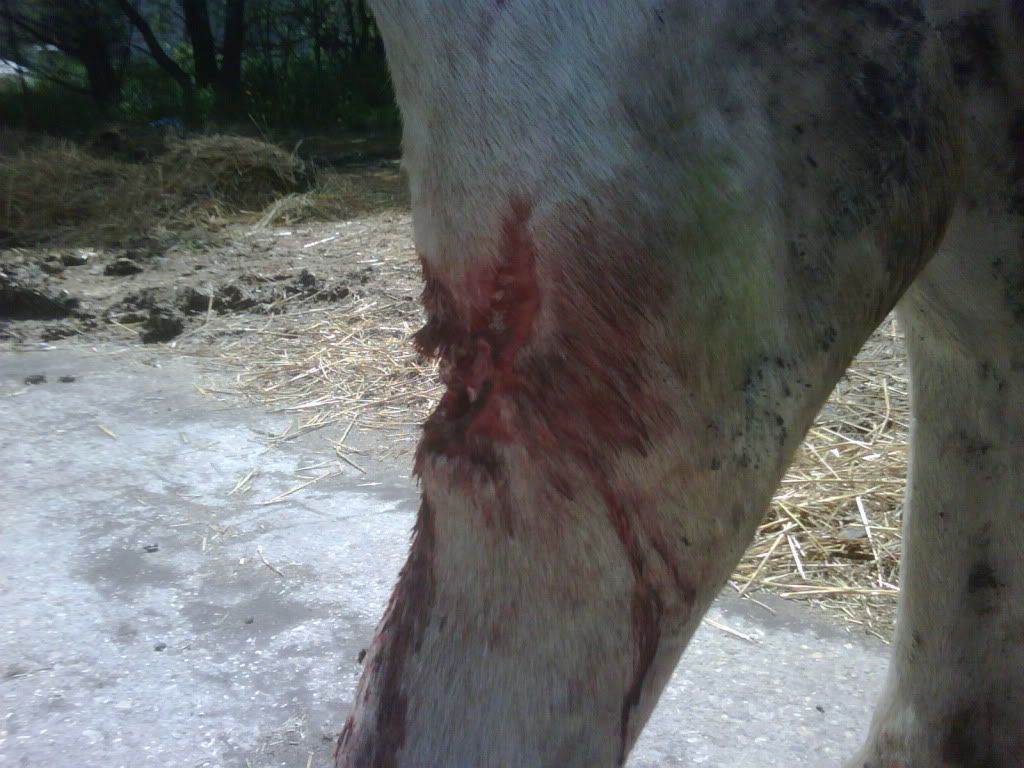 Side view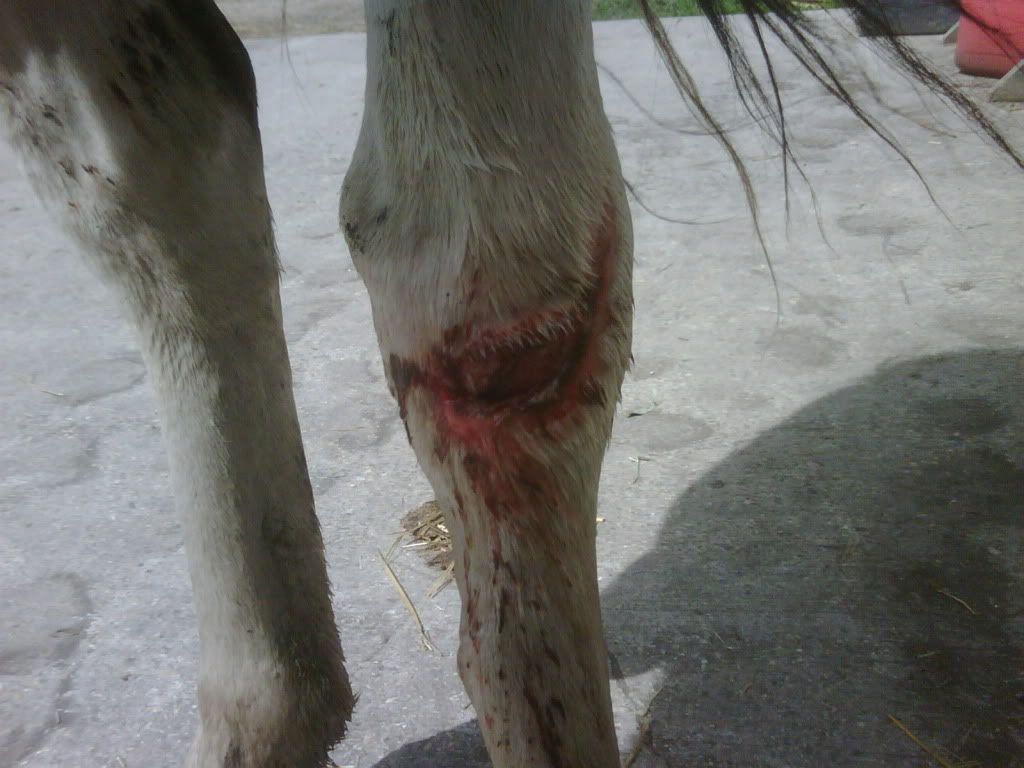 After cold hosing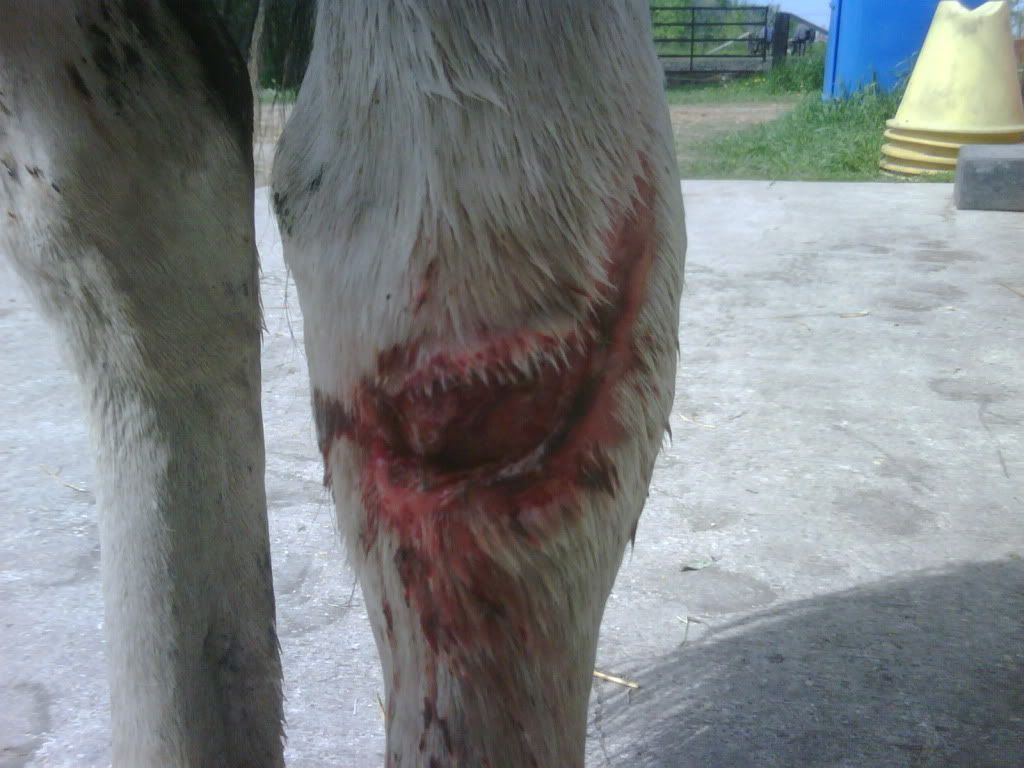 Sorry for the crummy Blackberry pics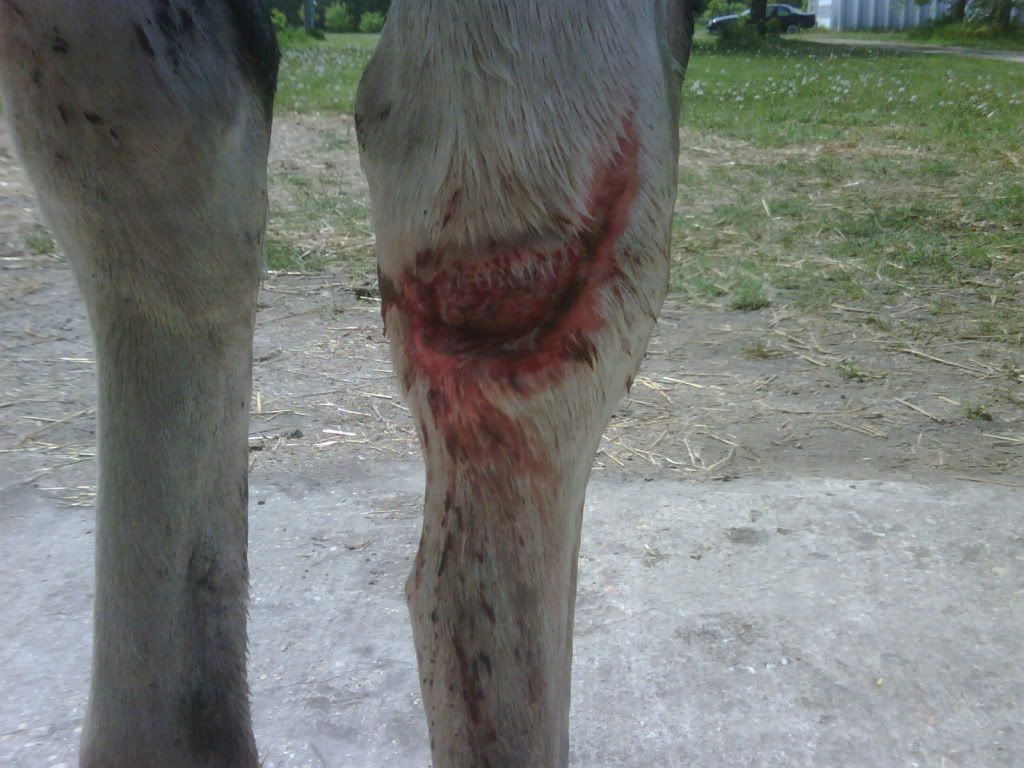 Ugh.
I'll take more pics tomorrow as soon as I find my camera which seems to be MIA. I had put it in my purse and couldn't find it at the barn and it's not at home so I think it may have fallen out in the barn.
*sighs*
---
Quote:
I hope God tells her to smash her computer with a sledgehammer.
Ouch! That looks nasty. And quite a decent gash!

My horse had one of these mystery injuries recently.Not as bad as that but same spot and no idea how she did it. It happened a month ago and is still scabbing and healing over, then the scab comes off and the process starts again.

I hope she is OK.
It does look pretty nasty. I think I would want a vet to look at it. Even if he/she just agrees to take a peek at the pictures. I understand that it can't be sutured but I just think it needs a professional set of eyes.
Phoenix had an accident - (graphic contents)
Any time I have dealt with a tissue injury, I have used the stuff that kiwigirl used on her mare. Manuka honey. That thread has a huge amount of information on leg injuries and which way to go with them. Jynx's injury doesn't look as severe but the same type...open with no way to suture.
Poor thing...she was doing so well!
Poor girl, she must really hate dressage! Is that bone showing? If it's that close to the bone, then yes, Furisone has been known to cause proud flesh. Good luck on a steady recovery!
No, no bone, I poked and prodded in it a bit. That's what I thought to at first, but I suck with ligaments and tendons and all that so I don't know what the one on the front of the back leg is called but it appears to be only muscle and undamaged muscle at that.



---
Quote:
I hope God tells her to smash her computer with a sledgehammer.
Wow, MM... poor Jynxy...
My sister's QH sliced up his hock 2 years ago next September on a piece of steel plate in that exact spot on the other hind leg, but his looked a lot worse than Jynx's. Rio actually sliced 3 blood vessels - I was away at school at the time, but the blood-stain in the driveway alone was horrific. Our saint of a vet came out on the spot and stitched him up from the inside out. When we closed up the barn for the night there was a neat row of stitches under the bandage. By morning, Rio had popped the stitches and the entire wound was inflamed, almost to the point of turning inside-out. We spent the entire winter nursing that leg, and he took about a year to fully recover. Like I said, though, Rio's looked a lot worse than Jynx's.
The vet cleaned him up when she did the stitches, but after those popped we had to treat it just like an open wound. We just used generic triple-antibiotic ointment on a large sterile gauze pad on the wound, and held that in place with vetwrap. That dressing was changed twice daily for about 3 months, and once daily after that point.
The difficult part was getting the old dressing off, since the entire area was really tender. Our vet gave us some of the same anesthetic that she injected his leg with to stitch it, along with several syringes. We used that topically to numb the area, rinsing the wound with that while we prepped the new dressing - that did a lot for his pain reaction, and was really instrumental in our ability to change his dressings without getting kicked on a daily basis. The anesthetic is similar to novocaine: the vet suggested that we try it, but was skeptical that it would work topically, but it was THE STUFF to use. Vet actually gave us several vials that were just barely outdated that she couldn't use, but were safe for the job. We used TONS of Equate brand triple-antibiotic ointment; that also kept the dressing from sticking too badly.
After about 6 months, the swelling was almost gone, we'd start allowing him to stand without a bandage for some time, but we kept him bandaged if he was left alone in the stall to keep him from getting bedding and poo in the wound. This whole time he was on stall rest, some hand walking. Once the wound could hold itself together without dressings, he still had some swelling and tenderness for several months. A I said, it was about a year before he was back to full range of motion and total soundness in that leg. Today, he has some scarring around that hock, but moves great, no problems.
Be patient, it'll take some time, although I doubt as much as Rio needed. I don't know much about furazone or that controversy, but we had fine results with triple antibiotic ointment and sterile padding. Most of the problems that we had were keeping the bandage in place and keeping Rio comfortable through the dressing changes. He would fuss and fight through that, and get things bleeding and swelling again. The thing to watch with Jynx will be flies in the summer - the last thing you want is bugs in that wound.
Sorry for the novel, but hopefully you can benefit from my experience with a similar injury. Let me know if there are any more details I can give that might help you out with dealing with it. I may have some photos of Rio, taken through his healing process that can give you some form of a timeline, if you like.
Best of luck, and sending good healing vibes to Jynx!
---
A stubborn horse walks behind you, an impatient one in front of you, but a noble companion walks beside you ~ Unknown
---
Last edited by Scoutrider; 06-09-2011 at

07:22 PM

.
Look like he got his leg through wire. Do you have any square wire fencing?
You have exposed tendons and probably ligaments. You need to put a dressing on it with sterile gauze, a thick pad and Vet Wrap over it to keep it clean until a Vet can evaluate it. I doubt there is much one can do other than clean it and wrap it.

If the Vet Wrap and bandage want to sag down, then use Duct Tape on the top of it and stick it to the skin above the wound.

You will NEED proud flesh to fill in the gaps and keep infection out. It is the over-growth of proud flesh that causes so much scarring. Once you have it good and clean, do not put any more water on it. It causes proud flesh worse than anything else you can do. We do use Furazone salve early as it keeps infection at bay and helps it fill in with proud flesh. Once proud flesh fills in the gaps, you no longer need an antibiotic. Then, keep a lotion or unmedicated salve on the edges and put a proud flesh medicine with 'copper sulfate' to keep proud flesh from getting out of hand where the proud flesh sticks out further than the level of the skin.

If the tendons have not been damaged, your horse should be sound and fine -- just have the scars left by the wreck.

Teaching a horse to stand hobbled and to accept 3 way hobbles (or a side line) stops them from self-destructing when they get in this kind of situation. They just calmly try to pick each foot up and then just stand still if they can't get out of the mess. Hobble training teaches them to 'yield' to any restraint and not panic. It is really worth the time to teach them.
Thanks guys. I've called the vet back and left a message just stating that due to the seriousness of the wound I would appreciate if we could book an appointment for him to see the wound in person, or I have photos I could also send him just to ensure his recommendation was correct.

It's definitely tender but I don't know that I'll need an anesthetic, she was ok with me bandaging it today although she really didn't like the cold hosing. I'll ask the vet his opinion.

NOTE - The vet just called me back and had me e-mail him the images.

---
Quote:
I hope God tells her to smash her computer with a sledgehammer.
Gosh, that's a nasty one, so sorry for you and Jynxy.

My old girl did a similar injury although more similar in severity to Scoutrider's experience. Tough place to stitch being in an area of such high movement and flexion. I had her stitched but the first three stitches were busted on day three (when the pressure bandage came off) and most of the remaining stitches on the hock area busted over the following two days.

Just to give you an idea, my girl had sliced right to the bone and sheared the flesh off the cannon bone, very nasty. She did it by kicking out through a plain wire fence, getting her leg caught then retracting it in fright. Vet wouldn't give me a prognosis at the time of her returning to soundness as she had partially lacerated the tendon. He was only able to tell me what had been done, how to treat it and he came back after a week, then after three weeks at which time he was much more positive in regards to her return to soundness.

My vet at the time told me that the biggest worry in regards to proud flesh comes from the area below the hock to the hoof. That's not to say that it won't develop proud flesh, just that the danger increases the further down the leg the injury is. Since my girl had injured everything from the hock to the fetlock, she was a very much at risk for developing proud flesh unfortunately.

In all, it took my girl 8 long months to heal and the wound healed from the inside out. It took a lot of work though and I put her on Vitamin E, selenium, zinc and magnesium supplements to help with tissue regeneration as well as the bandaging, disinfecting, poulticing and debridement. After 10 months she was back under saddle, 100% sound and not a single hint of proud flesh anywhere on the leg, all that remained was a scar across her hock.

I hope the vet gets back to you very soon, they will at least be able to give you an idea of the damage to tendons/ligaments. Sending good thoughts.
---
All horses deserve, at least once in their lives, to be loved by a little girl.
---
Last edited by sarahver; 06-09-2011 at

07:44 PM

.