Jynxy ?!?!?!?!?! Help please!
---
*bangs head on desk*
My horses are going to give me an early grave. After panicking after realizing that listening to everyone elses advice has resulted in proud flesh on Zierra (why do I bother listening to others when I know better? why do I let myself believe that more experience equals better brains?) and dealing with that using Wonder Dust, we decided to take Eve and Jynxy for a walk down the road, as it's been uber warm and everything is turning to slush so riding is kind of out right now.
Jynx did great. I haltered her, we worked on some "showmanship" on our walk to get her attention off the trees and on me.
She walked and jogged no problems, no issues whatsoever, no hitch in her step, NADA.
I get back and I'm taking the shedding blade to her and I find THIS! I am LOST. I have a vet book, nothing is helping me. The following list is her situation:
Rock hard bony (pointy) protrusion right below her left knee
No heat, no swelling, nothing
No pain, no soreness
No lameness on soft OR hard surfaces at walk and jog
Was NOT there a week ago
I can't find anything in my book or online. Everything I find pertains to soft swellings and lameness. Any ideas? Pics below: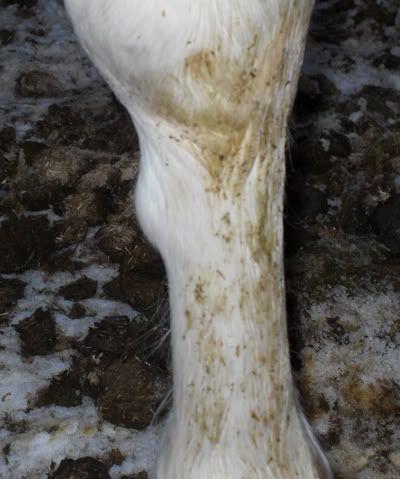 Front view (our right if staring straight ahead).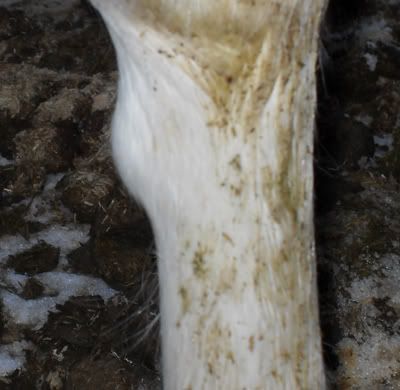 Front view (our right if staring straight ahead).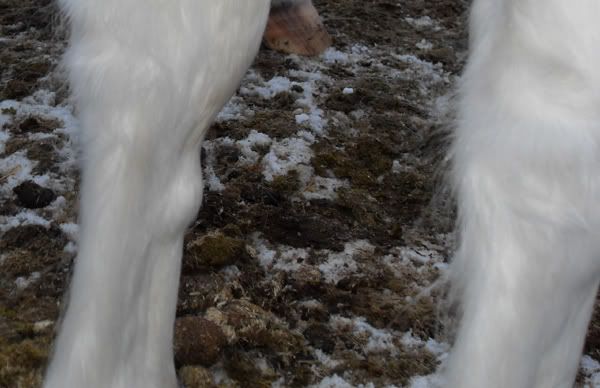 This pic was taken from behind, Shay-la was crouching by her back legs and taking a pic from under her belly.
---
Quote:
I hope God tells her to smash her computer with a sledgehammer.
My vet book SUCKS. It made splints sound soft and painful. I'm assuming that's what it must be? She MUST have gotten kicked - the horse gets worked for about ten minutes once or twice a week in snow and never anything streneous or on hard ground!

What I don't understand is something said splints are hard and bony only AFTER healing????? This JUST happened - she did NOT have this five days ago!

Can it be ANYTHING else???

---
Quote:
I hope God tells her to smash her computer with a sledgehammer.
Blind splint? Is it in a spot where you may not have been able to see much inflammation?
---
Last edited by Seahorseys; 03-07-2010 at

12:19 AM

.
It looks like a popped splint.
Once healed, they are just a blemish. If it's not causing any pain, it is probably healed. I've had two horses with them, and they never caused an issue. It's honestly one of the better lumps and bumps to find on your horse because it's not serious.
I just thought of something else. It could be that she banged her leg and the hard bump is a result of the injury healing. It could just be a coincidence that it coincides with the location of a splint.

The reason I say it could be from a banged leg is my new horse got a similiar (but slightly smaller) bump like that on the outside of one of her rear cannon bones a couple of months ago. Her leg was swollen when I first noticed it though. But it was muddy and snowy so I wasn't riding anyway, so I just let it heal but it healed with a bump similar to that. She still has the bump, and it is hard, so I think it will be permanent.

I think they are micro fractures from an injury and the body lays down more bone to strengthen the damaged spot. Permanent but just a blemish. That's my best guess anyway!
The only way to really know would be radiographs. Your vet book doesn't suck, it is just an over simplification of hundreds of books and years of education condensed into a single publication. I bet there is a lot of good info in there, but no matter how good it is, it won't let you have x-ray vision!!

it could be a popped splint, it could be a lot of things. If there is no lameness or pain on palpation I might think a wait and see approach isn't the worst idea. But without being there to see it and how she moves on it, it is anyone's best guess at this point...
Don't worry, it is just a popped splint. Very common thing, 3 of my horses have them, one has several. It is more of just an ugly thing on her leg than it is a problem. There are many old cowboys around here that say a horse isn't a good horse unless they've popped a splint at least once. Some horses show a bit of off-ness on that leg for a couple of days but others never show any signs of pain. The actual injury could have happened a while back and is now actually healed. It doesn't take long for a splint to pop up and turn hard. I nearly freaked a few years ago when I went out of town for a week and when I came back, Denny had one that looked nearly exactly like that. I didn't know what it was either, but my Dad did.
And for what it's worth, this is what Denny's legs look like now (kindof an extreme case of numerous splints) and the only lame step he has ever taken was due to a stone bruise about 10 years ago.
---
Always remember that feeling of looking at a big, open country over the ears of a good horse, seeing a new trail unwind ahead of you, and that ever-spectacular view from the top of the ridge!!! Follow my training blog:
http://robertsontraining.blogspot.com/
that looks like a healed/calcified splint to me but I'm no expert.
---
"Be a best friend, tell the truth, and overuse I love you
Go to work, do your best, don't outsmart your common sense
Never let your prayin knees get lazy
And love like crazy"
My sister's QH has the same kind of bump, on the outside of his right front, that the previous owner and 2 vets have confirmed as an old calcified splint. It's never given him a problem since we've had him, and we know the previous owner very well and she'd never had any issues attributable to it.
---
A stubborn horse walks behind you, an impatient one in front of you, but a noble companion walks beside you ~ Unknown
Ok, thanks smrobs, you made me feel a bit better.

I suppose I'm confused because I pay quite close attention to my horses. I rode Jynxy last Sunday, and she was 110% A-Ok. There was NO lameness, no hesitation, and I always run my hands down their legs (especially the young ones) when I am done riding and there was absolutely nothing on her legs.

So between Sunday evening and Saturday afternoon (6 days), she somehow managed to pop a splint and have it harden already. Everything I'm reading says it takes a minimum of 2 weeks for this to happen and the horse will be lame and sore until it does harden over. I was out on Wednesday to dress Zierra, and I didn't get to work with Jynx, but I threw them hay and she definately was not limping whatsoever (I always watch them briefly to make sure.)

I guess it gets so frustrating trying to be such a responsible horse owner and having these things happen, when SO many irresponsible idiots treat their animals like crap and nothing ever seems to flipping happen!

A popped splint seems the only thing it can be - lucky for her, it's warm and melting so riding right now is out anyway, we're going back to ground work for the next month while the snow melts and the ground is a sloppy muddy mess.

I'll keep a close eye on it and if anything changes, I'll contact a vet.

---
Quote:
I hope God tells her to smash her computer with a sledgehammer.