Latte has a lump - Haematoma?
---
I'm guessing that's what it is.
Went out on my lunch break to take her rug off, and straight away noticed a big lump on one of her 'breasts'. Hoof shaped area with hair missing though no broken skin I could see. Not really sore to touch but didn't like me poking it much!
I guess I just leave it for a while and see if it goes down? She appeared to still be walking fine (As well as I could tell while hobbling through muddy paddock in high heels, trying desperately not to lose one!).
Some photos:
---
Looks just like what my friend's horse had. It was hot and painful, and kind of squishy. It went away in a few days with some cold hosing and massaging.
---
"Great spirits have always encountered violent opposition from mediocre minds."

Wow, exactly!

Hers wasn't really hot. I'm a bit hesitant to cold hose as it is the middle of winter and FREEZING and she is usually not rugged - She had the rug on as it was puking rain the last few nights and I felt sorry for her, lol.

I guess if it doesn't go down in a day or two i'll have to, but she doesn't seem to be hurting.
---
Yeap, hematoma. My paint had it last summer, but like 3 times bigger (she reared and landed on a rail silly animal). What I did (per what I found and my vet's recommendations) - massage with the (very) warm water twice/day + linament right after (I used Horseman Dream with camphora). It decreased a lot in 2 weeks, and was gone in month.

Cold hosing is useless if not done within several hours.
---
Last edited by kitten_Val; 07-16-2010 at

07:29 AM

.
My friend's horse gets those too from being kicked. You'd think he'd learn. What kitten said is what my friend did. Warm water it and then use something like RapidGel on it if there was heat.
Cocoa gets these from fly bites too. :(
---
Cocoa - 32 yr old QH, Cherokee - 8 yr old TWH & Toby - 16 yr old QH
R.I.P. Cocoa 4/13/78 - 2/9/11
Weanling
Join Date: Apr 2010
Location: Somewhere on Vancouver Island
Posts: 601
• Horses: 0
Looks like edema from a fly bite.
Super Nova
Kinda like this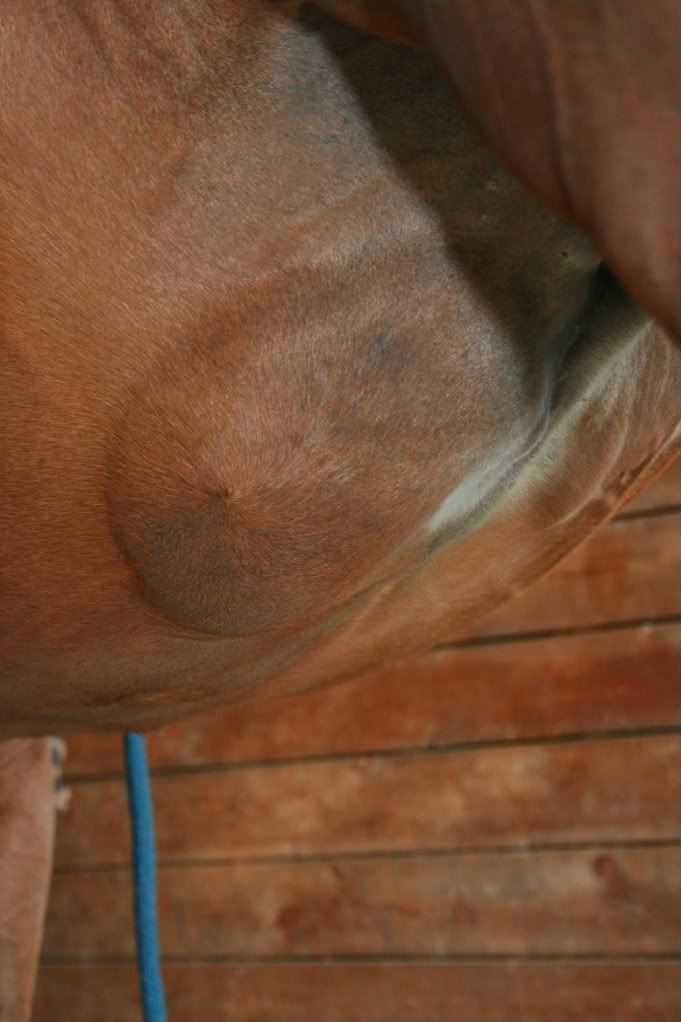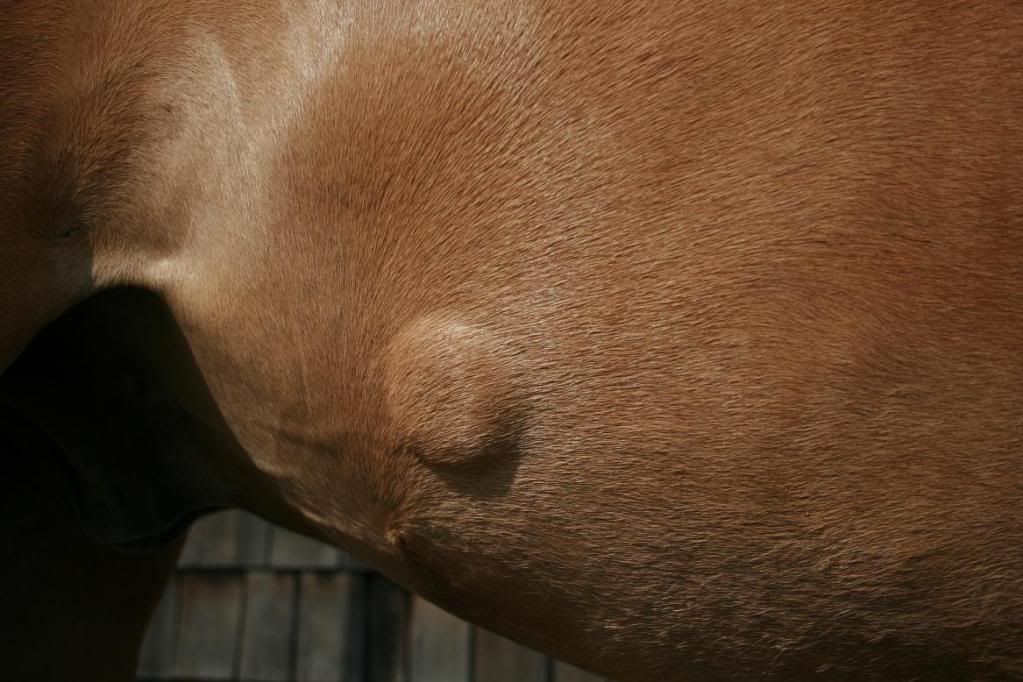 Weanling
Join Date: Apr 2010
Location: Somewhere on Vancouver Island
Posts: 601
• Horses: 0
I've never known another horse with the name Latte.......this is our Latte
Super Nova
Oh, she's adorable, Super Nova! Much more Latte coloured - But I think they named Latte when she was going grey from chestnut, so a bit more appropriate then! It's such a unique name, I love it :]

Good news, it has nearly dissapeared over the weekend. It definitely was a kick as there is that nice crescent shaped hairless line. She isn't lame, so no harm no foul, woohoo!

Thanks for the advice, guys.
---
Glad to hear it cleared up :)