Leg wound
---
I brought Apollo in from pasture today to clean him up and ride. I must have brushed off a scab and didn't notice until after our ride when I saw blood smeared...I wiped the wound off with a wet paper towel, dried it off, then put some ointment on it. Its a clean cut with some shorter hair scraped off around it, but it isn't terribly deep. A new horse joined the herd today so there must have been a couple scuffles among the horses because he also had a chunk of hair chomped off of his butt and sides that grazed the skin. But I don't know what could have caused his leg wound since it a clean cut and theres nothing sharp in pasture that could have cut him. I'll have to check his stall in the morning and make sure nothing is sticking out.
Will this heal on its own with some TLC or do I need to have a vet out to look at it. He is my first horse, and this his first wound since I've had him, so I'm just just a worried mom lol.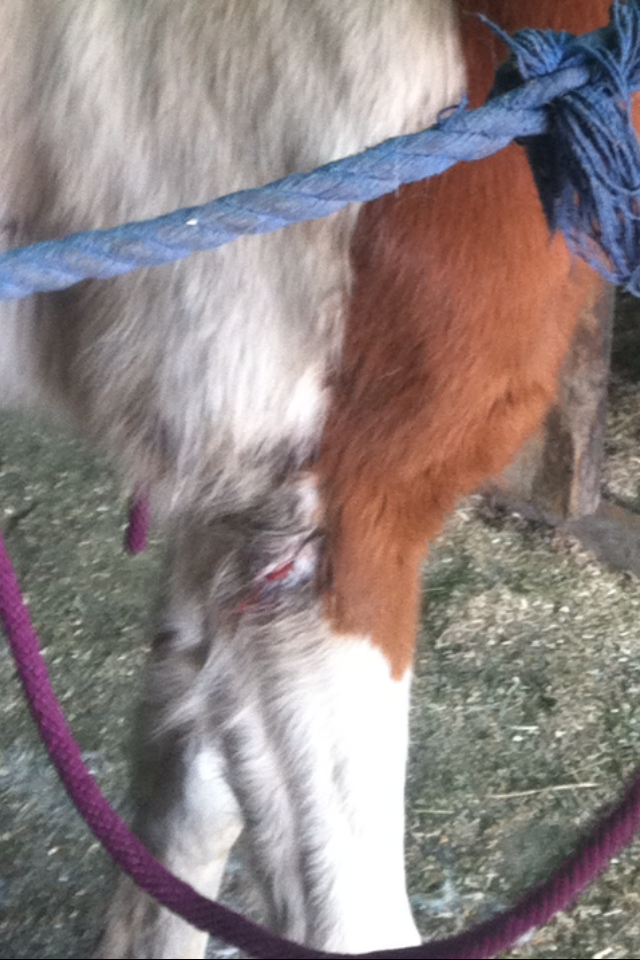 If its deep enoug for stitches, get the vet out.

If you don't know either way, best just ask your BO or the vet for advice. I can't tell anything from the photo.
---
And those who were seen dancing were thought to be insane by those who could not hear the music
Weanling
Join Date: Oct 2011
Location: Illinois www.saddleonline.com
Posts: 509
• Horses:
1
It's hard to tell from the picture, is there a barn owner or someone experienced you could ask? It obviously isn't life threatening at this point, so don't panic :) If it is gaping open and you can see the muscle under the skin you may need stitches- but keep in mind usually the vet can only do stiches within about 6 hours of the wound happening- if it is a couple days old I would just keep it clean and dry, maybe top it with a vet reccomended ointment/topical antiseptic. Best of luck!
---
"Riding: the art of keeping the horse between you and the ground."
~Author Unknown
I haven't touched it since the initial cleaning and it seems to be fine, a little dirty because he's a roller, but if I keep cleaning it then it'll never scab up and heal...I don't think its deep enough for stitches. I'm just going to let nature take care of it. If I'm able to make it to the barn today, I think I might shave the hair around it so it stays a bit cleaner...
That is often the best way, just keep an eye on it.
One thing you could do is put some wound dressing on it to ensure it doesn't get infected. I use NFZ Wound Dressing.