My percheron's hoof when I first took posession of her.....
This was just about a month ago. She has healed up a bunch since then! Thankfully she didn't need to see a vet, I just cleaned it out twice a day and applied Blue-Kote and other meds and it healed quickly and beautifully!
Zoey became so head shy after the attack, keep in mind that I had taken the photo after cleaning to the best I could with out touching her head. When I first saw her with the injury I thought someone had shot my horse in the head. I freaked out. She still has a little scar there but it's in a nicely hidden place, lucky!
Wow guys, those wounds must of sucked. A few months ago Zo had kicked a fence and now has a bone growth due to "over healing". I shall post a photo soon!(:
---
This works.
This is when Zoey had kicked a barb wired fence. You can compare her swollen leg to the one behind to see how huge it was. This was a week after the actual incident so it had actually gone done quite a bit. Her whole leg felt like it was on fire.
---
This works.
Shaggy how did your horse do that? and how long did it take to heal? Carmen healed up in about 6-8 months. and was rideable again after that. i think its the most heart wrenching spot for an injury, because no hoof.. no horse..
---

Baby, Sparta, Carmen, Henry, Hooch, Mercedes, Butterscotch
Green Broke
Join Date: Aug 2009
Location: Vancouver, British Columbia
Posts: 2,808
• Horses:
2
This is when poor Hunter got licked last February, almost all totally disappeared now but it was yucky.
IMG_0130.jpg
IMG_0135.jpg
My horse caught his head on a T-post while fighting with another horse though the fence. Now you can barely tell it was there, thankfully.
This is when Cat was running an bucking thru the pasture,( mid April '12) just playing, and kicked out as she passed the boat, and sliced her hoof open on the propeller. We know it was that, because of the blood on it (3' above the ground) Avused an area on her Coffin bone, healing well now, has a shoe with heart bar and pad on it. Will have it changed this friday. It sucks having to borrow a horse so I can ride! But, she's healing much better than the Vet first thought she would.
The Baby caught his leg on something Clean cut from the knee all the way down
.
---
The Truth Harsher Than One Would Think
Yearling
Join Date: Mar 2012
Location: Where the red fern grows....
Posts: 1,293
• Horses:
4
May I share several "million dollar" vet bills with ya'll?
My favorite QH gelding Terry had a bad puncture to his left lower shoulder. Looked high and low for the cause...couple months later found a broken arrow and the vet thinks that may of been the cause: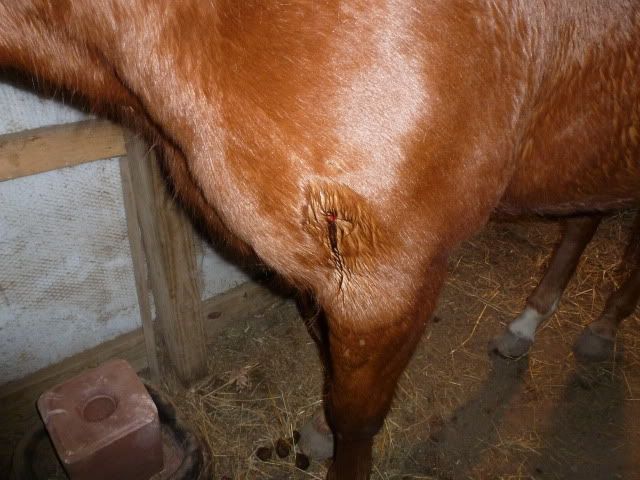 The swelling isn't as bad in these photo's as he was on two different antibiotics and cleaning and hosing x2 a day.
Then there is the abscess in my draft mares shoulder:
And while I have no photo's, by far the worst and scariest is when my draft mare ate 25lbs of chicken mash. Colic was severe and we had to rush her to the 24hr round the clock vet clinic 45 minutes away. Five and a half days later, 3,000ml of fluid, lidocaine drip x3, other odds and ends...total bill for that was not quite $4,000.