Ludo is blind!
---
My husband's horse,Ludo is officially blind in one eye. And he has partial blindness in the other eye. It happened fast..within a month and he has scar tissue on the other eye which is causing him to have partial blindness in his other eye. There is nothing we can do the vet said.
Is there anyway you can help him adapt and not get scared besides using your voice. We never had a blind horse but I have been around one and he would always have cuts on him from running into things..
i can totaly relate to the horse...i'm not going blind but going deaf....we had a horse go blind on us years ago...we put my mare out with him and put bells on her halter, that help a lot
---
HOME IS WHERE THE HORSE IS.........
I was wondering about the bell thing.
I just don't want him getting scared or running into the other horses or fences.
We are going to still keep in in the pasture untill winter comes as planned. He seems angry lately..very possessive over his food although he eats all the time and gets plenty...he never use to be like this so that is new and probably not from becoming blind but you know.
My husband loves this horse. We got him and he was skinny..here is what he looks like now. This is tonight after him coming out of being sedated.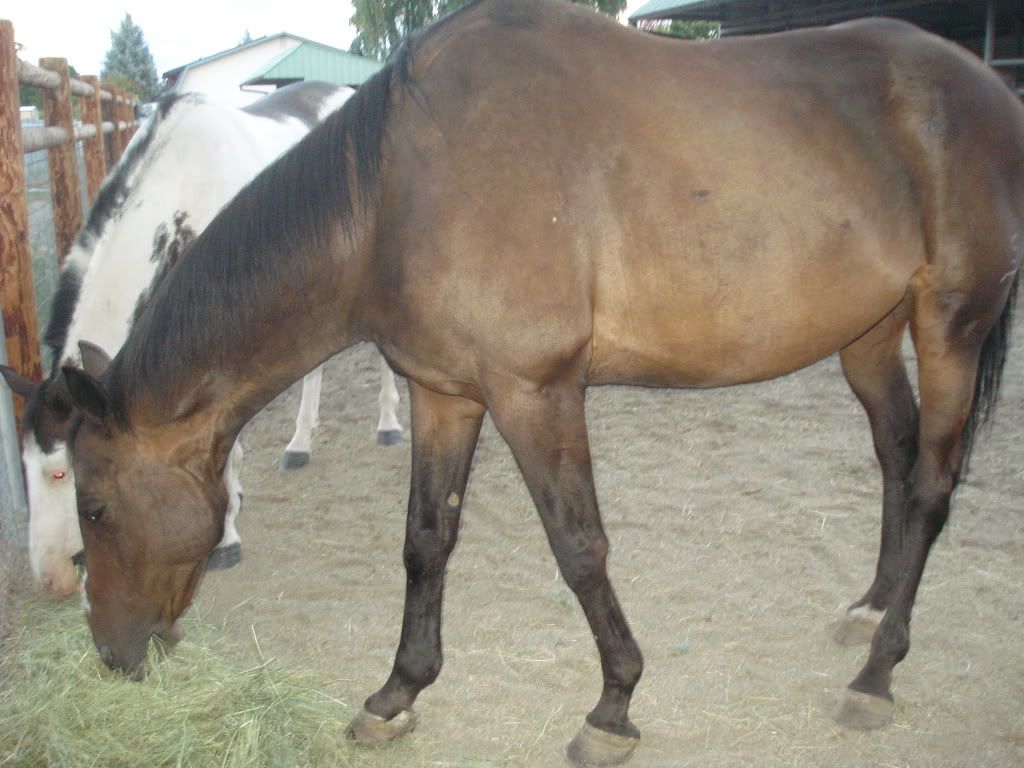 Banned
Join Date: Jul 2009
Location: In a land far far away, or so I wish.
Posts: 12,825
• Horses: 0
Being possessive of his food could very well have something to do with going blind. Not seeing predators (yes, I realize there are none, but he is a prey animal) and other horses that might steal his food as well as he did makes him reactive about it.
No suggestions....had one horse lose sight in both her eyes in one week to the day. We had to have her put down as she didn't have time to adjust and got hurt.

When Happy got lost her sight in her eye on April 14th we took her to the vet to keep her in a dark spot. Brought her home the 19th and put her in a small pasture that she knew well. Barn owner called me the 21st to tell me Happy was hurt. When I got there, we realized she had totally went blind. She had gotten hurt and at the age of 21 we decided the kindest thing to do for her was to say goodbye.
He will get used to it pretty easy. It depends on the horse but the majority of them have no problem with this. We have at the shelter three horses that are blind in one eye and they have no problem whatsoever. You should be careful when approaching them from their blind spot because they can get scared easy. But if you talk with him he should be ok. They get scared so they can become defensive.

We have a mare that it's completely blind in both eyes and she is fine too. She got used to it very well. When we move her in another pasture on in another place she is hitting herself pretty often until she becomes used to the environment. But she became pretty careful so she is walking slowly and she tries to touch everything with her nose. She is always moving with her head stretched in front of her so in this way she knows where the obstacles are before hitting them.
If you come with a bag of carrots she will find them without a problem even if you hide them well enough. She is better at it than the other horses. When you call her she is immediately starting to search you with her nose.

So I think that horses can have a wonderful life even if they are completely blind. You have to be more careful with them but they will adapt pretty easy to anything. This mare that I've talked about had no injury whatsoever in those 2 years that I've known her.
---
"I am not what just I am - I am who I am not yet" (M. Heidegger)
:) thanks for the positive feedback guys.
Honestly I am very sad about it. Poor Ludo. We want him to be happy. The vet doesn't like him and thinks he is crazy and being blind is going to make him even more scary to be around but honestly he has never hurt us. He loves us and I know he wouldn't hurt a soul. He use to swing his head over you if you stood by him and end up knocking you on the head sometimes but now I am wondering if it's because he is going blind and cant see that well or maybe it's just him thinking he can clear it..lol.

I will get more pictures of him.
Weanling
Join Date: Feb 2010
Location: on the way to Hell in a Handbasket
Posts: 291
• Horses:
1
Back home in MI we had a blind mare at the barn. We kept her in the same stall at night, it never changed because some of the stalls were different. Her owner also has kept her in the same pasture since she went blind because she wants' to minimize the little mare getting hurt trying to figure out any new places. She also still rides this mare (I can't remember the mare's name for the life of me.... lol) But this mare is SOOOO trusting of her owner its amazing to see their bond. :)
I have heard some people have success with placing a different footing closer to the fences and walls, like pea-gravel or wood chips. That way, when he is walking, he can hear the difference in the sound of his hooves and know the fence is close. Probably, bells on the other horse in the pasture would be a tremendous help so that he can find her even if she isn't close. Routines will be important, always feed the same time in the same place, etc.
---
Always remember that feeling of looking at a big, open country over the ears of a good horse, seeing a new trail unwind ahead of you, and that ever-spectacular view from the top of the ridge!!! Follow my training blog:
http://robertsontraining.blogspot.com/
is there anyway I can attach bells to the horses without halters and without losing the bells?
Similar Threads
Thread
Thread Starter
Forum
Replies
Last Post
Blind Puppy

TKButtermilk

General Off Topic Discussion

1

10-03-2010

01:12 AM

Meet ludo!

Gidget

Horse Pictures

7

06-03-2010

04:40 AM

Uhoh, hes blind!

ilovemyPhillip

Horse Health

4

09-06-2009

07:36 PM

Blind in one eye

Draven

Horse Health

5

03-17-2009

04:47 PM

Is he blind?

farmpony84

Horse Health

5

02-02-2009

03:08 PM