Magic too thin??
---
A friend of a friend came to see my horses the other day. She said Magic appears to be "way too thin"....To me she does not look too thin/skinny, does she appear to be "way too thin" to anybody else?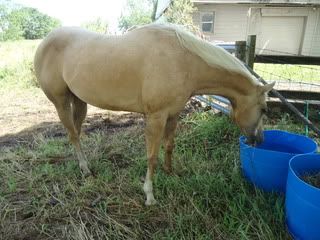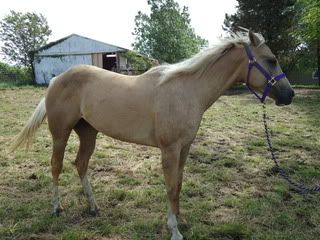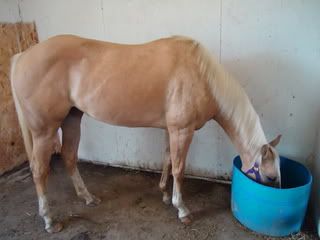 She looks very "fit" NOT at all too thin...my mare looks virtually the same, and she is getting hard work no less than 4 times a week. I can't see the ribs, hip or topline on your mare, so I don't know what your friend is talking about...she looks in good working condition.
Here's my mare for comparison... (for give the wet spot, she was hosed off after working, and the only spot not dry yet was her saddle area...Lol)
---
"The ideal horseman has the courage of a lion, the patience of a saint, and the hands of a woman..."
Not too thin at all! My horse has an odd conformation, so you can easily see her ribs. But in fact she is getting fat! My dad saw her and said "**** Anna! Start FEEDING that horse!" and I thought it was funny because he's saying this about a horse that would be put on a diet if her ribs weren't showing. Teehee.
Looks just right to me! Some people are used to seeing bulked up, FAT stock horses, which is just as unhealthy, if not more so, than a horse that's too thin...
Your horse looks like a true "performance horse" in "fighting shape"!
She just looks like a petite built horse. Just like there are people who are built really tall and wiry, there are horses who a long and fit. Her body condition looks really good.
Alrighty, it's good to know others think like me. I never thought she was too thin either, just wanted to get somebody elses opinion. It actually kinda made me mad that the person would say that about my horses. I'm glad nobody else thinks the same!
No way *echoes what everyone else says* She is lovely!
---
no shes not! very fit looking horse. i think her conformation makes her look slimer, she has a very flat belly, but that doesnt make her under weight
---
Keep your feet on the ground when your head's in the clouds.
Quote:
It actually kinda made me mad that the person would say that about my horses. I'm glad nobody else thinks the same!
Yep, it'd make me mad, and sad having someone call a horse like yours skinny too, because I'd be thinking about her poor obese horses.
Glad no one who's commented thinks that, but unfortunately way too many people do - in general people seem to be rather desensitised to seeing fat & obese horses & think anything but is skinny! Apparently many show judges also like to see fat horses, so encourage this attitude in the show world too. In the UK apparently, the RSPCA have actually begun prosecuting people for keeping their horses obese!
Bout time it was recognised, as the health implications are just as bad as they are for us. I unfortunately see a lot of diet related probs myself, being a hoof care practitioner.
I had a distant relative tell me my horse was too thin once, and it got to me. You can see Dixie's ribs when she stands just right. But my farrier, and friends all where telling me she was just fine. Anyway I was still bothered about it, until I went and seen her horses. They looked like barrels with legs. Needless to say her opinion didn't bother me anymore.
Oh, and your girl looks very good to me.
Similar Threads
Thread
Thread Starter
Forum
Replies
Last Post
Too Thin

HorseRider403

Horse Health

14

03-01-2010

06:52 PM

Too Thin?

Phantomcolt18

Horse Health

11

12-20-2009

09:59 PM

Really thin TB

MTcowgirl

Horse Health

65

12-02-2009

06:41 PM

Too thin?

Lori1983

Horse Health

29

03-11-2009

08:43 AM