My girl's hooves. (pic heavy)
---
Let me start off by saying she's never thrown a shoe nor has she had any soreness on her feet...
I'm a little worried about Chloe's front feet. They are completely different sizes and they don't look like they are in the greatest condition compared to her back feet. I've been thinking about putting her barefoot because of how great her back feet look? Would that help with her heels/hoof sizes in the front? Would it be smart? She's at a barn with fairly rough terrain(gravel, concrete, wet, cold winters, hot summers, etc.) and we do a fair amount of jumping. I have not talked to my farrier about any of this yet as I wanted to get you guy's opinions.
So this is the one I'm most worried about: RF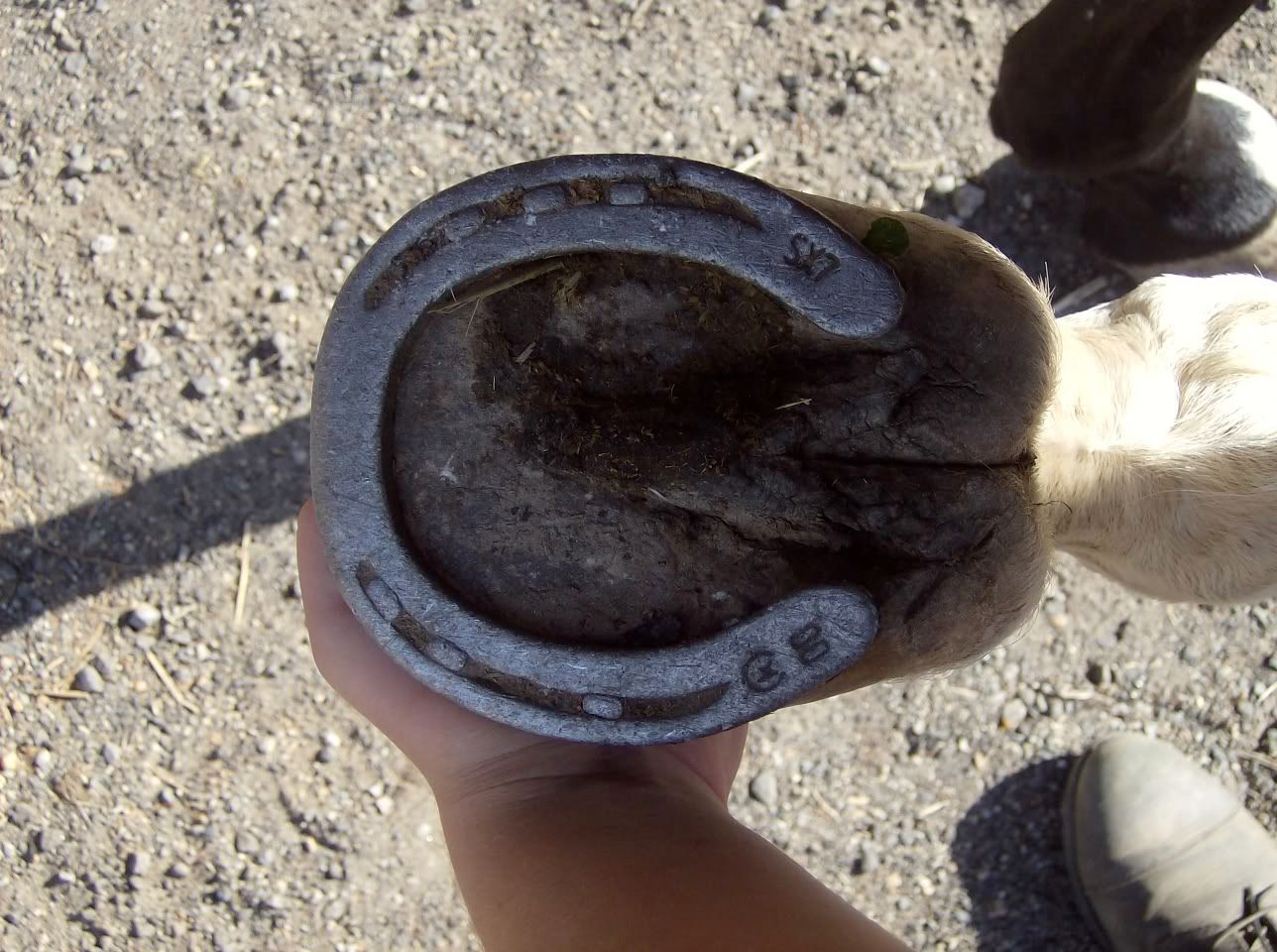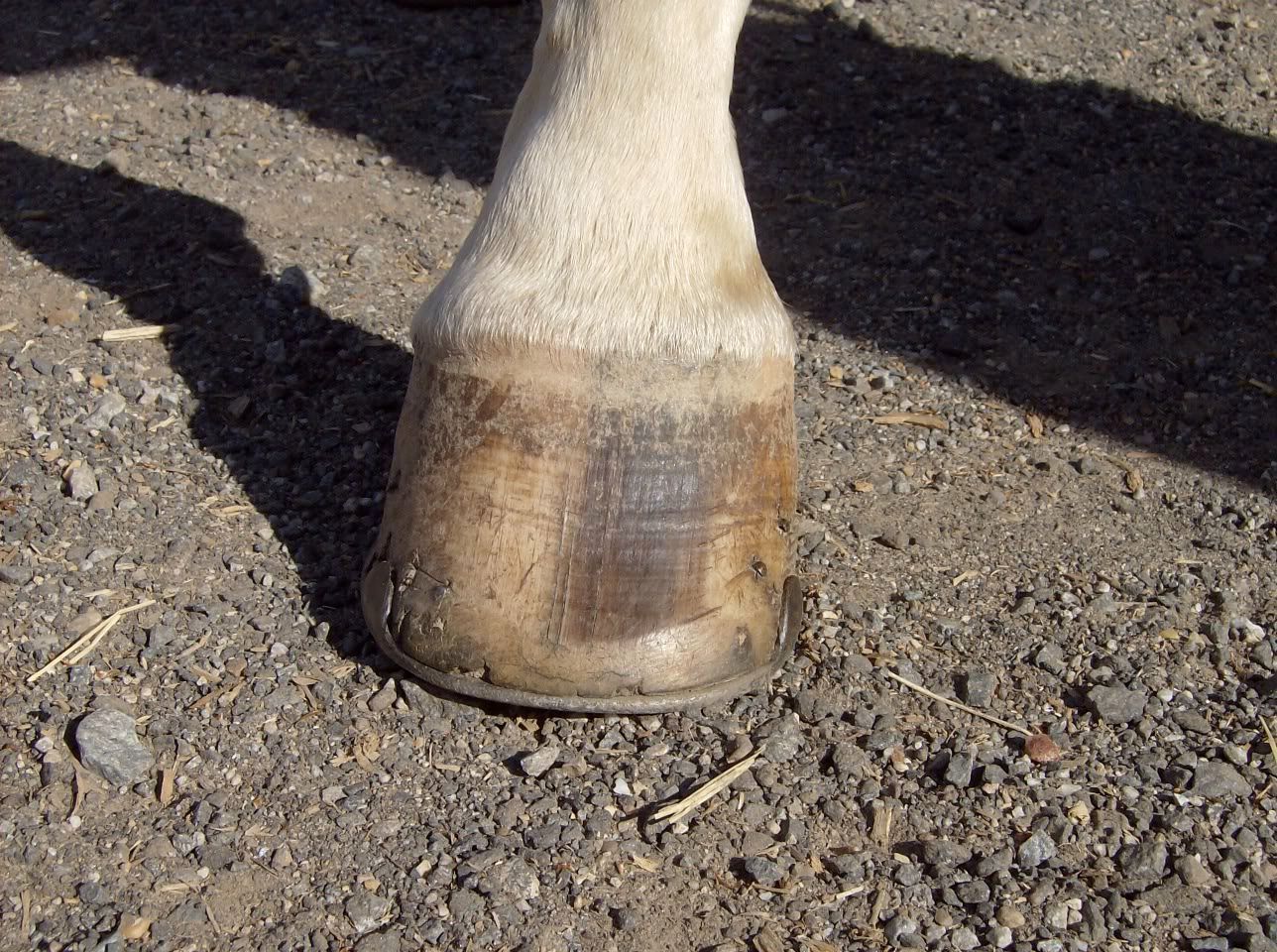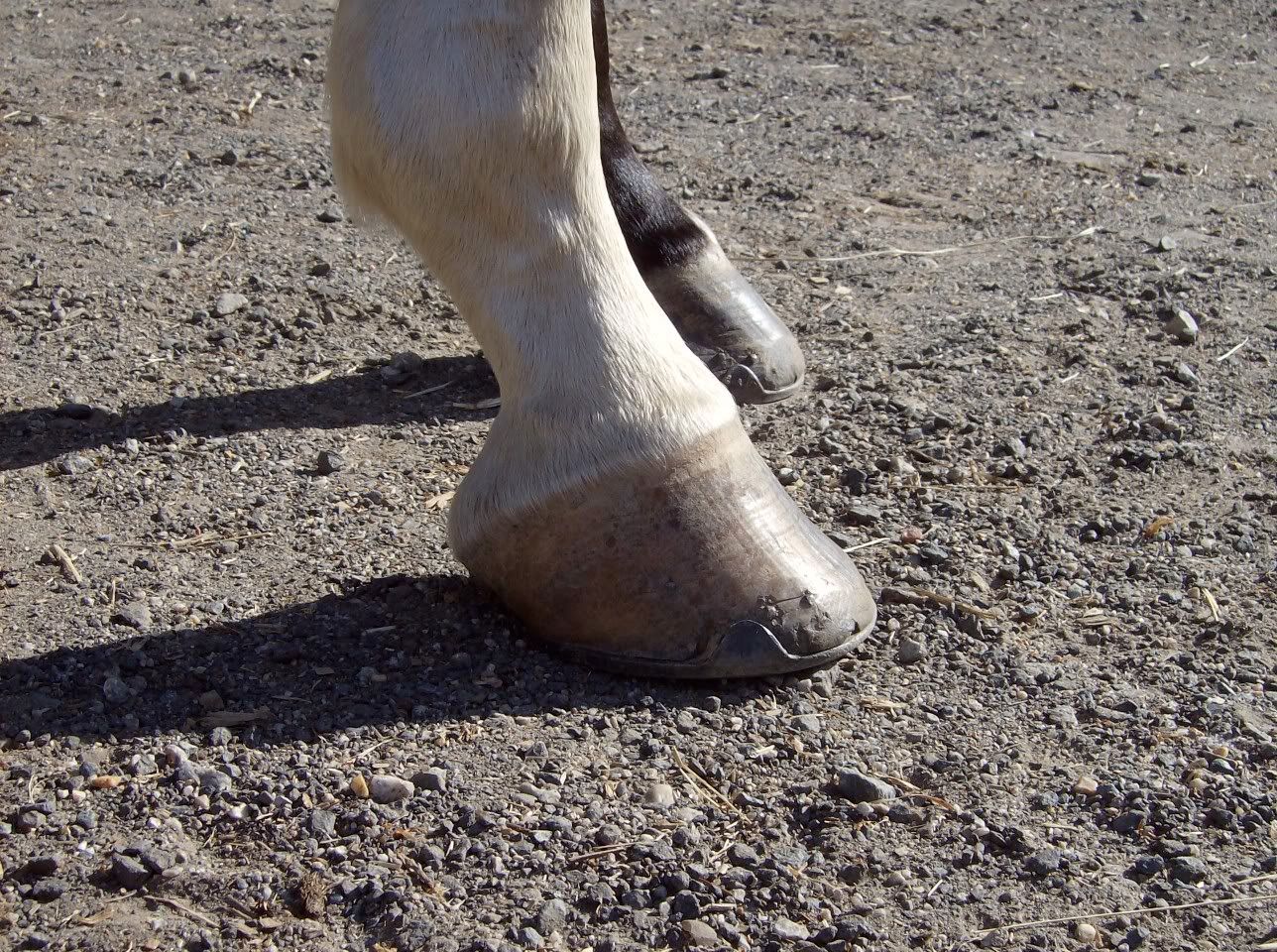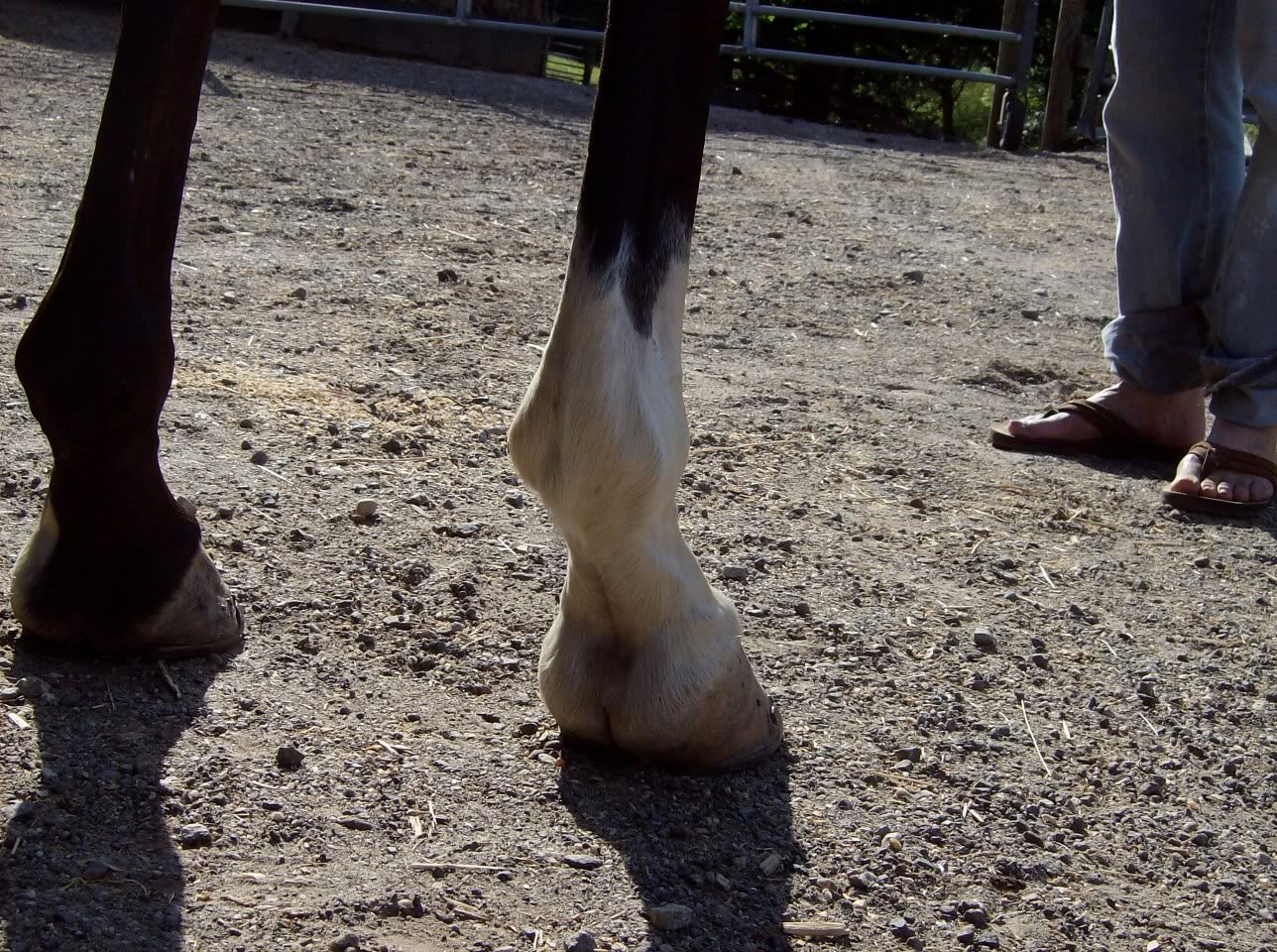 LF: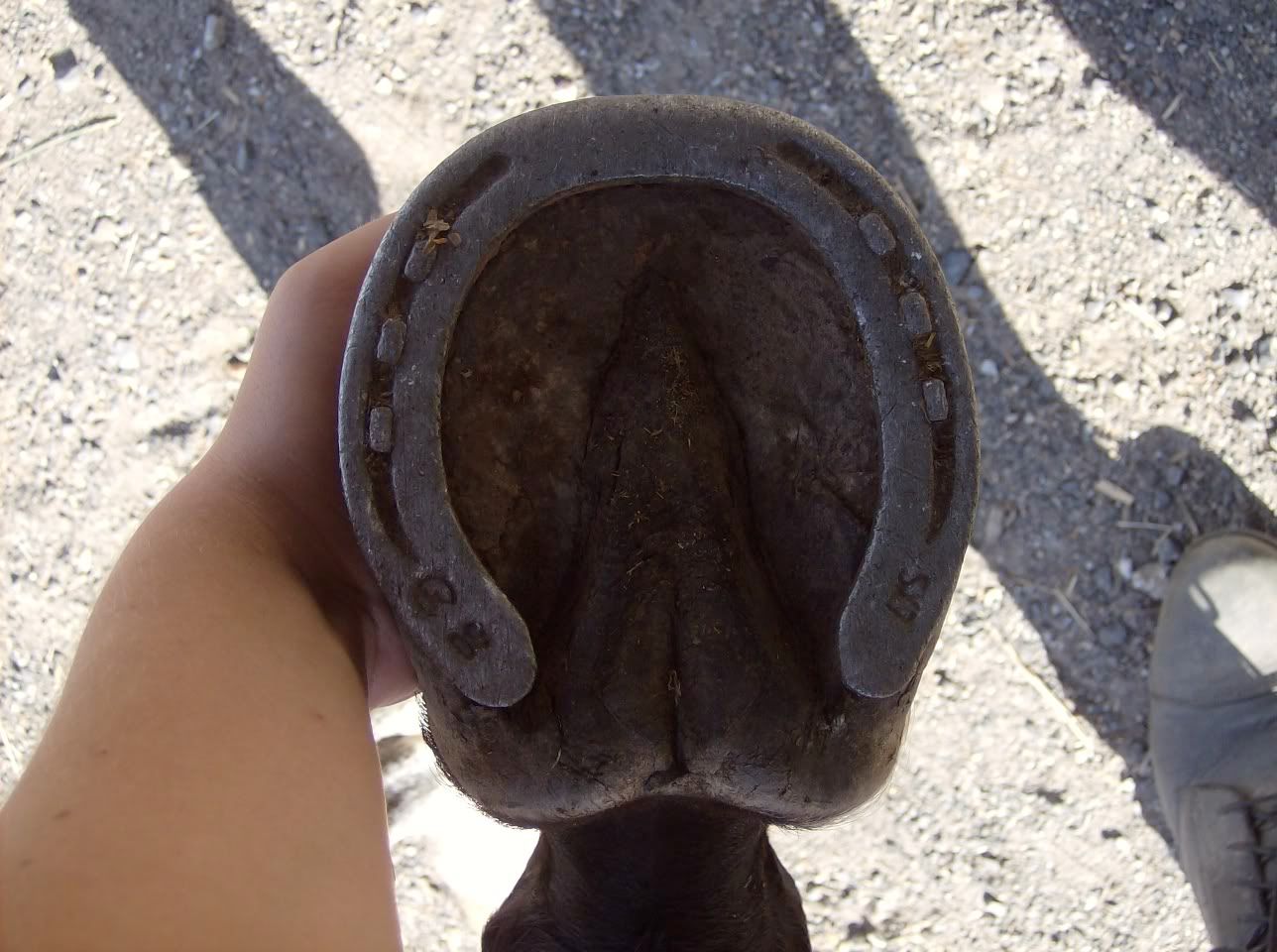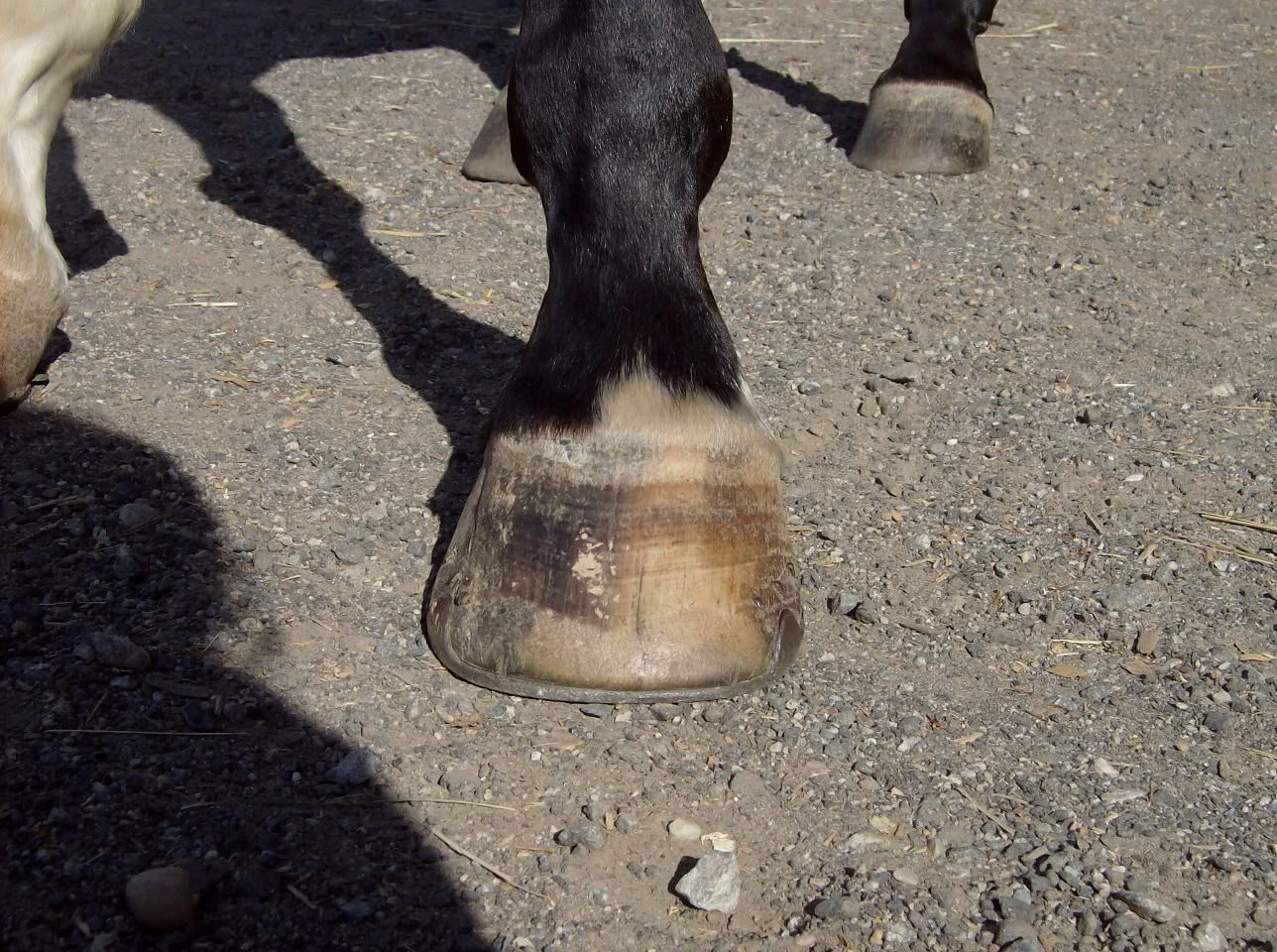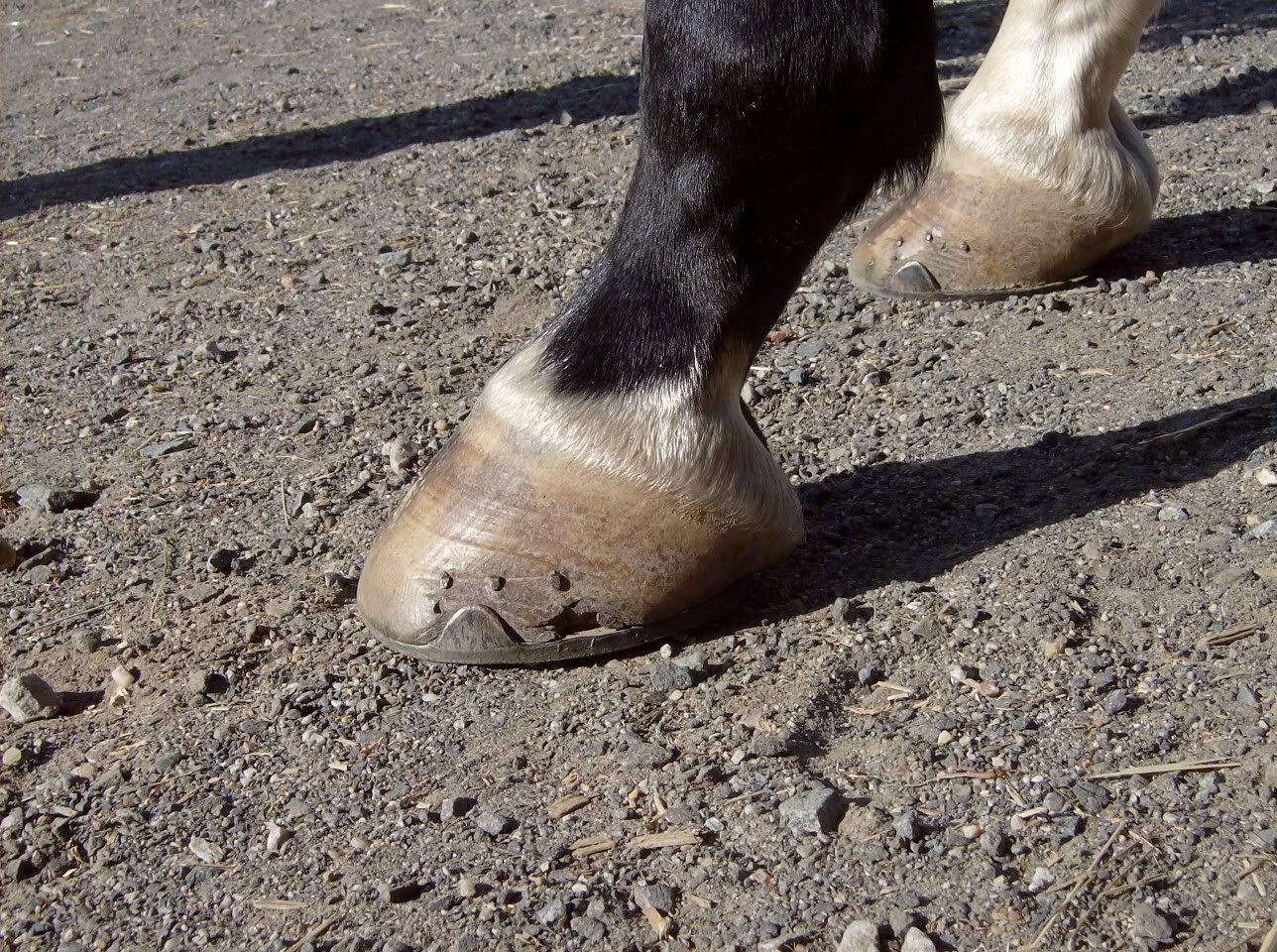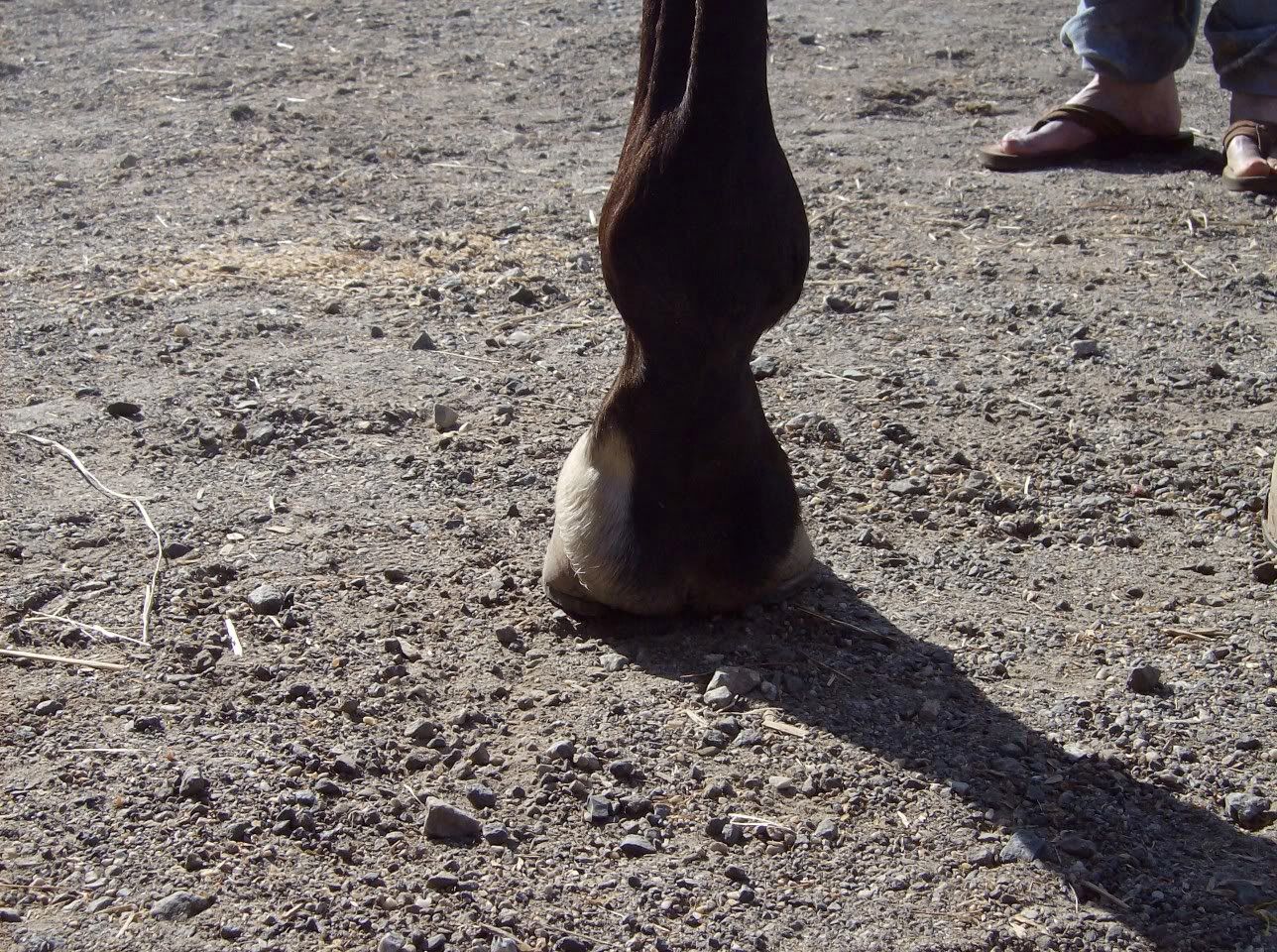 BL: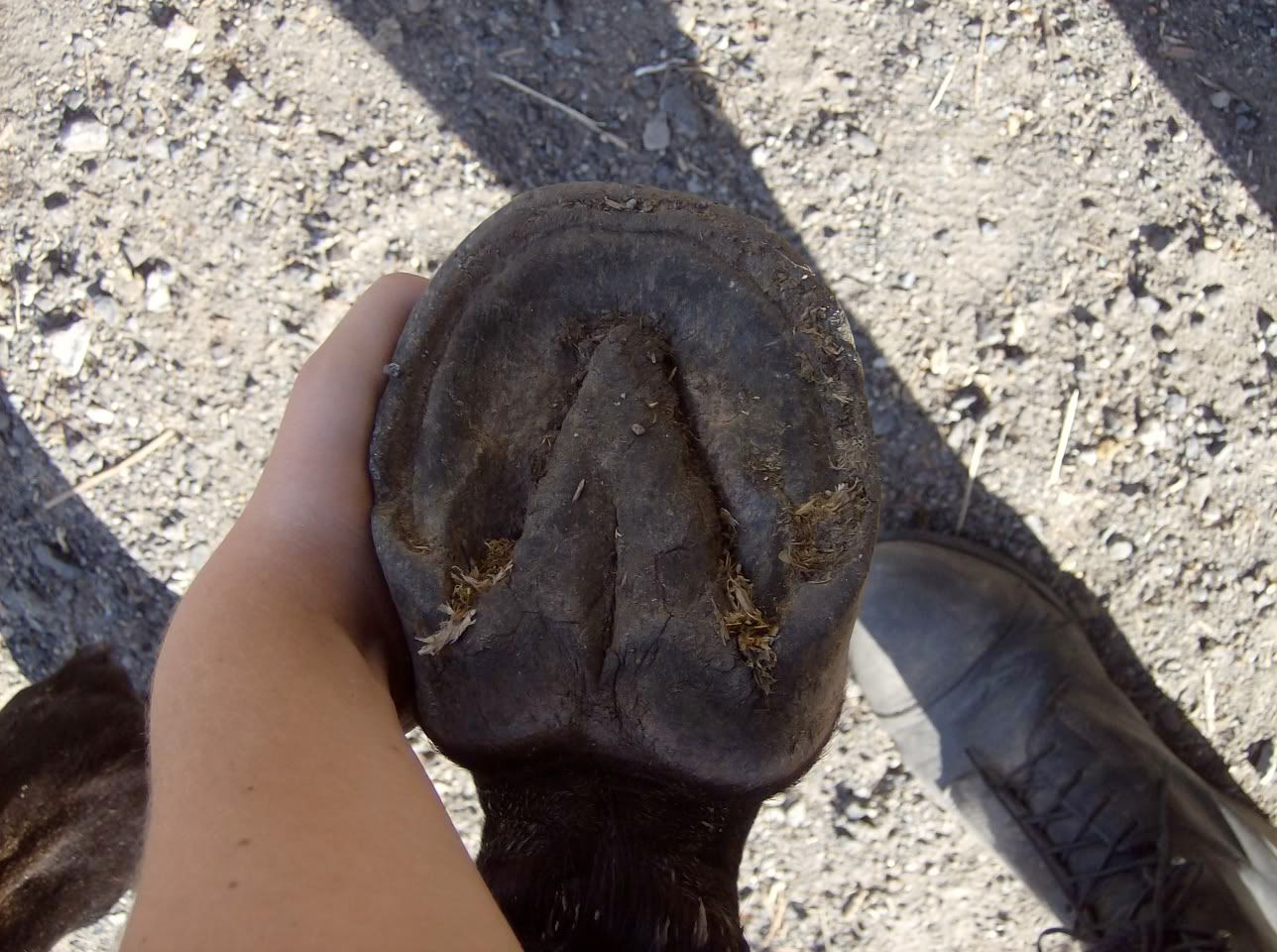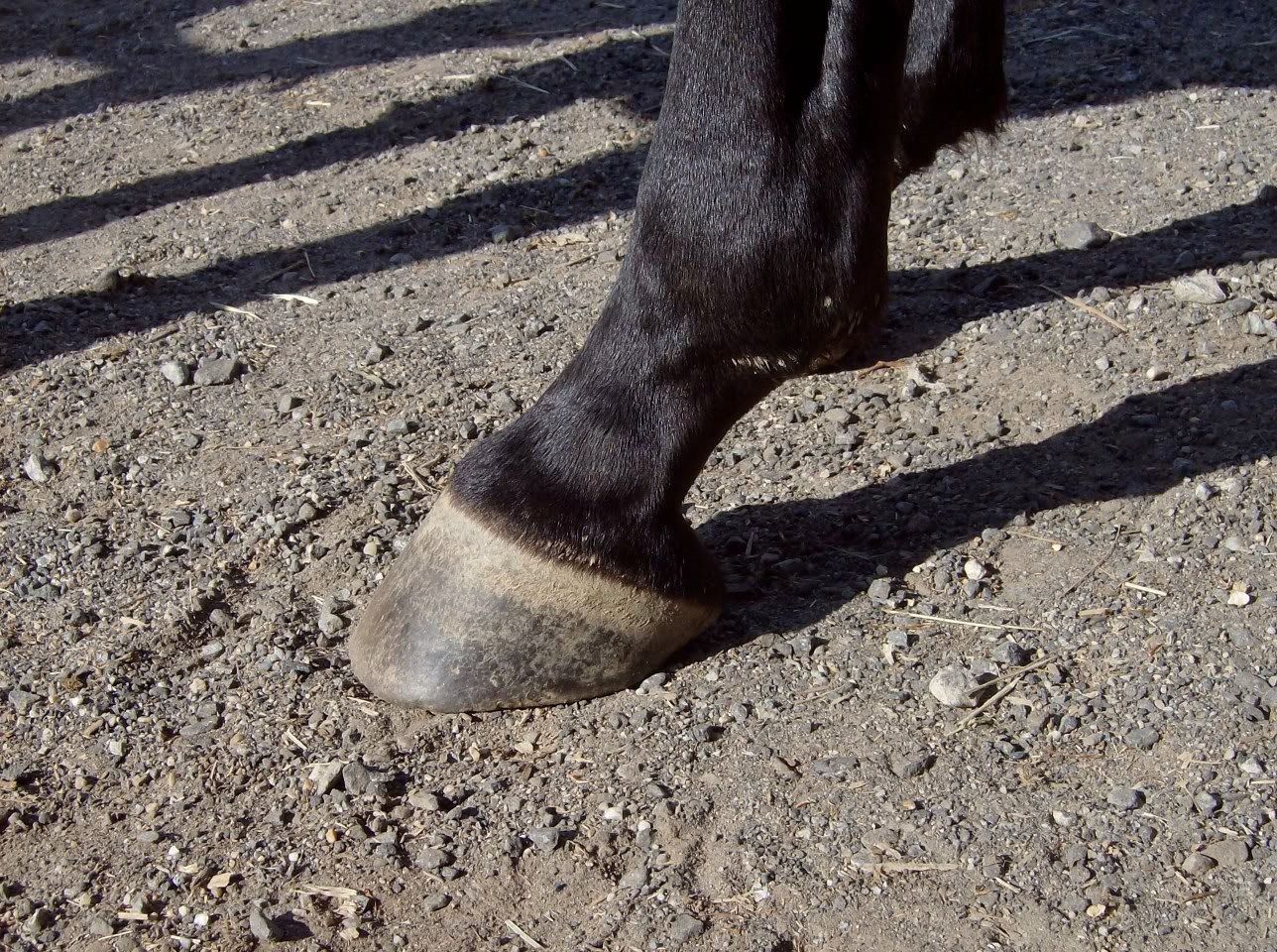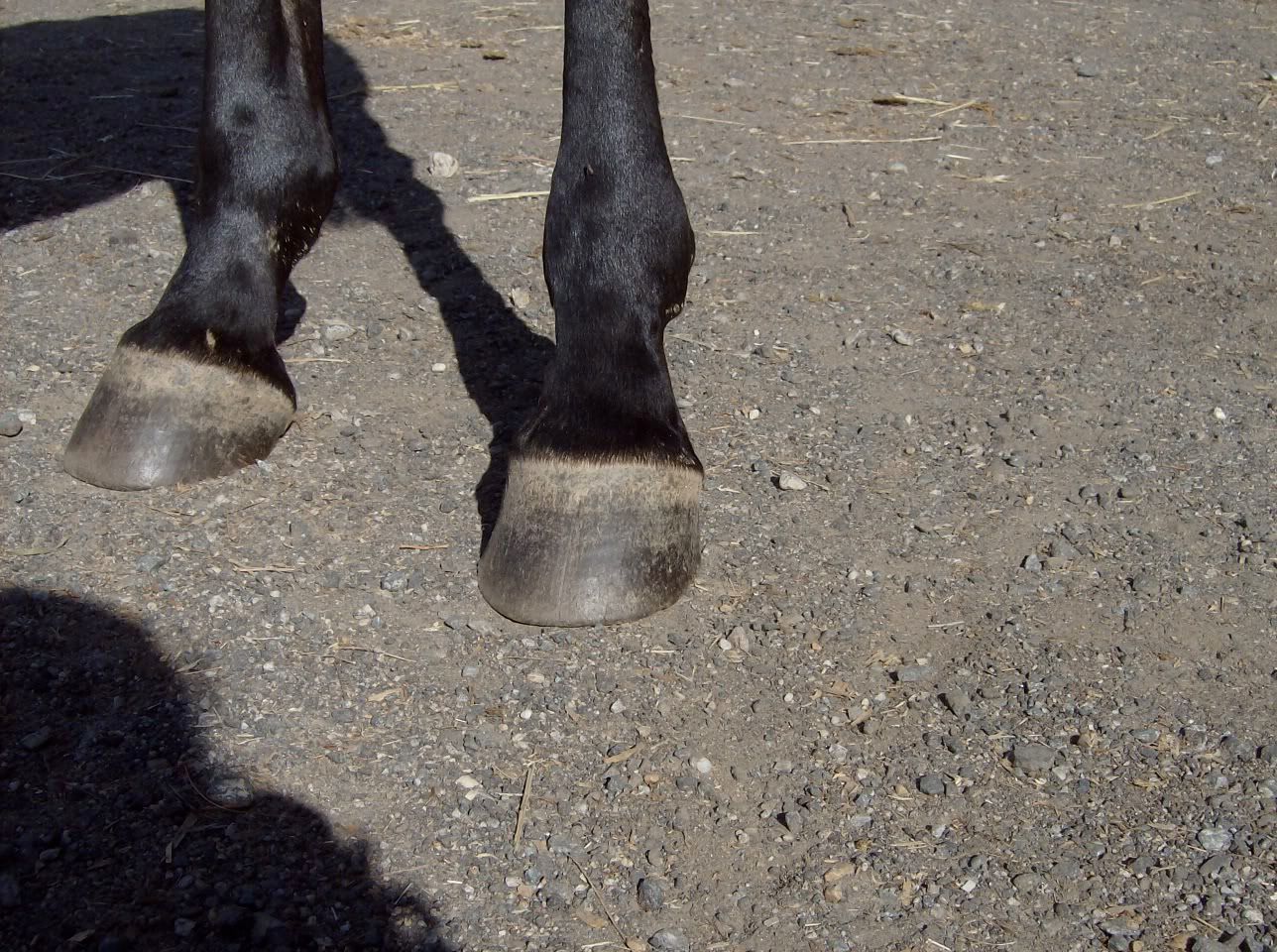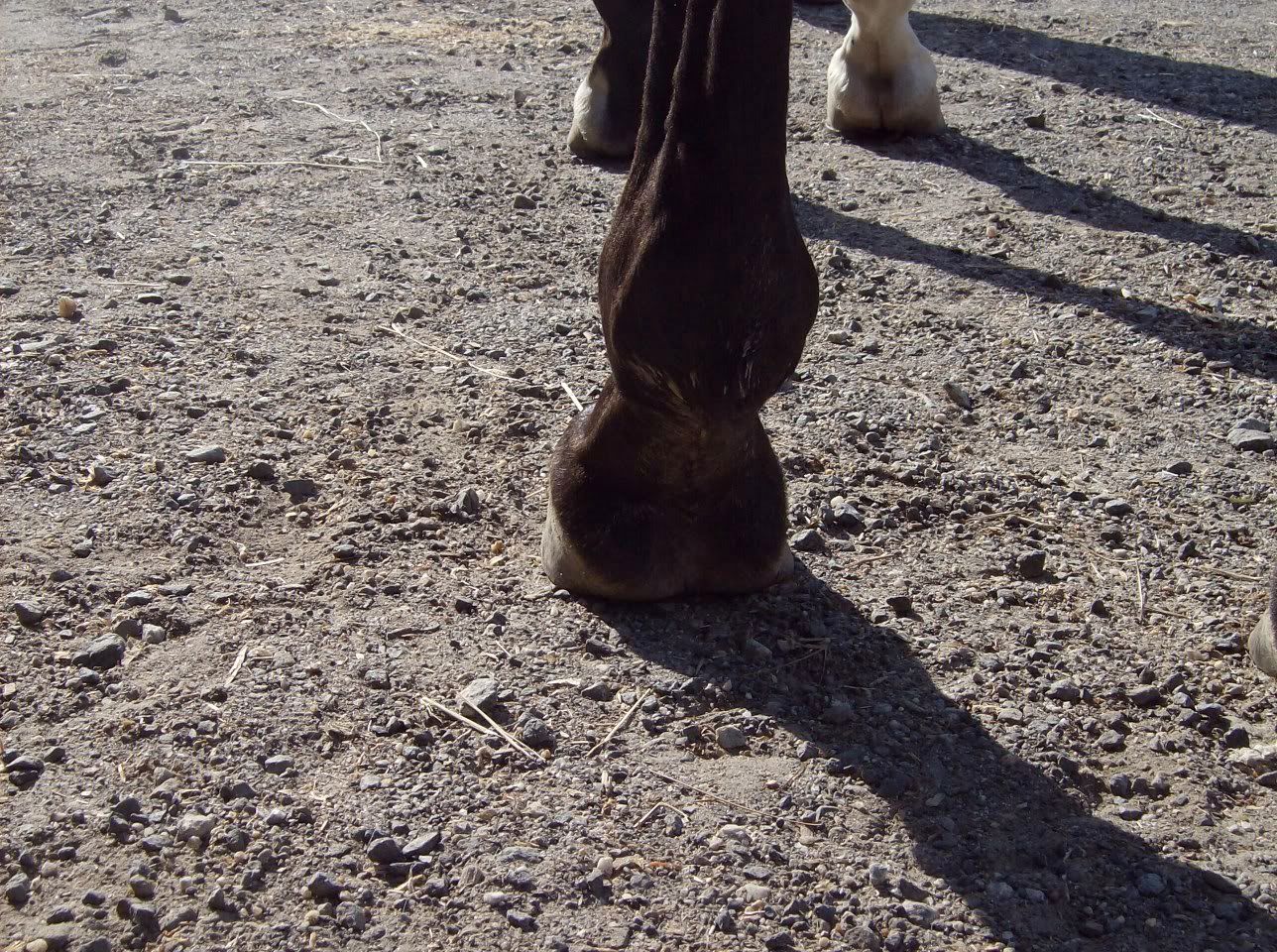 BR: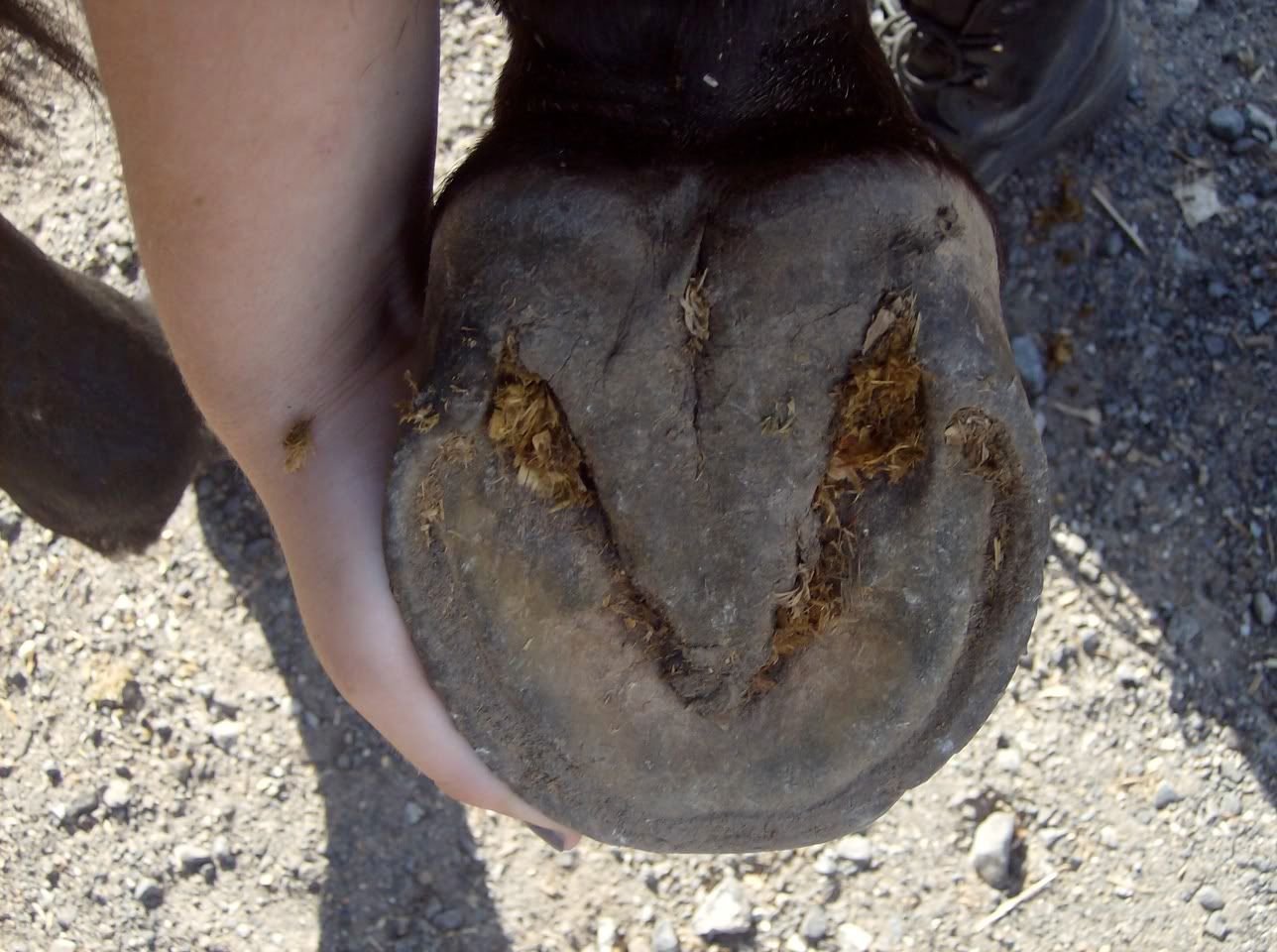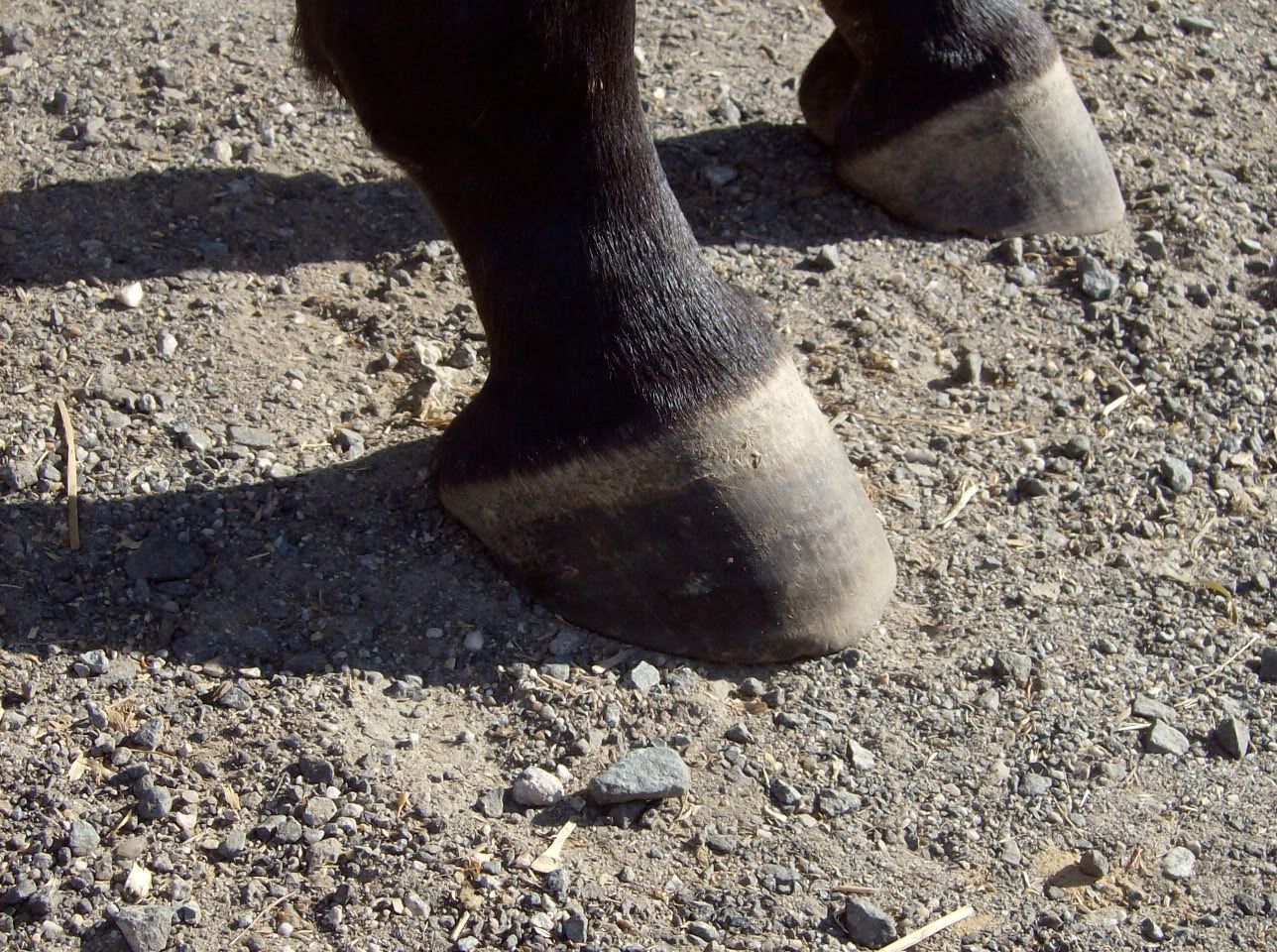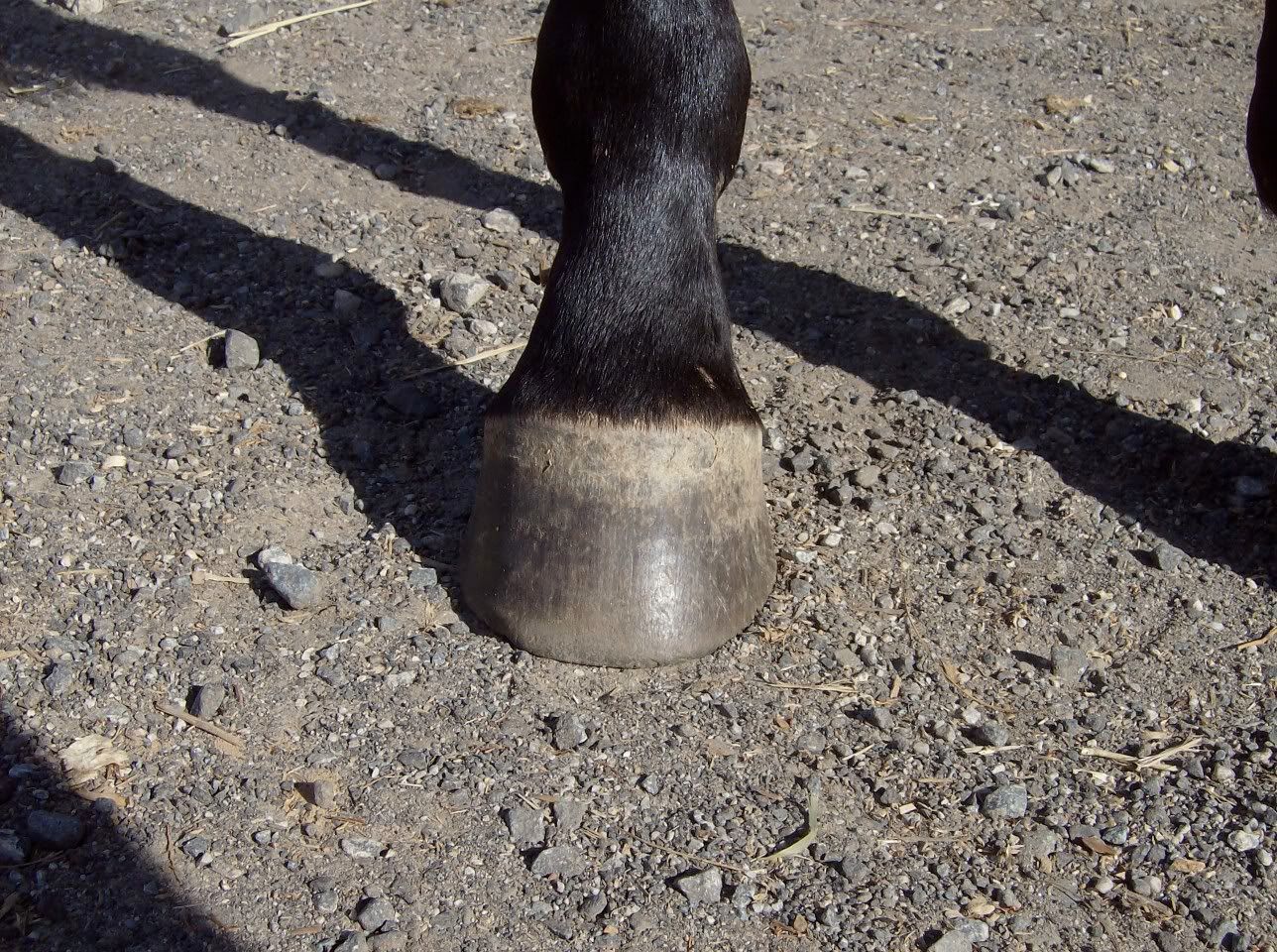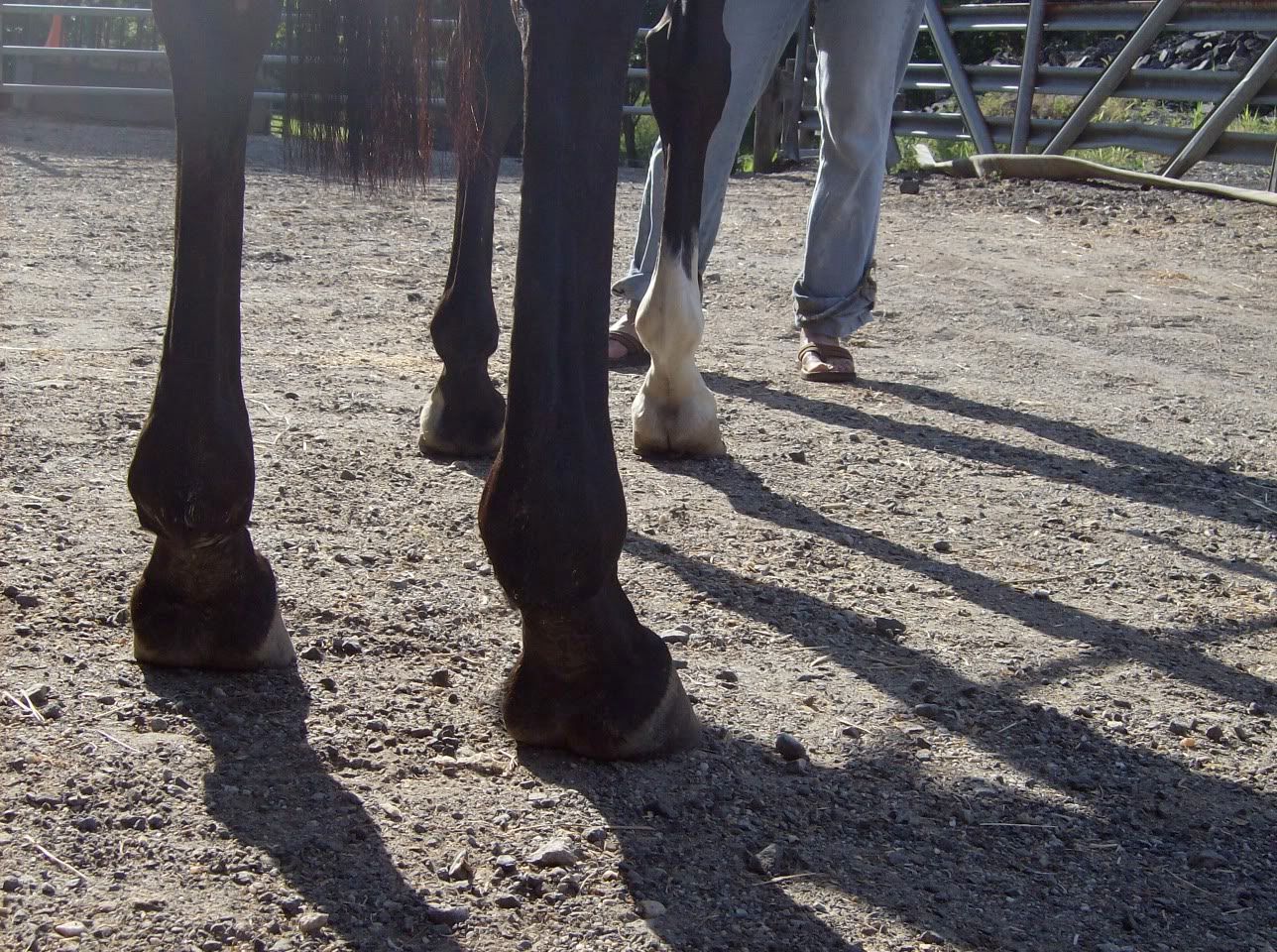 I don't think I got enough pictures :P
I don't know anything about shoes. My boys are barefoot but I would kill to have your girl's back feet on my TB. He has thin walls and always has chips and cracks
from what i can tell from my farrier telling me about it (he does the natural balence style) your horse needs a trim and idk...it might be your farriers style of trimming but it looks to me like the whole hoof is shifted forward and the hoof is growing out and is set more forward which throws off their balance point and puts strain on their joints. haha i could be totally wrong here but that is what i have picked up from my farrier so far. lol . but anyways my horse used to go totally barefoot and then last summer he was getting sore from riding on rocks so what i am doing now is just shoeing in the summer and leaving him barefoot in the winter to let his feet get stronger again.
well hope that helped a little
:roll:
---
~He knows when you're happy
He knows when you're comfortable
He knows when you're confident
And he always knows when you have carrots.
~Author Unknown
there is someone on this site named "barefoothooves" she is wonderful try getting intouch with her!!!!! im sure that she can help you a lot.


ak_showgirl, I agree.. Glad you said that they looked like they were running forward cuz that was my impression. Btw, your horse will grow stronger hooves if you do not shoe in summer. I'd boot instead.. Well I DO boot.. lol

saraequestrian, That right one looks a bit tight, contracted in the heel(I think). It doesn't seem to have any cone shape to it, tho perhaps the farrier is working on removing flaring. The left front appears better in that regard. I think all 4 heels need to come down more. On the hinds(since they are bare and I can tell) the wall needs more of a roll/bevel.. Is my barefoot preference showing? lol
Quote:
there is someone on this site named "barefoothooves" she is wonderful try getting intouch with her!!!!! im sure that she can help you a lot.
Sorry, the quote was sposed to be that.
Why are the back nails so high on the right? And why the "clips"? Has your farrier ever said why he does that? Just curious.
Looks to me like your farrier is beginning to have problems keeping the shoes on your girls -- hence the high nails and clips. Her feet look strong and yes, forward. I don't see why you couldn't go barefoot. Her hooves look strong. The damage that is there looks mostly like it's from the shoes only. Why not try barefoot and if you find you need boots next summer, do that instead. Look at how much fuller her frogs are in the back. Beautiful.
i would definitely go bare...that right front is getting dished out...which I believe is the first sign of founder? But be prepared for her to be sore for a few weeks after you first pull them...her feet are going to have a major transition to go bare. I pulled my horse's shoes last November...it took him about 3 weeks to really be comfortable on most terrains...and it took a few months for him to walk comfortably on rocks.
Your horse could certaily go barefoot. I would wait until the main riding season is over before pulling shoes, though. She might be tender at first and you don't want to miss any rides by changing in the middle of the season, also, newly bare feet need time to adjust to just carrying the horse, the transition will go faster if you don't ride her right away without some sort of protection, like boots.

What I see, (first, I pick at the hinds) is the toe needs to be beveled a tad more in the hinds, you can see the wall has a bit of separation in the sole view, it's trying to chip itself off where the bevel should be done. Hooves are wonderful about telling you what they need! But they look good other than that, and that separation I speak of, would be an ugly chip, but superficial that wouldn't cause lameness, but it's not something you want to let happen, when it's so easy to prevent.

The fronts...again, I pick! The Left Front, while it at least doesn't have the degree of flaring as the right, it is still there, and you can see how the farrier has rasped off the toe trying to fix it or make it look less obvious, or even trying to make it fit the shoe, but I'm going to give him/her benefit of the doubt and say they are attempting to remove the flare before it gets worse. Her heels are lower on that foot, she will probably always have lower heels on that foot compared to the other front. Not a big deal, as most horses are NOT perfectly symetrical, and sometimes it's a conformational reason up higher in the leg, like her other leg could actually be shorter, so the hooves grow at slightly different heights/ angles to compensate, and it doesn't cause any problems, but forcing the hooves to match would. Or in her case, she may just need the other foot trimmed a little different and they will even out themselves.

The right front, has a signifigant flare at the toe, causing the heels to squeeze together and be higher than they should be for that hoof. Initially, a really steep bevel at the toe when the shoe comes off will help stop that flare, and by the next trim, it should be growing out. Initially, leave the heels alone, and focus on the toe, or your horse will be very tender. Too many changes at once can cause more set backs than necessary. So correct the toe/flare first, and the heels will start to show when they are ready to come down. She will be more tender on this foot than the other, as the flare pulling the foot forward has distorted the sole a little, making it a tad flatter than normal, but in a few trims, if done right, that will go away.

I'd suggest getting a barefoot trimmer to to pull the shoes this winter and set you up in some boots, so you won't have to miss any rides. The more you exercise her, the better her feet will get, with proper trims. By next spring she could be going quite well barefoot, and you will find you use the boots less and less.

And for jumping, I think someone mentioned it? YES you CAN jump barefoot. The hooves will have to kept on a good maitenance schedule to prevent chipping, the slighest bit of extra hoof is more prone to breakage with that sort of stress, but keeping the growth in check is the key.
My barfoot trimmer was just here today and did both boys...it is only about their 4-5th trim. (if I have a chance I will get photos for you.) But Dumas' front feet are slightly dished from not getting regular trimmings before and now that they are getting the trimmings that they need I can actually SEE where his natural hoof wants to be and the dishing will disappear as it grows out. Having your horse barefoot with rough terrain would be ideal. I actually have had to put gravel out in their pen to help with "natural filing" of the hooves.

I would suggest that you at leat check into going barefoot. Your horse looks like it has good feet. (doesn't need corrective shoeing etc) Dumas and Twister both no longer have any nail holes in their hooves and are doing really really well! The extra gravel helps keep their feet in good worn down condition (like your horse's back feet).