My vet is confusing me about Epona's weight issue...
---
This is Epona, days after we bought her. Her previous owner had her on grain, sweet feed, and 24/7 grass turnout. All that changed when we bought her....
No grain, no sweet fed and she is on dry lot with limited grass turnout.
This is how she looked when we bought her: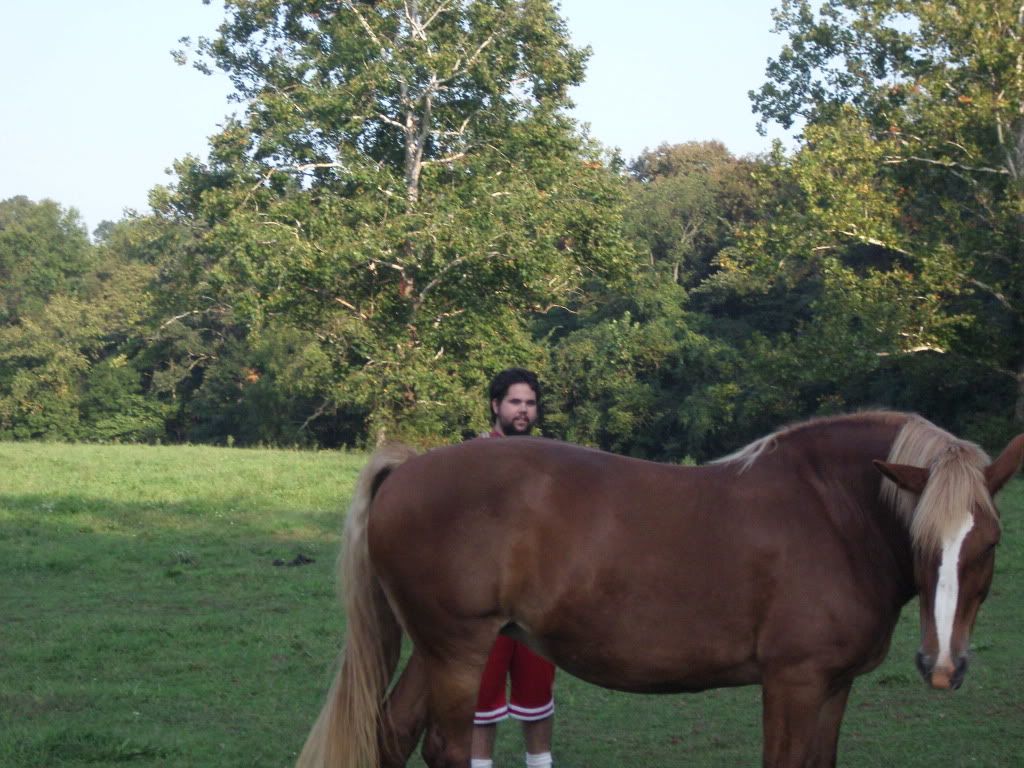 This is her after a year and a half of diet management and a constant battle with her weight.
Is it just me or is there no progress? Well...slow progress, anyhow. It is such a constant battle to keep weight off of her.... and discouraging when you can't see much progress.
BTW, a grazing muzzle is out of the question.... and she is already on dry lot.
Our vet was out last week and gave her a body score of 8, her report states that she is slightly overweight. Isn't an 8 MORE than SLIGHTLY overweight? .
Wouldn't a 6 or 7 be slightly overweight and an 8 be moderately overweight!
Then one minute she says she is not too bad weight wise for a draft........then says she is definately carrying extra pounds.
I told her Epona gets 6 hours grass time which she said was excellent...but if she's an 8, isn't six hours on grass too much????
My vet is confusing me.
She looks a bit thinner, but its hard to tell from the photos.

So--what DOES she eat?
---
Dressage in Jeans
- My blog with dressage tips for happy, relaxed horses, specifically for those who ride dressage in western saddles, no saddles, cowboy boots, or jeans. ;) Also now with cute pygmy goat pictures! :P
You can get a better picture of her weight in this photo:
She gets timothy or a timothy/orchard grass mix hay, a hoof supplement, and an easy Keeper supplement from smartpak.....and six hours of grass time daily.
---
Last edited by Beauseant; 07-09-2011 at

01:24 AM

.
Green Broke
Join Date: Oct 2010
Location: Some times Llanelian - North wales, sometimes Hull in East Yorkshire (UK)
Posts: 3,679
• Horses:
5
can you get a photo of her stood up sideways like the first photo.
I think i can see improovement but without proper photos it is very difficult

As for what you are feeding I personaly would soak the hay for 24hrs before giving it to her. Remove most of the calories that way (along with any vits and mins so make sure her suppliment is right.

Also how much work is she getting?
---
RIDE your horse FORWARDS and keep him STRAIGHT


I think she looks beautiful right now. I certainly wouldn't want her to gain more weight, but I wouldn't put her on a starvation diet either. I would just be careful not to over feed her. But then I like my horses a bit on the chunkier side.
I agree with the soaking, and you don't HAVE to give her grass time. There are hay nets that have small holes in them that you can use on her dry lot--it will make sure she always has food in front of her since she can't get a lot of hay at one time, and she will be very happy--and you won't have to let her graze on grass. Some horses really can't take lush grass like i see in your picture, and it is okay to not let her eat it, as long as she has hay in front of her.
---
Dressage in Jeans
- My blog with dressage tips for happy, relaxed horses, specifically for those who ride dressage in western saddles, no saddles, cowboy boots, or jeans. ;) Also now with cute pygmy goat pictures! :P
I can tell she's lost weight, no doubt about it. I just can't tell if she should lose more without seeing a confo-type shot. Good job so far!
Posted via Mobile Device
Thanks, all.


Unfortunately, she is only getting light work, a short trail ride once a week. I KNOW that more work is what she needs most of all....but how can we do that when it's soooo darned hot and humid here of late??!

I am serious, it's been wickedly nasty here lately....heat/humidity wise.

My son is currently working up a schedule for her, and is going to include some ground work maybe once a week. he doesn't like to do it often, rather he saves it for when their is a behavior problem.....and these horses are just rarely bad.

I'll get some more detailed shots of her so you all can tell me what you think because my vet is just giving me mixed advice.


The vet asked how much grazing she gets. I told her six hours and she exclaimed "Great! That's good. I expected you to say longer". HUH?

So I asked her again, so six hours is ok for her? she said yes, yes.

Not really understanding how 6 hours of grass is ok for a horse that is a solid 8, I asked...."so should we decrease her grazing time".... she said, "no she's fine with 6". she said if it were spring grass she would suggest a decrease, but this grass isn't going to make her balloon up.

Ummmm....Ok. But isn't grass fattening regardless of the season?!

I know spring grass is WORSE, but summer grass is still grass

*sigh*

she comes back next tuesday to finish up the horses' vaccinations (Epona had a bad reaction to last year's vaccinations, so she's splitting them up into two visits this year) so I am definately going to try to get this cleared up.....but i worry she's just going to say the same thing she already said.

She's the vet practice owner but she has three other vets working for her....my hope is that I'll get one of them and they will be more clear on this weight issue.
---
Last edited by Beauseant; 07-09-2011 at

10:59 AM

.
By the way, our farrier totally disagrees with the vet.

He says Epona's weight is what one would expect to see on a draft horse.

he says she is built stocky so she looks stocky, but that her weight itself is right where he would expect it to be.


I am so frustrated I could scream!!!!
I feel her pain. It is hard for a fat girl to lose weight.
I would thank my lucky stars. Think of the money you save having such an easy keeper. She is beautiful. Save your sweet feed money and roll with it.