neck problems.. help please..
---
I have a 3 1/2 year old RM mare and she has a short neck but it is also stiff she never holds it up it is alway even with her back when u look at her her head it straight in line with her body.. so instead of bein like

/ shes always like this --------------.. lol but I was wonderin if there
------/
was somethin I could do for it, like a therapy or somethin..Because it is really annoyin that she is always droopin her head..
She could have broken something in her back or neck so calling the vet to XRAY is what you need to do. If nothing is broken find a good equine chiropractor in your area and have her adjusted. This will need to be done multiple times - the longer it goes uncorrected the more often the chiropractor will need to come out and push the bones back into place until her muscles re-learn the proper way to hold her neck and back.
RMG -- is this truly ALL the time? Generally speaking, a horse will keep it's head only slightly higher than it's back. At times of interest or fright, the head will come up. Can you post a pic of her?
umm actually we have had the vet look at her because we've had her ever since she was 6 or so months old, now shes 3 yrs old and its always been that way.. and none of our other horses do it.. does any one know if theres like any therapy I could do on her?


I will try to get some pics of her and post..

If any of you know the Rocky Mountain Horse named Nuncio thats her dad. He also has a short neck but he does hold his head up though.. her neck is so short that when she grazes she has to put one of front legs way back in order to reach the ground poor thing..
Oh wow, I hope you never breed her mom again, and definitely don't breed to that stallion again.

Sounds like a serious conformational flaw. I would have a chiro look at her to see if she's even suitable for riding.
Sounds really bad, dont have ever heard that!
Call really a chiro !
---
kind regards,
Cornelia :)
Here are some pics of her.. I can't remember her ever holdin her head any higher than it is in these pics and if she did it was when she was really younger but I still don't think she held it up then.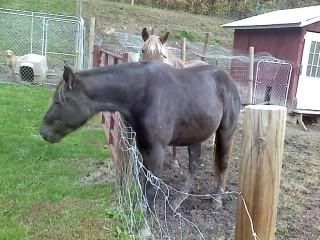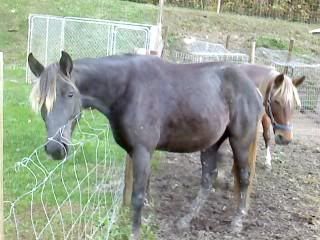 neck problems.. help please.. PICTURES!!!
---
Forgot to change the title when I posted pics..
yeah that might be a genetic thing i have never seen a horse hold there headt that way it def looks un comfortable for her i would call a chiropractor for her, she looks very sweet though,hope you can figure something out, keep us posted
Similar Threads
Thread
Thread Starter
Forum
Replies
Last Post
New dip in neck....

VanillaBean

Horse Health

20

06-07-2009

11:35 AM

Neck Pain. Help!

My Horse, Gracey.

General Off Topic Discussion

4

02-04-2009

09:17 AM

neck reining

cheethamz17

Horse Training

13

01-09-2009

06:47 PM

bump on neck?

SonnyWimps

Horse Health

8

11-17-2008

09:54 PM

stiff neck

pezolvr

Horse Training

6

07-18-2008

11:59 PM