Need advice regarding weight gain PLEASE!
---
There is an old mare at my barn named Molly. She has basically been abandoned by her owners and I have taken her under my wing so to speak. This poor girl is 32 years old and so skinny! I know the barn owner does the best she can for her but she doesnt have the time to really dedicate to her.

Molly is missing quite a few teeth so I thought id start by giving her an extra meal during the day and making it a mash so she can eat it easier. Right now shes getting fed Safe Choice, hay extender and empower twice a day.

I know she probably really needs to be dewormed. How would I go about that without shocking her system?

Would going out being hand grazed benefit her? Poor girl has barely had anything done with her in years.

Any advice would be great! Thanks!
---
♞ Horse Crazy. ☀ Animal Lover. ☺Jeremy Renner Obsessed. ✇ Photo Taker. ♫ Country Music Listener.
♥ Erotic Romance Reader. ✯ Witch.
Anyone...?
---
♞ Horse Crazy. ☀ Animal Lover. ☺Jeremy Renner Obsessed. ✇ Photo Taker. ♫ Country Music Listener.
♥ Erotic Romance Reader. ✯ Witch.
Beet pulp or, if you can't get that, Speedi-Beet. I use Speedi-beet and I think it's great stuff, very economical as well. You buy a bag of dry pellets/flakes and you soak it water and it expands into this black mushy stuff (doesn't look very appetising but my 2 eat it). I give my TB hard keeper half a scoop, dry, and it expands out to about 2 scoops worth.
British Horse Feeds » Speedi Beet » What is Speedi Beet?
I mix this with a high fat pellet feed (Equi-jewel - also know for being a good weight builder) and mixed oaten and lucern chaff and this keeps a good weight on my TB. Don't know if you can get these feeds in America, as I'm in Aus, but I hope it helps.
Best of luck with the old girl!!!
Just thought I'd add some pics. He wasn't skinny before, he was just lean esp. over Summer when the grass was dry and no matter how much feed I pumped into him he stayed the same weight.
But since I've changed his feed I've seen a noticable, if not huge, difference.
Before (January)
After (about March/April)
Before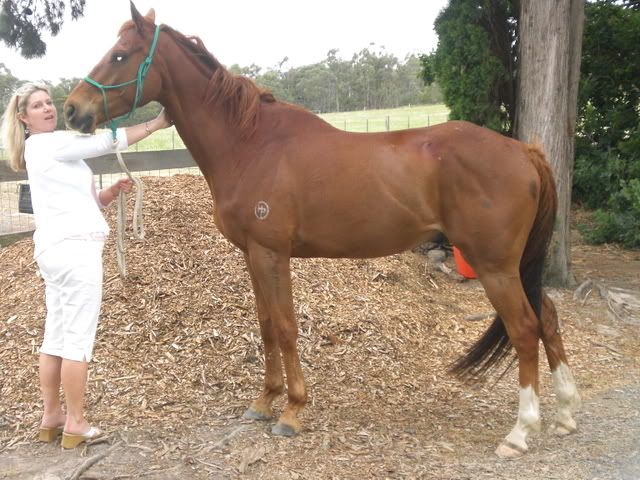 After
We use Morglo, we put like 1 cup 3 times a day.
We use to just poor food into her, like 4 huge coffee cans,[she was skin and bone] but a friend recamanded the Morglo and she put on 100-lb she needs like another 200-lb. You can probly find it like at a feeden seed or an other place that sells horse food.
An old horse
Be aware that what a lot of us see as weight on a horse is muscle tone , an old horse will have great difficulty in maintaing this and, if lost, will have an even harder time getting it back .
I would say at 32 the best you can do for her is to make sure that she has plenty to eat , give her lots of TLC , and don't get too dis-hartened if she dosen't appear to gain much weight. What will be most important for her is to be happy.
This is Szedres when I got him , and after I'd had him 18 months. The poor boy worked for TEN years as a circus horse and when he became too old to perform was abandoned with me.
13062006 xxw.jpg
Szedres 001.jpg