Need advice on this senior mare
---
this is pic of mare I got in june, between ages of 17-22, she was being fed 10 lbs of alfalfa 2x a day, no other supps, very little riding in the year prior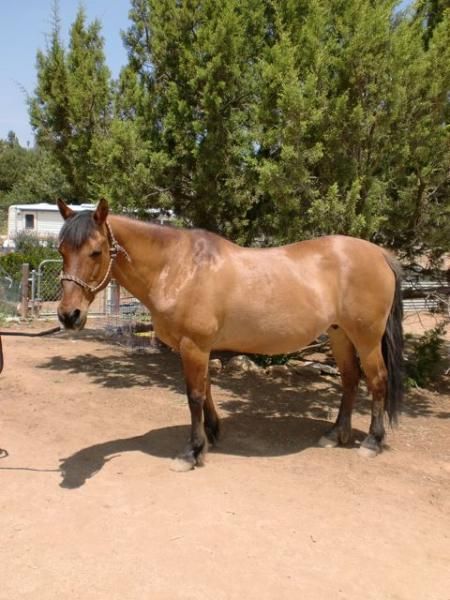 in the last 6 months, very little work out, alfalfa about 8 lbs 2x a day, joint supps and 2lbs of ointegrity lite.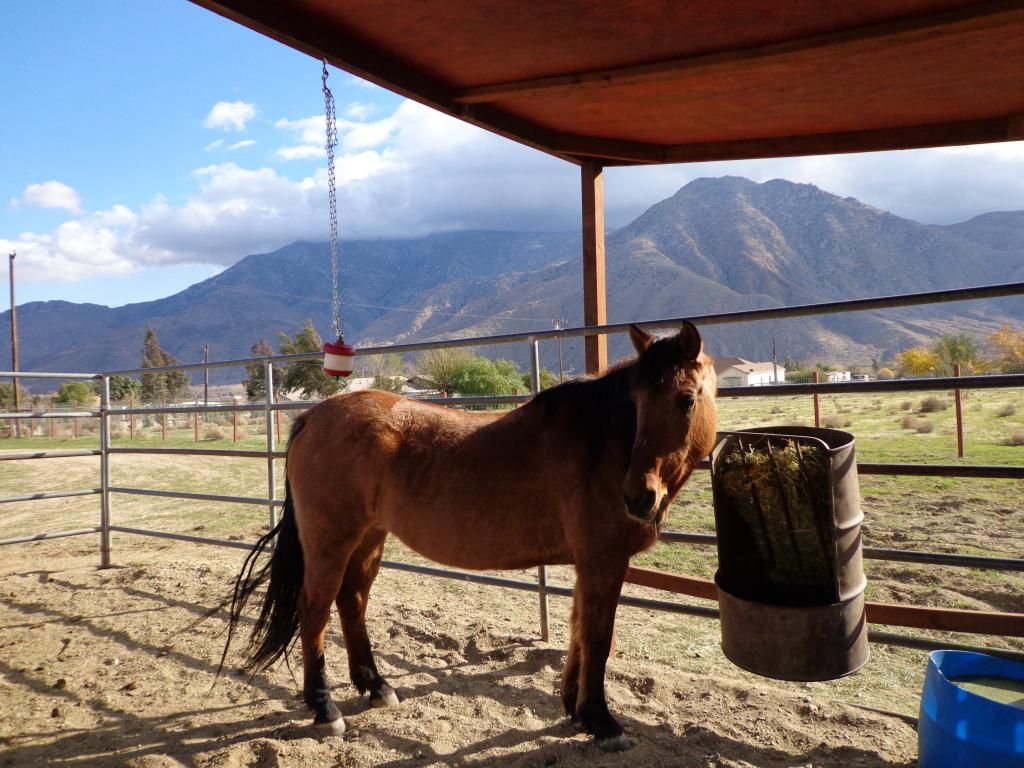 this pic doesn't show it as well, but its like she all of the sudden developed a sway, and lost weight or muscle in her back end. Is this because I need to put her back to 10lbs of alfalfa 2x a day (i thought she was getting this but my others get the 8 so i guess in error she was getting the same) or does she need senior feed added, or is this lack of muscle.
your input appreciated
---
Last edited by SouthernTrails; 01-07-2013 at

04:10 PM

.
What are you looking for and are you in Arizona? :)
Posted via Mobile Device
posted under need advice senior mare
and I am in southern california desert...like Az;)
---
Don't take life so seriously. After all no one gets out alive.
I think she looks better weight wise in second photo first pic shes a bit fat. Her back doesnt appear to be sway from the photo. She could use more muscling though looks unfit muscle wise. Just needs to be worked to build up muscle tone.
Teen Forum Moderator
Join Date: Dec 2010
Location: South East Texas
Posts: 7,157
• Horses:
2
The sway is a mix of not being worked and genetics most likely. Working her will help if you don't want the sway back because you'll be teaching her to carry her belly and form a topline, but thats about it. She doesnt look very severely swayed to me though and with muscle would look just fine.
---
Everyone in your life is meant to
be in your journey, but not all of
them are meant to stay till the end.
I'm betting it's a lack of muscle/work that's helping the sway back, along with her age. I don't think you're feed is making the difference.
---
"Great spirits have always encountered violent opposition from mediocre minds."

Lack of muscle and age doing the sway, try giving her a little work and see if that helps. I'd personally add a pound or two more aflalfa especially if your going to work her more
thanks all, i will go back to the 10 lbs 2x a day ad work her more.
---
Don't take life so seriously. After all no one gets out alive.
I agree w endiku. And, she may have foaled once or more. Generally speaking, that can make them a tad more sway backed. It isn't "that" swayed. She looks pretty good for her age. In the first pic she appears to have more hip on her which makes her look in better condition/proportion. More conditioning and and she should look great.
---
There is just as much horse sense as ever, but the horses have most of it.