Well I can't say I have too much to update at this point.

He's continued to be a good boy and stand nicely, for the most part, for me to change and re-apply his bandage.

I can tell he's getting antsy about being cooped up in a stall 24/7, but I've consulted with a second vet and she says the exact same thing --> stall rest until that tissue starts filling in.

It is starting to look more "moist" in that I think some tissue will start granulating and growing in soon (if moist makes any sense, haha), and I hope so! Because this bandaging and medication is getting old quick.

Aughggggg, injuries!
---
∞•*˚ Βгįťţαňγ ˚*•∞
It is not enough to know how to ride; one must know how to fall.
Okay, so Red has been getting harder and harder to bandage every day. He's getting sick of it, and I don't blame him. But it has to be done!
The last few days have been a terrible wrapping job by me, because he hasn't been standing still, so it's been falling down every day.
My non-horsey husband has been trying to help, but Red is a strong and big boy. My husband doesn't exactly know how to handle him and I sure don't want him getting hurt.
On Sunday, the bandage had fallen down completely for the first time, and it was full of shavings and was dirty. Since it was decently nice outside (30 degrees), I got my boarding lady to help me cold hose it off. To my surprise, Red did not move an inch. Couldn't believe it! So we got it cleaned off well. But..... the wrap job sucked. I even had her try to help hold him for me but he still just wasn't having none of it. So again, got it wrapped, but not very good. And of course, it didn't stay up.
This is the wound on Sunday (day 12 of the injury) after we had hosed it off.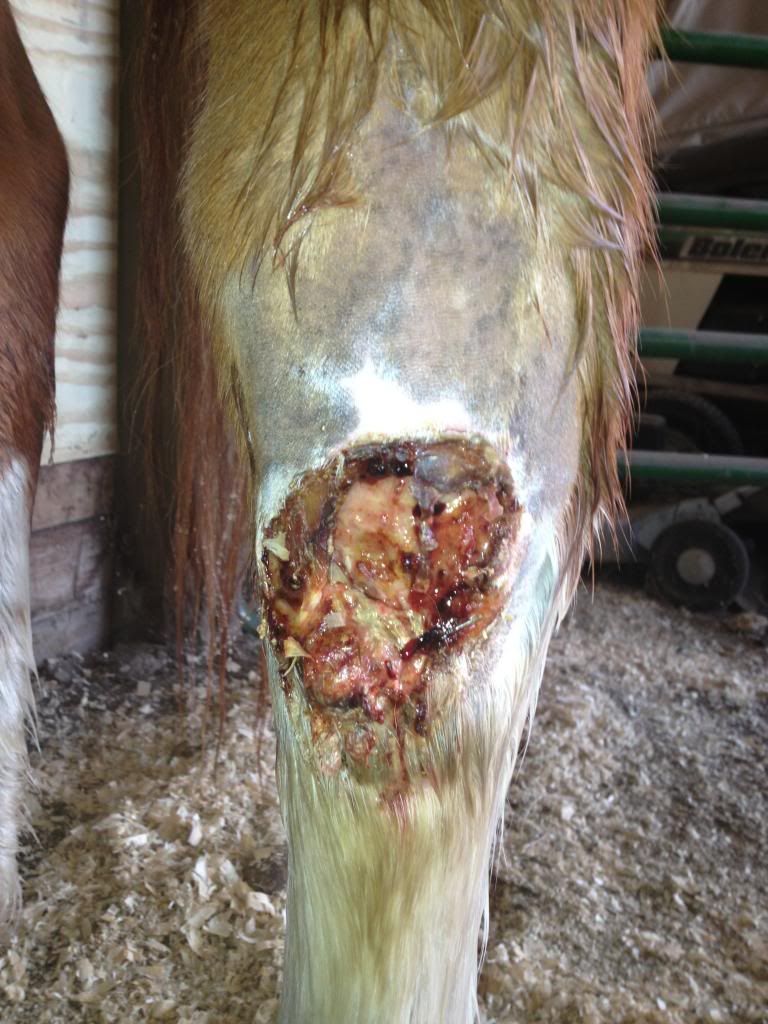 And then these pictures are from last night. The bandage had fallen down completely again, and he must have banged it on something because it was bloody. This (obviously) was before I cleaned it up.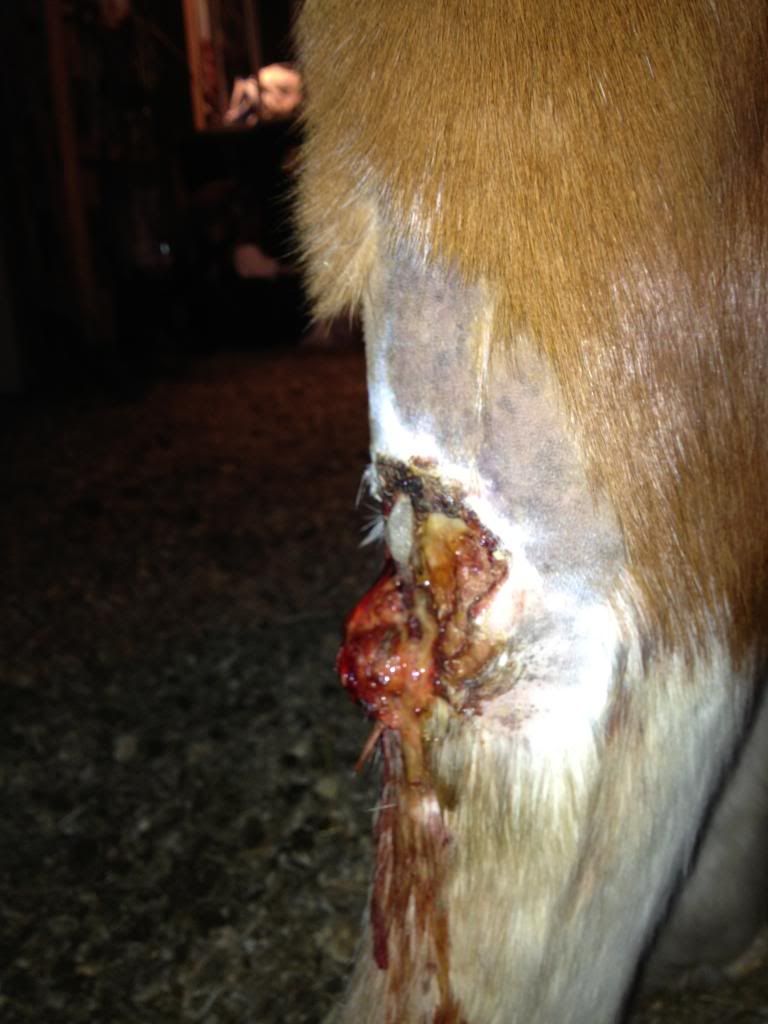 I'm really tempted to cut off that hunk of skin hanging there ..... so I just emailed a picture to a vet. She isn't the one that took care of him the night it happened, but I am goingn to have her look at it in person in the next week or two when they make their usual trip to my area.
It took 3 people last night (God bless my boarding people for helping me) but I got it wrapped the best I have yet last night, and she informed me this morning that it is actually still on his leg! Even after him laying down at night, and rolling in his shavings.
as he always does. If it is still intact tonight, I will not change the bandage, as the vet told me I could go every other day.
But this is just a SLOWWWWWWWWWWWWWW process. And he's a pill to bandage now, but at least we didn't have to twitch him or anything yet. (and hopefully not)
---
∞•*˚ Βгįťţαňγ ˚*•∞
It is not enough to know how to ride; one must know how to fall.
I'm surprised I didn't see this before now, hoping for a quick recovery!
What may help you in your bandaging is sanitary pads the maxi kind and a knee hi nylon. Put the pad on the wound, the knee with the toe cut off over the pad and vet wrap the top and bottom of the nylon. The nylon will let it breath and keep most of the dirt out of it, the pad will catch all the yuck draining. And it's much cheaper than buying bandage material, and if the wound is bigger than the pads you can use disposable diapers.
Interesting thought!

I don't care too much about the bandaging costs, as I will buy what I need to do it right. But the maxi pads would be nice to have it physically stuck to my cotton padding, so it doesn't slide down.

Right now I"m using non-stick gauze pad I got from the local pharmacy (10 pads are only like $2.99). I like the non-stick ones because they don't leave the wound full of fuzzies and they don't stick to the wound.

Then I went to the fabric store and bought some yards of clearanced quilt batting. I like a big roll of something soft like that to wrap around the entire leg to cushion it.

Then a layer of soft brown wrap (this is the only thing I keep buying from the vet, because I have found an "alternative" any where else).

And then I just bought a ton of Vet Wrap, which probably was the most expensive part, but it just sticks so perfectly I really don't want to use anything else. Plus, I do like the compression aspect of having the Vet Wrap wrapped tightly, since his lower leg is a tad swollen, but not bad.
---
∞•*˚ Βгįťţαňγ ˚*•∞
It is not enough to know how to ride; one must know how to fall.
I like to use the maxi pads on larger wounds, they are nonstick and hold more of the discharge so you don't have to change them as often. If you have a problem with the gauze sticking to the discharge you can put Vaseline around the wound in the skin not in the wound.

The big hunk if skin hanging down if you decide to cut it off I found that if you put a tooth ache medicine on it to numb it up it will help alot, if you leave it it may leave a big scar. Looking at the wound I don't really see any way of sewing it up any where. I would ask the vet about cutting it off.
---
Last edited by cmarie; 01-29-2013 at

11:39 AM

. Reason: added
I will be calling the "on call" vet that actually worked on him tomorrow, as that's when we decided I would check in next. I will see if I can text or email him the photos to get his opinion on it.

But I did already send photos to the other vet that I am going to have take care of him from now on (she's going to be his regular vet), to get her opinion on what I should do with that hunk of skin.
---
∞•*˚ Βгįťţαňγ ˚*•∞
It is not enough to know how to ride; one must know how to fall.
oh goodness i hope he heals fast. prayers for a fast recovery
---
Don't Flatter yourself Cowboy I was looking at your Horse

LORI

Quote:
I doubt you'll ever figure out what he cut himself on. Horses are sneaky like that. Poor thing, I hope he heals well for you. I'll keep watch on your thread, please continue to post updates.
I think we did figure out what he got himself on.
Stupid me never even bothered to walk the fence line because it is a HOT smooth wire fence (4 strands) with the top wire and the third wire being the hot wires. So they leave it alone. Plus, they don't go out a whole lot (even though it is open) because they are usually stuffing their faces in the round bale.
Well one of my boarding people noticed yesterday that there was a clip missing in the "alley" that leads to the two far pastures. He investigated further and while the wire was not torn, there were 7 posts with the holders pulled off the T-posts (every t-post is capped with a plastic cover).
Since my two guys regularly buck, rear, kick, and play with each other, I'm guessing they were goofing around on their way in or out to the pasture, and Red got his leg caught.
You try so hard to keep them in a perfect environment but they'll still always manage to get caught in something.
At least now I know what he got caught on, although doesn't help matters any.
---
∞•*˚ Βгįťţαňγ ˚*•∞
It is not enough to know how to ride; one must know how to fall.
I don't think you really have to worry about it because he's in the stall 24/7 and it's winter but watch out for pressure sores under the wrap.
---
Show me a horseman who hasn't fallen and I'll show you a man who has never truly ridden.