Quote:
I would personally stay away from using the duct tape on either side of the bandage. Duct tape does not allow for any stretch and with the sensitive tendons/tissues on the leg, it could actually do some damage when your horse tries to move and is restricted by it.

I use Elastoplast to keep the top and bottom in place and secure. It is just as sticky and strong as duct tape but it stretches a lot and allows for swelling/movement. The only time I use duct tape was on robbie's cast to decorate haha and a little strip on the velcro part of the stable bandage to keep it from coming apart.
Posted via Mobile Device

Edit: just to add that if you absolutely MUST use duct tape, make sure it's fairly loose and just drape it around his leg. But I'd reallllllly suggest getting some elastoplast.
Thanks for the tip on the duct tape, which makes sense, although my vet said I could use it. She did say the elastic tape was better (when she saw him 3 days ago, she used hers to wrap him up) but that duct tape is
a lot
cheaper and gets the job done too.
I do not normally put duct tape around the bottom of the wrap, but my Vet Wrap didn't go as low as I would have liked. So I just wanted to have another layer of something holding my padding. I didn't make it real tight on the bottom.
I do have at least 3 layers of cotton wrap under it all, plus some soft 6" brown gauze wrap, so it's got some cushion under it.
I definately have to use duct tape, as my bandaging never stayed up until I started using it.
His leg only has a very small amount of swelling, so that's good at least.
---
∞•*˚ Βгįťţαňγ ˚*•∞
It is not enough to know how to ride; one must know how to fall.
Quote:
When it comes to proud flesh, I have had no greater success than with Equaide. My barrel mare got her foot hung in a loose strand of barbed wire this past summer and sliced the back just above the heal bulbs completely open from one side to the other over an inch into the flesh. Every time she took a step, it gaped wide open. I started out with Underwood which allowed it to start healing from the inside out and I was actually told NOT to wrap it since the way you use it creates a "crust" so to speak. It did an amazing job keeping infection out and producing healthy clean granulated tissue which was necessary for things to fuse back together. BUT, proud flesh did kick in with a vengeance since it was a "below the knee" injury. That's when I switched to Equaide. That stuff is amazing on proud flesh. You do want to wrap with Equaide if it's a leg injury but it heals with amazing speed. My vet told me it would take 4-6 months for her to recover from the injury she had and I was riding her at a walk again within 11 weeks. It's been 6 months now and I'm running her on barrels again which the vet had her doubts she would ever do. And as far as cold hosing, it does aggravate proud flesh so I took an empty mustard squeeze bottle and filled it with distilled water that you buy at the grocery store and just kind of cleaned things up that way between bandage changes. If you opt for the Equaide, you'll want to just very lightly scrub it some with a soft tooth brush and get the proud flesh to bleed slightly. Proud flesh loves to bleed so it won't be hard to do. And then you just paint it on there with a little brush. I used a maxi pad to cover it, held it in place with gauze, and then went over that with vet wrap. By the way, you can get boxes of 18 or 36 rolls of off brand vet wrap on Ebay for way cheaper than the 3 or 4 packs at Tractor Supply. Anyway, just sharing my experience. We managed to heal my girl up with Underwood and Equaide without so much as a stitch. Really wishing you all the best and so sorry you're having to deal with this especially with it being so cold right now. :(
I was tempted to get buy some Underwood, but if it doesn't help with proud flesh, that won't help me any!
I was just told of the Equi-ade earlier today too.
---
∞•*˚ Βгįťţαňγ ˚*•∞
It is not enough to know how to ride; one must know how to fall.
Yearling
Join Date: Nov 2009
Location: I was born in Germany, raised in Texas.
Posts: 824
• Horses:
5
Quote:
I was tempted to get buy some Underwood, but if it doesn't help with proud flesh, that won't help me any!

I was just told of the Equi-ade earlier today too.
Nope. The Underwood won't help much with the proudflesh on leg wounds. It probably does a decent job with proud flesh on flesh wounds and I still love the stuff for how it started us out, but on my mare's injury, the proud flesh was pretty bad after about 3 weeks. The Underwood is good for using on the wound immediately to disinfect and start growing the granulated tissue which turns into proud flesh when it goes overboard later. Healthy granulated tissue does serve a purpose. But I highly recommend the Equaide at your stage. I was blown away at how quickly it put the proud flesh in it's place. And it's a super quick healer so be sure there's no infection because it will actually warn you that it could heal over an internal infection. However, it does help with surface infection as well. I changed the bandages every 24 hours at first and the dead proud flesh just pealed away. After about 3 or 4 days, I started going every 48 hours. By then, healthy skin was showing around the outside edges. If you're interested, I can pm you some progress pics. They are pretty nasty.
Seriously .... now what????
---
So I had an unpleasant surprise when I went out to check on Red on Saturday.
HE GOT INTO HIS BAG OF SWEET FEED.
Great. Just one more thing I needed.
On top of it, my husband, his dad, and his aunt came with because they had just wanted to see the horses (we just got done having lunch with them). I open up the shed to take a look at Red and the inner gate was open .... where I store my sweet feed, Equine Saver supplement, and loose salt (among other things). Both of the bins that I keep the feed and salt in have the covers torn off, my Equine Saver spilled all on the ground, a couple of my poles (for pole bending) tipped over, and just a huge mess. And Red was like "OOOOO! Someone to give me more hay!! I'm hungry"
I could have shot him right then and there.
Thank God he only ate like a 1/4 of the bag (which of course, was a full brand new bag ... why wouldn't it be?) and not the whole thing. I still called the vet on the spot just to be sure what I should watch for. I've already read about colic and foundering in magazines and such when horses do this, but I've
never
had a horse
actually
get into his feed.
So she told me to give him banamine for 3 or 4 days as a precaution. Now trying to make sure my memory serves me correct on what she told me: If he's going to colic, she said that would happen probably in the first 24 hours. However, he could founder up to a week after the fact. She said since he didn't eat the whole bag, he probably would be fine, but of course, we should still watch him.
He's had normal bowel movements since then and no symptoms, so I think it is safe to say we are out of the woods for the colic, but we'll still have to keep tabs on the foundering possibility.
As if I didn't need to spend more $$$ on meds for him, and more time worrying!!!
I have no idea how he got that inside gate open. The latch is on the backside. It honestly never even crossed my mind that he would get in there, but it's now being double held shut with an extra rope around it.
And
THEN
to top everything else off on this trend we've been having, I get out to the horses yesterday, because we changed Red's bandage. I get out there and one of my boarding lady's horses is in the corral with my Shotgun.
We had talked about putting Newt (her horse) in with Shotgun when I sent Red to the reining trainer, just for the purpose of keeping him company. She always tells me everything they do before they do it, so she would have told me that she put Newt in there. All the gates were closed. The fences were fine. And Newt looked "okay" although I didn't inspect him closely. She was going to be out in a few minutes to help me, so I figured I'd just wait until she got out there, as Newt and Shotgun were doing fine.
She gets outside and she's like "what the hell is going on?"
She had just been outside at about 1:00 to check on everyone. This was now about 2:30. Newt wasn't in my corral at 1:00 so it must have
just
happened.
She looked at Newt closer and saw that he was missing hair under his back legs, with a small amount of blood, and hair missing on the front of his hind cannon bones. In the corral, they have wooden posts with small round metal pipes as the railing. So clearly he tried to jump the fence and didn't quite make it.
He looked okay at the moment (wasn't limping profusely or anything) but I imagine he'll be quite sore in the next few days.
I swear. I don't know what else could possibly happen right about now.
This is insane!!
---
∞•*˚ Βгįťţαňγ ˚*•∞
It is not enough to know how to ride; one must know how to fall.
I did snap a few photos yesterday (Sunday).
His lower canon bone and ankle seemed a lot more swollen than it has in the past. However, I haven't been wrapping as low as I used to be, so I wonder if that has something do to with it? The swelling isn't too bad, but it is more than it used to be.
The green stuff on his leg is from the ProudsOff I used. The maxis pad slipped down a bit and smeared it. The photos are from before I cleaned off his leg. This time I decided to just used hydrocortisone where he needed it for the proud flesh, like the vet said to. It's not as caustic as the ProudsOff.
So yesterday was day 26 after the injury.
---
∞•*˚ Βгįťţαňγ ˚*•∞
It is not enough to know how to ride; one must know how to fall.
Alrighty! I'm liking how it looked last night for a bandage change, although we still have a long way to go.
I also wrapped his pastern with a polo wrap (to save on bandaging that low) a couple days ago to help control the stocking up and it worked wonderfully. His leg was back to normal as far as the swelling is concerned. So I will keep doing that. At least it's a washable bandage, instead of actually using $$ bandaging to wrap his entire leg.
My maxi pad has slipped down ever so slightly, so I think that's why the top part was bloody from rubbing on my cotton pad. I try so hard to get it smack dab in the center where it needs to go, and then to get it to stay.
I definately like how the hydrocortisone took care of the bump out when you look at it from the side. It sucked it back nicely! I still needed to apply some on the inner side of the wound, as it wasn't quite flush with the skin. But looking pretty good as far as the proud flesh is concerned. We're keeping it under control.
You also can see the perfect circle edge of where the maxi pad was on his leg (which is why the top of the wound wasn't covered perfectly), as I took the picture before I wiped off his leg hair area.
Yay the swelling is better!!!!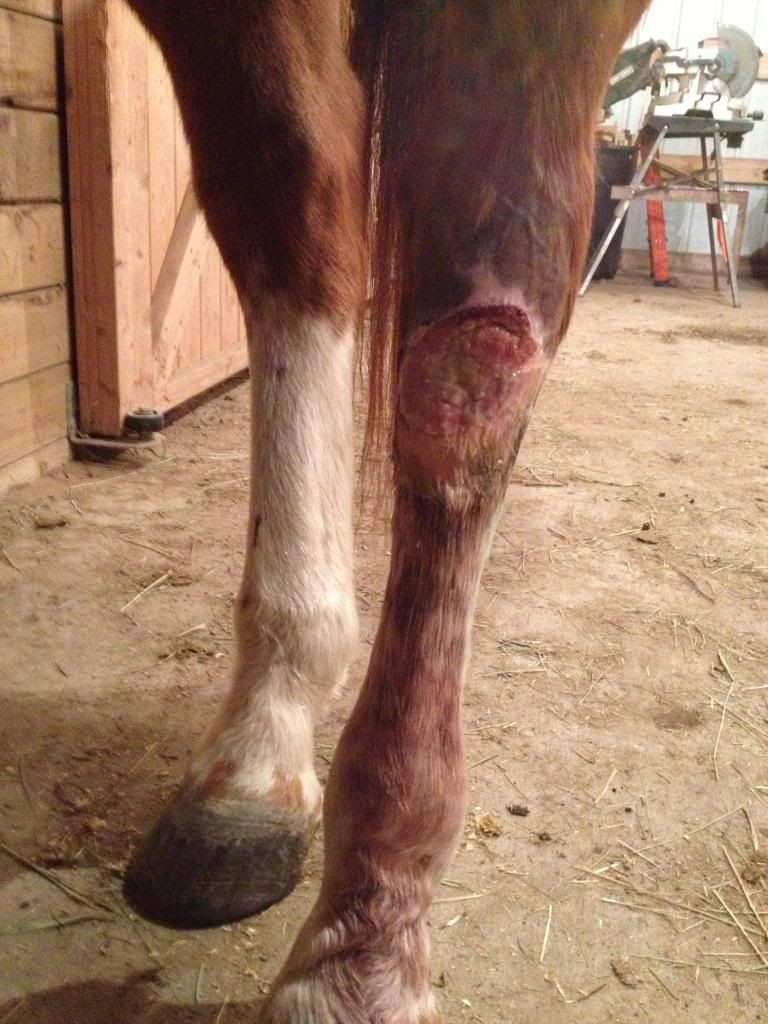 This will be our LONGEST time frame between bandage changes over the weekend, as I am leaving today to go on a ski trip that's been planned since before December. I won't be back until Monday night, so it will be changed then. But that's 5 days, so hopefully that should be okay. It's been looking good with not too much discharge so I think we should be good to go longer just this once.
---
∞•*˚ Βгįťţαňγ ˚*•∞
It is not enough to know how to ride; one must know how to fall.
Yearling
Join Date: Nov 2009
Location: I was born in Germany, raised in Texas.
Posts: 824
• Horses:
5
It's looking good! Keep it up. I bet it'll have hair over it by summer. Enjoy your trip. I can't wait to see how it looks when you get back. :)
When I was working at a breeding farm, we had a horse who kicked up and over the stall and did this to her hock. Luckily, the vet JUST HAPPENED to be there to get coggins on another horse and told us what we already knew. Also told us it would take months to heal, like your boy. Two weeks later the owner starting pushing me to ride the horse and I refused. About two weeks after that she came down with her daughter while I wasn't there and lunged her hard before putting her daughter on, who promptly got bucked off.

The leg ballooned up...after all of my effort to get back to where it was. I quit the next day when I found out (way more problems with the farm than that, it was just the last straw). "Months to heal" means months to heal! I know its sometimes hard to comprehend but come on!

It looks like he is making a good recovery. I'm glad you are doing everything you should be and its showing in your progression photos.
---
And those who were seen dancing were thought to be insane by those who could not hear the music
And we are on day 34 since the injury.
This was the longest the bandage has been on (5 days) from the 13th to the 18th, as I was gone over the weekend.
It looked okay, but I think the next time I change the bandage, I will use my ProudsOff on the inner/inferior portion of the wound, because it is actually a bit MORE raised that it was for the last bandage change. The cortisone didn't seem to do the trick as well this time.
There was a bit more ooze on the bandage this time, but then again, it was on longer.
I didn't clean his leg up very well last night, because a "feels like" -26 below zero is just too cold to be doing that. I'm sick of these cold spells!!!
My maxi pad must have slipped a tad (or I didn't get it high enough) which is why the top of the wound is scabby/bloody looking.
I also got my new cast padding bandage wrap to use under the vet wrap. It worked so great! And he's still rocking his tiger-stripe polo wrap for the stocking up (which is working great)
---
∞•*˚ Βгįťţαňγ ˚*•∞
It is not enough to know how to ride; one must know how to fall.
OH geez!!! Poor guy!
Just now seen this thread...looks like he is healing nicely.
Nothing like a bad injury to make you a pro at bandaging and wrapping..haha.
---
I DON'T LEAD 'EM AND FEED 'EM, I RIDE 'EM AND SLIDE 'EM.