Yup i know aallll about that haha the Arabs i worked with would do it all the time and my trainers big guy does it haha. Haven't gotten my new guy out to let him tun in the back yet to see if he does.
---
just a small town girl with a big town dream :]
Yearling
Join Date: Nov 2009
Location: I was born in Germany, raised in Texas.
Posts: 824
• Horses:
5
Man I'm getting goosebumps just sitting here watching that. Brrrrrrrr! I'm a TX wuss you know. LOL! He looks great. That wound will heal with everything you're doing. The exercise helps with the circulation as well. :)
It's even a beautiful 25 degrees today with sun! LOL Our cold is like your heat. we don't go outside when its -20 below (or avoid it), just like you guys don't go outside with its 120 (or avoid it).

Yea, the vet said he could be outside now, provided his bandage stays up because it should still be bandaged.

And his bandage didn't move an inch even with all his running around yesterday (we changed the bandage after that), so I've been getting pretty good with my bandaging skills.

And I have been wrapping his lower leg with a polo because it's been stocking up, so yes, letting him move around a little will help circulation, indeed!
---
∞•*˚ Βгįťţαňγ ˚*•∞
It is not enough to know how to ride; one must know how to fall.
WE HAVE SOME SKIN GROWTH! Wah-hoo!!
---
There's a little bit of skin regrowth!
There's a little bit of skin regrowth!
There's a little bit of skin regrowth!
Oh, did I say there's a little bit of skin regrowth?
Yea, I'm pretty excited.
You can see it on the edge of the wound (on the right side of the photo) here. Not much, but there is skin where there was not skin before!
On the flip side .... now there's a HOLE that has appeared.
Right above where the extra hunk of skin was that the vet removed.
I didn't try, but I probably could have stuck my finger in it.
So when we wrapped it back up, I put NO hydrocortisone cream on it, because I want that hole to heal shut. The tissue below is slightly raised and probably needs to be knocked back a bit, but I can always take care of that later.
I just emailed these photos to my vet as well, so we'll see what she says.
But I am really thinking about trying to go with NO BANDAGING on Saturday. I've got my new Wonder Salve that I'm itching to try too that will form it's own crust layer for protection. Spring and mud is approaching rapidly, but I think his wound is high enough on his leg that he shouldn't get it too horribly dirty anyway.
Plus then I am going to clean that leg up well! Get off all the duct tape residue from his hair
(any tips on removing duct tape residue from horse hair?????)
, get all the old blood off his lower leg, etc. It's going to be nice outside most likely in the 30's for sure, which would be nice enough for a hand wash with a bucket of water and soap, so I can avoid the wound itself as much as possible.
And the chiropractor will be out sometime next week for his first chiro visit!
---
∞•*˚ Βгįťţαňγ ˚*•∞
It is not enough to know how to ride; one must know how to fall.
Great!

It's amazing how they can get themselves into trouble. I had a horse, in a safe place somehow manage to tear off 1/4 of his hoof, in addition to one of his heel bulbs... Oi. He turned out ok, but the hoof was a little deformed.

It's also amazing how they figure out you're helping them and stop being finicky about messing with them in unpleasant ways. My mare had a tumor under here eye, and the vet gave me ointment that I had to put in her eye- peeling back the lid and all. I was a taken back as to how I was supposed to manage doing that for two weeks, twice a day- the combination of getting the ointment in there and not poking her eye out was a rather daunting task, but after about 2 days she got used to it and didn't give me any flak.

I'm glad Red is doing better :) Looks like he's healing nicely!
Quote:
It's also amazing how they figure out you're helping them and stop being finicky about messing with them in unpleasant ways.
Well........ He was a little butt-munch last night for his bandage change.
For some reason, he just didn't want to stand nice.
We've got our little method down so that we can handle him, but we were joking he must be having a "bad day" yesterday. The lady that I board my horses with has just been a saint!! She helps me every time. I wouldn't feel safe having my non-horsey husband help, and she knows it too. Her husband is a little more horsey than mine, but if the tables were turned, I'd be helping her hold her horse still!
---
∞•*˚ Βгįťţαňγ ˚*•∞
It is not enough to know how to ride; one must know how to fall.
Green Broke
Join Date: Aug 2009
Location: Vancouver, British Columbia
Posts: 2,808
• Horses:
2
Wow great to see him running around. Hunter does the snorty/blowy thing too.
Looking better!

Maybe try something oil based to help break down the sticky residue on the hair from the Duct tape..maybe baby oil?
---
I DON'T LEAD 'EM AND FEED 'EM, I RIDE 'EM AND SLIDE 'EM.
We had a beautiful sunny 45 degree day today (before the nasty snow storm we are supposed to get tomorrow, ick) so I took advantage of the weather and tried to clean Red's leg up and brushed both the boys up all nice. Red was sure itchy and enjoyed being brushed all over; especially around his forelock and ears!
Didn't quite get all the duct tape residue off of Red's leg, but it is better. I'm hoping when he sheds his winter hair, it should fall off anyway.
But I got all the GUNK off below the wound that has just been accumulating.
And we are going to try NO BANDAGE! I put on the Wonder Salve instead, so we'll see how it holds up. There does seem to be a bit of extra growth of Proud Flesh (not too bad though) so I hope the Wonder Salve does the trick and gets rid of it.
Don't mind Esther the Cat behind us!! He is the resident solo barn cat.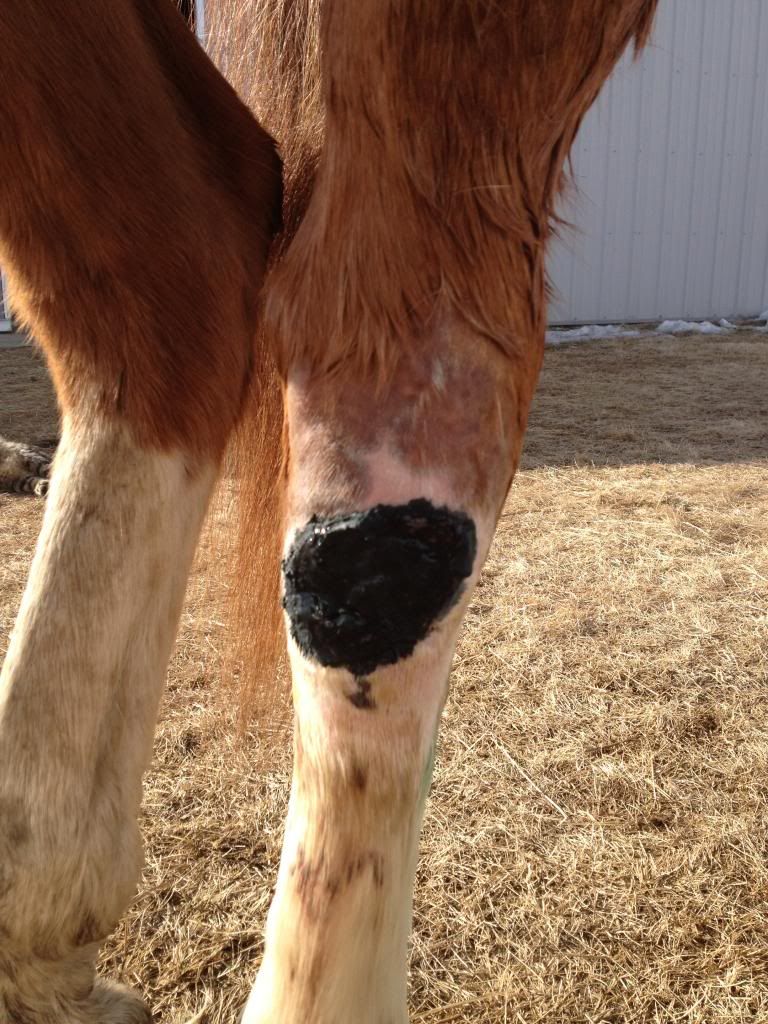 I even braided his mane and tail after this pic, and conditioned it too. Red got to be Mr. Pampered today!
And can't leave out the baby, my 2-yr-old Shotgun. He got all brushed up too, and mane braided!
---
∞•*˚ Βгįťţαňγ ˚*•∞
It is not enough to know how to ride; one must know how to fall.
I don't have any new pictures to add at the moment.

I tried to remove the Wonder Salve on Sunday so that I could put on a new layer, but that stuff wasn't budging and Red was having none of it.

Picked my battles on that one and just got him to allow me to be near his leg without dancing all around, and left him be.

Last night I loaded it with Silver Sulfate and then bandaged it so that tomorrow night, we should be able to take off the bandage and the Wonder Salve should wipe right off easily (being softened and moist again).

I initially was liking the idea of not bandaging anymore, but gosh the more I thought about it, the really liked how bandaging kept it clean, clean, clean! And I guess it was working too. So I feel better going back to bandaging again, even though it is a pain.

But on the bright side, Red will be having his first chiropractor visit tonight!! (And my first experience with it too.)

I don't necessarily expect anything wrong, but I just wanted to have him checked to be sure.
---
∞•*˚ Βгįťţαňγ ˚*•∞
It is not enough to know how to ride; one must know how to fall.