I would work on incorporating more canter. Working on maintaining a nice, even, rythmic canter circel, throwing in some transitions, maybe trying some walk/canter canter/walk transitions. Upping the intensity of her workout should help a bit. Sweat is good :]
---
I deff gotta do more canter work! Thats been lacking lately. But shes so speedy at the dang canter! So Ill work on it
HOPEFULLY some pounds will start to shed with more of a work out and less grain.
Ill do more circles cause that causes her to use to body more so that should help.
if she is speedy, canter circles will be brilliant for her! Just keep her going, focus more on your circle than your speed, and when it starts turning into dang hard work, she will start to slow and actually listen.
---
Ill deff do some work with that tomorrow! :) Thanks :)

Im gonna weigh her as well! :P
That will be interesting! When I got Bundy (in my avatar) he was obese, huge fatty lumps on his belly, worst I have seen. We weighed him then and again after I had started working him every day... He lost 100kg! And he still wasn't thin!

How are her brakes/turns? A god excercise to get them listening/focussed/slowing down on a canter circle that I use LOTS is this:

A really good exercise I use when my horse isn't listening is to canter a circle in neutral seat, use a blocking seat to halt, rollback to the outside of the circle and use an open seat to canter depart straight out of the rollback on the other lead. I do this a few times either way and my horse starts to listen and really give me snappy stops, turns and departs. They also tend to slow down and wait for your next move.

May not suit you guys but well worth a try!
---
Started
Join Date: Mar 2009
Location: Middle-of-Nowhere, Illinois
Posts: 2,225
• Horses:
1
If she's being exercised regularly and still can't get the weight off, I'd take her off of grain completely. Especially if she's on grass, because overweight horses on grass are at higher risk for laminitis that can be potentially fatal. Also, overweight horses are more prone to becoming insulin resistant, and that is really bad because that makes then more susceptible to Cushing's and horses with Cushing's are at greater risk for founder as well. See how she does with only hay and grass. Also, it might be a good idea to soak her hay before feeding it so it decreases the carbohydrate intake. If that still doesn't work, decrease her hay until she starts losing weight, and once she's at her ideal weight, try different amounts of grain, hay, and exercise that works for her. Good luck. :)
---
"A musician must make music, an artist must paint, a poet must write, if he is ultimately to be at peace with himself.
What a man can be, he must be." Abraham Maslow, 1968

Its a round bale, so I cant soak it sadly.
Shes not like over weight as in fatty fat. Its all a hay belly. Which is different. Heres a picture of her a month or so ago. Kinda shows her Belly.
Shes lost SOME weight since that picture was taken but i think she lost the fatty buldges I believe.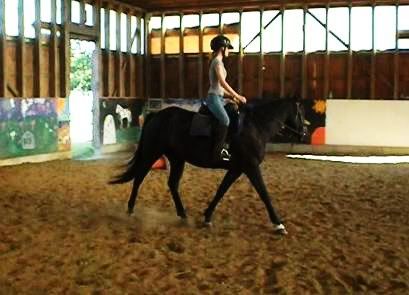 This picture was taken a few weeks ago.
When shes moving she looks better.
Its very little grass thats in the pasture, its almost all dry lot. Just short grass in one section of the pasture. So Im not worried about laminitis so much. But If she still doesnt lose the weight Ill deff take her off the grain. Its just hay pellets shes getting right now.
Edit: This is the best picture I have really of her belly recently.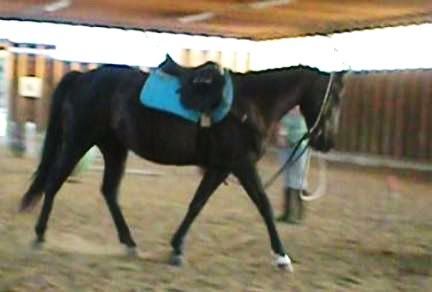 ---
Last edited by HorsesAreForever; 09-24-2009 at

08:54 PM

.