New horse, severe lacerations, possibly older?
---
Ugh, yeah you read correctly!
I got conned into going to the sale, which i've only done a total of 6 times in my life, most of which occurred when i was a little girl going with my great grandfather.
This was a large horse sale, 75% of the horses there were buggy horses, most local amish horses.
I've been looking for a trail horse, and there were very few riding horses, but i took a gander around. Nothing caught my eye really, and most horses were selling for a pretty penny. Kinda like a car auction for us, was what was going on there today lol
The horses in the kill pen i was able to shy away from, i didn't pay much attention because i didn't want to pay attention!
There was one horse in a dark corner near the kill pen that wasn't attracting anybody's attention. I walked past her and gave her a pat on the head and she softened her eye and gave me "the" look. I felt
something
instantly. I don't know if it was a sign, because from where i was standing i couldn't see anything but the horses head. I walked around to get into the pen with her, and i walked right back out. She was torn up severely, gaping open wounds and i just didn't want to even let myself think about it.
I sat down at the sale for a little bit with my friend i was with, they sold the few riding horses that were there. The horse dealer/meat buyer was pointed out to me as he bought a crazy/young Perch filly. I cringed. Then in came that poor poor mare i had seen. They had no info, besides what was on her intake form and it said "Male saddle horse 2 yrs". This horse isn't male, so shows how accurate any of that info is. Nobody would bid on her, not even the broker for whatever reason. She started off at $10, i got nudged in the ribs until i finally bid. From there, it ended up a short but intense battle between me and the dealer. At that point, i couldn't let him win. I was in for the long haul!
That's the end of my long story, and this is the point of my post.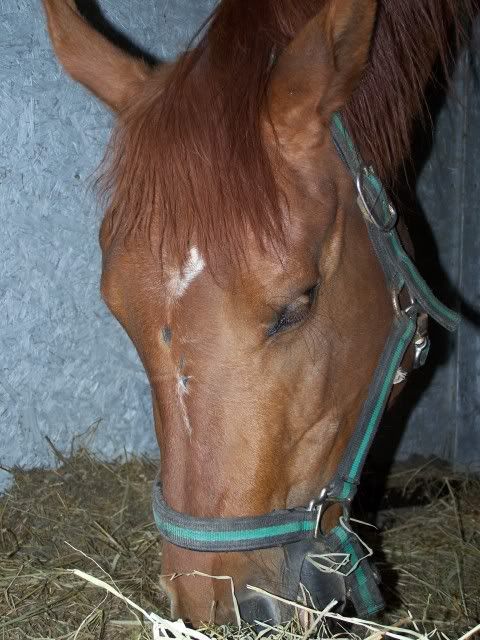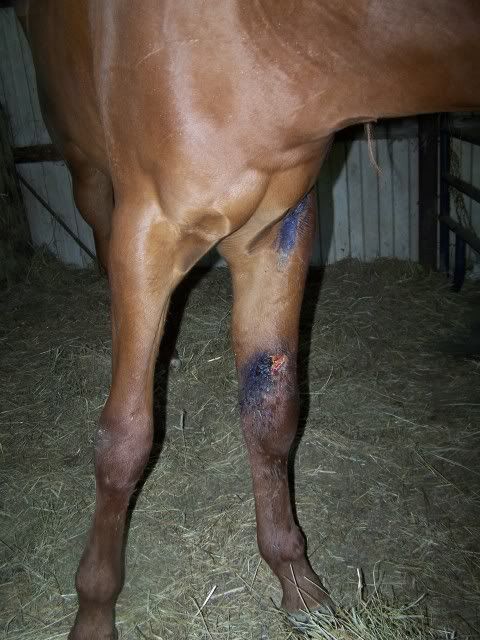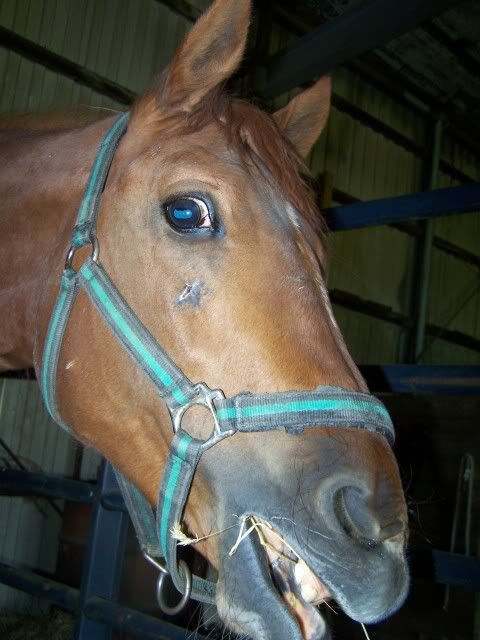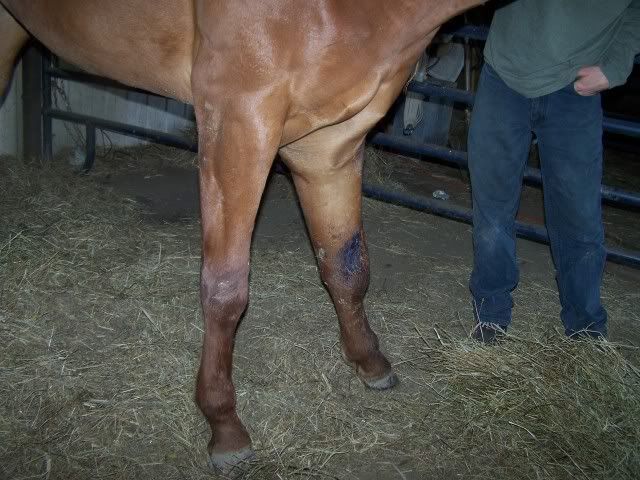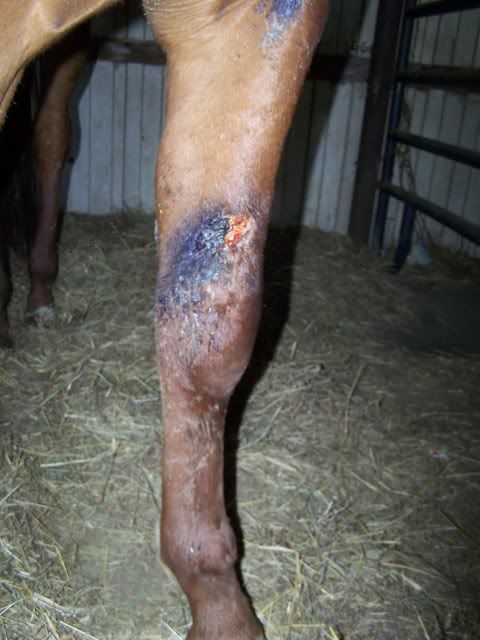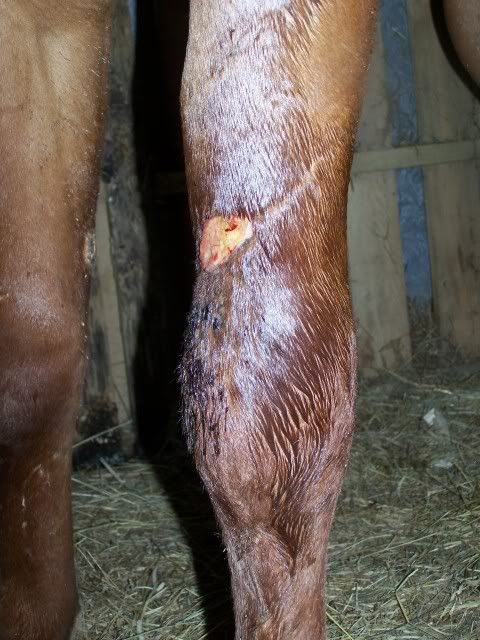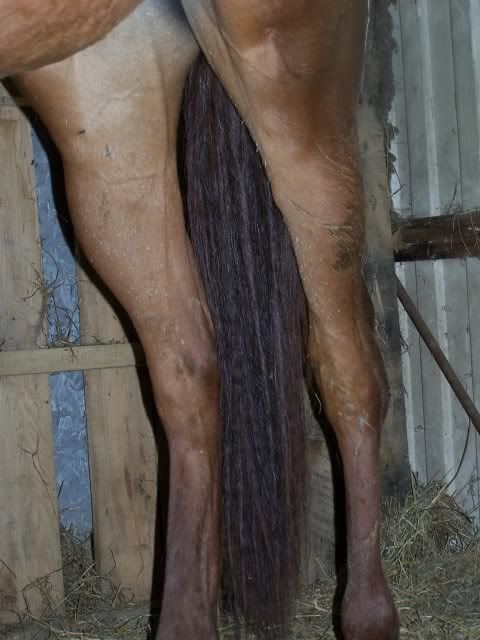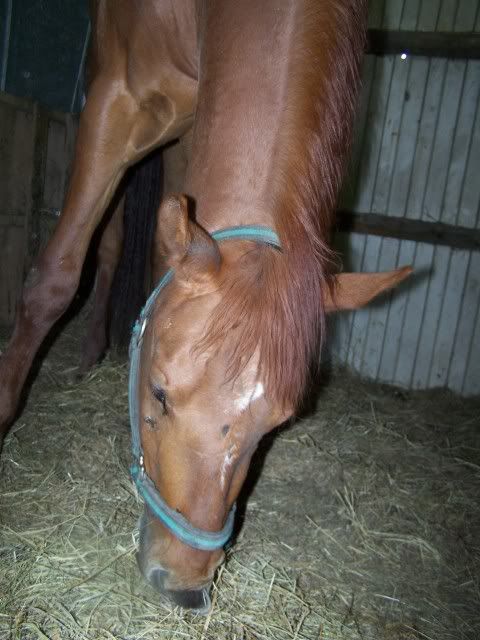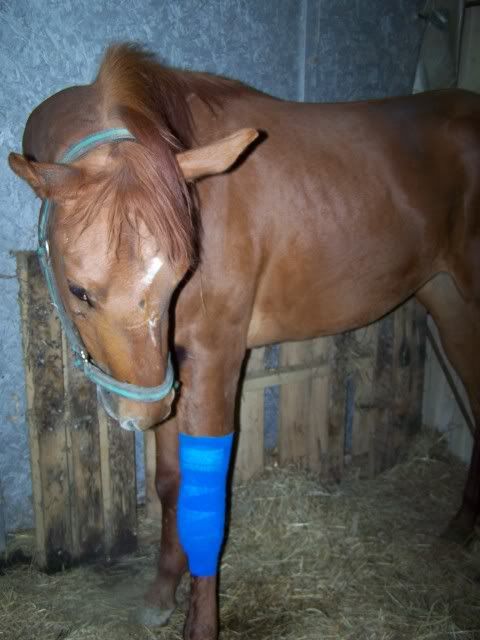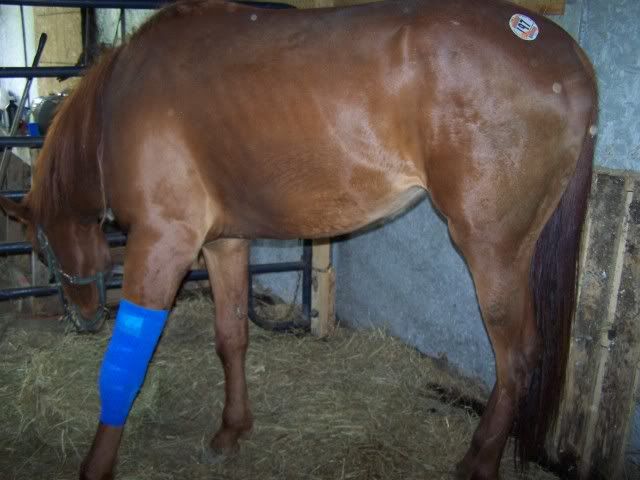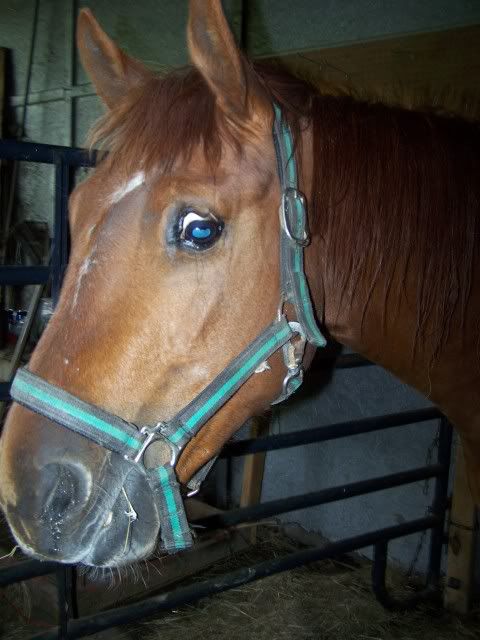 I'll let the pics do most of the talking, but she's got the obvious really bad partially healed wound by her knee and a fluid filled/swollen knee and beyond. She also has a lot of very old healed lacerations and some not-so-old, and half her eyelid is gone.
Most pressing is the really bad wounds on her left front. I did warm compresses and got some dark red blood to start to seep out, it was kinda chunky at times. We've got a ways to go.
I don't have experience with something that wasn't taken care of properly, I really don't know if i want to call the vet for this until i see what i can do for her here. I have antibiotics (injectable and oral), pain meds, etc etc on hand.
Thoughts? Wrap? Don't wrap? I had wrapped it to apply pressure and get some of that crap out where it had started to seep out, but she got it off within moments, so i don't even know if wrapping there will be possible. I've only had her a few hours and had to go out this evening, but i'm hoping to be able to do more for her tomorrow.
You can pass the sucker stamp at any time!
---
"Animals are not our whole lives, but they make our lives whole."
that poor girl!
Kudos to you for bringing her home and giving her some TLC.
---
Flirt-Hugo-Phoenix-Romance-Fanta-Nippa-Shiloh

Trojan 09.11.02 - 26.10.10 // Kody 01.09.89-25.06.12 // Rex 05.11.95-21.12.12

oh my, Bless you. What a wonderful thing you did. I will be praying for you and your new horse. What goes around comes around and I know you will be blessed many times over for your kindness, please keep us updated on her progress,
Green Broke
Join Date: Jun 2009
Location: Was in Ocala, Fl Now In West Union SC!
Posts: 3,175
• Horses:
1
The pore girl. Im glad you have her now.
Thanks! I sometimes wonder what happened to my sanity!

I thought she was drugged because judging by her teeth (which i'm horrible at mind you) i'd put her at 2-3 years. She is SO sweet, calm, trusting. I certainly wouldn't be if i were her. But that's what angers me most, if she hadn't been such a sweetheart she wouldn't have caught my attention at all. No excuse for a horse like her to end up that way - and she's in GOOD shape otherwise! They just sprayed Blue-Kote on it and left it.

I'm thinking she was kept in barbed wire and kept getting caught in it, her legs are scarred to bits.
---
"Animals are not our whole lives, but they make our lives whole."
hoping CMvet will chime in on some care tips. I hope she works out for you, and glad she got a wonderful caring home, poor baby girl. I know it isn't always wise to lead with the heart but that is what I did with my gelding and it has worked out so well for us. He gives me everything he's got and when she's well, I bet this filly does the same for you!! Congrats to both of you on the new partnership!
Awwww, what a sweet girl. Good luck getting her recovering; looks like she loves and trusts you already!
Oh poor girl. It breaks my heart to see horses in this condition but thank gosh there are amazing people like you that can take them in a give them a loving home
! (If only I had the space and $
)
She looks super cute I'm sure once she heals up she will be an amazing horse!
Kendra
---
<3<3 It's just us together as one <3<3
I would clean the wound and use a plain triple antibiotic ointment on it to begin with unless your vet examines it (which I would recommend) and suggests some other type of treatment. To wrap that spot, you really need to do a stacked wrap with a bandage for the knee and one for the lower part of the leg that serves to help support the knee bandage. If she wants to pull it off, a bit of elasticon to hold it together would be a good idea--it's tough to get off. But really I would have a vet look at it since she's got swelling down below the wound and it's an older wound.

You might want to consider keeping a fly mask on her when she's outdoors to help protect that eye where she is missing part of her eyelid.
---
Cindy D.
Licensed Veterinary Technician
Thanks for the tips. I cannot believe how much improvement this girl has had in just a few days!
She is SO nice - however she despises her antibiotic injections! About the only time she makes a fuss.
I feel really good about this, i was worried there for a minute but...
Yesterday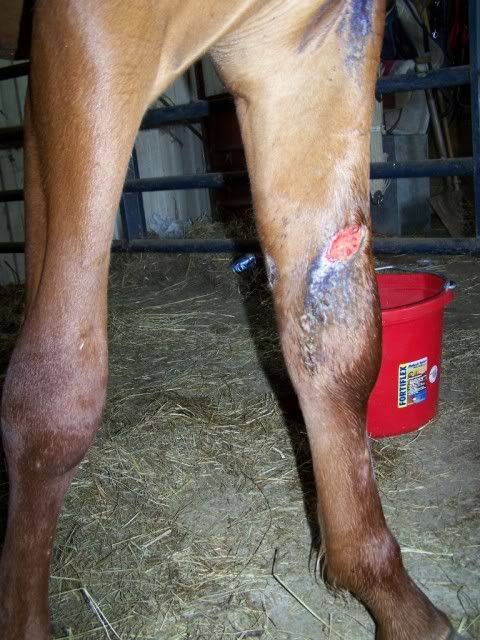 Today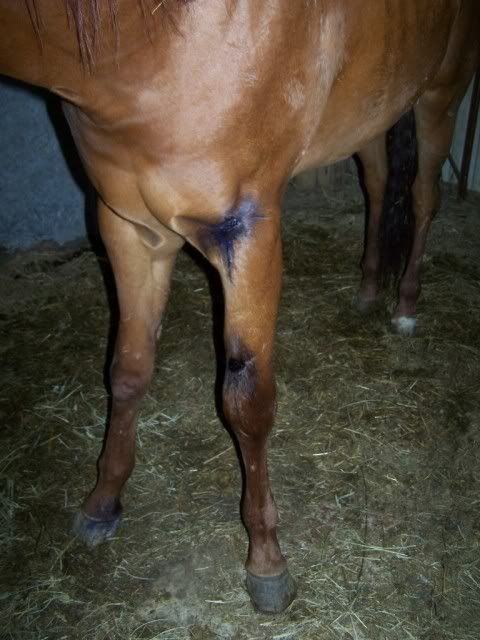 And because she's cute (and HUGE! Measured in at 16 hands)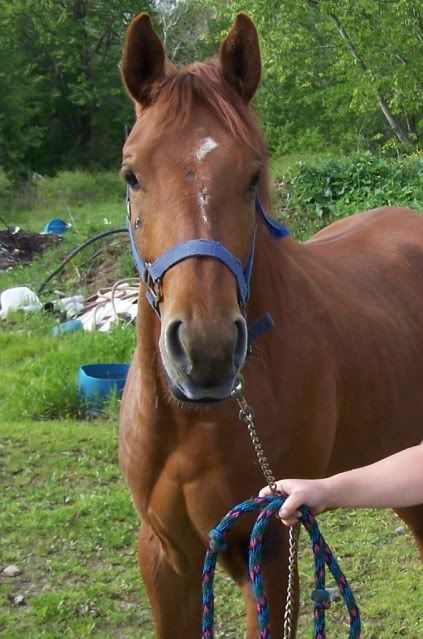 ---
"Animals are not our whole lives, but they make our lives whole."