Not much luck with horses
---
Well as some of you probably remember my last horse last year ran through 6 fences and ripped up his chest and legs pretty badly. I ended up selling him to a more experienced horse person and buying myself a 'beginner horse'. Well shes not really a beginner horse. Turns out she spooks alot and pigroots when shes lazy to canter (once in a while, will be gettin chiro out to check her but everyone thats seen her agrees shes just being naughty) . But shes an honest mare and her temperment on the ground is amazing. I have fallen in love with her in the time I've owner her and I vow never to sell this horse, no matter what. I have riding lessons each week which are helping us get much better together.
So my story starts with I've been learning to lunge properly and i've gotten to the confident stage i will go out and lunge Smarty when Ive got time with noone watching me. My sister dropped me out there 3 days ago and straight away I knew something was wrong. Smarty was in the paddock beside hers with another aggistees horse and was running around, spooking. I went in a bribed her to come to me with a carrot, got the halter on and she immediately calmed down while the other horses who belonged in the paddock were running around making massive puffing noises with their noses. I noticed blood on my girls legs so decided to get her outta the paddock so i could have a good look. I didnt know how to get out so rang my friend and she helped me get her out which is when we saw that one side of her chest her rug was stained blood. Stripped off the rug to find massive cuts on her chest and legs. walked her down to the hose to wash them out and get rid of the blood and see how bad they were. everyone agrees the only reason she didnt need stitches was because her rug took some of the hit.
So after attacking her with the hose and yellow lotion i walked her back up to her paddock and she was finally starting to limp and feel it. Think I might arrived maybe 10-30 minutes after watever happened. Walked her back to her paddock and went for a walk looking for a break in the fence. No breaks at all. But the paddock has star pickets and they are all leaning so bad that after checking a few areas, finding some rug pieces and the barbed wire twisted we think shes either spooked and didnt think there was an actual fence there because the lean is so bad or she knew it was there but because of the lean thought she could jump it. That what we think. So been treating her gave her a tetanus booster and there was a lot of swelling the day after. Now today its looking much better but im still pretty upset about it. I have no proof but ive talked to my aggistment owner and he said hed fix the fences. saw him yesterday and hes going out to his property and hasnt gone near my paddock yet...well to be honest I'm to the point if he doesnt fix the fences in a week or two I will be taking my horse away. Its going to take me time to find a way to get her out of there I'm looking into it now to have everything ready in case we do leave. It could have been a lot worse, she could have broken a leg. she has chopped of fence posts in her paddocks that i have to put rocks on so that she can see where they are, everytime it rains her paddock becomes a swamp and I lose my paddock for weeks and have to let her out with his horses which bite her on the butt and people touch her do stuff with her. I'm loosing my cool about it. The fences are ridiculous its in the agreement that he is to keep everything safe for the aggisted horses and all the fences are falling down. I pay good money I almost have the attitude to write him a letter saying that if he doesnt fix them himself, next months payment for aggistment will be going to a hired fencer to do it for me but because of all the legal stuff I'm hesitant on it..
I'm just frustrated. I dont know how to fix fences I've never done it and I pay for him to keep my paddock safe. shes going to bare scars for the rest of her life more then likely. I've spent tonnes to fix her wounds so far, I'm still going to have to get a chiro out to check her back and my attitude is just frustrated right now. Everyone is saying it was only a matter of time before a horse went over the fence. Sorry rant over.
While i've got this post, does anyone know a good brand to try and reduce scarring? I'm using yellow lotion at the moment and shes already improved shes eating, walking around being a horse again. the day before she barely moved. I'm just so thankful she didnt break a leg or do worse she means more then anything to me. I never ever ever want to see her in the wrong paddock or blood soaked through her rug again! :(
---
Horseriding- The art of keeping a horse between you and the ground.
Hmm.. your horse has been injured on the fencing system the property owner is supposed to be keeping up and its in your boarders contract?
I am sorry this happened to your mare. I would be very upset! My thoughts are that if the got hurt on fencing that is defective then he should be paying for the bills!!
---
Melinda
I believe it was because the fences are leaning over so dramatically that it happened. But I didnt see it so have no proof. But to be honest even I could jump the leaning fences if I wanted to, much less a 14.3 horse. I'll upload some photos of her chest
---
Horseriding- The art of keeping a horse between you and the ground.
A horse should not be kept in a field enclosed with barbed wire. Move the horse. Don't wait.
Posted via Mobile Device
Quote:
The fences are ridiculous its in the agreement that he is to keep everything safe for the aggisted horses and all the fences are falling down. I pay good money I almost have the attitude to write him a letter saying that if he doesnt fix them himself, next months payment for aggistment will be going to a hired fencer to do it for me but because of all the legal stuff I'm hesitant on it..
I'm just frustrated. I dont know how to fix fences I've never done it and I pay for him to keep my paddock safe.
Barbed wire is NEVER safe for horses
I would never keep my horse at a farm that kept the horses behind barbed wire - seek a new facility, NOW! Fences falling down is the least of your worries - BARBED WIRE FENCES FALLING DOWN is a DISASTER waiting to happen - consider your horse's current wounds a warning of more and potentially worse to come! I'm sorry this happened to your horse - however, newbie or not (sounds like probably not so much), you should KNOW and respect the FACT that barbed wire is NOT horse-safe, and results in injuries, at the least, like what you just experienced :(
---
Last edited by sillyhorses; 03-31-2013 at

11:57 PM

.
Showing
Join Date: Jun 2011
Location: Cariboo, British Columbia
Posts: 11,952
• Horses:
3
It's not bad luck you are having, it's bad fencing. As with most neglected barbwire fencing, it is not a matter of if a horse will get injured, it is a matter of when. You got lucky as your horse is not seriously injured, there's your warning, get her out of there.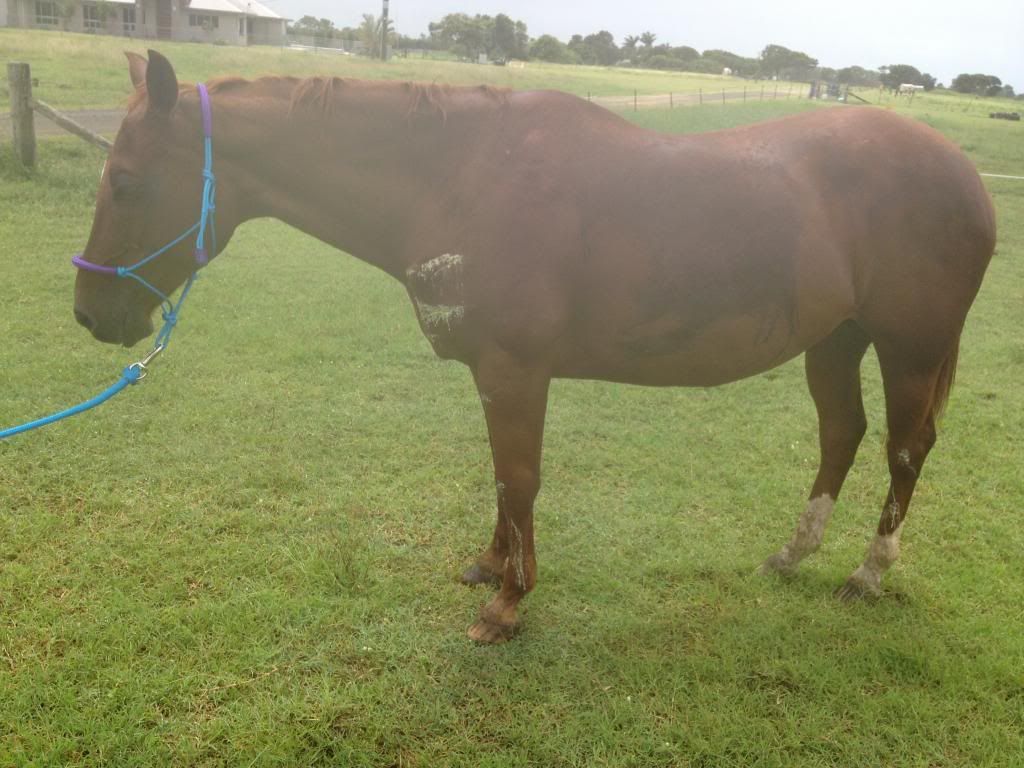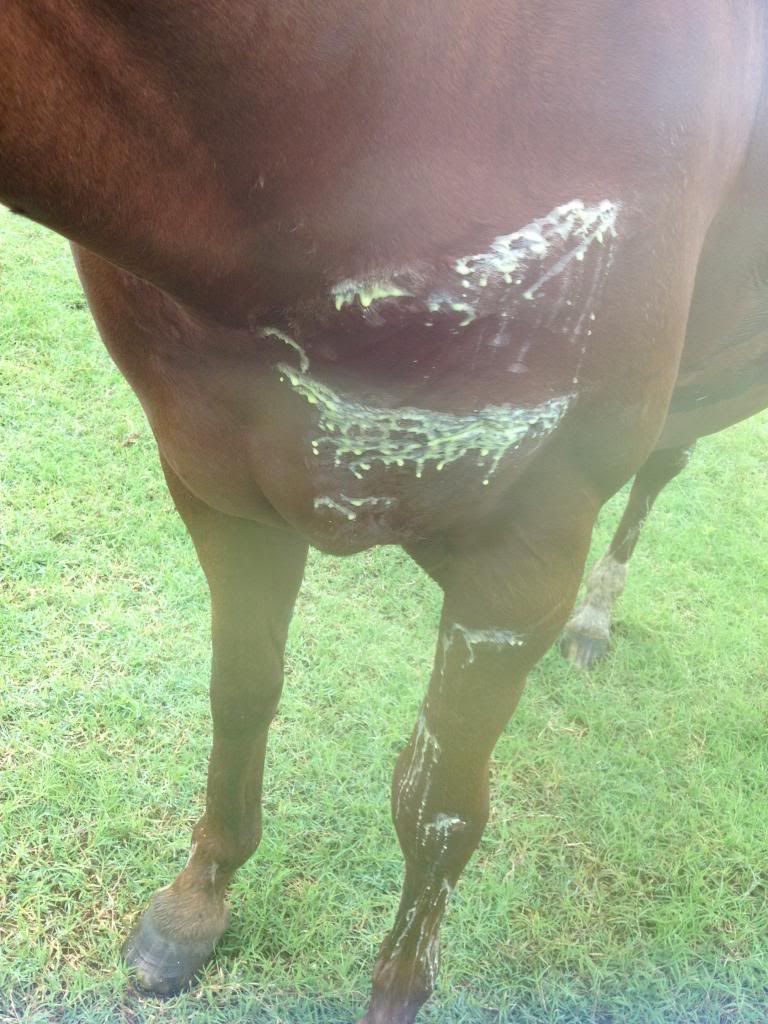 and an 'aww' photo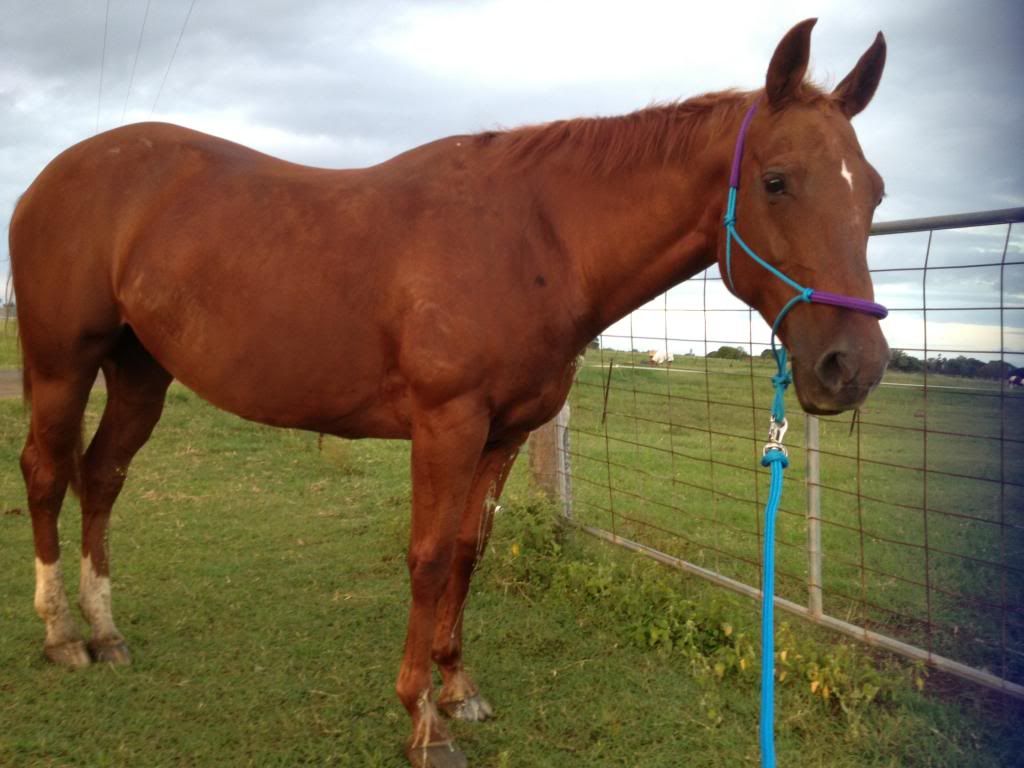 ---
Horseriding- The art of keeping a horse between you and the ground.
Oh wow! So sorry!
---
Melinda
I go for my licence in 2 days. If I get my licence then I already have a place to move her to that I will be required to fence my own fences but my friend who has horses out there has offered to teach me and show me how to do it, help me get all the tools i need and it will not be made out of any barbed wire whatsoever and all I need to do is pay for my own materials and i think if you do your own fencing they let you keep the horse there a couple months no fees but would have to double check on that. Only thing is its 15 minute drive at least so need to get my licence first otherwise will have to move her somewhere else. 2 days until i go for my licence, im just waiting and practising driving. Also they've offered to pick her up for me since I have no float so its a start.

the chest would have been worse if she didnt have her day sheet on!
---
Horseriding- The art of keeping a horse between you and the ground.