Novas Weight Update Thread.
---
So for those who are interested in how my horse is doing Ill be posting here every monday with her weight and if anything in her feed is changing or any questions I have regards to her weight problem.

Monday 9/6/2010: 1,111 lbs!

Monday 9/13/2010: 1,155lbs!
HAF are you weighing her or taping her? I'm glad you're being so proactive about this, but just FYI tape measurements can only be considered accurate within the nearest 100 lbs. Also make sure you're placing the tape in precisely the same place every time and using the same tape. Good luck with getting weight on her, I know how tough it can be!!
Tapeing her.. sorry for not being specific.
Here are some pictures to show how shes doing!
For those who dont know what she looked like before heres a picture:
Nova now!!: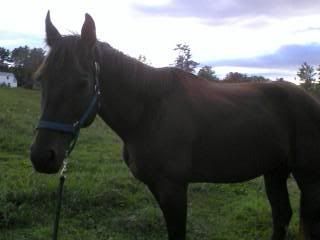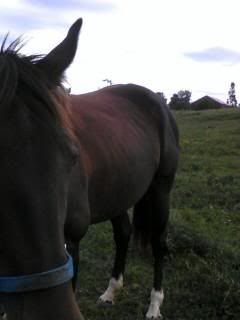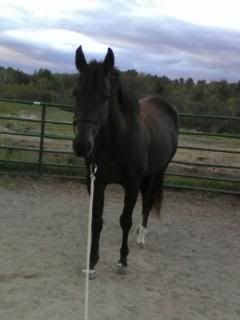 Started
Join Date: Sep 2009
Location: Port Orchard Washington State
Posts: 1,870
• Horses:
3
Keep it up! Looks like she's doing good!!
---
When life gives you lemons....chuck em at whoever is giving them to you!
I don't want lemons! I want cookies!
She's looking better
---
"The ideal horseman has the courage of a lion, the patience of a saint, and the hands of a woman..."
Thanks everyone!

Shes starting to go back into work this week slowly, shes getting her soaked alfalfa cubes and hay after her work outs so she can get some of those calories and such back into her after work outs.

I may put her on cool calories as well if she starts to drop weight again. Suggested by the vet, he hates stuffing loads of grain into horses.

The vet came out the other day for a friend, so I decided get his opinion on some things and I told him the wormers and everything else she was on/got and he honestly thinks shes just a hard keeper, seeing that shes on a 4+ acre grass pasture with all the other stuff shes getting and still has a hard time with weight.

He checked her vital signs, which were good and said its amazing how quite she was yet she is so alert to everything that goes on. Nothing gets past her. haha. Which is a nice difference from last time he was out aswell. He also mentioned how much nicer her coat looks since he last saw her. Even with it being bleached like it is. So were on the right path!

He didnt charge me anything with was great!