Odd lip sores....
---
Saturday (March 17) I noticed these odd little 'sores' on my gelding's mouth. I talked to my boss about medicine and she said it could be useless to put it on (and bad for him in some cases) because he would lick/drink it off. So I've been cleaning it about 3 times a day.
The primary concern is the one "weeping." Friend who has been in horses for about 30 years said, "Looks like allergies." It's not causing him pain, but I'm curious about what it could be. Someone also pointed at 'clover blisters.'
Any ideas on the forum? (Most importantly, anyone seen this before?) Will be making a point to talk to my vet when she comes out for the Spring rounds to be on the safer side of things. None of our other horses have them. (Pictured before cleaning.)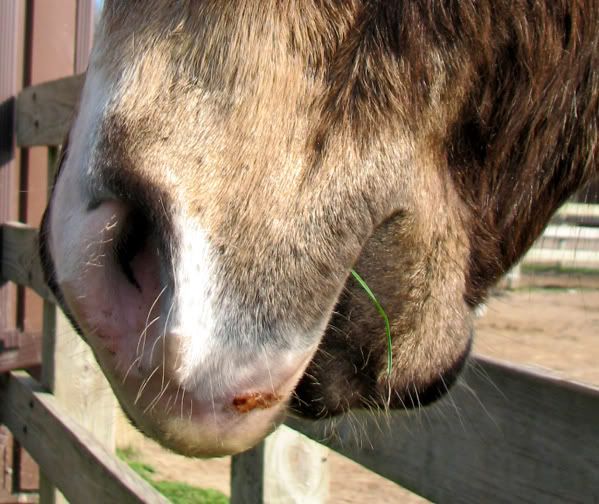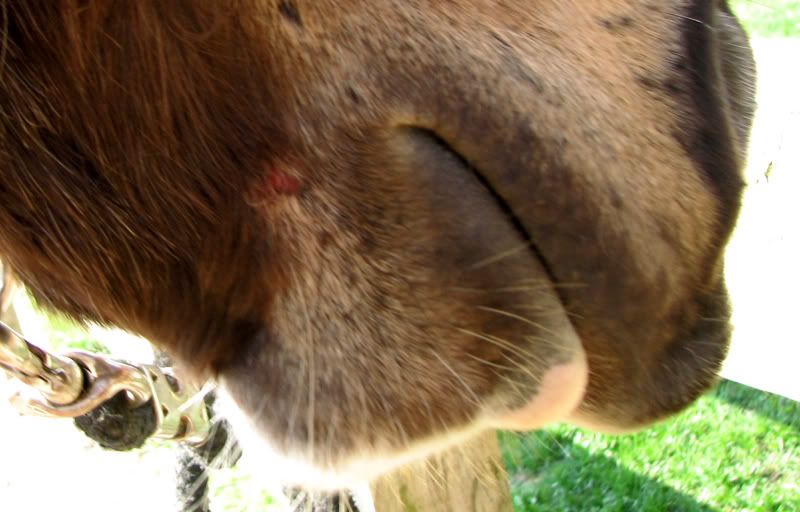 ---
"Adapt or perish, now as ever, is nature's inexorable imperative." (H.G. Wells)
| Missile Sweet Studio |
Quote:
Originally Posted by
Left Hand Percherons
View Post
Dew poisoning.
Any more info you may have on this? Experience...? He isn't on grass during the "dew" time hours?
---
"Adapt or perish, now as ever, is nature's inexorable imperative." (H.G. Wells)
| Missile Sweet Studio |
Dew poision is a bit of a misnomer. It's just basically scratches that are localized on the muzzle. There is a fungus/bacteria on the grass that the horse picks up while grazing. You can treat it but like you've pointed out, he'll just lick it off or wipe it off. It will just spontaniously regress in a few weeks. The added vitamins and nutrients in the grass is beneficial so you're kind of stuck. Do you remove the irritant or help him cure it from within by allowing him to graze?

What does he get as a vitamin/mineral supplement in the winter?
He gets salt & mineral blocks liberally all year round, if that would be what you're referring to. He also gets grain that has 'basics,' otherwise I don't have him on any supplements. He grazes once a day at a minimal of 2-3 hours, longer (about 5) if he doesn't get worked.

I checked today, just a max of 6 days later, and the pictured "weeping" spot is now a teeny scab, MUCH smaller than pictured.
---
"Adapt or perish, now as ever, is nature's inexorable imperative." (H.G. Wells)
| Missile Sweet Studio |
Similar Threads
Thread
Thread Starter
Forum
Replies
Last Post
Hock Sores

MariPlante

Horse Talk

14

04-18-2011

10:21 PM

Sores from bit

Jet7689

Horse Health

8

04-08-2011

08:25 PM

Cinch sores...

Wallaby

Horse Tack and Equipment

11

07-24-2010

06:47 PM

sores

BarrelracingArabian

Horse Health

4

06-01-2010

01:12 AM

Keeps getting girth sores???

sydney

Horse Health

3

10-15-2009

11:46 AM