Oh, my, goodness...
---
So, for those of you who know me and PJ, you know that he has arthritis. Well, when I was picking out his feet after I rode him, I found a big rock embeded (and I mean embeded) in his hoof! Right at the end of the "V" in his hoof (not the point of the V, but on the left end, towards the heel of his hoof) It left a big dent in his hoof when I finally got the rock out. Could this be his "arthritis"? Who knows how long that rock has been in there! I couldn't see it before (I didn't look carefully enough
) and it was the same color as his hoof! I'm gonna' let him rest tomorrow (I think it's gonna rain anyway
) But stay tuned for more! We'll see if it changes anything!
It's actually very possible to look over something like that. A woman wanted me to start one of her younger horses under saddle because she had gotten on him a few times and wasn't very confident with him. Anyway, I ended up at her house and got the little guy out and started getting to know him and grooming him and noticed he was very slightly limping. When I asked about his limping she said he had always done that. Well, I picked up the hoof he was favoring and looked and couldn't find anything...walked him around again watching how he walked and still didn't like it. When I picked up his foot again I poured water over his frog and felt all over it with my fingers. I found a shard of glass about the size of a dime stuck right in the pointy part of his hoof that had almost grown embeded in his hoof. We had to cut it out and the woman felt awful because she had been over looking it too.. Don't be hard on yourself. Just let him take it easy and see how it goes.
---
I am Sparkly Meanie Doodie Head and I approve this message!
Good that you found it. Amazing that it went undetected. However, I confess that I don't always check Mac's feet when I bring him up from the field. I shall be more careful.
It will be greati if that is PJ's problem. How old is he?
I've found more junk in horses feet over the years than a scrap yard. Sometimes you have to look really close.
This was hiding deep in the lateral sulcus. A pair of needle nose pliers and the horse went immediately sound. Sometimes we get lucky.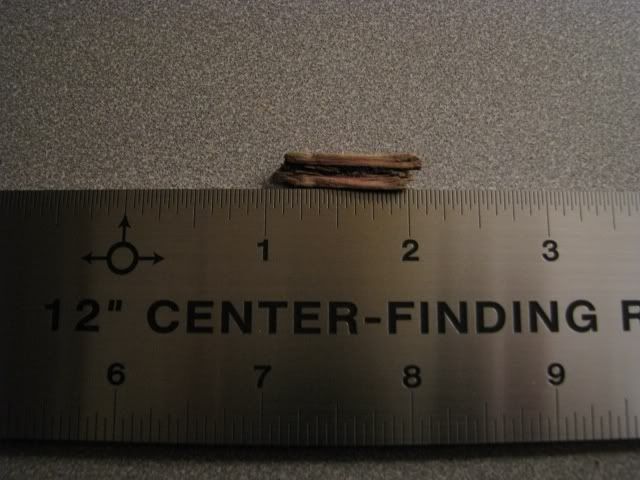 Cheers,
Mark
---
Tinyliny, he is 15 or 16 years old
I also had a question, when I got the rock out, it smelled really icky, the rock and the hoof (where the rock came out from) should I clean his hoof? I'm just a bit worried that something isn't right. Here's the picture of the rock:
It couldn't hurt to flush the hole with betadine. The smell is partially to be expected but it all depends how badly it smells. If it's really bad have someone else look at it.
Has he had any improvement? I would love to know
Well, his gaits are better, but when I'm leading him and riding him at a slow walk, he still limps
But, I think it's gonna be okay, it's getting a bit better!