One exciting New Years Eve!! *Graphic pictures*
---
So Tom and I were at the office yesterday, we got a missed call from out BO (on both of our cell phones) and I got a missed call from my mom.(She's my emergency contact) Then she calls the office line saying that my BO had called saying that Montana had gotten a cut above his eye and there was a flap of skin hanging down.
After I got off the phone with my mom, I called my BO. She has just gotten off the phone with our vet and he was coming down, so I knew it was more than just a little cut.
When Tom and I arrived at the barn, we had no idea what to expect.
This is what we saw.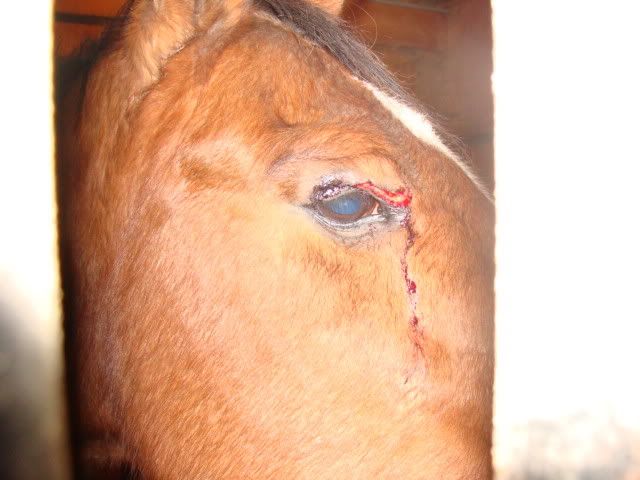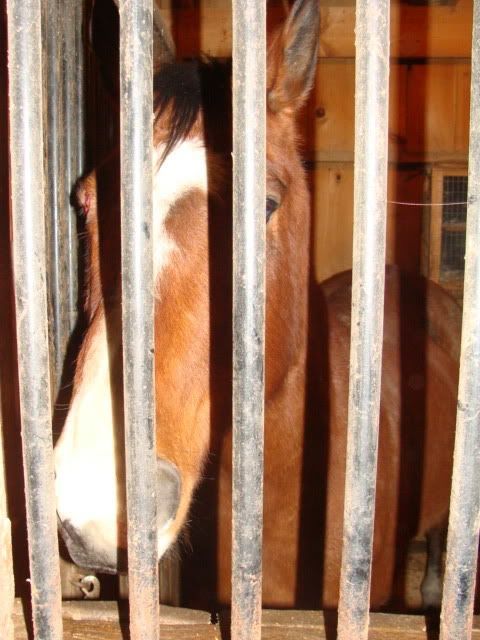 It was bad, but I didn't think it was all that bad. I was just very nervous if he had actually scratched his eye.
The vet was there in like 20 min. He sedated Montana, then clipped around his eye and was able to see the extent of the injury. It was a doozie!
Fortunately, he missed his eye
This is the best shot I have of the actual cut. I'm sorry its dark.
*Warning* Graphic Videos!
Here's two videos of the vet scraping his cut.
The vet then numbed his eye area and gave him another sedative because he was moving his head a bit and the vet didn't want to take any chances.
He stictched him up very well.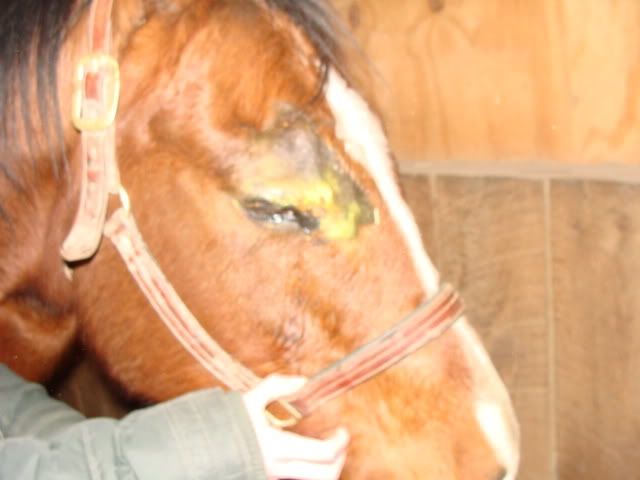 His eye is swollen and he seems to be in a bit of pain.
We're giving him bute, antibiotic ointment in his eye and also some pills.
His stitches come out in 7-10 days.
My poor baby :(
Poor guy. But he should be fine now. It could have been much worse, like you say. Lucky for him.

Did you find out what he cut himself on?
No, we haven't found out what he cut himself on yet.
He was fine in the morning when my BO let him out and when she went to bring him in at 4, she noticed it right away, so it happened out in the pasture but we can't for the life of us figure out what he did.

Out in his pasture now is just a round bale and a round bale holder. And they don't do anything but eat all day.
owie, poor baby is right!Hope he heals up nice, ever figure out what he scratched it on? Were there fireworks scareing him.

sorry, posted at same time....hmmm hope you figure out what it was though.
Nope, no fireworks. it's pretty quite around here on New Years.

haven't figured out what did it either.
Ouch! Poor guy, but it wasn't an accident...I think you have been abusing him - I will be there to rescue him tomorrow ;) Hope he gets well soon! x
---
A good horse can never be a bad colour...
Poor baby
poor mommy and daddy having to watch babys eye getting stitched up
Remember when Shiloh had an eye injury this summer? Nothing like your guys, but watching the vet stick his finger up in the eye socket about brought me to my knees.
Hope he heals up quick.
---

"Until one has loved an animal, part of one's soul remains unawakened..."
- Anatole France
I was holding him in the beginning, but just thinking about seeing what the vet was doing got me very quesy, so I asked Tom to hold him while I stepped away for a bit.

I'm just hoping that he doesn't rub against anything and ripes out the stitches
Ooh wow poor guy! I hope he has a speedy recovery! Give him lots of hugs and special treats ;)
---
TM Tardy's Chick "Hunter" - 13 yo Paint
Remmy - 18 yo Morgan/QH cross
Gunner 3/31/11, Heidi 7/2009 Miniature Sicilian donkey