Our Emaciated gray TB...before and after
---
We bought a gray 5 yr. old OTTB 8 months ago....
He came to us looking like this:
What you can't see in the pics is that his hair coat was short, dull and scratchy like a brillo pad. He was covered in sores, lesions and huge bites all over his body. He was lifeless....as you can see in the pic.
Well, after 8 months, he now looks like this: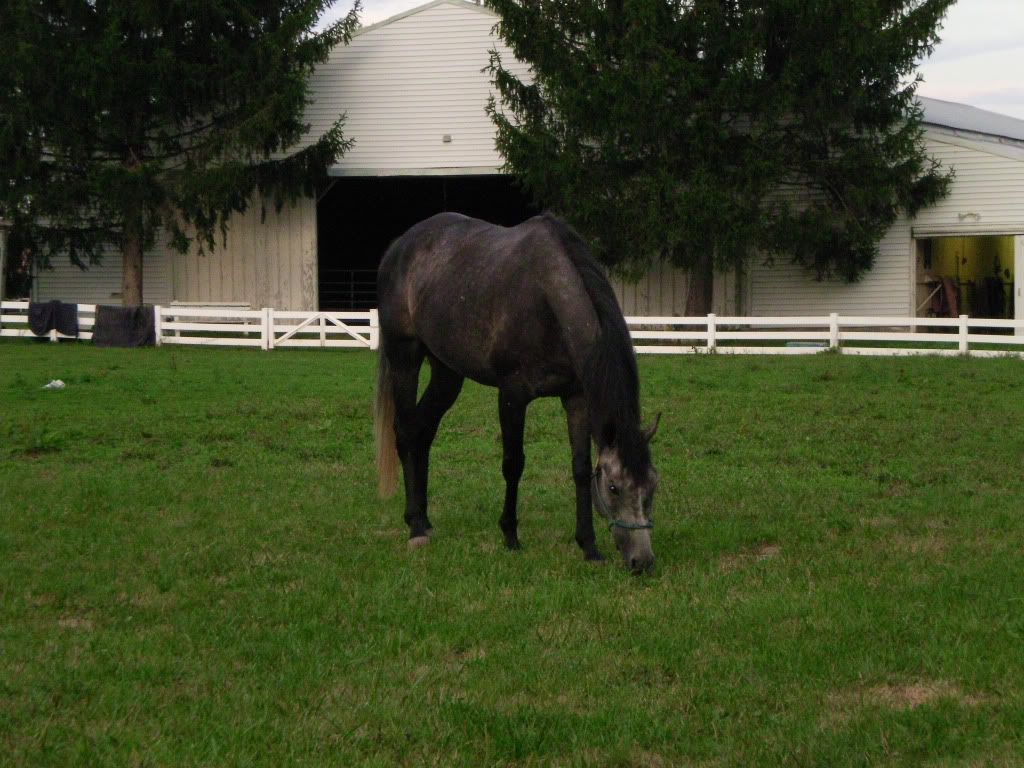 And I must say that despite my reservations about wanting to own an off track Thoroughbred, I am SO glad we bought him. I've heard the stories, the tales of horror about TBs, and I'm sure alot of them are true. I believe this breed IS high strung and tempramental......in general.
But our boy, we called him Beauseant, Beau for short.....But our Beau is such a sweet, funny, kind and gentle horse he is a true pleasure to be around.
TBs are such smart horses, and they bond so quickly...if given a reason to. Our Beau hates to be alone at night, daytime is ok, but he is just as happy to be in a barn alone with his human family as with his herd.
TBs remind me of Rottweilers.....known to be fierce sometime, but very very loyal.
I am so glad we took the chance and bought Beau.
---
Last edited by Beauseant; 10-22-2010 at

12:26 PM

.
Wow, the TLC you've put in is obvious. He looks like a different horse in his physique, and his aura is just glowing!
You have done such a great thing!
I love before and after's and Beau definitely looks great! Nice job!
AWESOME!
He is quite the studdly horse now!
Thank you all SO much for your kind words. They are deeply appreciated.
He looks great! How'd you do that?? I've had my OTTB for 3 years and still can't get him looking that good. Great description of your TB's personality. Now you're know the real truth about TB's. They're so loyal and fantastic.
---
You just have to see your distance...you don't have to like it.
My reaction was total awe!!! You should be VERY VERY proud that you brought him around the way you did.. he looks like a different horse!!
And I'm sure he feels like one too!
God bless you!

I am so torn, I would love to get an OTTB...but for reasons you mention, I am afraid to.

Beau is beautiful, you did a great job!