Paprika and Flax seed :O
---
My mare, Annie, is a carrier of HyPP, so her diet is limited to low to no potassium. Meaning she can't have most horse feeds. We have her on a feed called All Grain, which is a cheap sweet feed with low mollasses [which has A LOT of potassium]. Basically.. it's a filler grain, because it doesn't really have any nutritional value except carbohydrates. We give her a suppliment [veryyy expensive] called Empower, which pretty much maxes out her potassium level. She can only have at most 1.5% potassium per day. Including grass, hay, and feed.

I noticed that, because of the Florida humidity and heat, she's been sweating A LOT [we've also got her on a diuretic medication, to help keep potassium out of her body, so the diuretic does help her sweat, and drink water too] and her coat has gotten a bit dull. Show season starts in a few months, and I want to put her on some things to help her coat.

I looked at potassium levels in paprika and flax seed, and neither contain any potassium, so it's safe to give to Annie.

My question is, will paprika work on a chestnut? Will it make her color richer? Or does it only work for lighter colored horses, like I've heard. Also, when buying flax, how do I know if the seed is premium quality. I've heard some people tell me to stay away from the dark seeds, and to buy the bags you find at organic markets, but then I've heard others say just the opposite.

I'd like to do the best thing for my horses coat health, while keeping potassium out of the question, so.. if you have something better then paprika and flax, please tell me. And if you have any info on paprika and flax themselves, also, please tell me, lol. Thankssss :]
Yearling
Join Date: Jan 2008
Location: British Columbia, Canada
Posts: 1,284
• Horses:
4
I have two sorrels and ground flax seed made them glow. I prefer to grind it as I need it, takes a couple of seconds in an old coffee grinder. I worked up to 1/4 cup twice a day.

The other thing that maybe making her coat dull is the sun, it will really bleach the colour.

Daily grooming with a good currie will bring the oils to the surface of the coat which will help it's condition and shine.

No comment on paprika, it's not something I would ever add.
Why, what's wrong with paprika?
Yeah, I'd put her out at night if I could, but everytime I've tried, she injures herself in one way or another. Haha, she's a very accident prone little ding bat ;]
lol.
Here's a before and after picture of her.
This is when her summer coat first came in. It was so nice and soft and shiny and dappley,
and here's a picture that's older of her, but shows what her coat becomes, lol.
this isn't a great picture, but the only one I have where you can see how it gets duller and more one toned.. and the hair kinda gets ratty, if you know what i'm trying to explain, :]
Yearling
Join Date: Jan 2008
Location: British Columbia, Canada
Posts: 1,284
• Horses:
4
Not saying there's anything wrong with paprika, I just wouldn't bother.

I know what you mean about turning them out at night. We tried with our guy's and they just paced all night. They like their stalls.LOL

Another thing to consider, although I'm not sure about Florida horses, is that they are blowing out their summer coats, at least mine are. The time between summer and winter coat can make their coats a little dull.

Frequent bathing can make their coat dull as well. Your washing the oils out of the coat. Vigorous grooming will bring the oils to the surface.
if you're planning on showing, stay away from paprika... it will show up as a positive drug test if she gets tested.

I would consult your vet about what to give her.

BTW, i have an hypp positive mare and she looks exactly like your mare.. only mine's an app.
Really?
I didn't know paprika was a drug o.o
lol.
Ooooh, do you have any pictures of her? :]
My vet suggested peanut oil or corn oil for her coat to get nice and shiny and colorful, but... she's an air head, and adding energy to her diet would be..... veeeeeeeeery bad, haha.
It's not a drug, but whatever is in it will make a drug test positive. Kinda like if a human eats poppy seeds and then gets drug tested.... it will come up positive for marijuana.
It's kinda far away, but this is Vega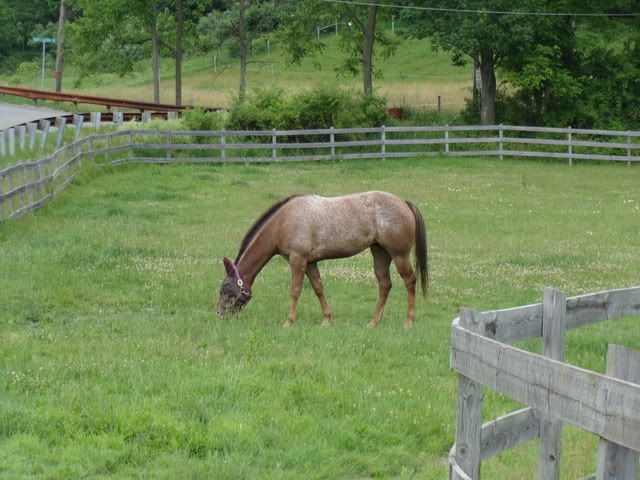 She's far from being an airhead though...