Picture Diary of GT's leg injury
---
Well.. we think he got his leg stuck over the bottom wire of the fence, which is difficult as the bottom wire is about 80cm above the ground (due to a previous horse almost severing the fetlock on a lower wire). Vet was called and apparently he was very lucky not to do it a bit further up.
Tuesday 28th Feb: First day before the vet arrived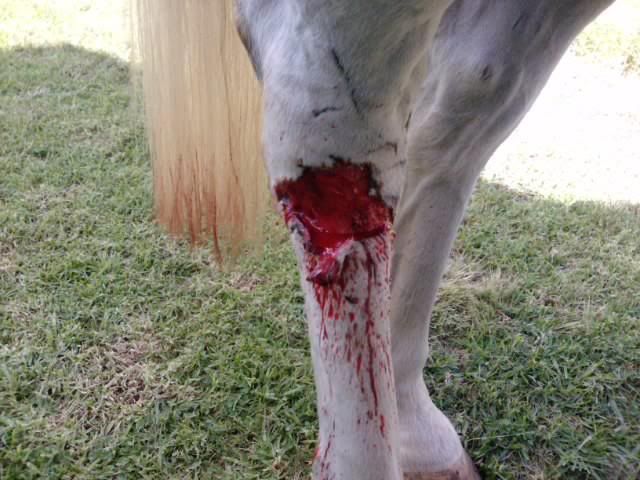 Saturday 3rd March: Looking a lot better but we had to call the vet again to sedate him to get the new bandage on! Note- the yellow stuff isn't pus/infection, it's yellow lotion xD (the green stuff is also something that the vet put on)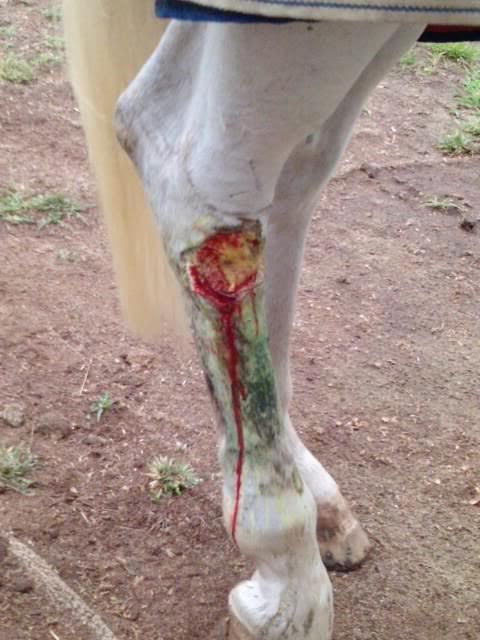 Monday 5th March: Looking much cleaner and healing quite nicely according to the vet. Bandage kept slipping so he's going nakey from now on xD (advice from the vet.)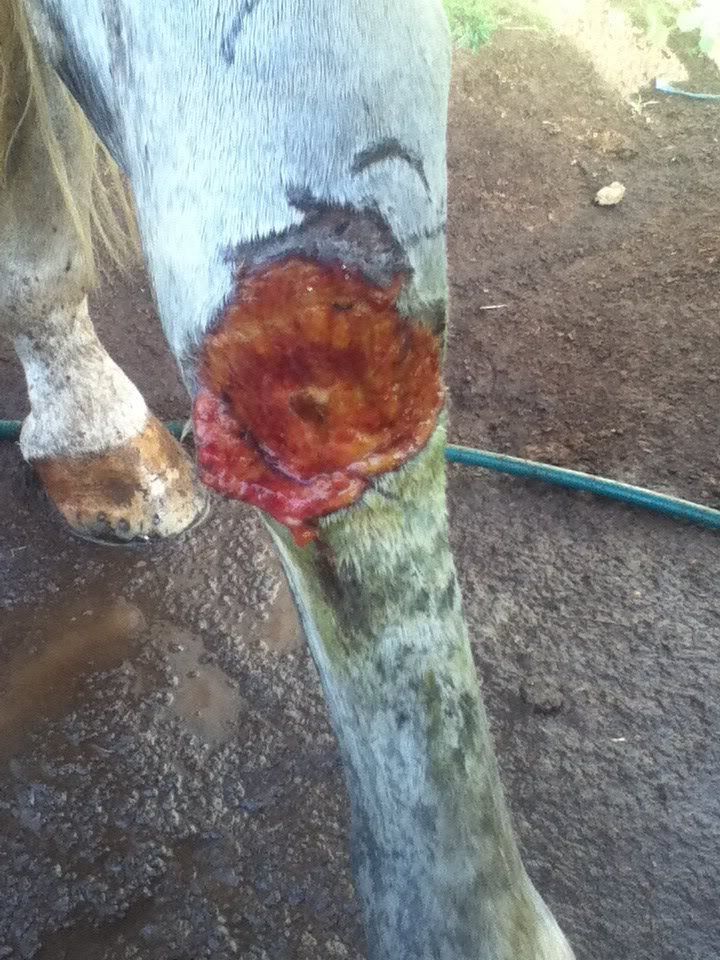 Took another photo today as it's scabbing over and healing well. Now to play the waiting game! >.<
---
"We are the light, in a street of sparkless matches" - Shaun Diviney
Ouch that looks like it would have hurt. I had a similar cut in the same spot on a TB mare I used to own. Hers cleared up well with minimal scarring. Hope he heals quick for you
Oops.. kinda forgot about this thread. It's reassuring to hear your TB's injury healed up well.
It's healing quickly now and tonight it was a good pinky colour, the scabbing has peeled away.
The first one is from about 5 days ago and the second one is about 2 days ago.
---
"We are the light, in a street of sparkless matches" - Shaun Diviney
There's a lot of granulation on there and you want to be careful that it doesn't end up as proud flesh.

What's your vet saying will need to be done next to ensure that doesn't happen?

It also looks like the wound needs a really good clean up with an antimicrobial surgical wound cleaner. Ensure you hose top down and that you wash dirt from the leg and around the wound away from the open flesh.
My horse Spike had a very similar injury a few years back. This is what worked for me:-
Every day 2x a day I would cold hose the wound for 10 or 15 min. Then I would scrub it with an iodine soap, rinse and pat dry. Would dust on a layer of Wonder Dust, and apply Swat around the edge of the wound. Then I would take a tablespoon size glob of vaseline and smear it down the front of his leg under the wound (Not in the wound). This would protect his leg from irritation from what was oozing out of the wound.-
In less than 4 months the wound was fully healed.
Thanks for the suggestions. Haven't seen it in about ten hours but last time I saw it the granulation had gone and it was starting to heal over a little on the edges. We've been hosing it morning and night and applying a diluted antibacterial spray (can't remember the name of it) three times a day. We tried using Vitamin A oil to quicken the healing process but it didn't apply well, so we asked around and people have suggested Manuka honey after it heals a bit more.
He's got quite a fiery personality so we still can't get close enough to get right in there. He's okay if you go reeeaaally slowly but as soon as you try and touch the wound he jumps 10ft.
The vet said depending on how it heals I can start riding him (just walking) in a week or two.
---
"We are the light, in a street of sparkless matches" - Shaun Diviney
Wow just saw this. That looked painful! Must have been scary to find that. Glad to read its getting better.
---
Ask not what your horse can do for you, but what you can do for your horse.