Pictures of Gidget's nose..
---
this is Gidget's nose. The swelling has gone down SOOO much! I got some antibiotics and a tetnus booster shot and gave them to her. I think the vetericyn has helped a lot already.
Here is her nose..excuse the hay,this was before I cleaned it.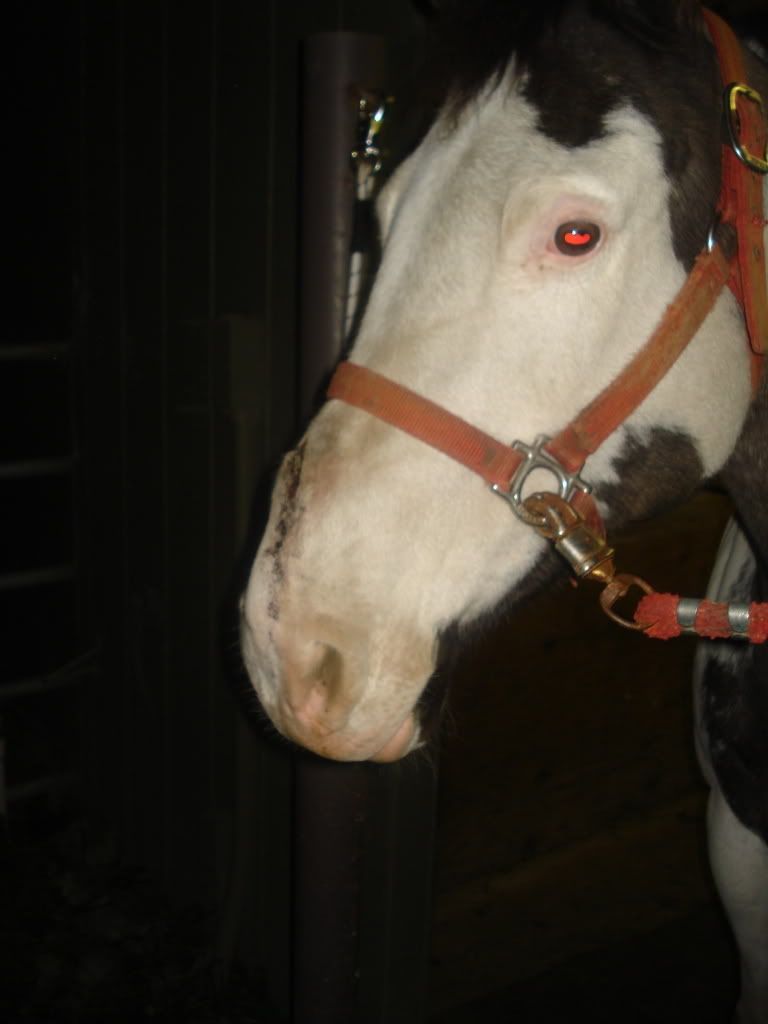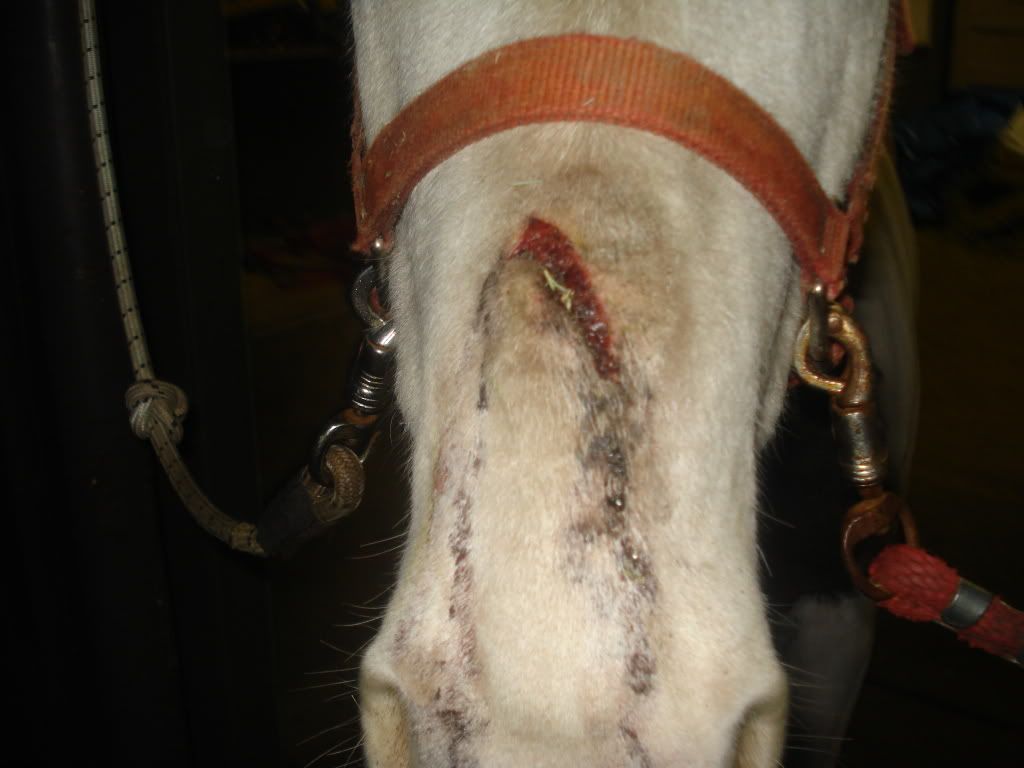 Ouchyyy. That's not how I imagined it from your description at all. Haha. I though she ripped part of her nostril. My bad.

I can't see that leaving much of a scar if any. maybe just a little mark where the cut is wider. I wonder what she did to it though. Weird.

I hope it heals quickly.
oops,lol..i should have said the bridge of her nose area.

thank you. When I went to the barn I was so happy to see the skin reattached itself some. It's not the end of the world after all :) :P
Oh, yeah. That should heal up fine. More than likely, the only way anyone will notice the scar is if they know it's there (that, of course, is if it scars at all).
---
Always remember that feeling of looking at a big, open country over the ears of a good horse, seeing a new trail unwind ahead of you, and that ever-spectacular view from the top of the ridge!!! Follow my training blog:
http://robertsontraining.blogspot.com/
=D thanks guys!

I consider her my first horse*although my actual first horse only lasted a month*. I have a lot to experience and still a lot to learn. I still think it looks pretty gross. I can't get the dried blood off so I think I will let it come off by itself.

I figured even if she was totally gross and deformed looking I would still love her and keep her :) She;s the best ever.
Awww, poor girl! I hope she heals up quickly. I love her expression... even though she's hurt, she still looks so alert and interested.
she is a trooper!

We went on a trail ride :) We started at about 1 PM and got home around 4. She was only a bit sweaty..she tried itching her nose on another horse's butt O.O
that looks painful. Noses are so sensitive. Poor lil thing.
It's a bit tender for her but she lets me touch it but hates it being cleaned. It takes two people..my husband and I. I hope it heals fast.Poor girl is accident prone.
It's so hard when you love them, isnt it? I mean to see them hurt like this and know it HAS to hurt!! I am so glad it already looks so much better. To be honest, the way it's cut I am not so sure the vet would have stictched anyway. He might have "tacked" it here and there with a stitch or two, but its laying flat and looks really good!! So glad you knew what to do!! She is gorgeous, btw!!
---
"If you talk to the animals they will talk with you and you will know each other. If you do not talk to them you will not know them and what you do not know, you will fear. What one fears, one destroys." - Chief Dan George