Pigeon fever?
---
Can someone perhaps explain pigeon fever? I've read up on it but I want to know how serious it can be...out vet says it's uncommon here in the south (were in Florida) but his chest looks exactly like a case of this pigeon fever...vet says he could've been kicked, I think it's highly unlikely. His chest is droopy and he has a lump the size of a cantaloupe. Any info on this would be appreciated!
Posted via Mobile Device
What does the lump look like? It could be a hematoma, a big lump of blood from being kicked. Pigeon fever normally comes with other symptoms, like the horse acting kind of sick. And it shows up on the belly. Around here, in Northern California it's spread really easily by flies. It is a bacterial infection. I guess it could be serious, but if caught early and treated well (yes that includes cleaning out those pus pockets) then the horse should be fine. Sometimes it can get real bad, and end up internal too (horse loses weight etc) then that can cause problems. But normally it doesn't get that far.
Posted via Mobile Device
We have seen a lot of cases since the drought started here some 3 or 4 years ago. If you treat it aggresively, it takes about a month to completely clear up. If you treat it less aggressively, it takes about 30 days to clear up. If you just leave it alone and make sure the horse is eating and drinking well, it takes about 4 weeks to clear up.

The last 3 or 4 cases we have had I just left out in pasture and checked on them every day. None of the other horses got it that they were running with them and they were fine in 30 days.

Like everyone else, we thought the first one had been kicked. Of course, we isolated and treated the 1st case aggressively when we found the horse had a fever. We left the pen empty for months, disinfected everything that had been near the horse. The whole deal.

The next year we had one get it. We put it up but just watched it closely, flushed the abscesses when they broke and put the horse back out. The last one I did not even bring out of pasture. I just watched her very closely. None of her pasture mates got it. She did not get drawn up or dehydrated, so I did not even bring her in.

How to tell the difference? Take the horse's temperature every day. A hematoma will not usually elevate the temp unless it abscesses (which one can). Pigeon Fever will elevate the horse's temp, usually significantly, before the abscess breaks.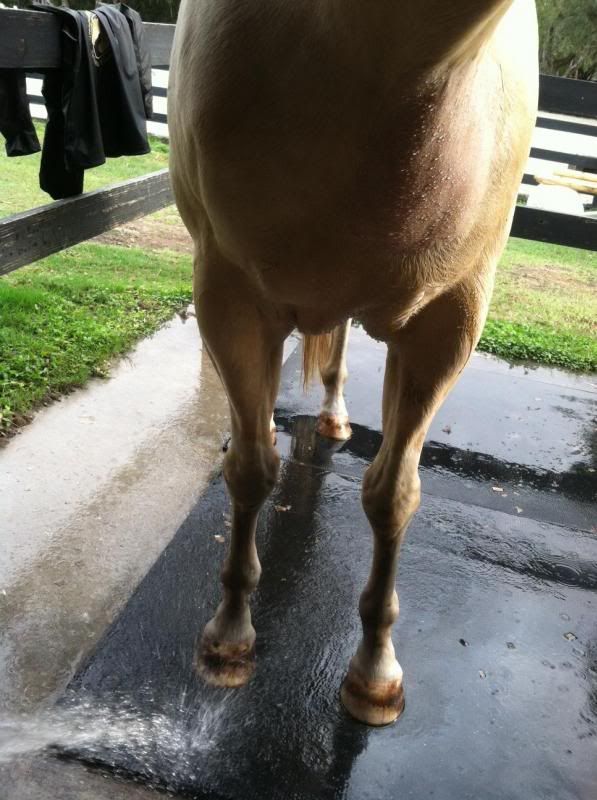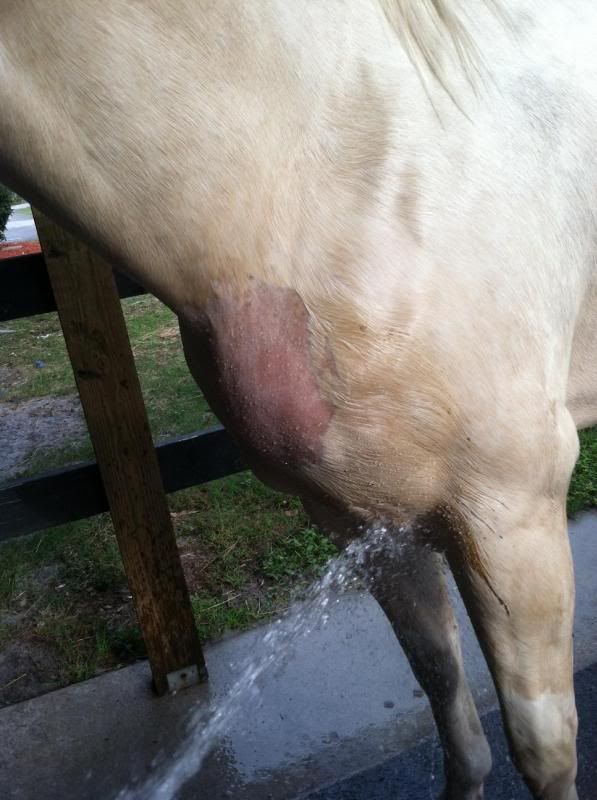 Some photos I took yesterday. He had a fever on Tuesday night/Wednesday morning, but he's been on steady dosages of bute, so I'm assuming that is what is keeping his fever away. He is very lethargic, which is unlike him. He is 5 years old and quite the bully and rather pushy...so he's just been very, un-Skye like. The vet came out and did an ultrasound on it but he is on the fence if it is a hematoma or pigeon fever...In the pictures here it is kind of hard to pick up on the lump, I was hosing and photographing at the same time, which resulted in not so good pictures.
Has it been extra hot & dry there? That's what I was told was kind of the "trigger" for pigeon fever. If we have normal rainfall and temps, then it's pretty rare here in OK. Like Cherie says, once we got rolling with the drought and it started being really hot & dry here, we started to see pigeon fever.
---
We had a heat streak, and it had previously been pretty chilly (for Florida, at least) and we had zero flies until the temperature spiked into the high 70's low 80's....and then they were back in large numbers.
I would not give Bute or antibiotics. They will just delay it. You want the inflammation and heat to make it break faster. It is not very contagious if at all. It is always in the soil and only occasionally pops up. We have not had one single case that followed any other case and it has always just been one horse in that particular group of horses. Just let it break on its own and it will break through the skin after it has 'pointed' and the skin thinned. Then, it leaves no scars or permanent damage. Just breaks, drains and goes away.
I was gonna say my horse tommy had the same thing about a year ago. But It was a smaller lump and pigeon fever was our first impression of it but he actually tore his chest muscle, he had stall rest for 12 days and was back to slow work after. If you still aren't sure if it's pigeon fever, Soak the area with a cloth soaked in Epsom salt and hot water everyday (: .
Posted via Mobile Device
my horse had pigeon fever last year and it took about 3 weeks to clear up.
Similar Threads
Thread
Thread Starter
Forum
Replies
Last Post
pigeon fever again?

Makoda

Horse Health

3

02-10-2013

05:10 PM

Pigeon Fever

Pattilou

Horse Health

12

01-03-2013

08:43 PM

Pigeon fever

howrsegirl123

Horse Health

2

12-10-2012

09:32 AM

Pigeon fever

howrsegirl123

Horse Health

6

11-13-2012

11:28 PM

Pigeon Fever...

kchfuller

Horse Health

0

09-28-2009

11:50 AM