Is this plant safe??
---
At our barn there are these big huge leaves. They're really big. I'm not sure what kind of plant they are. Someone told me it almost looks like a rhubarb plant, or similar to that family. Jubilee ate one once and discovered she liked them. Sometimes I'll grab one and give it to her. She loves them. But is it safe? I heard rhubarb is really bad. But I don't think its rhubarb. Any ideas??
could you get a picture of it?

It might help to match a plant to the name.
I know what you mean, my horse will snatch a few every now and then, they seem harmless but now I'm curious.
---
The wind of heaven is that which blows between a horse's ears. ~Arabian Proverb
Yeah, I will have to get a picture. They kind of grow near burrs. Maybe they're burr leaves??
---
"Be a best friend, tell the truth, and overuse I love you
Go to work, do your best, don't outsmart your common sense
Never let your prayin knees get lazy
And love like crazy"
Quote:
Originally Posted by farmpony84
Thanks for the link. My plant wasn't on there though.
i hope it isn't this plant: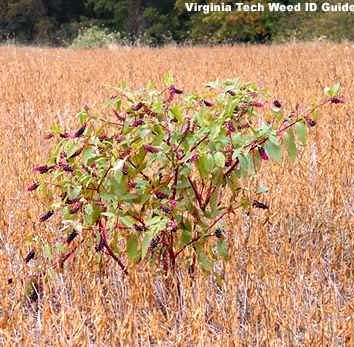 poke weed is highly poisonous - I wouldn't even touch it if it were me!
---
kickshaw
Justin (qh/tb)
Boo (asb)
I didn't know that poke was poisonous!!! Every summer my kids play with the poke berries.....
They make a huge mess and turn out all red.. :roll:
What about poke salad??? I know people eat that stuff...
I'ma gonna have to do a search now!!!
I know the rhubarb looking plants you are talking about...I'll search those too!
We have poke growing all around here. Its not poisonous till the stalks turn red. Generally speaking if the stalk is red the
leaves
are probably bad for your.
Dumas, Poke salad is eatten in the spring when the plant is young before the stalk turns red.
Rhubarb leaves are poisonous. The stalks are not.
Heres some info I found at
http://www.watersheds.org
Salat is the German word for salad, and probably came to the Ozarks with German settlers. Poke salat is made from Pokeweed. In towns you'll find pokeweed growing wild in alleyways and vacant lots. In the country it grows in the fence rows and along the edges of woods. When mature it has clusters of shiny purple berries which birds love to eat.
After a long winter without fresh food, the early settlers looked forward to cooking the first tender green leaves of pokeweed. It gave them vitamins and was a good spring tonic. They'd cook it up with lamb's quarters and dock, which are also early spring greens. Some people today still cook and eat poke greens in the early spring.
Though the whole plant is poisonous, the young leaves can be eaten after cooking them using two changes of water. Poke is still used medicinally. Old timers in the Ozarks still eat one pokeberry a year as a preventative or to treat arthritis.
Horticulture lesson over
---

"Until one has loved an animal, part of one's soul remains unawakened..."
- Anatole France