Precip Blanketing
---
So we have freezing rain and possibly 5+ inches of snow coming. The last time we had freezing rain I went to the barn to check on my pony only to discover that he was shivering. I left him in the barn to dry out.
Kelo lives in a 2 acre pasture by himself with a two stall run in. He wasn't doing bad when I came over today from the past 3 days of rain. I still went and walked up to the tack shop to get him a blanket. I got an ultra light I guess if you wanna call it that. Essentially it will keep the rain off of him and keep him dry which in my belief will keep him warmer at least.
My question is: in your opinion, do you think it is safe for horses to only be blanketed when there will be precipitation? :)
And here's a photo just for fun.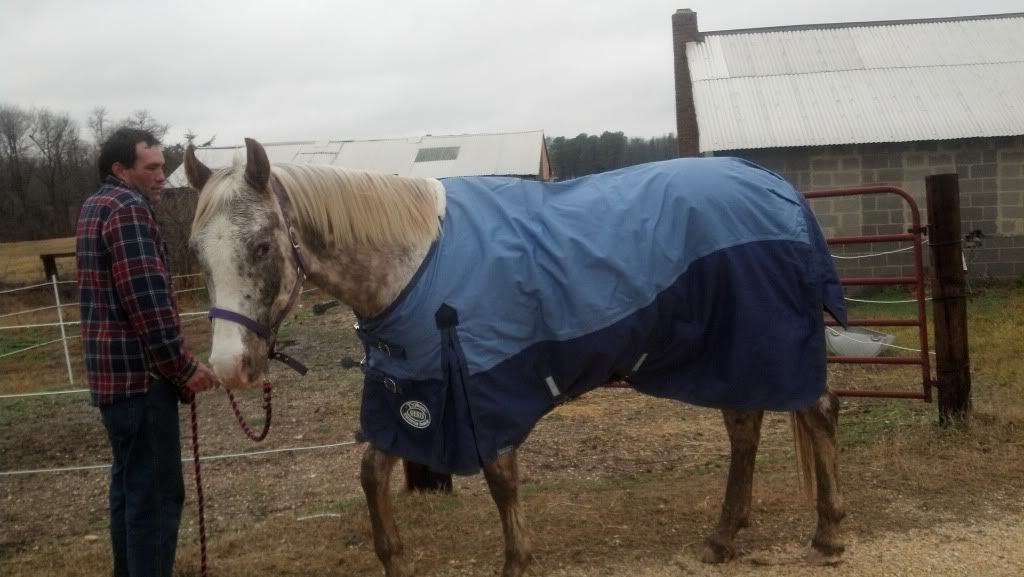 Treats mom???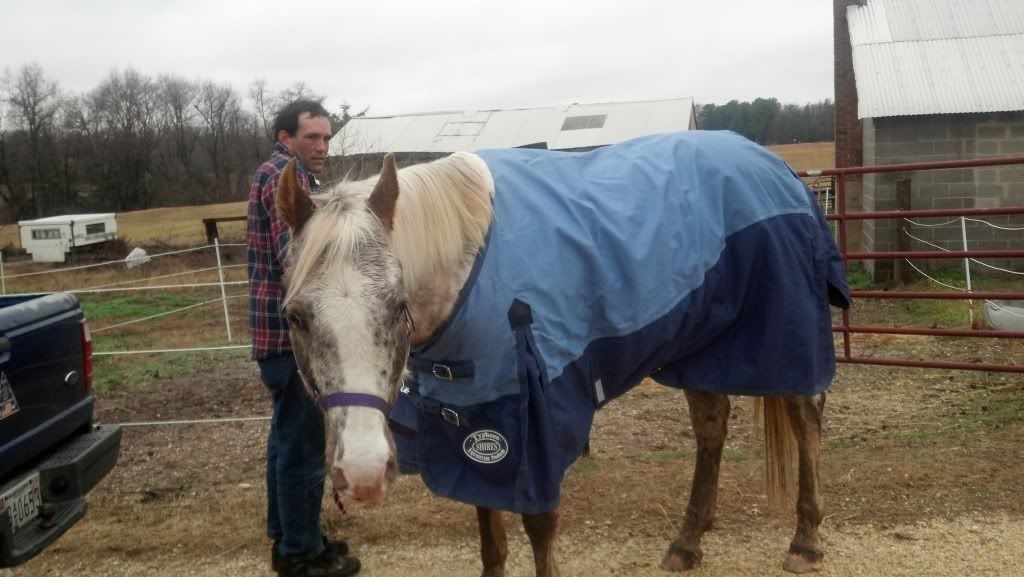 Is this school picture day???
Posted via Mobile Device
Yes. In general, a dry horse is a warm horse.
Posted via Mobile Device
It looks like the guy in the pictures wants to crawl in that blanket.
Yep, a rain coat should be fine.
Lol John was freezing. Lol boyfriend of a horse girl problems. :P
Posted via Mobile Device
Absolutely no issues with a rain coat for a horse.

I have a stack of sheets for my guy as if he even *thinks* a drop might fall, he starts shivering. He has TWO sheds outside but oh no, far better to stand in the rain and lose weight by shivering.

I could leave him in the barn but then someone else also is stuck inside (BO and I won't stall a horse alone) and I think it's far healthier to not be stuck in a stall all day long just because it's raining.
On really cold days I will put my heavy weight blanket on my 2 year old. Only when it is, or will get to be -30 C.
Similar Threads
Thread
Thread Starter
Forum
Replies
Last Post
Blanketing???

DrillRider

Horse Health

17

07-14-2012

09:26 PM

Blanketing while wet?

Icrazyaboutu

Horse Talk

12

11-05-2011

01:51 PM

Blanketing

PaintLover17

Horse Health

2

02-02-2011

12:06 AM

Blanketing

Waybueno

Horse Talk

2

12-01-2010

05:36 PM

Blanketing

stacieandtheboys

Horse Grooming

7

11-06-2009

12:33 AM