Psyllium Question
---
Is there any reason that I shouldn't be able to feed psyllium for more than the usual seven days? (not asking about giving larger sums per day, for reasons described below)
Here's why I'm asking (this part you can just skim over if needed. just giving a little background..or a lot of background..
):
I have a thoroughbred who is underweight, hard to keep, sensitive, and who just recently foundered.
I really need to make some major changes to his feed asap, but he is so sensitive that even the slightest noticable change gives him the runs.
He is on great hay and probios, and so far has been getting psyllium once a month..initial idea just to clear him out since he was new and having pretty bad diarrhea for quite a long time, but ended up keeping him on it because when he is on it, his poo is normal..
I really need to make these diet changes asap. He needs to be switched off of grain and onto something better for laminitis, as well as needing his ration increased quite a bit as winter is getting rougher and he is getting thinner, despite my diligent and careful blanketing and increasing his hay.
When he is on the psyllium, for whatever reason, I can increase/make changes to his feed much faster than usual,
without him having his problems, and he seems to still be fine with the changes after he has been taken off of the psyllium. I don't really get why, but I go with it. So I can only increase/change his grain so much since I am still trying to be careful and he is only on it for seven days.
So because of these health reasons, would it be okay for me to do that, or should I just try to be patient?
I just really want to get him normal and healthy as soon as possible.
Thank you!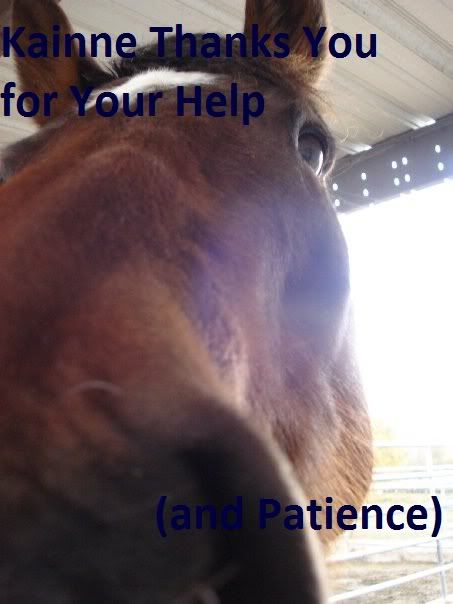 The Horse has published some good articles stating that psyllium really isn't that effective at moving sand through the gutt - soaked beet pulp is more effective. But it doesn't sound like that's why you're feeding psyllium? Are you feeding it more for the diarehea?
Chronic loose manure can be a sign of hind gutt ulcers or enteroliths so a more thorough exam might be in order.
I had no luck with Probios, and I switched to this:
Daily Start Probiotic Horse Supplement | Equi-Shine
That seemed to be better and I've read that Probios really isn't a very good product. I also use the SmartVite vitamin mineral supplements which have a probiotic included.
Keep in mind all that I'm gonna say I've learned for humans and not equines.

As far as I know psyllium is only a fiber. And once it is wetted it will expand to something like 50 times it's size. Humans can take it for an entire month that I've read about. Many people that use it for internal cleaning will say that one may need to take it for an extended amount of time to get any real benefit from it. They say that it'll take sometimes up to a week just to build up to taking the proper amounts and then the cleaning can begin. Like with humans one would start with one or two drinks a day to see how their body is gonna react and then move to the point where they are drinking it 5 times a day for like a week or two. Also the most important thing about starting slow for humans is to make sure you can move the fiber along your system effectively. One must drink lots of water to make sure the fiber moves along like it should. Water is important to the effectiveness.

I don't know if there's any insight that can be gleamed for your horse. But humans can take it for a month or longer at a time. It's only fiber. But mostly I think I wanted to comment cus this morning I woke up deciding to fast on psyllium an bentonite shakes. "Coincidental." If you want I'll find a site where lots of people use psyllium and you could ask any of them if they've had any horses they've used it on?
---
Truth passes through three stages. First it is ridiculed. Second it is violently opposed. Third it is accepted as self evident.
I had no luck with probios either. I used to for 3 weeks on the max dose. I ended up feeding beet pulp, still do, and my horses stool has been solid since. Talk to your vet, it could be worms, ulcers ect.
I'll definitely look into other options other than the probios..
he wouldn't be wormy, as he's on a great deworming schedule, but I wouldn't be terribly surprised if he had ulcers. he's a pretty mellow guy, but still has a bit of that nervous thoroughbred in him. the only thing is, upon reading usual signs of ulcers, the only signs I see in him are loss of weight and slight occasional nervousness (both typical for the breed) and as described the diarrhea situation, which could easily be related to nervousness..
should I still get this checked out? to be honest I really need to be careful about money right now, so I really shouldn't be getting the vet out and having tests done if there isn't a pretty chance that there is a problem. already it's pretty costly to take care of the laminitis and weight issues..we can definitely do it if it seems likely, but if not it would be best to avoid a vet call right now.
For everyone who has had problems with probiotics - it usualy must remain refrigerated. Do you keep it cool? Also by what standards are you using to infer it "didn't work." I use a daily probiotic and it is great for maintaining bowel health, nutrition (which attributes to keeping weight on), and immune health. I use daily Fastrack and also, I give a dose of probiotic after deworming (like 2-3 days after). A lot of immune system health is directly linked to gut health.

Psyllium is great - it is a bulk fiber and is ok to use long-term. It helps slow down bowel transit time, really essential for maintaining proper nutrition and gut health. If you think he is doing well on it, keep him on it. Talk to a vet who is well versed in nutrition (and who isn't "owned" by any particular company!)

Keep us posted on your outcomes!
I believe one reason they say not to continually feed psyillium is because it can block the absorption of certain nutrients. Don't know which, but you might really do your homework before using against the label. I'm sure most supplement makers would LOVE to condone feeding something all the time, as it would make them more money, so I'd really hesitate to use it beyond the time frame they reccommend, unless your vet prescribes it.
that's a really good point, barefoothooves. I guess I should look into other options..
aynelson- I don't keep my probios refrigerated because it doesn't say to do so on the label. perhaps it is a different kind of probiotic that you're referring to? what I've been using is the one called probios, the powder version of it that comes off the shelf.
I think what the others were suggesting was just that this particular product is ineffective, not all probiotics.
As for ulcers - one of my mares was scoped and found to have severe bleeding ulcerations all throughout her stomach and she had none of the typical signs except she was a hard keeper. She was shiny and gorgeous, getting straight A's on vet scores at endurance rides, but she was spooky as hell. She could bolt and spin on a dime with no provocation. It got worse and worse until I took her in.
I'd been told that ulcers causes colic, poor coat condition, diarehea, hard keeping, girthiness, cranky, hates to be groomed, pot belly, general look of unhealthy, etc. She got the runs when she was nervous, and she was a hard keeper and that was all. She was the picture of health and vitality. She was energetic, full of p&v, and her coat was gorgeous. She had a deep rich glow with dapples and everybody oohed and ahhhed over her. But she was full of ulcers and believe me, I was pretty surprised.
If you want to try a trial run, you could buy the brand name Ulcergard and give a full tube a day for a week, but even that is expensive, and 1 week might not be enough. My mare is a pretty extreme ulcer case that has to be managed daily. I have switched to using this product:
Welcome to OxyHors - Oxygen products for the Equine Athelete
OxyGen Ulcer Stop. I have had great luck with that company, and the product is good also. It uses generic omeprazole but given the cost, I had to switch to something more affordable.
You could even try 1/2 dose of that daily for 7 days and see what happens.
My horse now has hind gutt ulcers, and unfortunately the only thing that helps that is to rest the colon with a soft soaked diet. Antacids acid blockers, and proton pump inhibitors are not effective against hind gutt ulcers. My mare eats a lot of soaked pellets and beet pulp, and only half the hay she used to eat. This helps the colon to be less irritated and she's doing MUCH better with this diet.
As gross as it seems, you should go out with a flashlight and a stick and pick through the loose poops and see if you can detect any tinges of blood, or even a lot of mucous is a warning sign of hind gutt ulcers. Blood wasn't showing up on my horse all the time, but ocassionally I could detect a little string of bloody mucous. You can also do a fecal blood test
Succeed - Equine Fecal Blood Test™
to check for blood coming through the digestive tract. It's not very expensive and it would let you know if any blood is detected and where it's coming from. Sometimes the blood is there but not visible to the eye.
Quote:
he wouldn't be wormy, as he's on a great deworming schedule,
That dosent mean anything, if you dont do a fecal sample. It costs $15 for a mail in one from horseman's lab.