Putting weight on an OTTB... help?
---
Hey, I've got an OTTB that has been with me for almost a year, he came to me quite thin in 'racing condition' but now I'd like to get some meat to his bones.
I'd rather it be muscle, but at the moment I'll settle for fat cuz he's outdoor kept and it's starting to get cold out and I want to avoid blanketing if I can help it - the other horses will just tear off any blankets anyways :(
He's on about two cups of grain a day at the moment - I used to use Trimax but switched to ruffage cubes for the winter as I can't ride as much now. And he has access to hay 24/7.
This is him in August, he's gotten fluffier since then, but I'd like to see a little more over his ribs.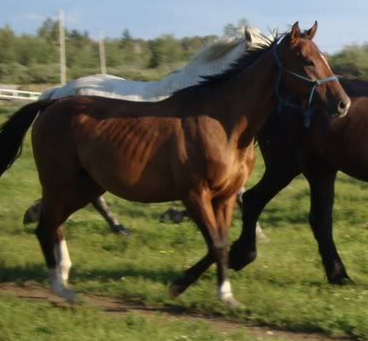 Any tips or tricks out there?
---
A canter is a cure for every evil. ~Benjamin Disraeli
Have you tried beet pulp? Some OTTB's won't eat it at first, I had to put mints in mines before he would eat it, or you can buy the one that has molasses in it. There are some good weight gain supplements, Fat Cat works well. SmartPak has a few and they describe whats in them pretty well.
Ditto the beet pulp. Also vegetable oil helps too.
Posted via Mobile Device
Increasing his hay would be best (grass hay or similar). Hay keeps horses warm from the inside out. You will have to feed him even more, since he will be trying to keep warm and put on weight. I would feed him 30-40 lbs of grass hay every day, though free choice would be best.

For "feed," I would use a combination of alfalfa pellets (3-5 lbs a day), beet pulp (2-3 lbs a day, dry weight), flax meal (1-2 cups a day), a vit/min supplement (like grand vite), and a digestive aid (like fastrack). I'd also make sure his teeth are good.

This type of diet has worked wonders for me for putting on quality muscle weight on hard to keep horses. The alfalfa has good protein and calories with real nutrition. The beet pulp has "cool" calories for the higher strung breeds, though not as much nurtition. Flax meal is a more digestible form of fat and is high in Omega 3 fatty acids (corn oil is high in Omega 6s, which can increase inflamation and are already high in 95% of hay horses eat). The vit/min will make sure he's getting all he needs, and the digestive aid will make sure his gut is in good working order and can absorb all of those nutrients.

Good luck!
I feed my 16 year old TB who's a hard keeper 6 flakes of grass hay, 3 lbs of rice bran, a couple lbs of soaked beet pulp, a couple scoops of low starch feed with no molasses, and lots of Cocosoya and Omega Horseshine
Sounds like a lot but he looks GREAT! BTW alfalfa makes him WAY hot-this is a non-heating diet.
Posted via Mobile Device
---
Last edited by horsemassage; 12-10-2010 at

02:33 AM

.
I am also putting weight on my OTTB, and I'm doing it slowly but steadily. He came to me ridiculously emaciated, but is now quite fat aside from his topline which I'm gradually improving with exercise. To help him gain weight, I feed this:
3 scoops of oaten chaff
1.5 scoops of Barastoc Calm Performer pellets
1 cup oats (I cook them in the microwave)
1 cup Equijule
Instead of Equijule you could also feed 2 scoops of Economix.
Equijule is $45 AU for a 20kg bag but you only need to use 1 metric cup per feed.
I also add plenty of molasses and about 1 cup of vegetable oil and a sprinkle of salt. I hope this helps. The links below show the result I got with my horse from that feeding routine.
Login | Facebook
That is how he looks, and this is how he used to look:
Login | Facebook
All good ideas... :)

I'll be going to the feed store tomorrow to start asking what the have in more detail, I've written down all your suggestions and will go over it with them making sure they have it. So far, luvs' seems the most doable.

Just one more question, I've never used beat pulp, but I've heard it is important to soak it overnight before feeding it. Just wondering if I have the info on beat pulp right?
---
A canter is a cure for every evil. ~Benjamin Disraeli
My OTTB wasn't gaining weight very easily until I added UGUARD Pellets to his feed. Just a little bit twice a day. Made a huge difference.

Also, I used FATCAT,which worked well, mostly for his coat and hooves.
add some lbs!
---
I would start with worming and floating his teeth, than after those are eliminated put him on free feed hay (good alfalfa and forage mix) and supplement with a rice barn and beet pulp mix. (graduate slowly to a healthy dose and yes you have to soak it) Give it 30-45 days and you will start to see him gain weight. To gain weight right it will take at least 30 days to even see a little impact, but that is the healthiest for his system. I own and am the head trainer and nojoquihorseranch.com and have many underweight horses come in that need help. This diet has always done the trick... providing there aren't any major health issue you don't know about. Good luck!
His teeth are fine... I had them checked out about a month ago and they were good to go :) He is due to be dewormed again, so that is on the priority list for things to get at the feed store. He always does have hay available, and it tends to be whatever the barn owner gets, which keeps every other of the 30 horses happy and round.

Thanks again for all the advice :)
---
A canter is a cure for every evil. ~Benjamin Disraeli