Ration Balancers..info/opinions/results please
---
I'm really considering feeding my TB mare ration balancer, but want as much info and opinions as possible first
Curious as to what the cost is per month(roughly), what you use, how much, etc. Also any before/after pics would be great! Thanks ahead
I feed my paint gelding the ration balancer Gro n win by buckeye. He gets 1.25lbs per day. I buy it from a buckeye only supplier and they give out a handy coffee can marked for measure. Basically he get's 1 and 1/4 coffee cup am and pm. I'll get some pictures in a few minutes(on my phone)
I had a friend switch his TB mare to Gro n win. She gets 1.5 lbs per day. I have some pictures before and more recent but the most recent I have is about 2 months old. She's moved facilities but she's "fat" now
She was getting 1 3qt scoop am and pm of equal parts sweet feed and oats(that's why we switched :))
I pay 27.50 and it lasts for 33 days so roughly 27 a month.
Also, the supplier I buy my feed from offers a frequent buyer card. Buy 10 get 1 free :)
Posted via Mobile Device
I hope this works.. Pam, My friend's tb when we first started working with her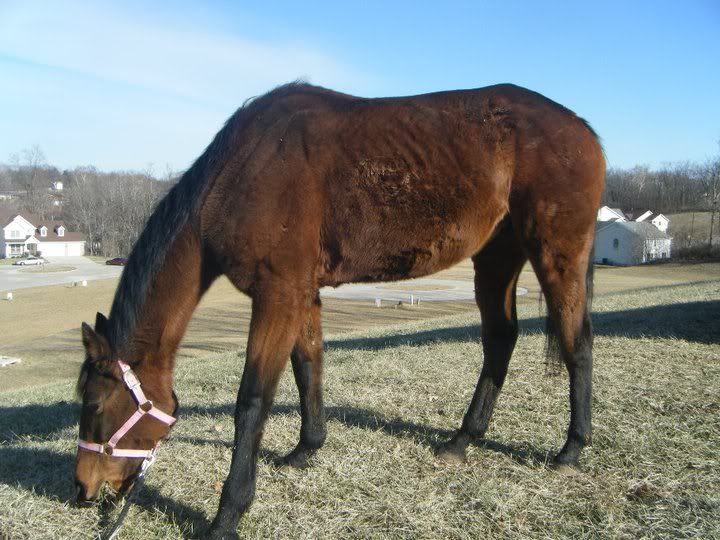 Her one month later :) I also need to point out that in the first picture she was incredibly fluffy. In this and the one to follow she's soaked in sweat from a good workout on a warm day in February. The difference isn't extreme but her topline is more filled in and her bum is more rounded.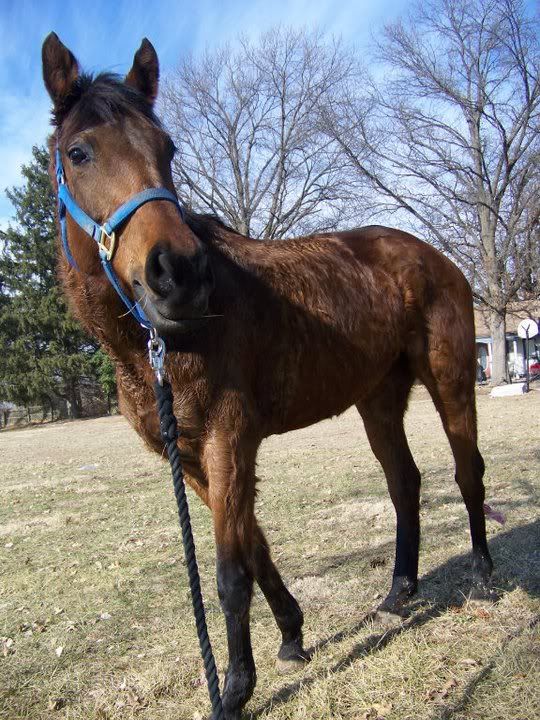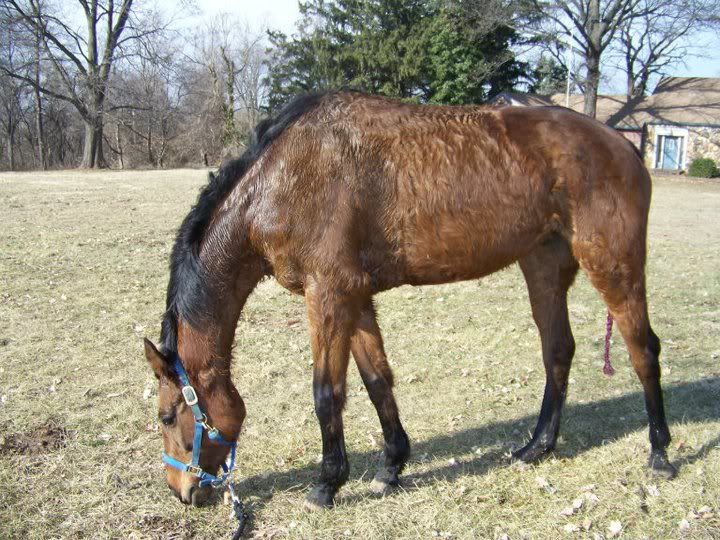 My gelding the day we bought him. He's never been underweight.. That's why his nickname is Chunk :)
But we had him on Strategy and the minimum amount he was supposed to eat was making him borderline obese and we were riding 5 days a week! He was also being a pig, he started dancing in crossties and would do a little buck when I cued for a canter. NOT his normal behavior. I didn't like his attitude and wouldn't trust him to be ridden by anyone without experience. Switched him o gro n win and he's back to his perfect behavior. I can put a beginner on him bareback in a halter and he's a perfect gentleman. I've noticed his mane and tail are SO much softer about 2 inches from the roots. He is shiny and he doesn't have the black around his eyes and muzzle.. Not yet at least. We bought him in september and started gro n win in december.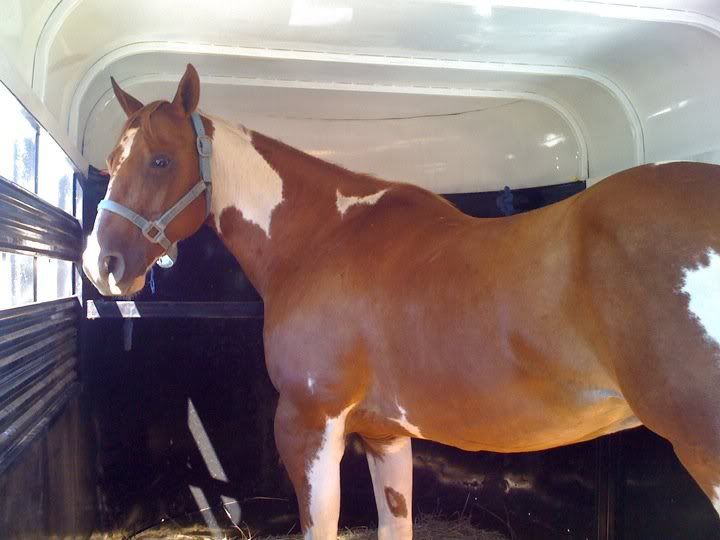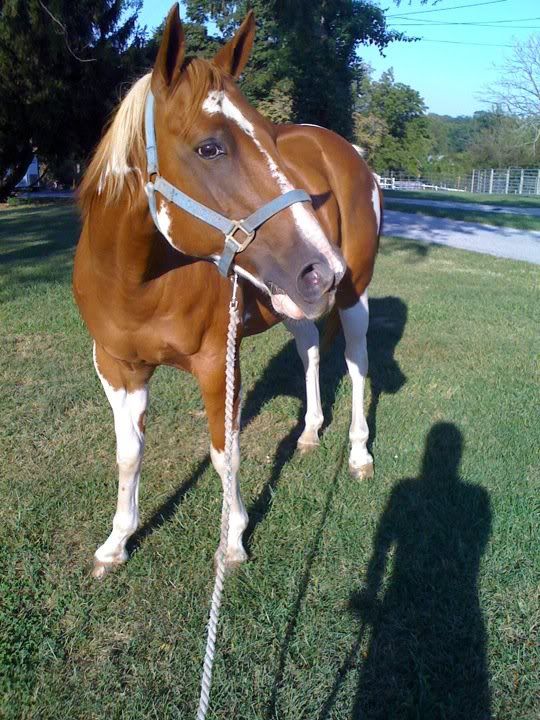 Shiney winter coat :)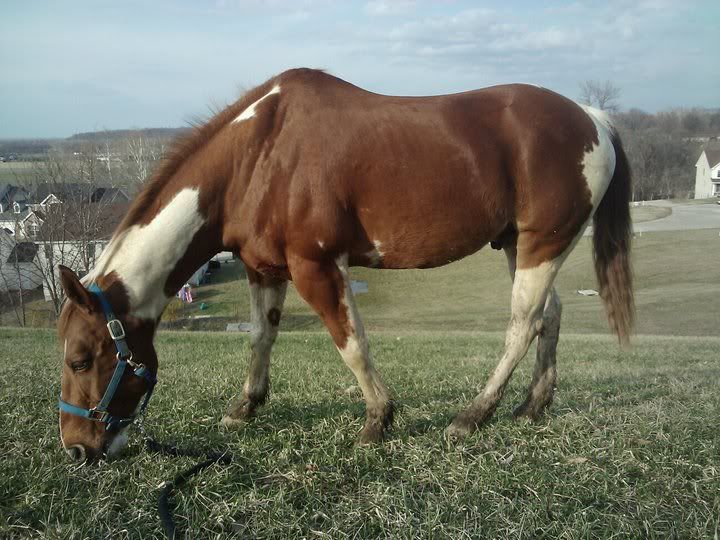 My best most recent one of him cleaner in the sun. Forgive the boyfriends horendous posture. He doesn't ride like a turtle :) I wouldn't let him. He was just being lazy while Gunnar munched.
Best one of his face. Note: no black around his eyes and muzzle :)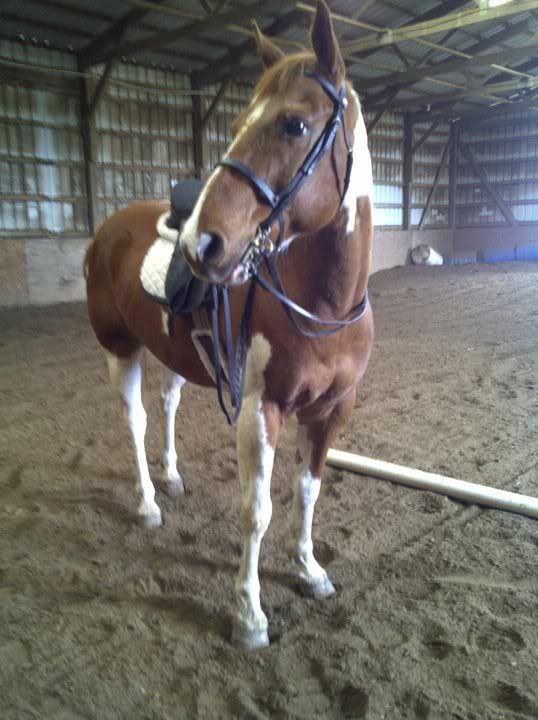 Posted via Mobile Device
What ration does Ration Balancer balance? Just love those catchy names. I'd put her on a Senior's pellet as it contains beet pulp for weight gain and extra oils with the omegas. Even feeding two lbs 2 x daily you will see a nice difference in about 30 days. It can be fed up to 5 lbs per feed. If you feed anything other than hay scatter it in the biggest container you have as it prevents bolting the feed which then scoots thro them.
My ration balancer is set up to feed the vitamins and nutrients not found in grass hay. They have one for alfalfa fed horses too. It's low in startch and sugar with no added fillers. The ingrediants are listed on the bag. No corn. And instead of "grains" it says specifically what grains. You know the mix is the same each time where as with other feeds you run the risk of more of this one bag and more of that the other bag.
The number one rule to remember with feeds is you MUST feed the minimum amount per your horse's size and activity level. Feeding less than that, your horse isn't having his nutrition requirements met. May be no big deal, but you could be unknowingly depriving him of an important vitamin, say one that could lead to health problems 10-15 years down the line.
I found that feeding the minimum of any other feed was too much for my horse. He became overweight.
At the same time, The tb was getting LESS feed when switched to gro n win and she gained weight. It all has to do with the nutrients.
But to the OP if your horse is a senior I know Buckeye makes special feed for seniors with glucosamin in it.
Posted via Mobile Device
I have already narrowed it down to a ration balancer or trying Blue Seal's Sentinel Lifetime. she isn't in bad condition at all nor near it however I really like the results I've seen with ration balancers and also kind of digging how the Lifetime feed looks but haven't found many opinions on it yet. Have you looked at Sentinel's Lifetime analysis at all? If so, any opinions.
I haven't. I was doing research about equine nutrition and found all pro's about why a ration balancer is best then got the list of good ones and started asking my vet and farrier. My farrier is the one who gave me the name of the store where I can buy gro n win. The owner is so knowledgable and really wants what's best for your horse. She could have pushed any of the more expensive feeds but I told her about Gunnars attitude and workload and showed her a picture and she said without a doubt plain ole gro n win is what he needs.
Here's a really good website that I learned a lot from as far as ration balancers, how to read ingredients, and my favorite bit of information: how to give more long stemmed forage, it was important to me for the winter months to keep my gelding warm when I was worried his blanket wasn't enough :)
Posted via Mobile Device