I just got done riding him. He did it some at the trot, but less often. Maybe 2 or 3 times?
As for the canter, he was fine except for the first stride we took he did the "err, err, err *sneeze*" thing. We were doing quick energetic cantering and I didn't hear any abnormal breathing.
Posted via Mobile Device
All of this sounds like it could just be allergies. Many cases of roaring are characterized by a partial paralysis of the horse's larynx. This usually occurs more in large horses where a nerve has been damaged to paralyze the horse's larynx. (Voicebox) Here's a site with information about roaring.
Whistling and roaring in horses
From the things that you've said I would steer away from roaring. Heaves may be a possibility, so keep an eye on this over a week or so. A horse that has heaves will often develop a distinct "heave line" of muscles on it's back.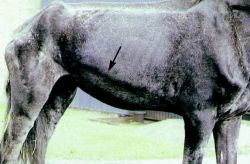 If this persists for another week or so you should definitely give your vet a ring. If it seems to get worse, or you're just worried, call your vet. It can't hurt to be proactive when it comes to your horse's health.
Good luck and best wishes!
I found heave lines on him :( they're slight and kinda hard to see, but they're there.
I'm scared. And really worried.
I talked to my dad about a vet appointment, and he said we'll schedule one.
Posted via Mobile Device
Don't freak yourself out too much until you see the vet. You can't really do anything until then. In general just keep watering his hay and try to keep from exposing him to high levels of dust. If he hasn't been on death's door up until now, he'll be fine until the vet can come out. Good luck and best wishes.
I researched Heaves some, and watched a few videos of horses with heaves.
Arrow doesn't have a cough, I've never heard him cough. Could it still be heaves?
He's also kept in a large field and isn't exposed to much dust
He also doesn't breathe anything like the horses in the videos I watched. He breathes very normally while resting.
He never seems to be struggling for breath, and is very active and energetic. He loves to run and has a shiny, dappled coat.
All of this is making me lean towards its just being allergies, or maybe a cold.
Posted via Mobile Device
If your horse doesn't truly show any symptoms of heaves then he probably doesn't have it. (What a brilliant answer)

I'd just keep an eye on it, it'll probably go away when the pollen levels or whatever it is that's aggravating him change.

Good luck and best wishes!
Thank you so much, and I'm sorry for all my updates I just needed to think it through with a clear mind which I didn't have last night.
I'm sorry.
Posted via Mobile Device
Similar Threads
Thread
Thread Starter
Forum
Replies
Last Post
Roaring and Tie Back Surgery

kittchii

Horse Health

2

08-18-2011

11:37 AM

'roaring' ???

rottenweiler

Horse Health

15

02-23-2010

02:46 PM

Roaring?

QHDragon

Horse Health

11

12-07-2009

01:58 PM

Roaring?

whitetrashwarmblood

Horse Health

9

12-05-2008

10:30 PM

Roaring

steph

Horse Health

4

09-11-2008

04:59 AM