Sebastians Progress so far.
---
Sebastian is doing awesome!
Feb 7th - He had his castration surgery. It was more like a hernia repair, and he got his hernia repaired. The ring, where the testicles descened was not closing, and was infact quite large. So it needed to be fixed. I love my vet actually, because they were able to help me keep it in budget and did an awesome job! His testicles were very small and mishappen, one was close to the size of a large lima bean, and very strange looking. the other was more normal size but also oddly shaped and formed. They also repaired his umbilical hernia.
Feb. 15th - Received his socks from Whinnywarmers.com. Id had a long convo with the maker of these amazing things, about how they might help Bass in with his leg. I am so glad I didnt listen to others on this one, cause these things are amazing! Within the first few days there was significant improvement on the over all swelling, and knitting of the flesh. Its literally getting smaller daily, with no rebandaging or rubbing.
Feb 21st - We went back to the vet to get his stitches removed. He had 12 total, and all in odd places. He stood like the little gentleman he is and allowed the vet to almost literally get under him to remove the ones on the inside of his thighs. They were very impressed with the progression of his leg with the sock. and that it stayed up without tape or anything. He is now allowed some outdoor time in the paddock and supervised time in the round pen.
So almost 3 months later - He is still alil underweight, he had made it to almost 500lbs when we did the surgery, but lost some weight during his extended stall rest. Im hoping with him being able to get out and graze abit more and move he will improve and I can up his feed again. The vet told me cut back on his grains while he wasnt moving around a great deal and as much Hay has he could eat. He was about 12hh when I got him and is now just shy of 13hh.
Picture time!
Before -
December 2012 - before i brought him home.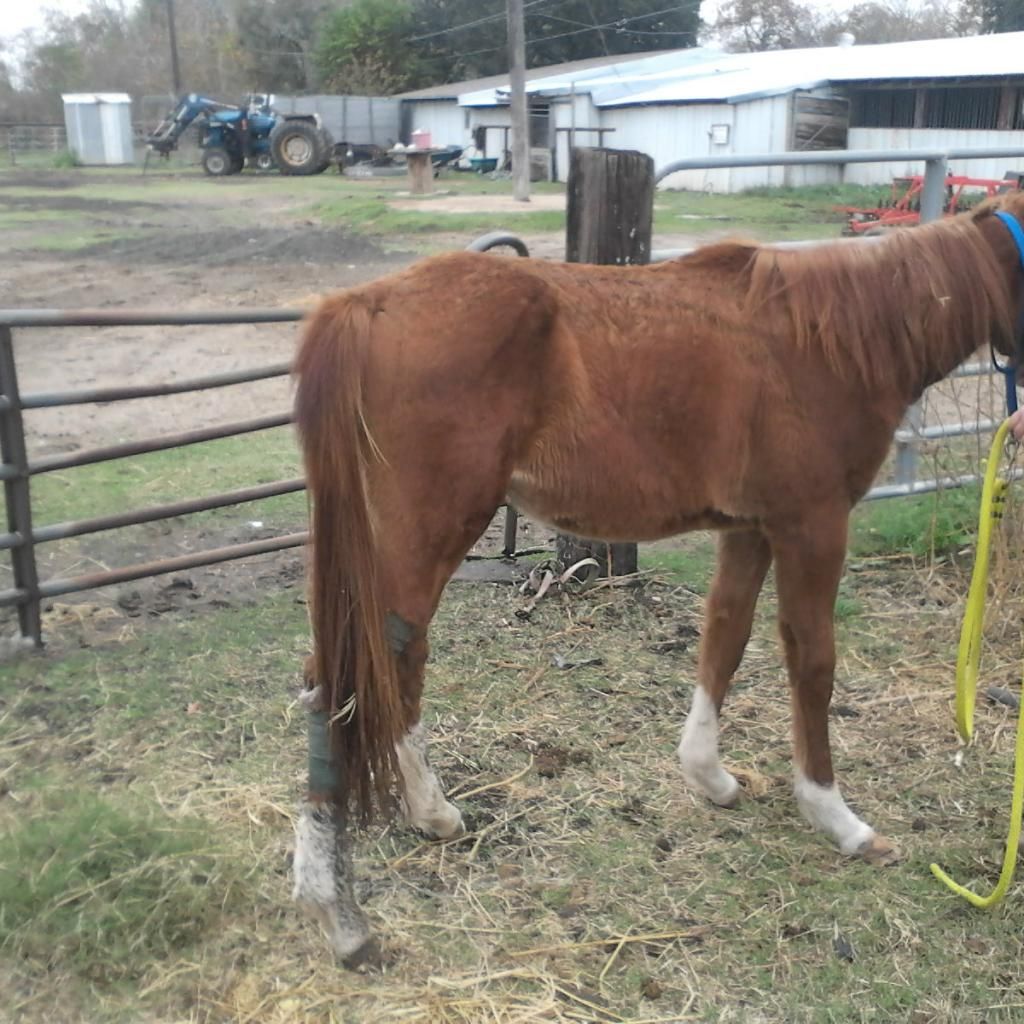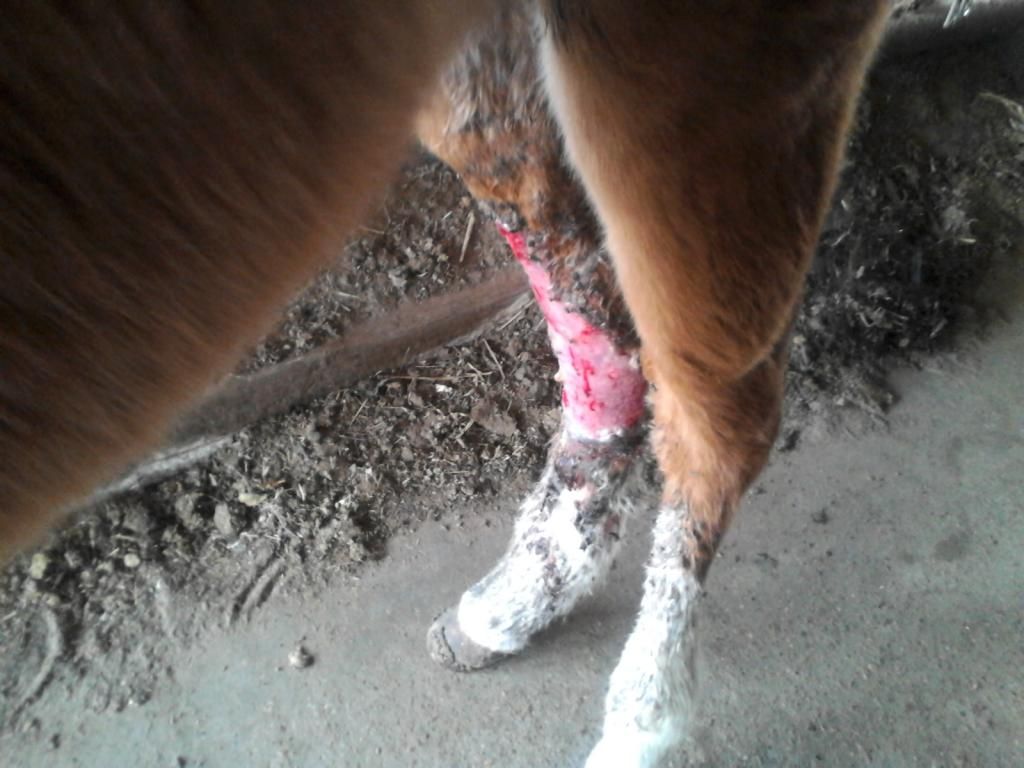 DECEMBER -HOME!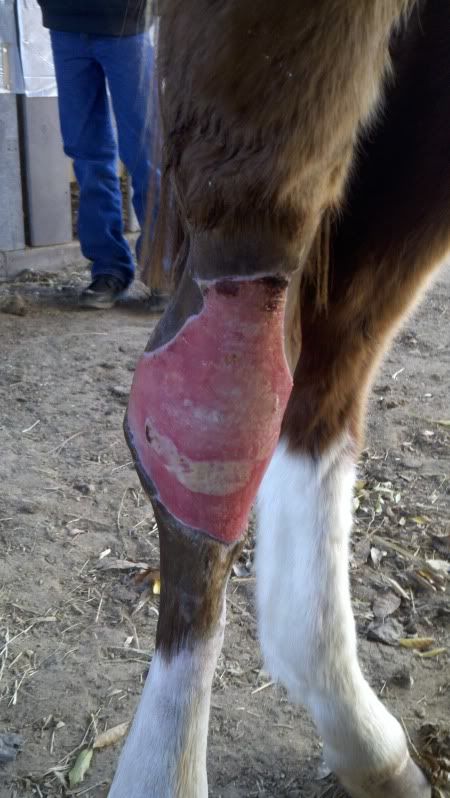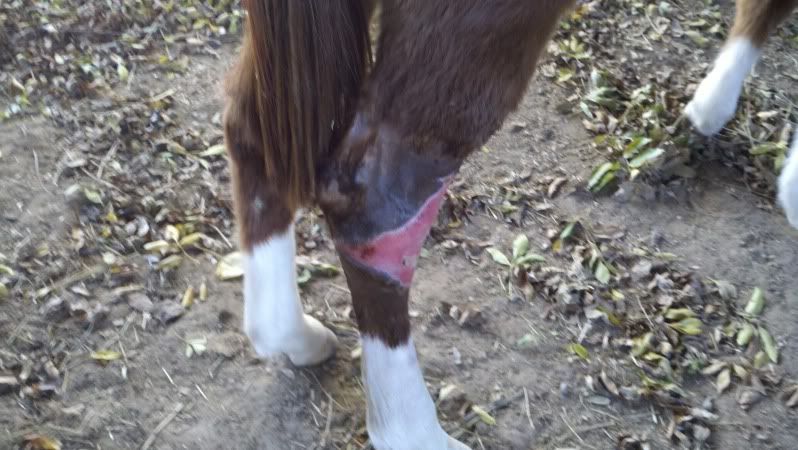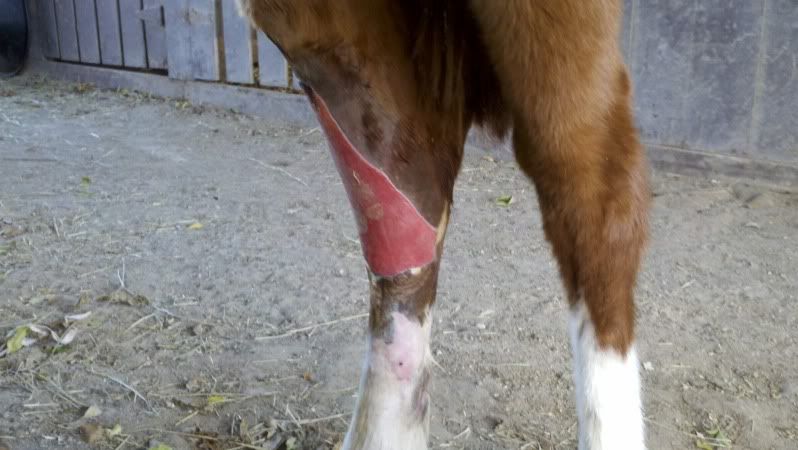 January 2013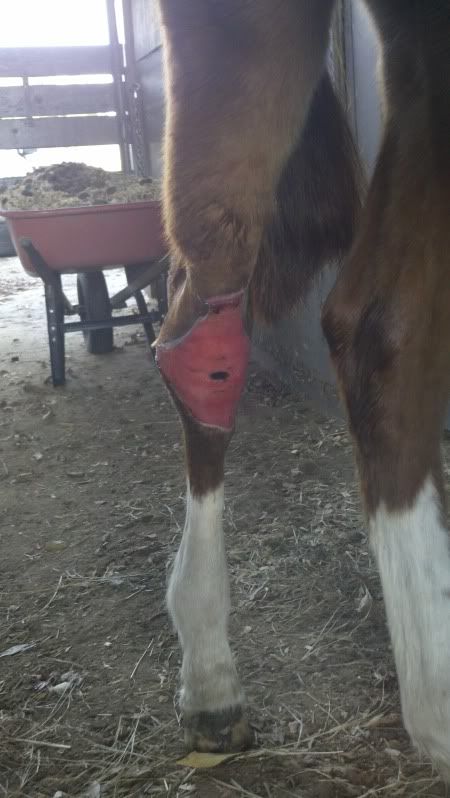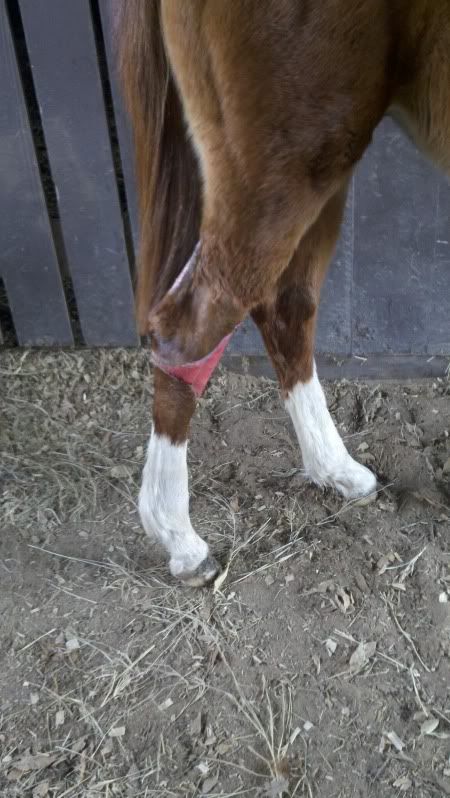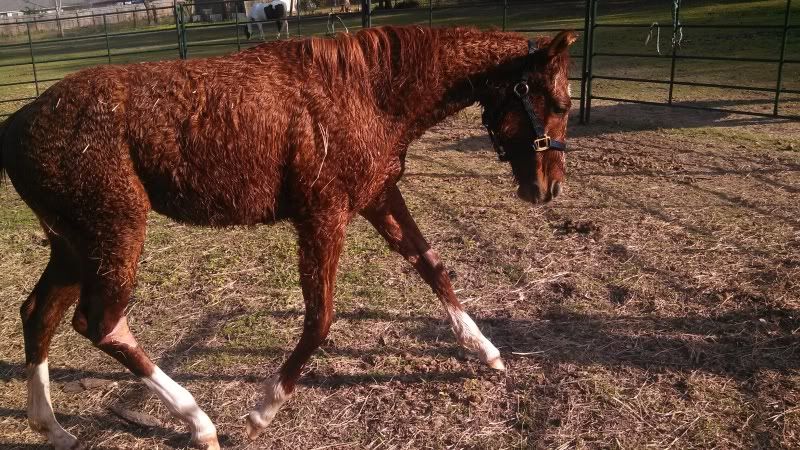 after a bath =P
Feb 2013 - surgery and before socks.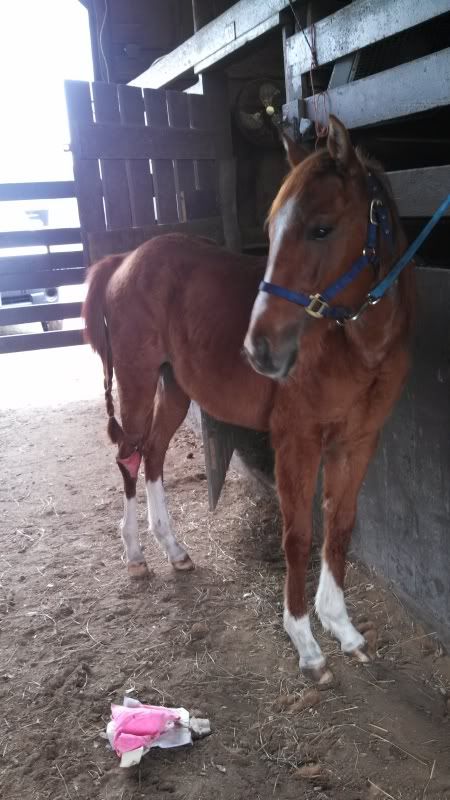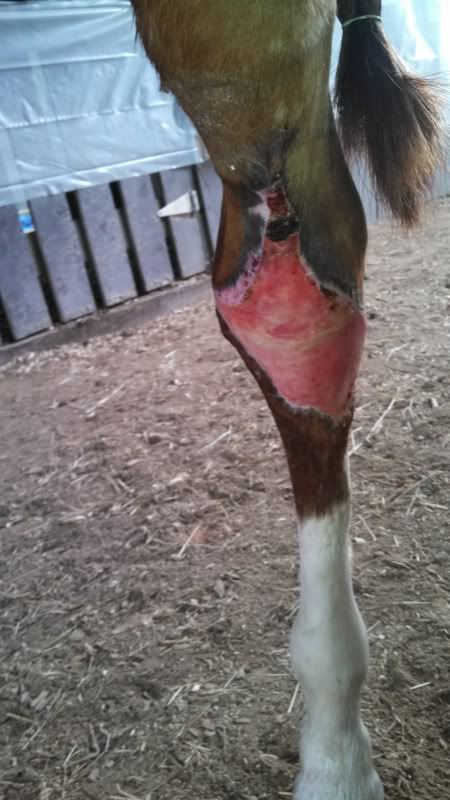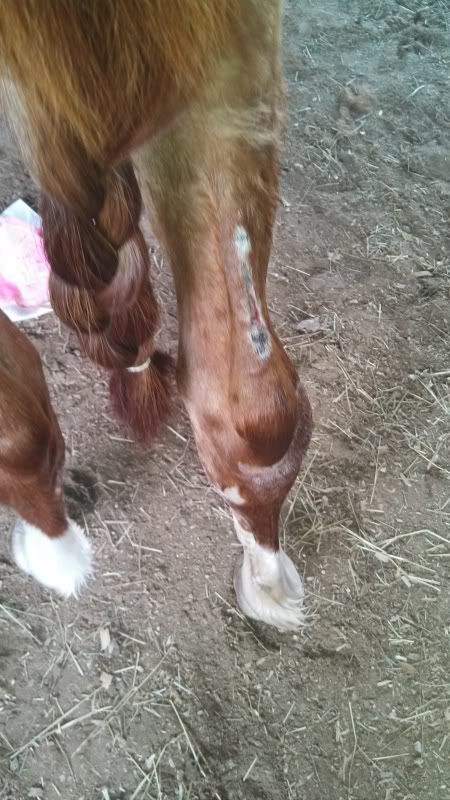 After socks! (not the cleanest picture, but ill get better ones when I have time)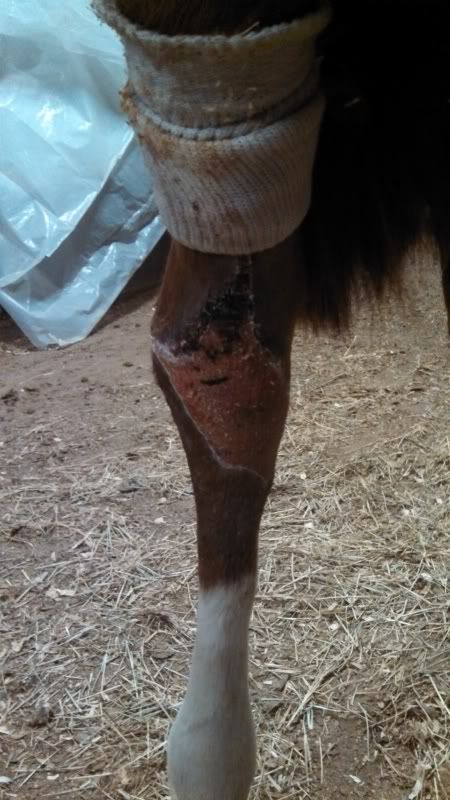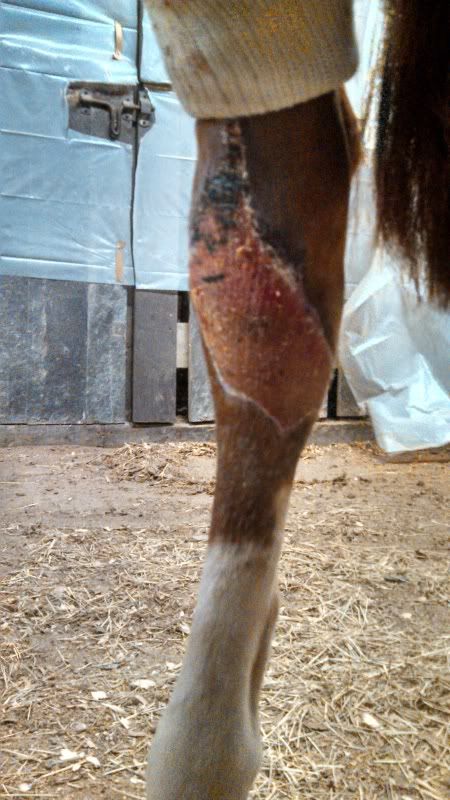 I did use tape the first few days, because I didnt trust that the sock would stay up - but then the tape fell off one night and the stock stayed soo...left it be. I do have to adjust it up in the mornings, but thats about it.