Teen Forum Moderator
Join Date: Dec 2010
Location: South East Texas
Posts: 7,157
• Horses:
2
Severe stunting- can she ever be normal?
---
We have a very sad case today, a lovely little one year old Thoroughbred filly who we originally had as a foster from a local rescue. We had her from a little over a month old until she was about 5 months old, and in that time we noticed that she just really wasn't growing the way she should be. Her half brother, our now adopted colt Peppin- is 15.2hh and growing, while only about 15 months old. But in the time he was growing like a weed, she wasn't growing at all. In fact, from a month old until when she was adopted, she only grew 2 inches. Now we dont know a whole lot about this filly other than that she came from a breeder who had a bunch of sorry looking horses crammed into two small stalls at the racetrack, eating moldy hay. They were rescued when she was 3 weeks old (she was born in a stall with her dam and another large mare) and brought to us. We nursed her and her dam to good health, but her dam had a lot of problems with her hooves and had a massive stroke suddenly one day, killing her instantly and leaving Kenzie orphaned at 2 months old. We bucket fed her until she was 4 months old, put her on Nutrena, and she was adopted at 5 months.
She was adopted by a family that sounded great. They werent going to push her very fast and were ok if she never was sound enough to be more than a lead line horse for their children as she grew. However, when the rescue came to check on her last month, they found her in a pasture with no hay and minimal grass, all alone, and absolutely FULL of worms. She's skin and bones. Most shockingly though...she still has no grown. At one year and 3 months old, Kenzie (what we named her. She is now 'boom' according to the owner) is only 12.2hh, the same height as she was at 5 months old, which is the same as what she had been at four months old. The rescue ofcourse immediately took her back, and asked us to take her in again as a foster. She is horrifying to look at. She was seized two weeks ago and has since been wormed thoroughly, so her giant belly has gotten much smaller. She is still unloading worms however and is in quarentine with us. The more she lets go of, the more bones we can see. I'm disgusted. What I can't believe is her height though. Its very obviouse to me that she has been stunted...but I didnt even realize that a horse could be stunted so badly. And what I dont understand is why she was already showing signs of being stunted even when we had her...though she was on high quality food? Her dam was in poor shape when we got her...and I'm sure she was in even worse shape while pregnant, so maybe she was stunted then, and stunted again when her new owners didnt feed her right?
The rescue is having the vet doing a complete fecal and bloodwork done on her this week and she's going to be put on another round of wormer next week. I gave her half a tube of probios today, and we'll slowly introduce her to our feed schedual and unlimited Jiggs Costal hay and alfalfa. If we cant figure something out or if she'll never be anything but a pasture buddy, the rescue is seriously considering euthing her. At this point I dont think she'll be even close to riding sound and she just looks pathetic. Do you guys think there is any hope for her? Or will she stay this small the rest of her life? Its so sad, she looks so lost and like she feels terrible... :/ I dont see how someone could do this.
Add to that the fact that she's a conformational wreck and I wonder if its just cruel to let her keep living. She's had a horrible time of it.
Pictured this morning, right before we bought her home. IMO she looks much worse in person. According to the rescue they clipped her (we're blanketing her) because she was covered in matted fur and feces that appeared to be leftovers from her foal coat that did not shed. She has a nasty cut on her left shoulder as well, which is too old to be stitched but on the mend. The halter she's wearing fits my 34" miniature horse.
pictures of her before she was adopted while she was still with us at 5 months old. She was healthy but very small in these pictures. Same height as she is now.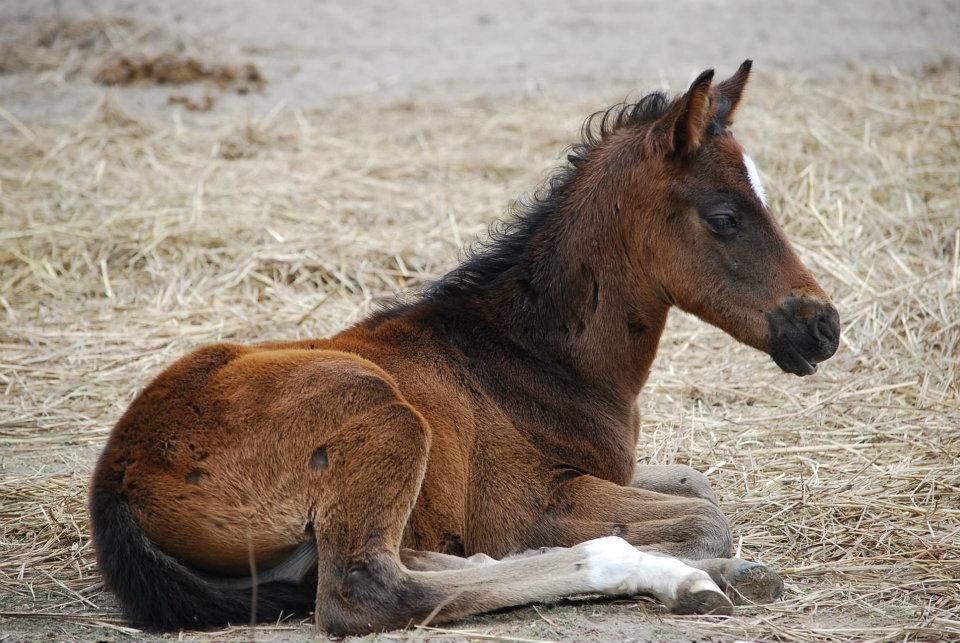 and as a 1 month old, 11.3 hh again, healthy looking but small.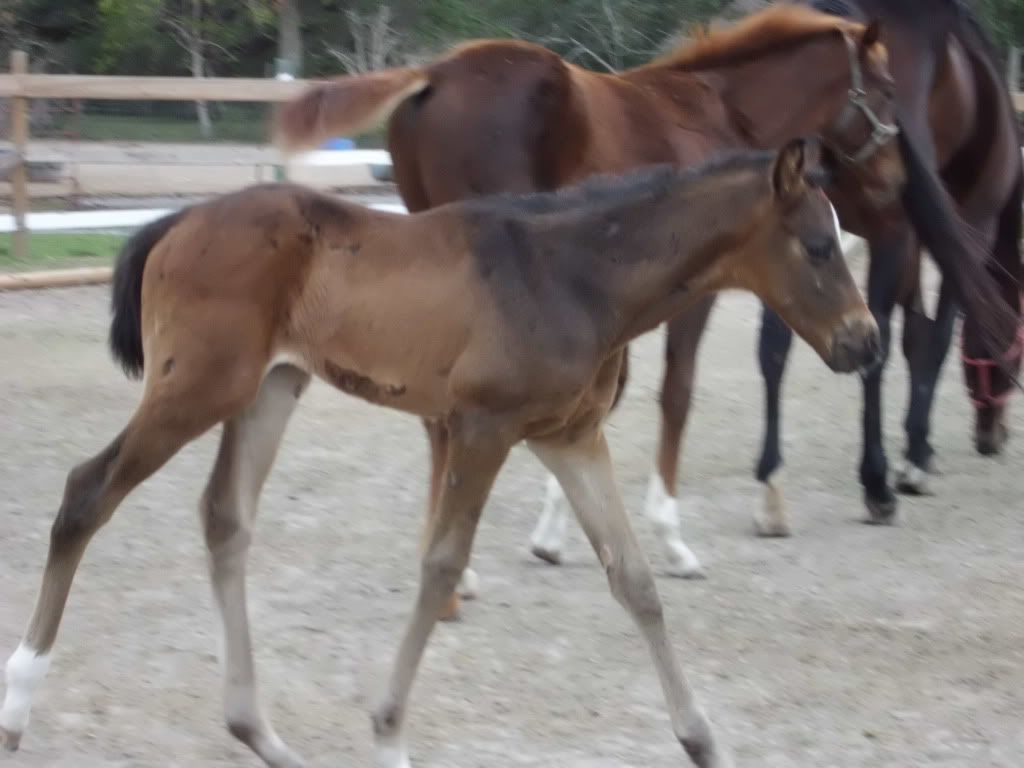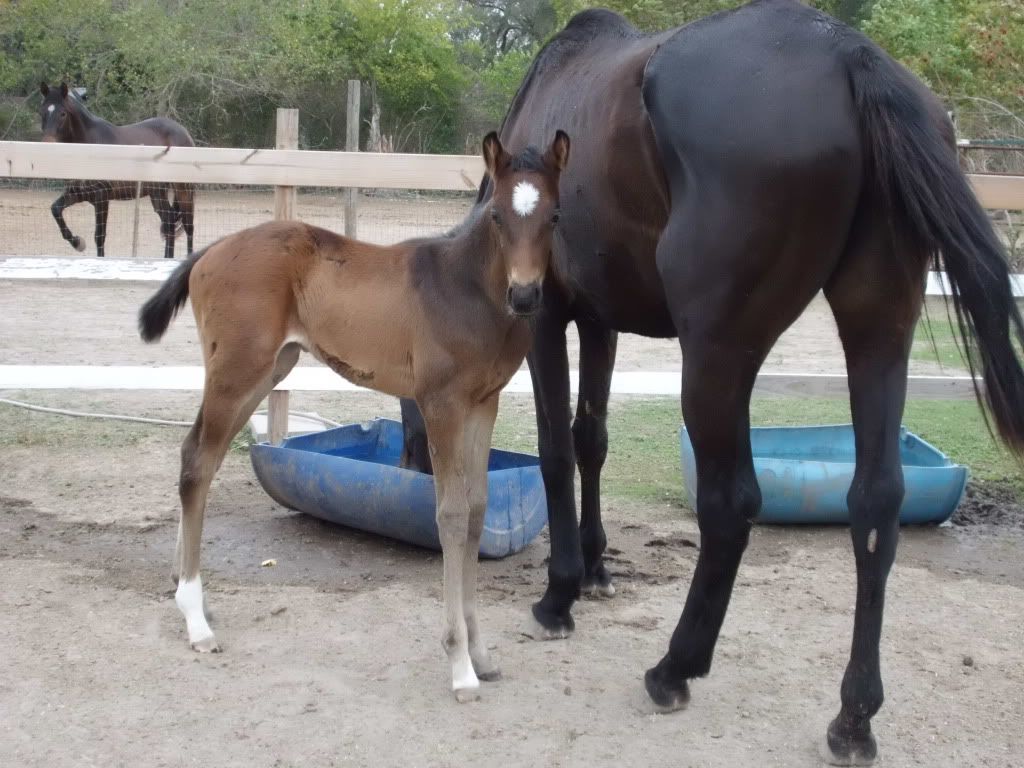 ---
Everyone in your life is meant to
be in your journey, but not all of
them are meant to stay till the end.
---
Last edited by Endiku; 12-22-2012 at

08:08 PM

.
Id give this baby time and feed her well. She looks malnourished. What kind of grain has she been eating? She has had a rough start in life. She may never be huge but she shows alot of growth potential yet that She has loads of time to spit out.

She was orphaned and born in a bad situation, been moved around a bunch...Give her time. Unless she has some actual genetic issue or disease that hinders her growth, IME, foals will grow and grow and catch up even up to 3 and 4 yos... Her leg shows she has alot of height to gain yet. Get her somewhere stable where she can stay for as long as possible, in with a momma or daddy figure horse, on some good high quality feed and forage and just give her time.
---
Married to my One! 10-11-13 Steampunk style:)
Teen Forum Moderator
Join Date: Dec 2010
Location: South East Texas
Posts: 7,157
• Horses:
2
double post. Here are a few pictures of her a week after loosing mama, not in good condition and not eating well, but you can see how she doesnt loose her winter coat (this was late spring) and how her pasterns almost fold when she walks...and that she looks exactly the same now...only thinner.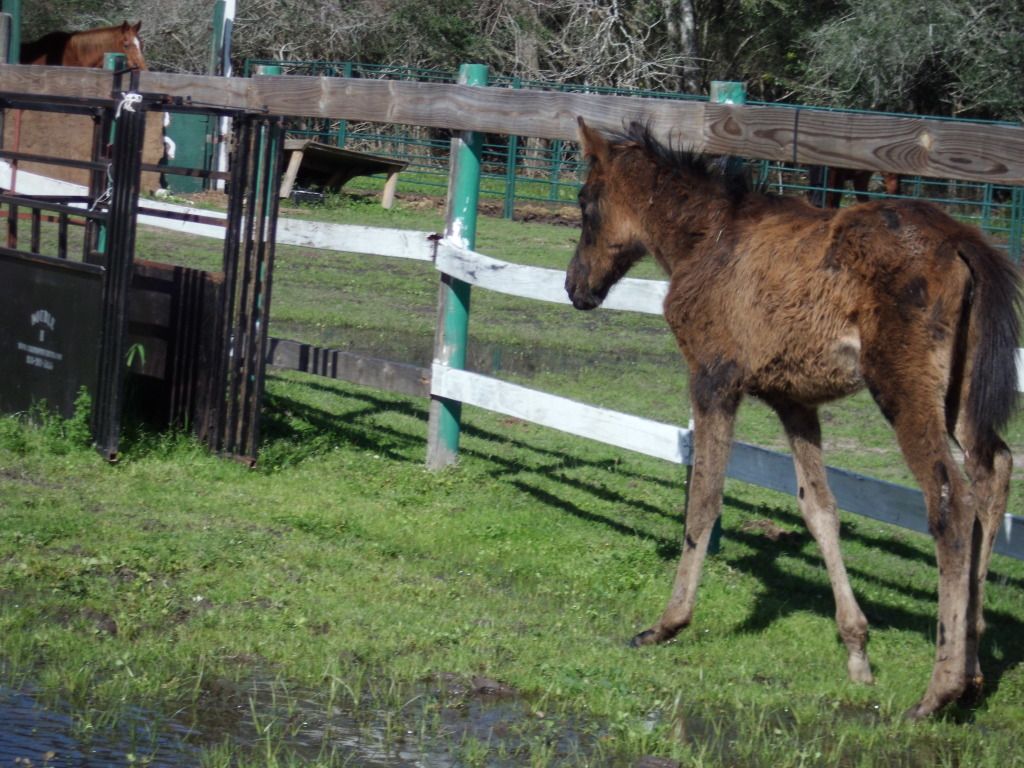 Ignore the water, our farm flooded. click for video.
H-A-Handhalter019.mp4 video by asylumescapee95 | Photobucket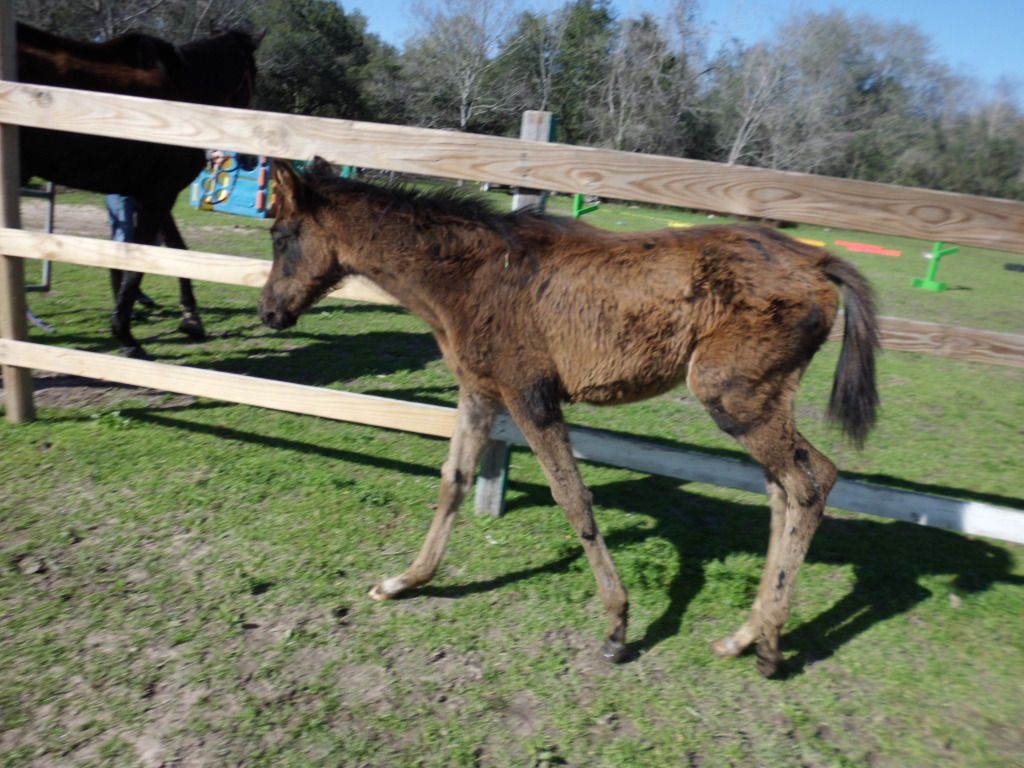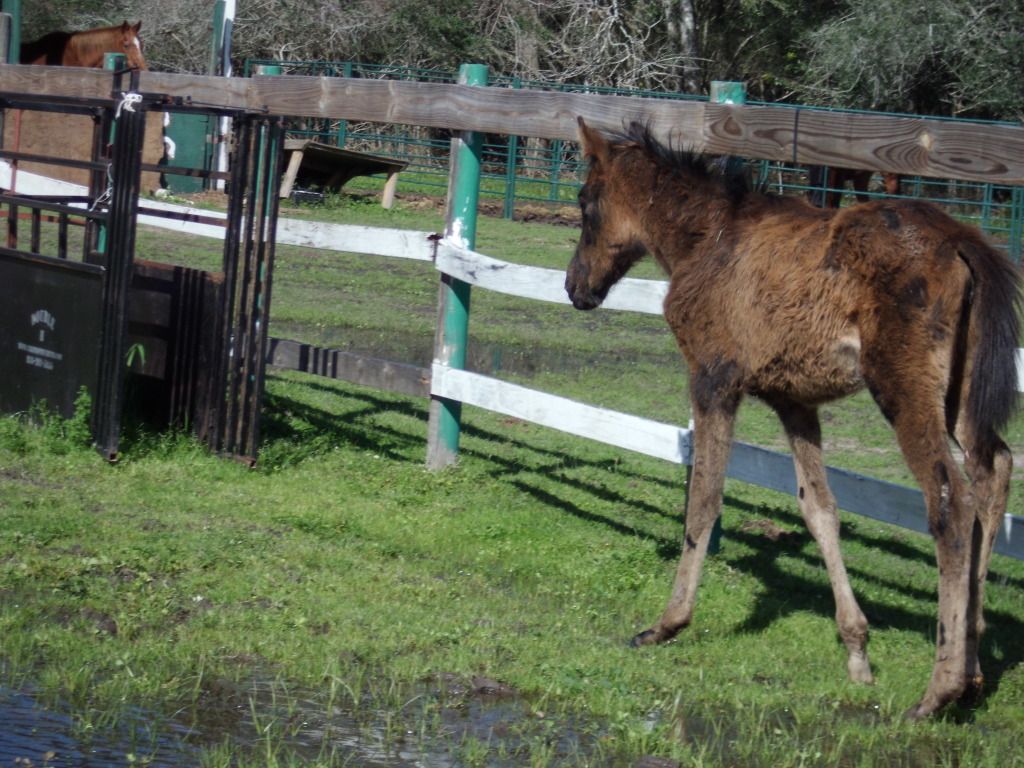 Trinity, thats probably half the problem. She's been moved around so much. From tiny stall to a rescue to quarentine with us to a pasture to another stall to a pasture when she was starved, back to the rescue, and now back with us- hopefully to stay for a while. Unfortunately we just cant assure her a forever home because we're barely staying afloat ourself. We can foster her for a while, but thats about it.
I dont know what she was eating at her old owners, but the rescue said that the other horses (a 3 and 9 year old) were eating all stock feed and cow hay. I'm assuming thats what she was getting >.>
We'll have her on a mix of Nutrena Mare and Foal and XTN per the vet's reccomendation, as well as rice bran slowly added and the probios. And unlimited Jiggs/alfalfa hay.
---
Everyone in your life is meant to
be in your journey, but not all of
them are meant to stay till the end.
---
Last edited by Endiku; 12-22-2012 at

08:45 PM

.
If her growth plates have not closed yet then she will still grow. How much she will grow though, is anyone's guess. She probably will not reach her genetic potential. I fostered a severely stunted 2 YO grade mare and she grew a little in the time I had her. An equally stunted Quarter Horse colt came in with my little mare and he was euthanized because he was double cryptorchid and didn't have the temperament to merit the expense of gelding him.
There might be a future as a lead line pony for her if she has a good temperament.
Sweet Firefly, before I took her home and made her fat. She was so sweet and is now in training to be someone's lead line pony. :)
Agree with Trinity here. I had two ex racers, who came to me as 3year olds and both grew 2" in the first 6 month off the track. She will grow, provided she eats well and has some stability in her life now.
Put her on alfalfa and a good youngster feed, make sure she has enough vitamins, minerals, protein, have her feet done, and, yes, a friend or two and lots of TLC......
Poor thing. She's sure had a rough go of it. I wouldn't worry about her height just yet. She's still young and still has a lot of time to grow. I wonder if, perhaps, the reason she hasn't grown is the lack of long-term good care. A few months of good feed between long instances of poor-to-nonexistent food wouldn't make up for what she was lacking. Her body was probably still working to get itself healthy before it began to grow. It just didn't have the chance.

IMHO, even if she never really grows much in stature, she will fill out as she grows older and may eventually make a suitable mount for a small rider or a child. At this point, I don't see any reason to euth her unless she's unsound/in pain for whatever reason.

If you could either continue to foster her or find her a good home where she will be taken care of properly, then I believe she should be given a chance.
Yeah All stock will NOT adequately feed a growing baby TB. Ever. You got her on a much better diet now. Her foal pictures actually show her to be a nice looking horse when she is done.
---
Married to my One! 10-11-13 Steampunk style:)
If you measure her mid knee straight down to her coronet, that in inches is approximately how many hands she will be when done growing. 15 and a half inches would be about 15.2 Hands tall and so forth. She may be a smaller TB anyway.
---
Married to my One! 10-11-13 Steampunk style:)
Poor girl. She looks like she had so much spark as a baby. I think she needs time. I love her vibrant star!
Posted via Mobile Device
I have zero experience wih this, but I remember reading about these poor babies when they first came to you. Just sending good thoughts and hoping she improves for you.
Posted via Mobile Device