Agreed-ready to pitch in! Just let us know how.
Posted via Mobile Device
I only read the first page but I can tell you I bought a horse as thin as this.. 13.2hh at age 2 coming 3. I fed her and in a year she was 15hh.

She too was not fed and loaded with worms. One thing that did happen is that after the worm load was removed she developed enteritis. The vet believed this was leakage from removing the worms and possible leakage from her bowel into her gut. She was given antibiotics IV, antibiotics intragastric antibiotics and IV fluids. She recovered and was fine.

BTW while I do see severely malnourished in the photos, I do NOT see a "conformational wreck." I see a malnourished horse with large roomy hocks and knees with uneven growth who has been stunted by lack of nourishment.

Here are photos of the horse I had. This was in 1976. I will not say your outcome will be the same but this is my experience.
---
There is something about the outside of a horse that is good for the inside of a man.
~Winston Churchill
(or woman!!!!
) Dinosaur Horse Trainer
Endiku, offer her blackstrap molasses and let her try it off your hand and see if she likes it. I'd add a tbsp or two to each feeding and mix it in. If you dampen her pellets it will mix nicely. A good sign is when she tries to lick the bottom out of the pan. Blackstrap contains calcium and iron and has the highest amount when compared to Cooking and Fancy. If you can't get Blackstrap, get the Cooking Molasses. I've posted an article on how to make your own probiotics. Even the juice from store bought saurkraut (refrigerated section only) will add beneficials. So after all this stress you should eat some kraut and add a tbsp of the liquid to her feed.
Now I read through everything. I hope she pulls through. The photos of her as a baby and those of her with her mother lead me to believe she has a shot at being a really good horse build wise.

Best wishes. It may be a long road.. but it may be way more than worth it (more than the emotional worth I mean.. and that is a LOT) if she matures normally.
---
There is something about the outside of a horse that is good for the inside of a man.
~Winston Churchill
(or woman!!!!
) Dinosaur Horse Trainer
holy cow pies endiku, way to go! i'm so glad this little baby has someone like you to pull her through this. Come on Kenzie!!
Teen Forum Moderator
Join Date: Dec 2010
Location: South East Texas
Posts: 7,157
• Horses:
2
You guys are going to make my cry with your generosity. Your online support is more than enough, yet you keep giving! For Kenzie, we would be honored to accept your help. Her vet bills are overwhelming, but we've really just pushed them aside in hopes that she will make it.
We're just suckers in that way, I suppose. Half of our horses have come from strange or poor situations, whether these unfortunate OTTBs, our deformed dwarf, or our one eyed colt. Its just so sad to see animals who have little chance being thrown away without a thought.
When I first saw Kenzie come into our farm, I think that all I was seeing in her was the bedraggled appearance of a starved baby, not what lies underneath it. I'm glad to hear that, if we can get her over this hump in the road, she just might have a chance at being a useful horse. That would make her chances of being adopted soar much higher than as a young pasture puff.
Kenzie is on a very thick bed of straw (too thick in the BO's opinion xD) with a heavy blanket, so its strange that she was shivering last night. But she has no body fat to speak of. I have some wonderful new though! As of about 4 am this morning, Kenzie's fever has broken! My guess is that she was shivering because of that, because not long after she began sweating. If thats anything like what humans go through when their fevers are breaking, she had telltale signs from early in the evening. It is now 11 am and the fever has not returned. After, what, 4 days ATLEAST of constant fever, she is finally conquering it!
Her respiration is still very rattly and she gurgles, so I think the vet is going to come out again to see if she needs another round of antibiotics, but she is definitely beginning to make progress. She still has yet to stand on her own and she is unfortunately forming a few small pressure sores on her stomach (being treated) but my hope and prayer is that with no fever and nourishment pumping into her body, she will begin to mend and be standing very soon. I'm trying to think of a way to keep her off of her stomach without her being flat, but so far haven't figured anything out. Any suggestions?
Saddlebag, great idea for blackstrap molasses. Can I get that at the supermarket or will I need to find a natural foods market or something?
For those of you wanting to donate, let me just run it by my boss (who is the one shoveling out the money by the wheelbarrow full...I'm just pitching in all of the time I possibly can and a limited amount of money, being an owner of a very accident prone mare and filly, and still in school xD) and I'll let you guys know. She has a meeting up in Conroe today but should be back late this evening, so I'll have an answer as to where to send money and such tomorrow.
Keep rooting for Kenzie guys, she's finally going up hill instead of down! And thank you again everyone, for all of your care. You have no idea what it means to us.
Oh
, almost forgot. One of you asked what happened to her dam.
Sierra (dam) came to us in pretty rough shape. Her legs were stocked up, she had severe thrush in three (possibly four? I cant remember) hooves, she had tendonitis in both front legs, and her hooves were a wreck. One was clubbed, the others just extremely grown out and collapsing. She was also malnourished from lack of good food while pregnant and lactating, and full of worms.
We got her back up to a decent weight, cleared up the thrush, got her in therapeudic shoes, and tried to work on getting her sound again. After over two months though she was still lame and getting lamer. The picture of her galloping with her baby was one of the only times we ever saw her run. The rest of the time she gimped along like an artheritic 30 year old. The rescue actually had plans to euth her, because she was not getting better and no one wants a seemingly permanently lame OTTB broodmare. Before they could follow through though, Sierra collapsed in her stall during the night and we found her dead. She actually took down an entire wall when she fell, and after an autopsy it was decided that she had died of a massive stroke as well as underlying heart problems. It was very, very sad. That left Kenzie to fend for herself at roughly 2 1/2 months old, and from there, it really isnt a happy story at all unfortunately :(
---
Everyone in your life is meant to
be in your journey, but not all of
them are meant to stay till the end.
IF she pulls through. IF she over comes her lung issues. IF she gets her growth squared away and IF she grows the way her Mother looked.. and they way she looked as a baby.. this Kenzie may do well more than pasture puff.

I don't mean the Kentucky Derby (tho stranger tales have been told) but something more along the lines of a competitive horse.. jumping and the like. I REALLY like what I see of her Mother and of her as a youngster.

Lots of "if" in there.. but as I said.. stranger stories have been told.

Would love to see this one get better all the way and then see her as a two year old....
---
There is something about the outside of a horse that is good for the inside of a man.
~Winston Churchill
(or woman!!!!
) Dinosaur Horse Trainer
Yep I concur. Her baby pictures showed a pretty stellar baby actually. Nicer than some I see intentionally bred and raised like royalty,
---
Married to my One! 10-11-13 Steampunk style:)
Yeah !! glad to know that fever finally broke. Now to get rid her lung problems iwth rattles it almost sound like a pnuemonia, so hopefully if she does have to be on antibiotics again, it will be kicked.
Teen Forum Moderator
Join Date: Dec 2010
Location: South East Texas
Posts: 7,157
• Horses:
2
Thats a LOT of ifs, and honestly I'll be happy if we can place her in a home as a trail horse or something of the likes.
She was definitely an 'on purpose' baby, her breeder just met some very unfortunate circumstances and did not handle them the right way. From my understanding she was doing so so in the racing world with a string of 15 or so broodmares, foals, and racing 2-3 year olds. But she went through a nasty divorce that left her bankrupt, so she sold whatever horses she could and left the others to fend for themselves in two small stalls. So that was six horses (two being Kenzie and Peppin who were newborn and 3 months old at the time) in two small stalls, with only what old hay she could find to live on. We have no idea how long they were in those stalls but our guess is that Kenzie was either born in one of them or was put in one shortly after being birthed.
I can't remember her sires name but he's a big boy with a decent racing record but few standing foals. He raced 10 times and placed 6, but then suffered a bone splint and was retired to breed. He is the sire of our 15 month old, Peppin, who is a very nice looking colt if I do say so myself. He suffered an unfortunate accident that cost him his eye, so we adopted him to be a future riding horse and hopefully lesson horse. The only conformational fault that I can really find in him is his long pasterns which seem to run throughout TB lines quite often. His dam (also up for adoption and fostered with us) is a nice, big, useful girl as well. She's 'surrogating' as a lesson horse for us right now while we're looking for another horse to replace Noah, but I can definitely see her doing very well as a HUS or even Eventing horse. Big roomy hocks, decent coupling, wide open shoulder and a sturdy hip. She's currently schooling with one of our volunteers at 2'6 and could easily go higher. Her only set back is her age, since she's already about 16.
So this breeder definitely knew what she was doing...just didn't deal with things right when they went sour. And for that I'm glad. If Kenzie can overcome all of these obstacles, and if she didn't inherit any of her dams problems, she just might suprise us all.
A few more pictures of Kenzie's dam, Sierra. She was pretty thin when we got her, poor dear.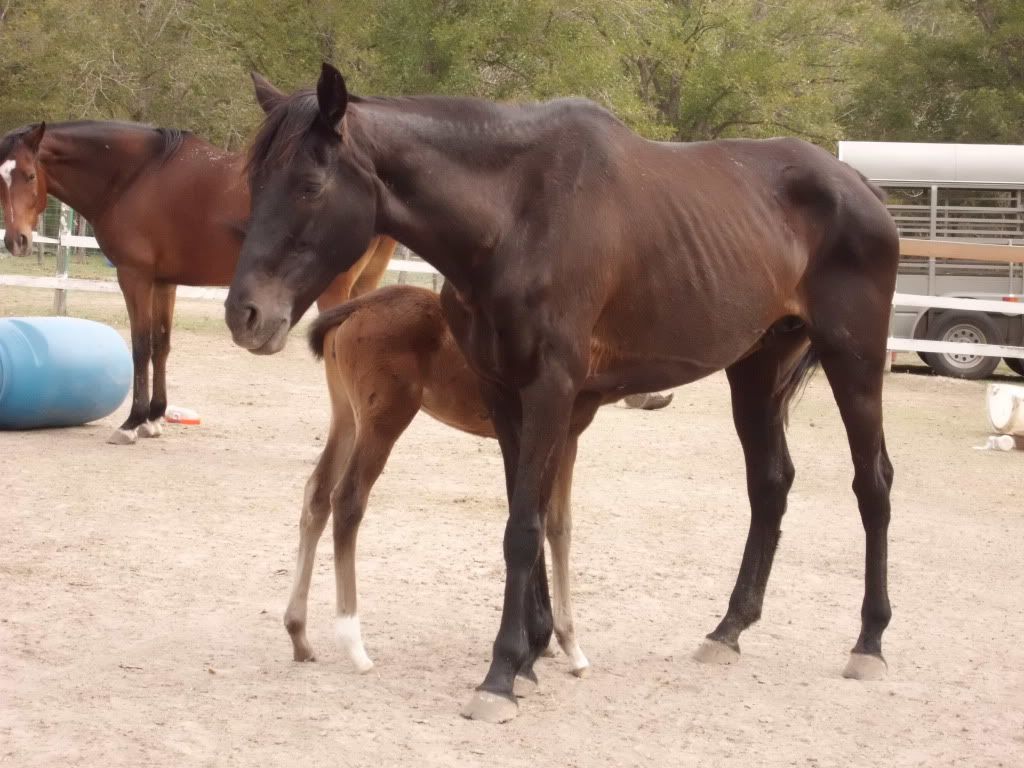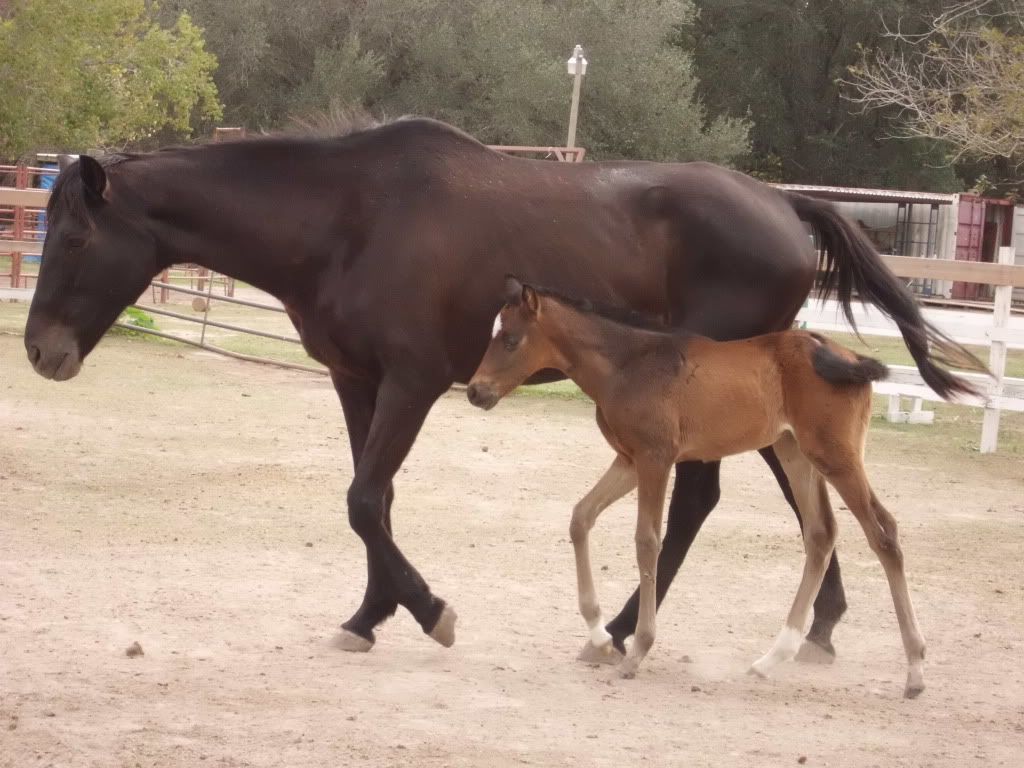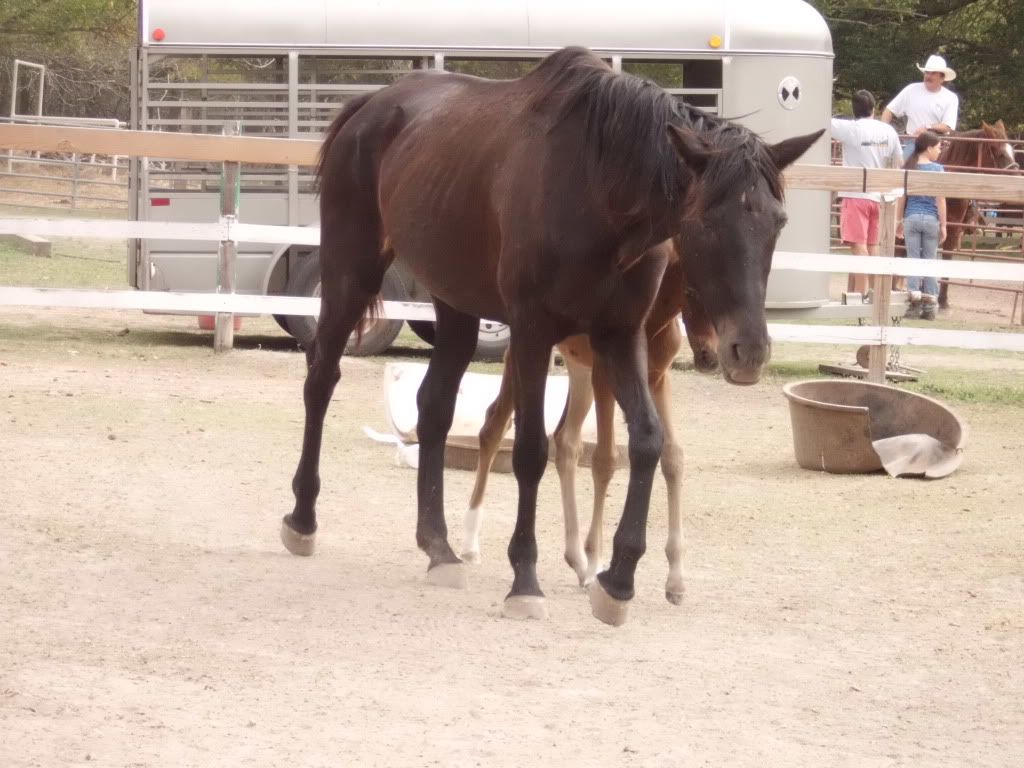 As for news about Kenzie, her fever is still gone which is fantastic. The vet is concerned about the rattling in her chest though, and gave us some more antibiotics to give her as well as an ointment for her sores.
---
Everyone in your life is meant to
be in your journey, but not all of
them are meant to stay till the end.