Just read all 13 pages, she is so lucky to have you there! I really think she could turn into a nice little horse once she gets back on track as far as nutrition goes.

As for getting pics off your phone, text the picture to your email address and then take it from there and post on your computer :)
That sounds the easiest! My internet is being too slow to load pictures off of my phone. But wouldnt texting it to my email need internet too?
I'm so electronically disabled, I'm sorry guy xD
Kenzie is still limping so I'm not sure whats up with that, but she has eaten a grand total of two pounds of alfalfa pellets and a flake(about 5 lbs) of hay today!
More than she's eaten since coming here.
---
Everyone in your life is meant to
be in your journey, but not all of
them are meant to stay till the end.
Nope, I don't have a smart phone so thats why you text it right to your email. When you open the email the sender will just be your phone number. No internet needed!
Perfect! I'll try that really quick and hopefully have some pictures for you guys in a minute. I don't have a smartphone either, just a Sparq from T Mobile.
---
Everyone in your life is meant to
be in your journey, but not all of
them are meant to stay till the end.
FINALLY xD I had to do what Dressage said (thank you!) which stinks since I dont pay for photo texts, so I had to pay to upload these. I really wanted you guys to see them though so that you can understand just what kind of condition she's really in, without all of the glamour of touch ups, a blanket, and a nice camera.
Sorry about the quality.
With the blanket in her stall, watching the other horses. Her poor neck is so thin. You can see here what I mean by an outdoor stall. Only two sides have an actual wall, the other two are large panels, but we like it that way because it keeps ventilation easy and lets the horses feel less claustrophobic which is great for our TBs with anxiety issues (Peppin specifically)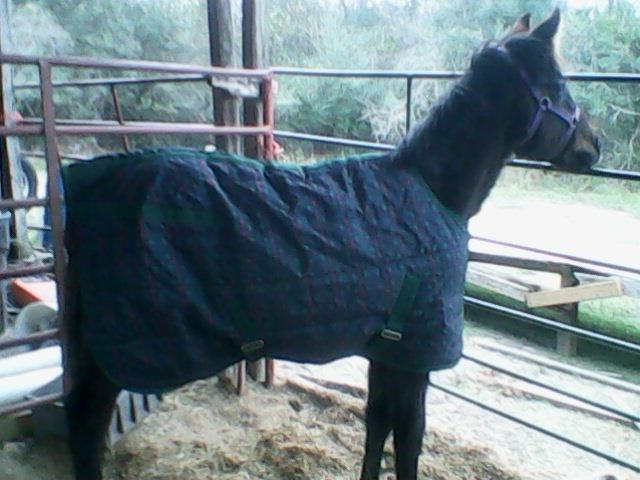 And without a blanket. Her belly is so swollen from the fluids. She actually has a low worm count all things considered. Without the swelling you can feel every bone in her body, including her neck bones. You might also be able to see the swelling in her legs. I had pictures of her legs, but didnt want to spend more money than necessary. Its strange though because she toes out very badly in her left rear leg, almost to a 45 degree angle. I dont think you can correct that but I've never seen something like it. Its part of the reason I originally called her a 'conformational wreck.'
Sorry about the vaseline on her shoulder, she rubbed it off of her face.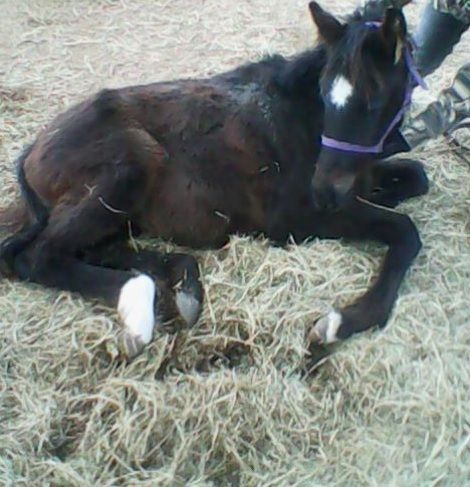 ---
Everyone in your life is meant to
be in your journey, but not all of
them are meant to stay till the end.
Did she have that when she first was with you?
Once she fills out again, she will do so internally too, which will straighten her out a bit already.
She sure is a pretty little girl
You are so great to take on such resposibility at your age, You look as Young as the filly ! So glad to hear she is up and on her way to being healed. She will probably have sores and lameness issues from being down for so long. You have done such a great Job you should be very Proud of yourself. God bless you and may many good things come your way , you deserve it.
Her legs may straighten out some once she is up and around, getting proper nutrition, getting exercise, and growing. I have seen some pretty sad looking legs straighten out with a bit of good nutrition and good health and exercise.
---
Celeste
Carpe Diem!
Desert- the swollen legs or toeing out? She toed out when she came to us the second time around, I don't ever remember noticing it when she first came to us. The swollen legs are new. She came to us swollen but not quite this stocked up. They arent all that warm though and after talking to the vet he thinks it has a lot to do with how much time she's been spending on the ground. Hopefully as she gets exercising and standing on her own more it will start going down. I'm going to try soaking her legs in a warm epsom salt solution but I don't want to hydro them with a hose because its so cold.

Stevenson, I knew it was just a matter of time before someone called out my age xD funny story though, I'm a bit 'stunted' just like she is, and not normal height. I went through a really bad spell where I was way underweight and not developing as well, and I only matured at 4'11. We're similar in a lot of ways xD

I am quite young though. I just turned 17 on the 24th and I've been blessed to have a great BO who is willing to let me take great responsibilites dispite my young age. I've been out here since I was 12 and I love helping rehabilitate these guys and seeing them start a new life. I'm often told that I look like I'm barely 12 or 13, and I've even had a few ask me if I was still in 6th grade xD I'm completely used to it though and it makes me laugh. And I have the feeling Kenzie might just have the same situation as I do when it comes to growth and age guessing! We're a good pair.

Celeste- I'm sure hoping thats the case! I'd love to see her sound and strong, not crippled and weak. She deserves it.
---
Everyone in your life is meant to
be in your journey, but not all of
them are meant to stay till the end.
Well I started on Page 1 and just finished. It's like reading a finger biting novel. I'm really surprised at your age in the photo's since you have written like a mature woman! You are a smart girl! I'd take McKenzie in a heart beat. Keep up the good work! My prayers are with you and her! She's just GOTTA make it!