Whoops. Called her Boom xD Kenzie. BO's hubby and most of the cowboys doesn't like the name Kenzie (how rude! lol) and the rescue didnt want to 'traumatize her' by changing her name again (....oi. Thats all I can say.) so around them we tend to call her Boom. The rest of the time, shes Kenzie and that happens to be the name she responds to, so HA!
---
Everyone in your life is meant to
be in your journey, but not all of
them are meant to stay till the end.
Endiku, what area of Texas are you in (since is such a large state).

If you are within reasonable distance to Brenham (I live in Bryan) I have been pleased with my farrier. He was recommended by a Brenham vet who has had him work on all types of horses- rescues, colts, dead heads, etc. Since my mare tends to be over-reactive toward new people (especially her feet) I needed someone who wouldn't over react themselves.

(She got nervous and kicked out, with a different farrier- not aggressively, just like a horse that wasn't used to their feet being handled-and he rasped her, and she turned into a complete devil horse and came at him like you wouldn't believe) After that, she was EXTREMELY difficult with her feet (anyone other myself, and it was even difficult for me at times)

But, being that I'm not very competent at trimming feet, I needed a farrier. Boy, I had a very difficult time with my farrier search. (But, I was very blunt, as I didn't want just anyone to handle her and then be in a worse situation) I needed someone that would be firm and patient, not someone who was aggressive and manhandled her... And someone who would actually show up. Apparently, the combo of which is nearly non existent in the world. (Took me a year, luckily her feet are pretty good naturally so with just me filing and scraping them she wasn't incredibly bad, but still needed to get done)

My current farrier (had him for a few years now) was very patient with her (she reared, kicked out, a general nervous wreck pulling every trick she could to get away). He just held on, seemingly completely indifferent to what she was doing. By her second trim (he also shows up like clockwork, calls me ahead and is fine with handling them alone if I'm not around) she was great. He will reprimand her if she's just being a *****, which, sometimes she can be.

I'm not sure how far he travels, but I know he's got regular clients in Anderson, Iola, and of course, Bryan and Brenham. I have no idea where you are, but if your reasonably close I do recommend him.
Unfortunately I think Brenham is about 65 miles from where we are, so that might be a bit far. Not too much farther than Mrs. Butler though, I guess. We're located in the suburbs of Houston. I still need to call the farrier that one of you suggested to me, and I'm going to see if I can see some examples of his work/watch him work on an animal before I decide. I've just been so rediculously busy that I keep forgetting xD Spring break starts this week though, so hopefully I'll get some stuff like that done.
---
Everyone in your life is meant to
be in your journey, but not all of
them are meant to stay till the end.
I have....UPDATES!
Sorry, I died for a week or so. My life is rediculous right now and just getting crazier!
This has to be short because I have a ton of homework and a killer migraine, but Kenzie is doing well :) She's going to have another trim next week and is slowly filling out. Still having some tenderness issues with her feet because apparently her frogs are about as bad as they can get, half the size they should be and shriveled up. We'll have a long road of farrier care ahead of us, but I'm excited to see the outcome.
She's still shedding that nasty coat hair by hair, but its coming out every day in the brush so I'm hopeful! xD She's such a sweet gal and I took her for her first short trail walk today. She was a little nervous but very curious and did her best to make me proud. I've started transitioning her over to her new feed and she's doing well, eating much more roughage which makes me very happy!
Anyways, I really can't give a long update right now but feel free to ask questions. On to the pictures! BTW, I took some conformation pictures of her that I'm posting in that section ;) go check them out! I know she's young and still on the thin side, but maybe I can get a little feed back.
Her ribs are finally dissapearing! I can actually feel some padding between them now, and I can't feel her spine <3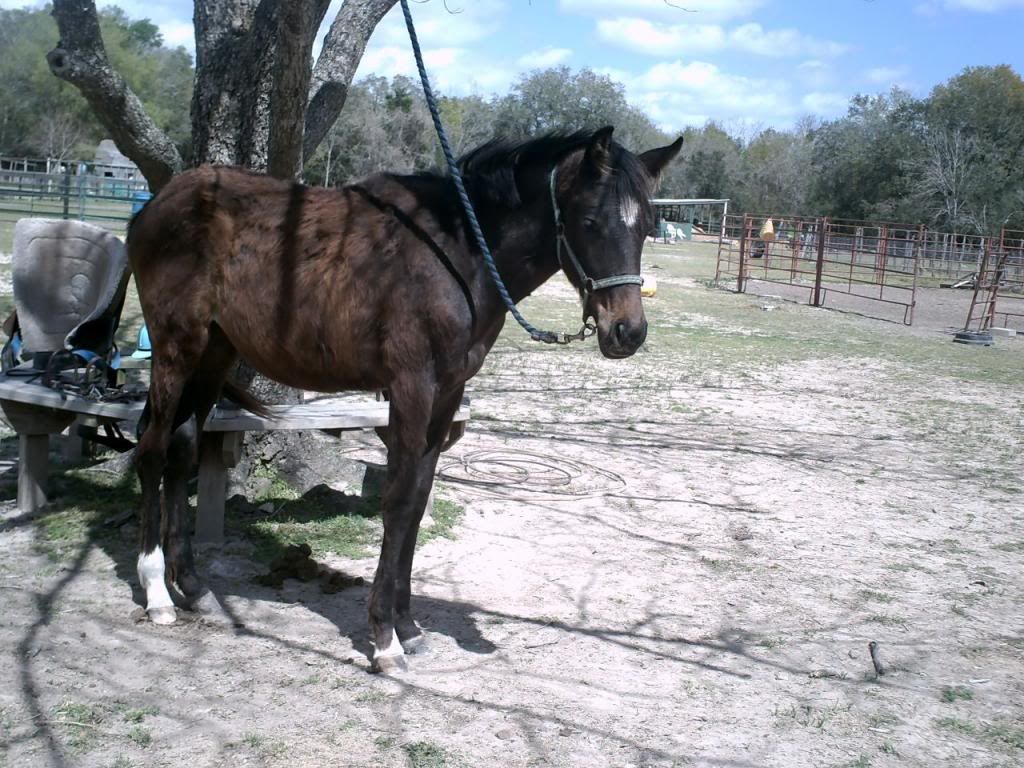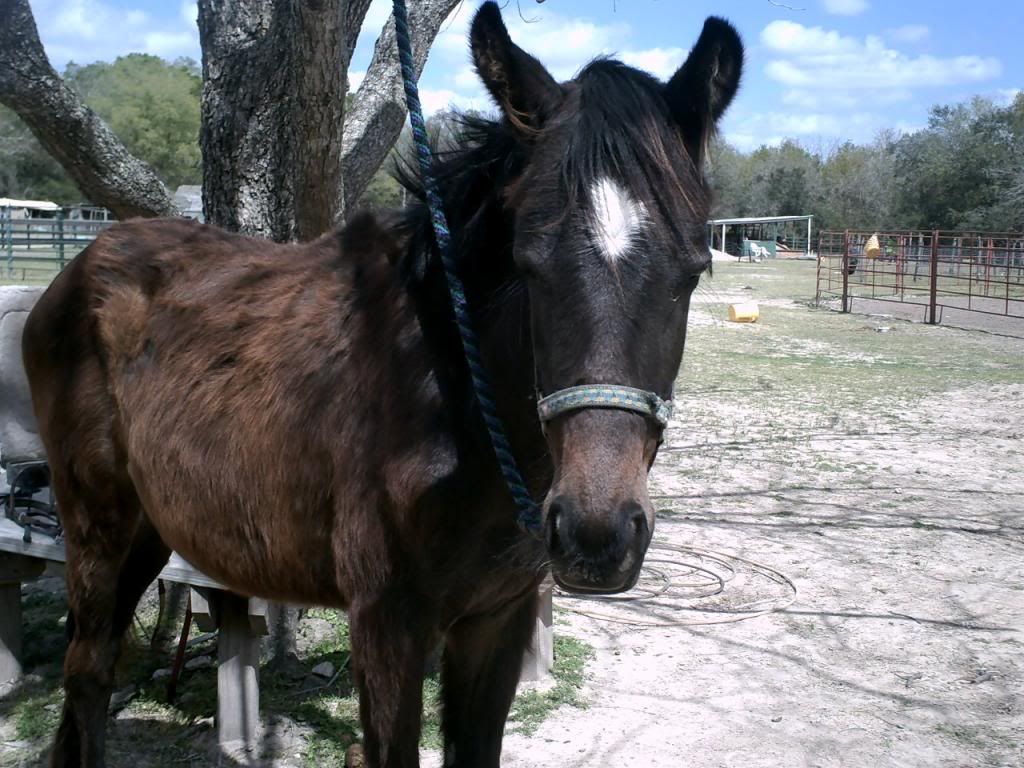 Excuse the lariat, I was desensatizing her ;)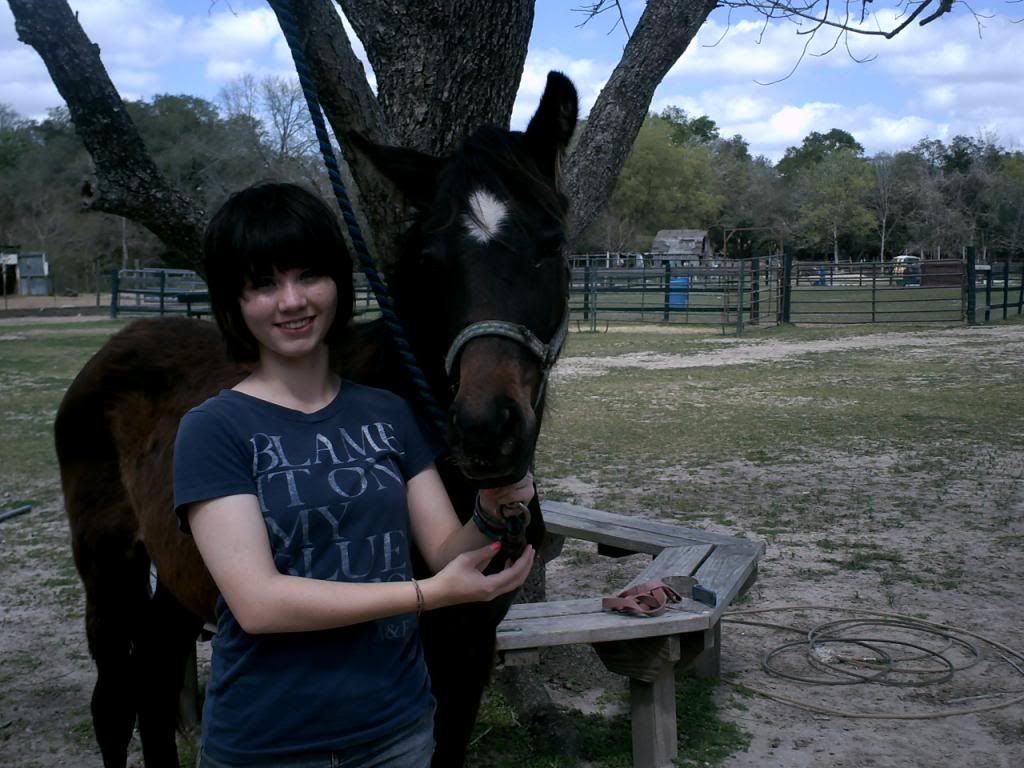 She has this weird little cyst type thing on her shoulder where she had been gashed that I'm worried about. I don't know if you can see it, but its about dime sized and sore to touch. It feels like its filled with fluid and its squishy. I'm going to call the vet about it tomorrow and ask him to see it. Hopefully its just a bug bite or something, but you can't be too careful.
sleepy baby after the trail. Her halter is too big but her head keeps growing and her blue one wasn't fitting O_o she's between that weird weanling and yearling size right now. SO FRUSTRATING. But hey, that means shes growing!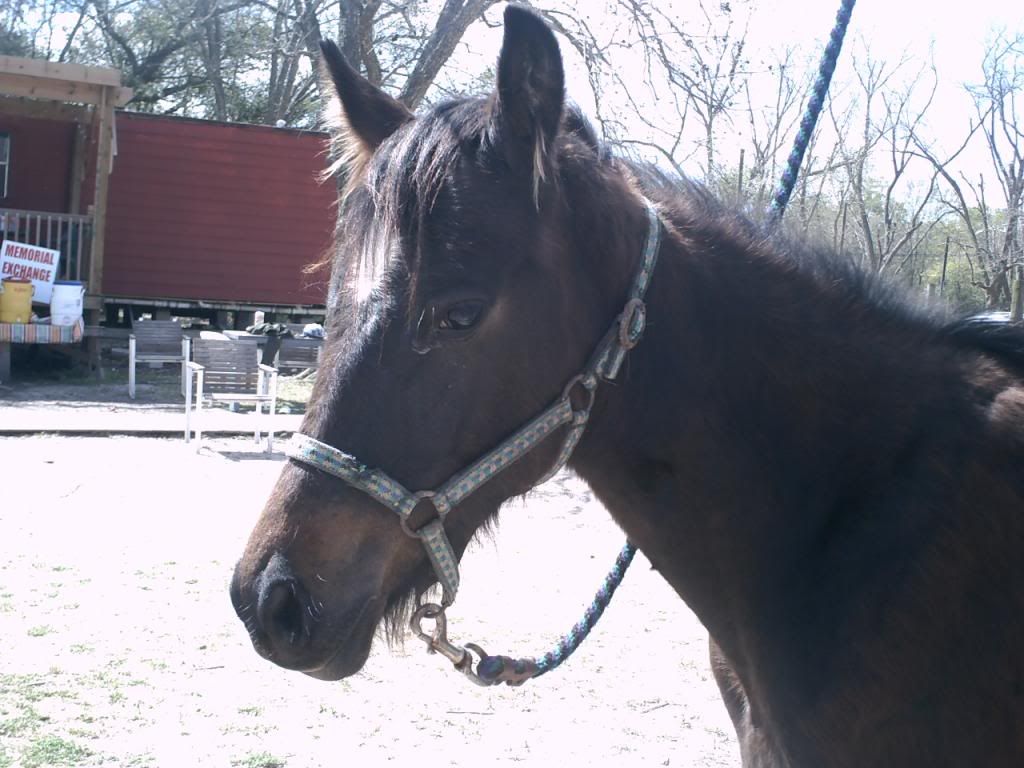 Oh, and if you guys are interested, meet Camie ;) she's with me to learn her ground manners and start driving.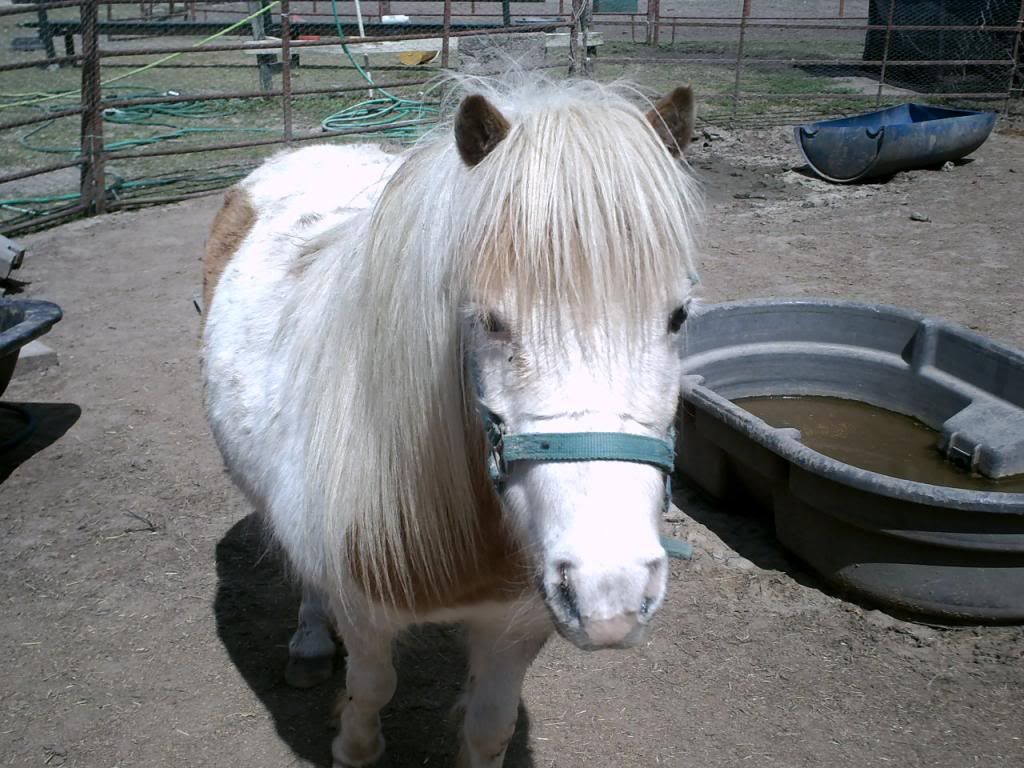 ---
Everyone in your life is meant to
be in your journey, but not all of
them are meant to stay till the end.
---
Last edited by Endiku; 03-17-2013 at

09:39 PM

.
Tiny update- that cyst actually burst during the night and had only clear fluid in it, nothing deep or anything, so I think I'm going to hold off on calling the vet. It isn't bothering her for me to touch or clean it now, so I just washed it out and applied some neospirin to it. I'll watch it, but hopefully it was just a one time thing and nothing to worry about.

On another note, I have a job interview on Wednesday morning so if you guys could be thinking of me/praying I'd definitely appreciate it! Getting this job would mean more funds to help Miss Expensive-butt over here recover faster, and maintain Sour well too ;)

I also learned an important lesson today. Do NOT rasp a hoof without gloves! I was being too lazy to go find a second one and needed to file down one of the goats hooves today, and slid it across my left (dominant) hand, leaving a couple of nasty wounds xD lesson learned my friends....don't be too lazy to go find safety equipment. Sheesh that hurt! LOL
---
Everyone in your life is meant to
be in your journey, but not all of
them are meant to stay till the end.
Kenzie looks really good! Endiku go rest!
---
I may seem small, but if you mess with my horse, I will break out a level of crazy that will make your nightmares seem like a happy place.
I do sincerely wish you the best of luck for the job interview not that you'll need it - just be your charming self.
I'll second what Chevaux said! And, been there done that with the rasp! More neosporin for you!
DONT GIVE UP! she is sweet i had a baby just like this, he looked worse then her and it took along time! to get him looking the way he does know lots of feed and love he has turned out to be the best horse ever! he is around 14 hands but really a awesome horse. I see potental.